A warming meal for busy times – nourishing green soup with creamy coconut milk and wild rice topped with a pan-seared salmon fillet, created in partnership with Imagine®.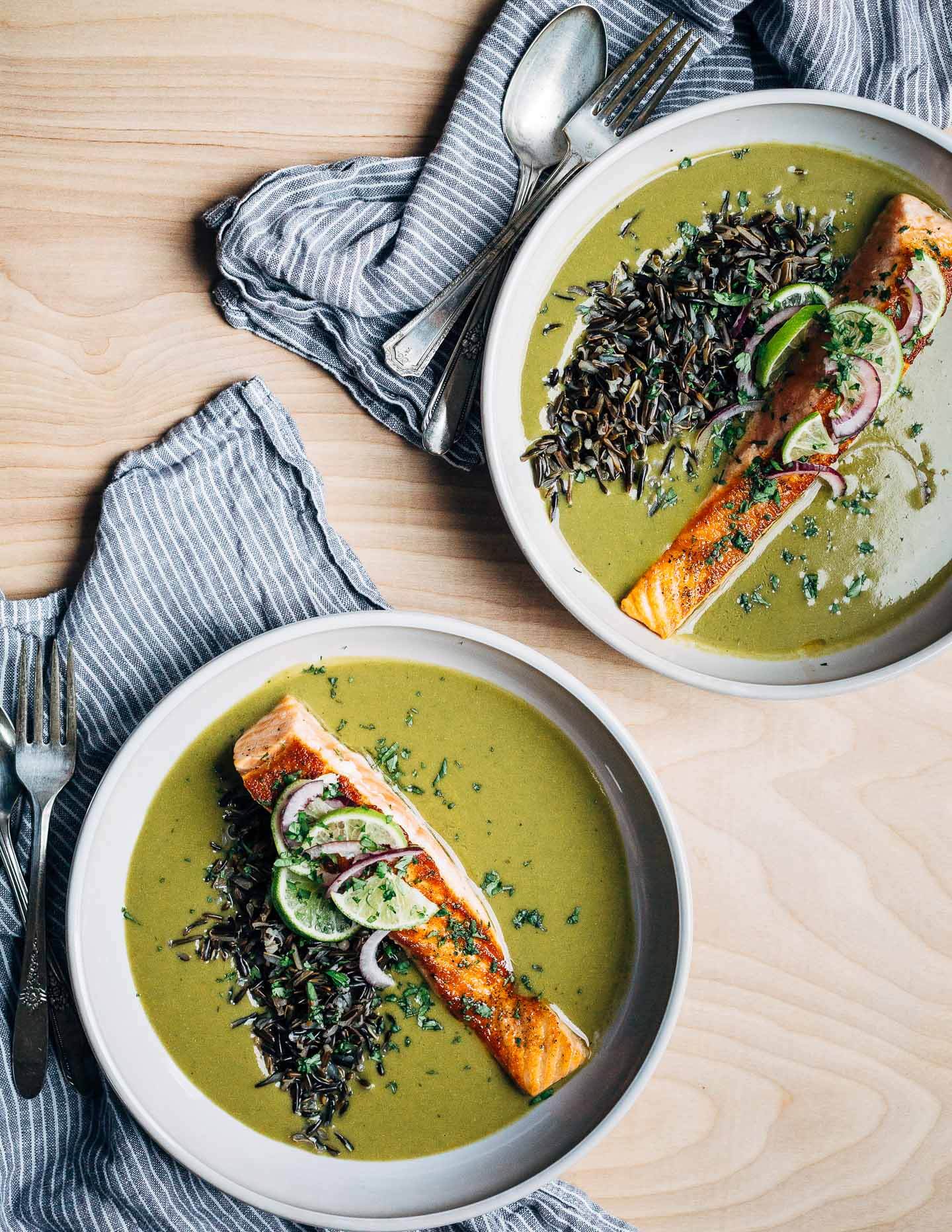 December is always hectic, and this year seems especially so. Still, I'm doing my best to not let our family's busy schedule get the best of me. Sensibly, I've accepted all the stuff I don't have control over; less sensibly, I just signed up to make two dozen cookies for a school function later today.
I don't want to give up on the spirit of giving or fellowship, but I also want to be sure there's room in the schedule for smaller moments of togetherness with Brian and my daughters. Sometimes, this means skipping out early on work and making cookies with the kids. Other times, the warmth of the season comes through in a delicious family dinner made with unique and nourishing ingredients.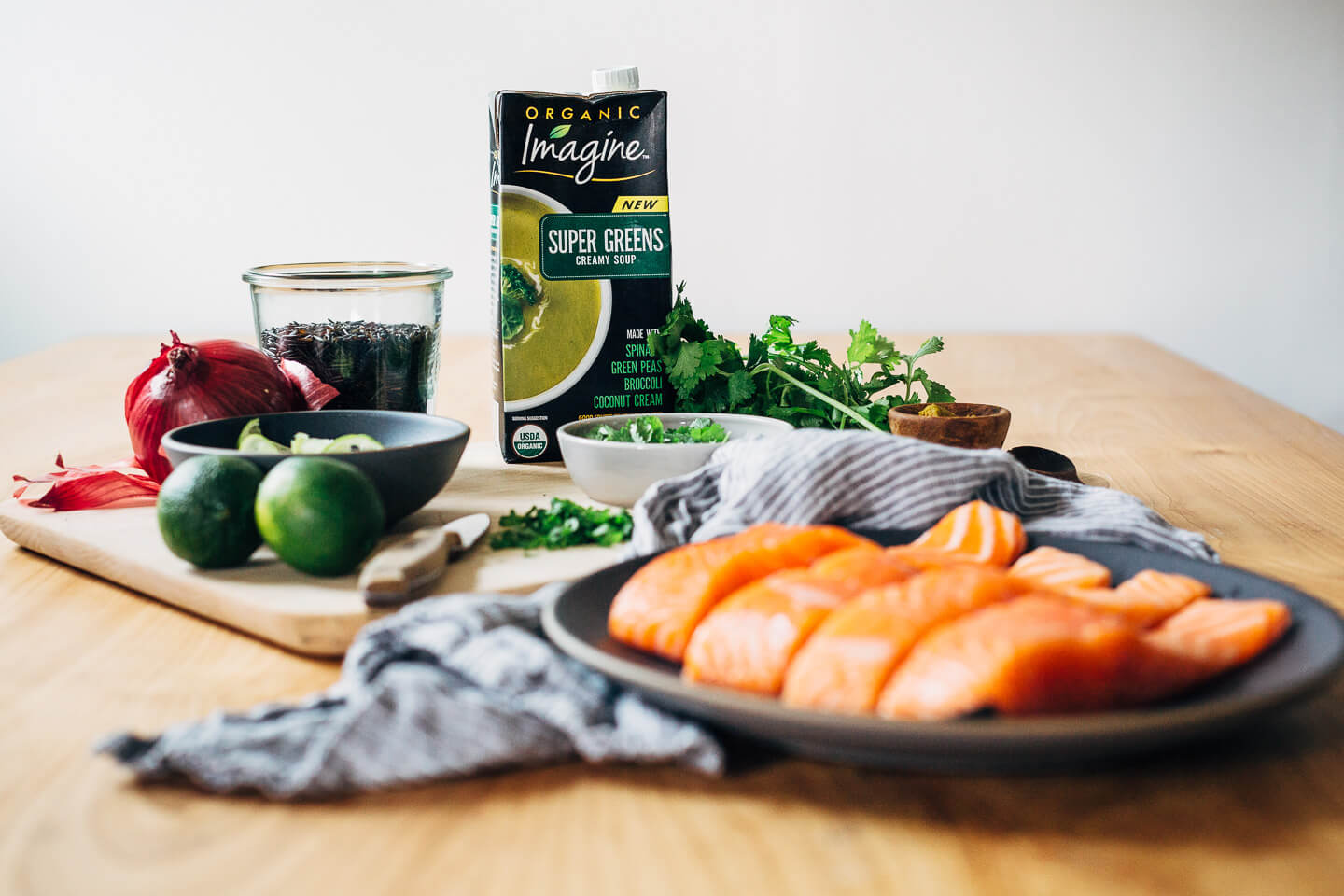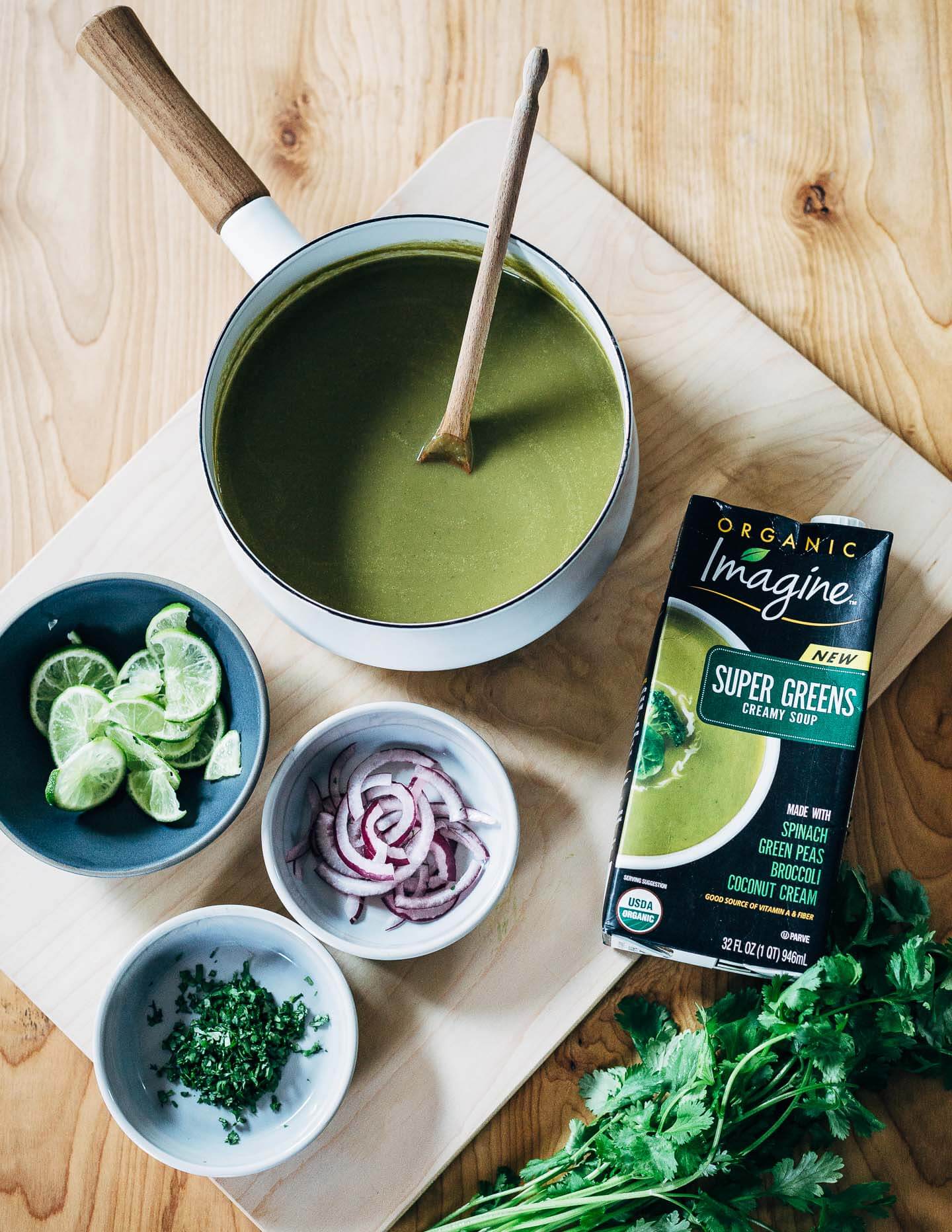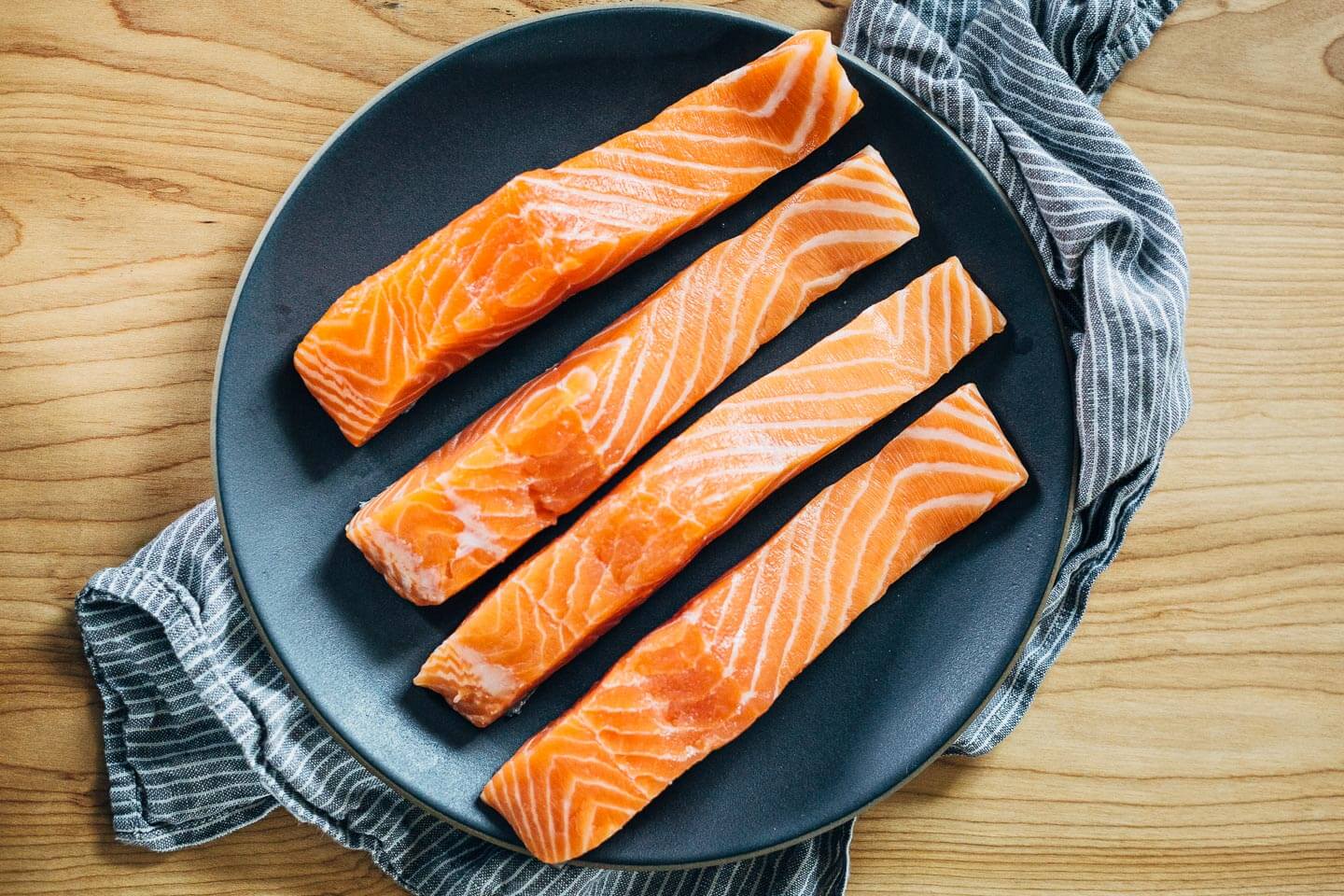 Little things make a difference – a few candles, special glassware, a festive soundtrack – and an ordinary weekday night turns into something celebratory. And especially with my girls, who (perhaps rightly) see the season as an endless parade of cookies and sweets, it's nice to create a special moment around a healthful meal instead. Nothing too fancy, just good food and great company.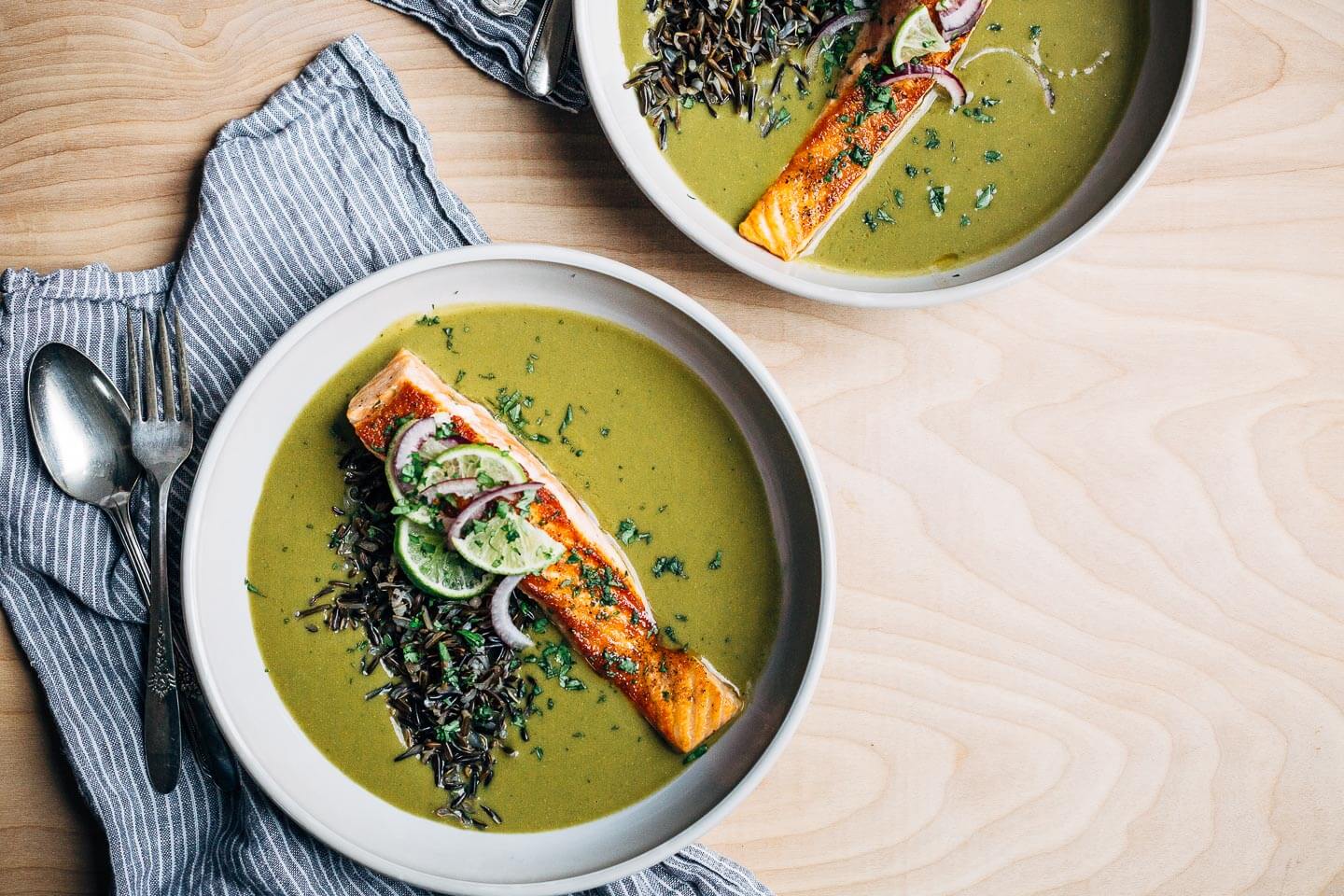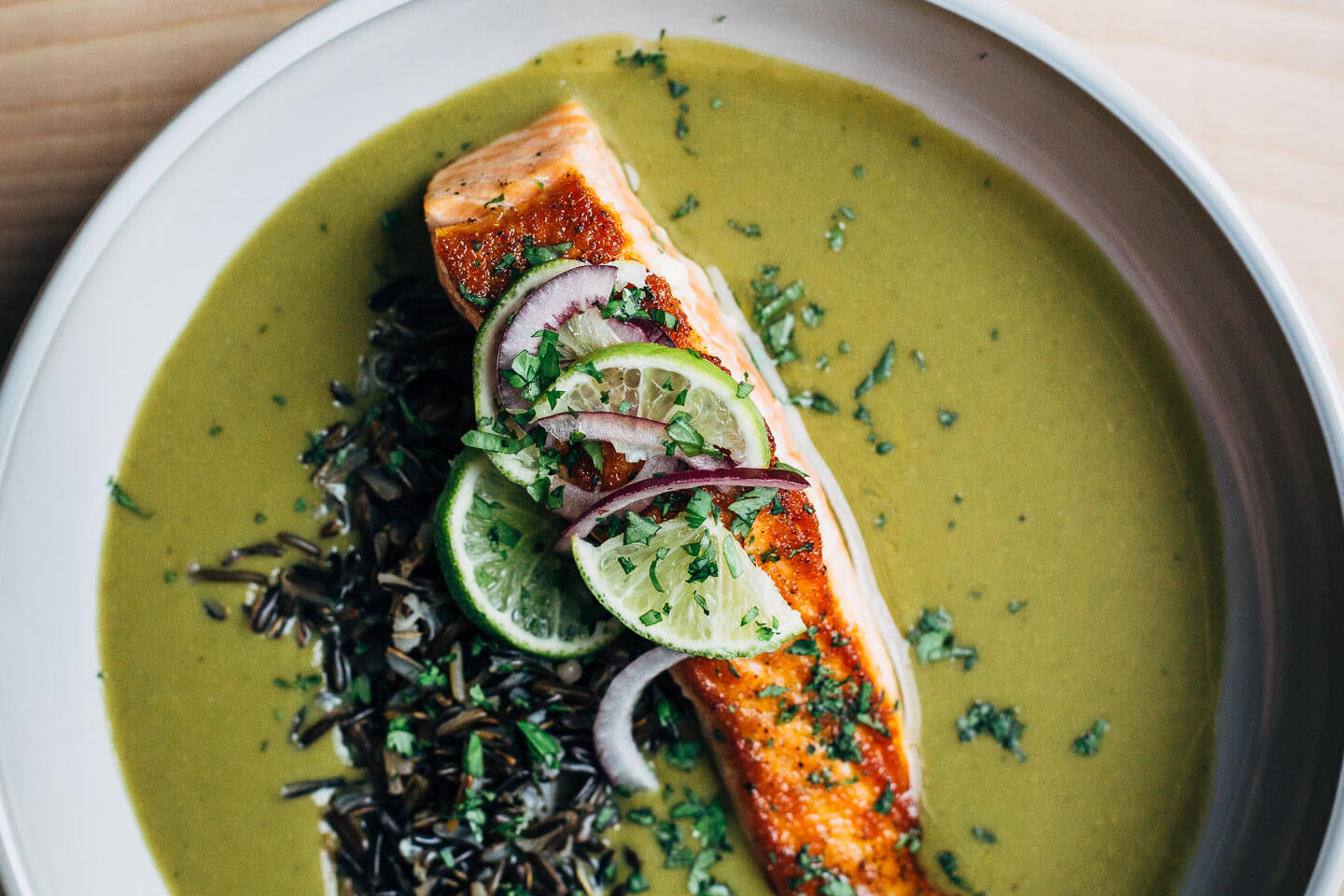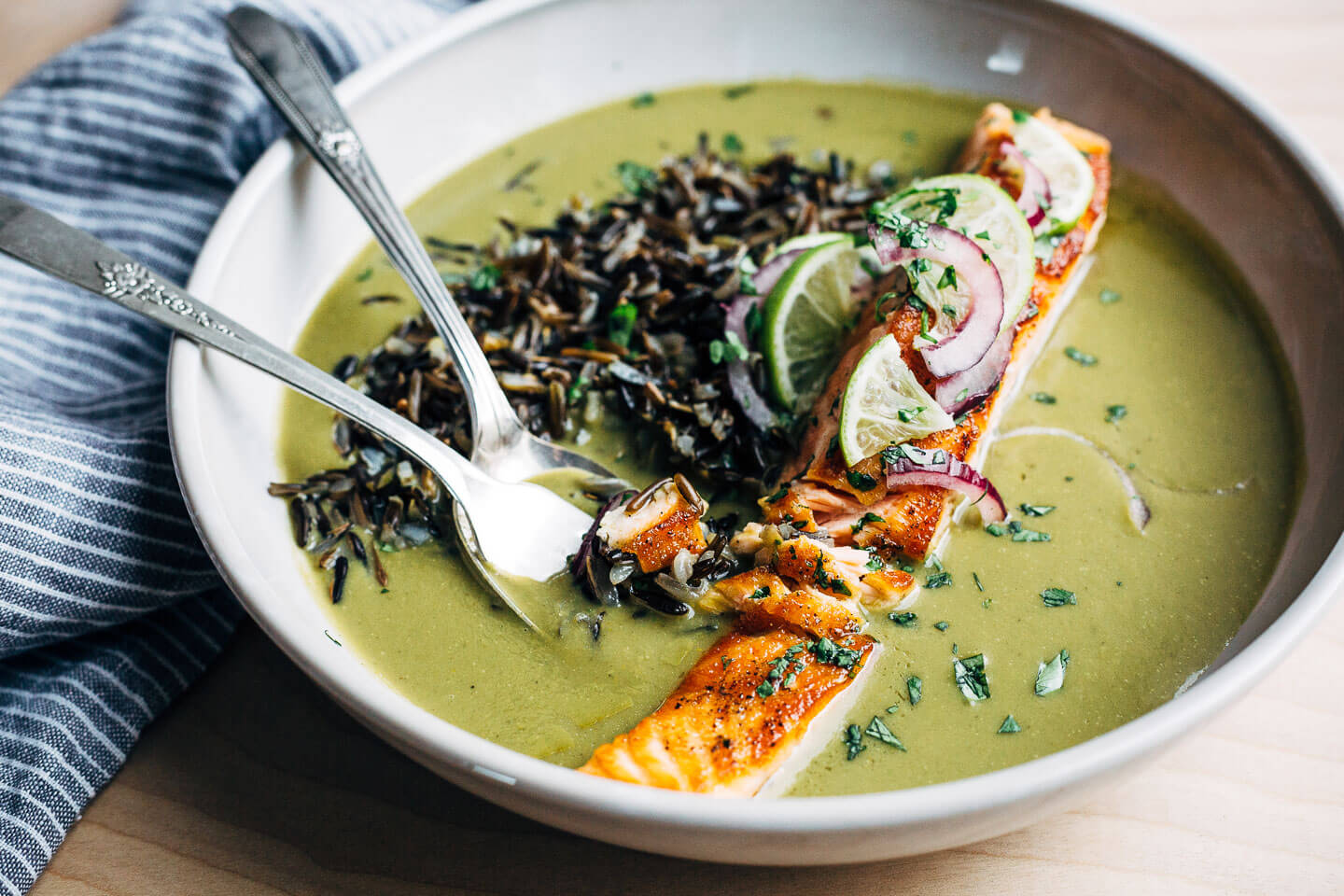 Imagine® Organic Super Greens Creamy Soup, a vibrant green soup made from fresh spinach, green peas, broccoli, and coconut cream, is at the heart of this dish. Imagine® is committed to using farm-grown ingredients picked at their peak, and these real ingredients shine through in every bite. The Super Greens Creamy Soup is among Imagine's newest soup line, Super Soups, made with a powerhouse combination of real, nourishing ingredients such as beans, vegetables and body-boosting plants and spices. I dressed the Super Greens Creamy Soup up with a few spoonfuls of green curry paste and wild rice. On top, I added a perfectly seared salmon fillet along with thinly sliced red onions and lime triangles, and minced cilantro.
Besides supreme deliciousness, the best thing about this dish is how quickly it comes together. Make the wild rice ahead, and dinner's ready in 15 minutes flat. Even if you do need to make the rice, it cooks for 45 hands-off minutes in boiling water.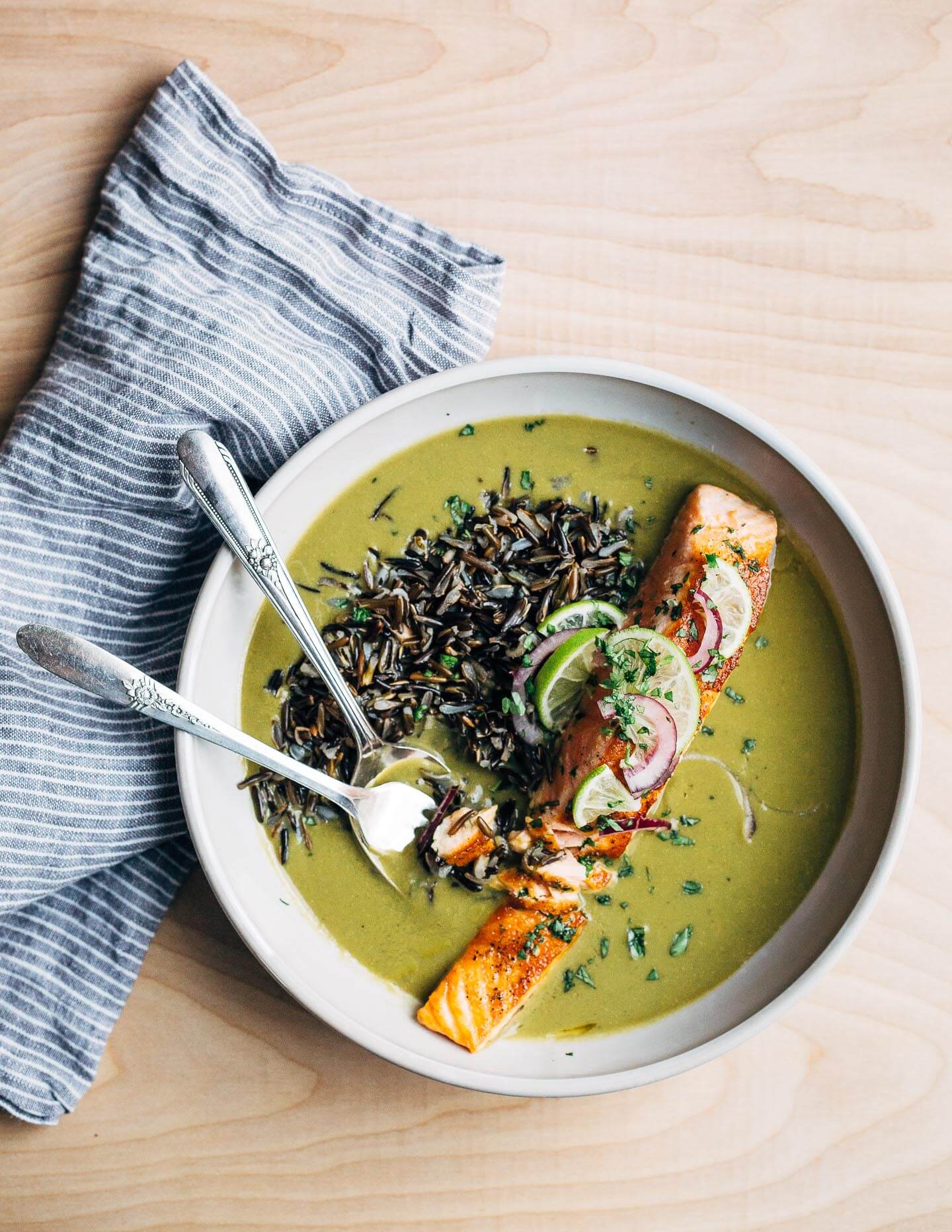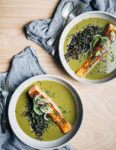 Coconut Cream Green Soup with Pan-Seared Salmon
Nourishing green soup with creamy coconut milk and wild rice topped with a pan-seared salmon fillet. Make the wild rice ahead of time, and the dish comes together in 15 minutes.
Ingredients
1

cup

dry wild rice

rinsed

1/2

teaspoon

sea salt plus more to taste

2

tablespoons

green curry paste

1

quart

Imagine® Organic Super Greens Creamy Soup

(32-ounces)

2

tablespoons

coconut oil

4

2-inch thick salmon fillet (about 1 pound total

lime wedges

thinly sliced red onions

2

tablespoon

minced fresh cilantro
Instructions
To make wild rice, bring a saucepan filled with 4 cups cold water to a boil. Add 1/2 teaspoon sea salt and wild rice. Return to a boil, then turn heat down to medium-low and simmer 45 minutes or until rice is al dente. Drain and set aside.

In a saucepan over medium, add a splash of Imagine® Organic Super Greens Creamy Soup and whisk in green curry paste, and then stir in the rest of the soup. Stirring often, cook until soup is steamy and just bubbling. Add sea salt and fresh ground pepper to taste.

Meanwhile, sprinkle salmon with sea salt. Set a cast iron skillet over medium heat. Add coconut oil, and when shimmering, place salmon skin side down. Cook 4 minutes. Flip carefully, and cook 2 - 4 minutes more, or until salmon is golden on both sides and just cooked through.

Ladle soup into bowls, add 1/3 cup wild rice, and top with salmon. Finish with a squeeze of lime, several slices red onion, and minced cilantro. Serve immediately.
SaveSave
SaveSave
SaveSave
SaveSave
SaveSave
SaveSave
SaveSave