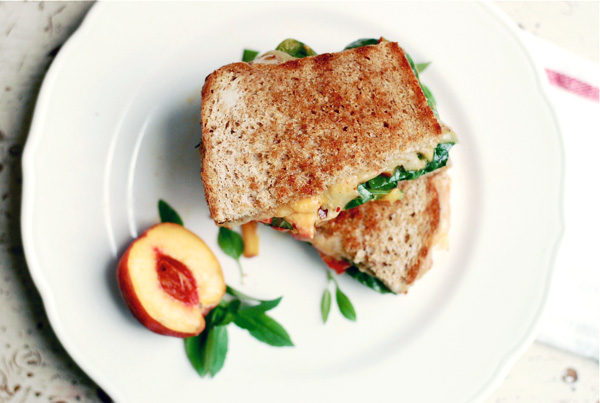 This post is sponsored by Great Midwest cheese; thanks for supporting the sponsors that make Brooklyn Supper possible.
As autumn nears, we mean to linger on every delightful summer moment. For us, that means getting outside as often as we can. Over the next few weeks, we'll be heading to parks, rivers, and pools with the car windows open the whole way. This has been such a gorgeous and mild summer and I really can't stand thinking it's about to end. But it will, and until then you can find me outside.
Of course, my outdoor priorities don't leave a lot of time for cooking, so we're keeping things really simple in the kitchen. Grilled cheese has long been part of my easy dinner arsenal, but it's now taken on an essential status. Good cheese and good bread, paired with fresh fruits and vegetables, equal a near-instant, kid-friendly dinner. So when Great Midwest cheese contacted me to help promote their wonderful cheeses and their newly-launched I Love Grilled Cheese Contest, I knew I was their girl. Happily, Great Midwest cheeses are Wisconsin-made, small-batch cheeses that are certified hormone-free.
OK, so this cheese has good credentials, but how does it taste? Seriously awesome. We have loved sampling some of their most creative varieties like Horseradish Cheddar, Jalapeño Jack, and Mango Fire Cheddar, all of which have intense kick and flavor. We've also enjoyed their milder varieties like Morrel & Leek Jack and Garlic & Dill Cheddar. Over the past weeks, Great Midwest cheeses have made appearances at dinner parties and picnics, on tacos, burgers, and in great grilled cheeses. If you'd like to get in on the action, Brooklyn Supper readers can enter to win a package featuring each one of the twelve delicious varieties of Great Midwest cheese. To enter, simply "like" Brooklyn Supper on Facebook and fill out the entry from here. Contest runs through Monday, August 19 at midnight EST. The contest winner will be selected at random. Click here to enter.
And if all these great flavors have you inspired to get creative, you're in luck because Great Midwest wants you to share your take on grilled cheese with their I Love Grilled Cheese recipe contest! Prizes include a vacation package, a panini press, and a cookbook. Home cooks can enter the contest here, with bonus points for sharing their recipe on the Great Midwest Facebook page. For complete contest rules, click here.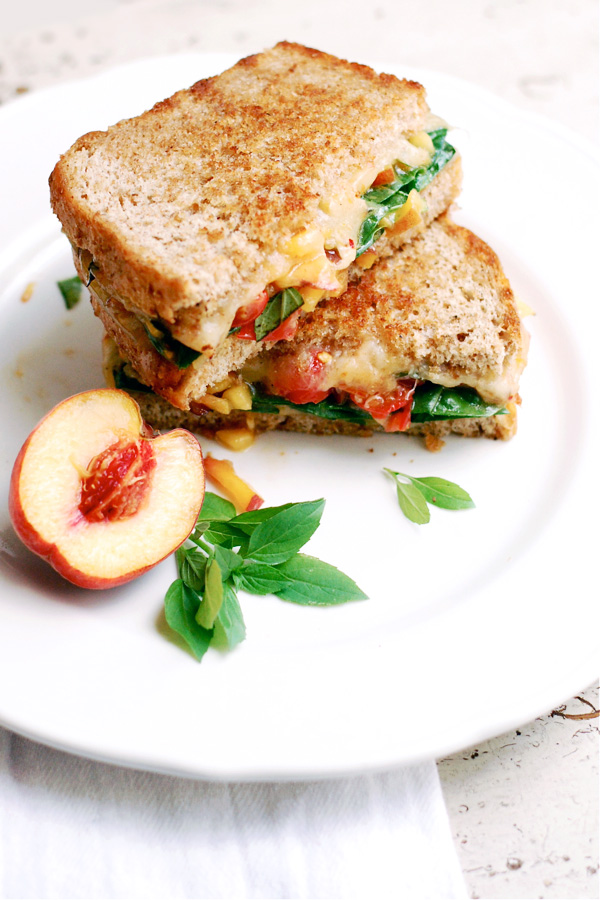 What I love most about Great Midwest Cheese is their cheeses' great flavor and versatility. I've had a blast in the kitchen pairing all of their unique flavors with fresh summer produce. And, after a lot of experimentation, I came up with an easy grilled cheese recipe that showcases the rich and interesting flavor of Great Midwest's Chipotle Cheddar beautifully, playing the smoky, rich Chipotle Cheddar with sweet summer peaches and garden fresh basil. Pair the grilled cheese with a green summer salad for an easygoing, delicious dinner.
Grilled Chipotle Cheddar with Peach Bruschetta
makes two sandwiches
for the peach bruschetta
2 tablespoons olive oil
1 teaspoon lemon juice
1/4 teaspoon sea salt
1/4 teaspoon fresh ground black pepper
ground cayenne pepper to taste
2 peaches, pits removed and rough chopped
1 clove garlic, smashed, peeled, and minced
1/4 cup fresh basil leaves, rough chopped
In a small mixing bowl, whisk together the olive oil, lemon juice, garlic, sea salt, black and cayenne peppers. Gently toss in the peaches and basil. Set aside while you prepare the grilled cheese.
for the grilled cheese
4 slices whole wheat bread
3 ounces Great Midwest Chipotle Cheddar, sliced thin
2 tablespoons butter
1/2 cup spinach leaves, rinsed and dried
Heat a large skillet with a well-fitting lid over medium-high heat. Melt 1 tablespoon butter in the pan, and then arrange all four slices of bread in the pan. Fry for 1 minute, and flip. Add the remaining tablespoon of butter to the pan and arrange the cheese slices on each piece of bread. Edge heat down to medium and cover. Cook for 2 – 3 minutes, or until the cheese has melted nicely.
Remove the four bread slices to a plate. Divide the spinach between two of the slices and then spoon on 3 tablespoons of the bruschetta. Cover each one with one of the remaining slices. Cut each sandwich in half and serve immediately.