Deliciously tender lemon- and yogurt-marinated grilled chicken kebobs make for a vibrant summer cookout. The grilled chicken skewers are served alongside grilled flatbreads, tzatziki, and an herbed salad made with grilled zucchini, tomato, and red onion. Recipe created in partnership with Shenandoah Valley Organic.
While I love summer grill-top classics, cookouts can also be an opportunity to get creative with bold flavors and fresh ingredients. So for a recent summer gathering, I served up a spin on Lebanese shish taouk. Shish taouk (literally, "skewer chicken") is a traditional Middle Eastern dish of chicken marinated in lemon and yogurt, threaded onto skewers, and grilled to perfection. To accompany the chicken kebabs, we enjoyed a summery salad made with grilled zucchini, fresh tomatoes and red onion, plus handfuls of garden mint and parsley.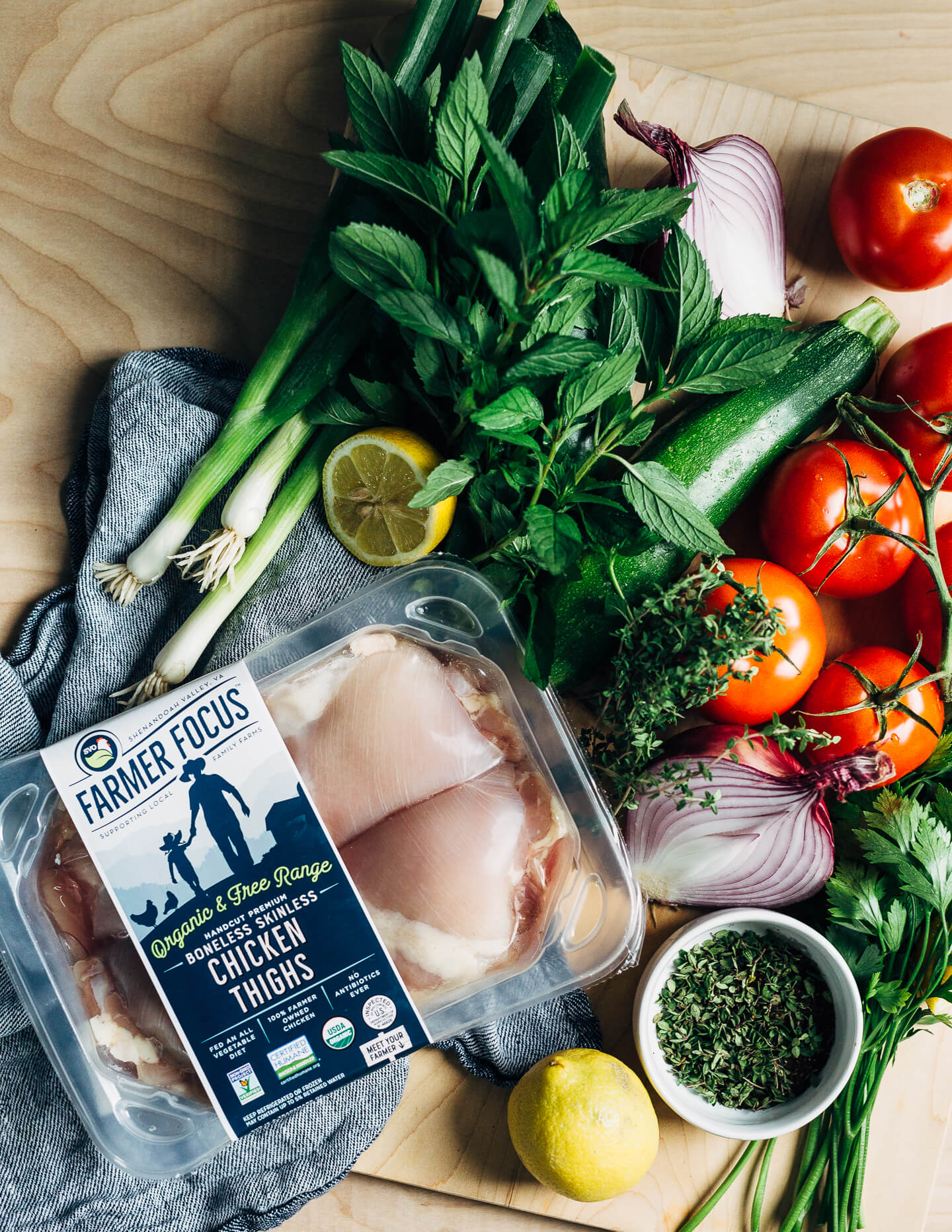 As always, I started with the best chicken around – Shenandoah Valley Organic Boneless Skinless Chicken Thighs. SVO is a longtime partner of mine and I'm always thrilled to create recipes that feature their excellent chicken. Besides the delicate texture and superior flavor of SVO products, I like that their chicken has a Step 3 Global Animal Partnership rating and is produced by farmers who make a good living doing what they do. Find an SVO retailer near you here.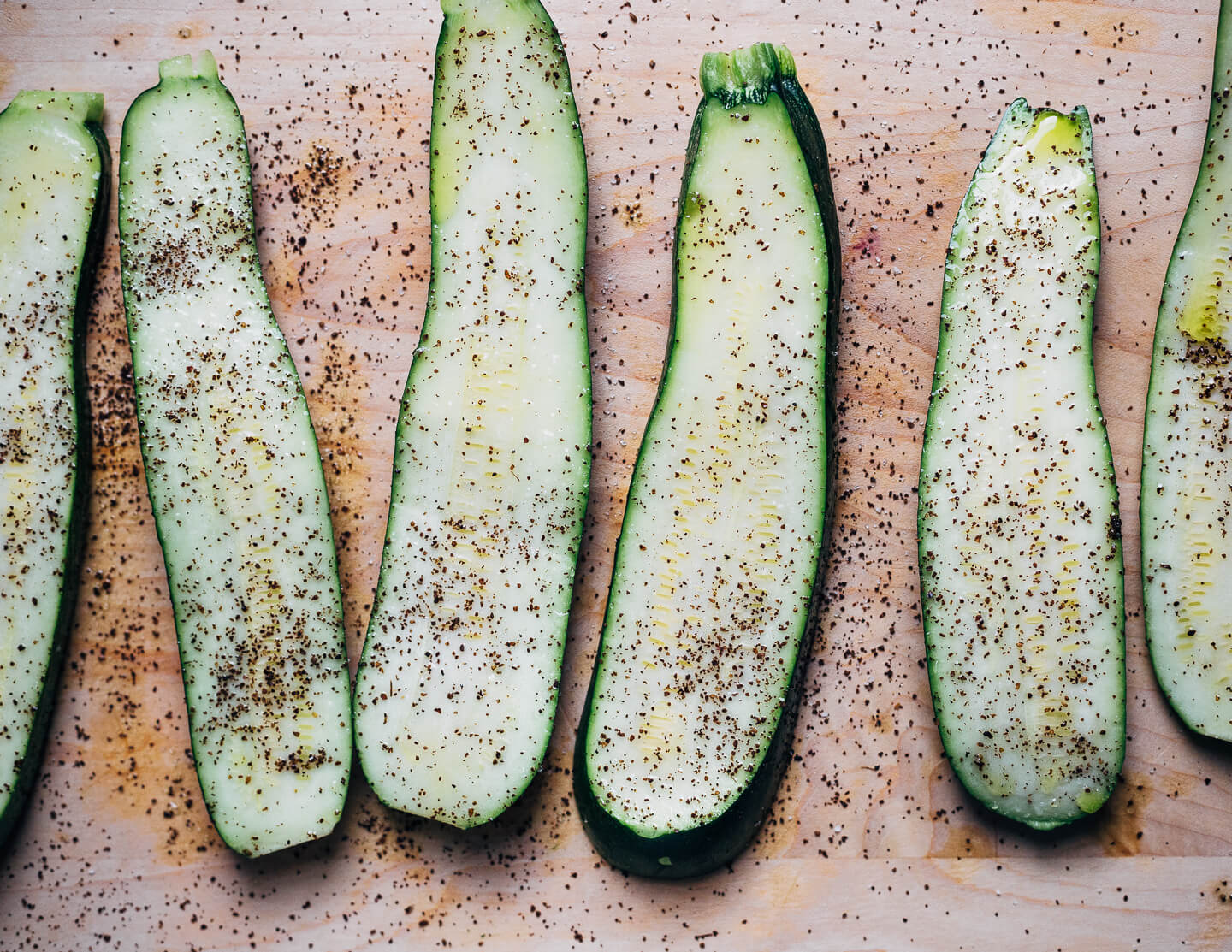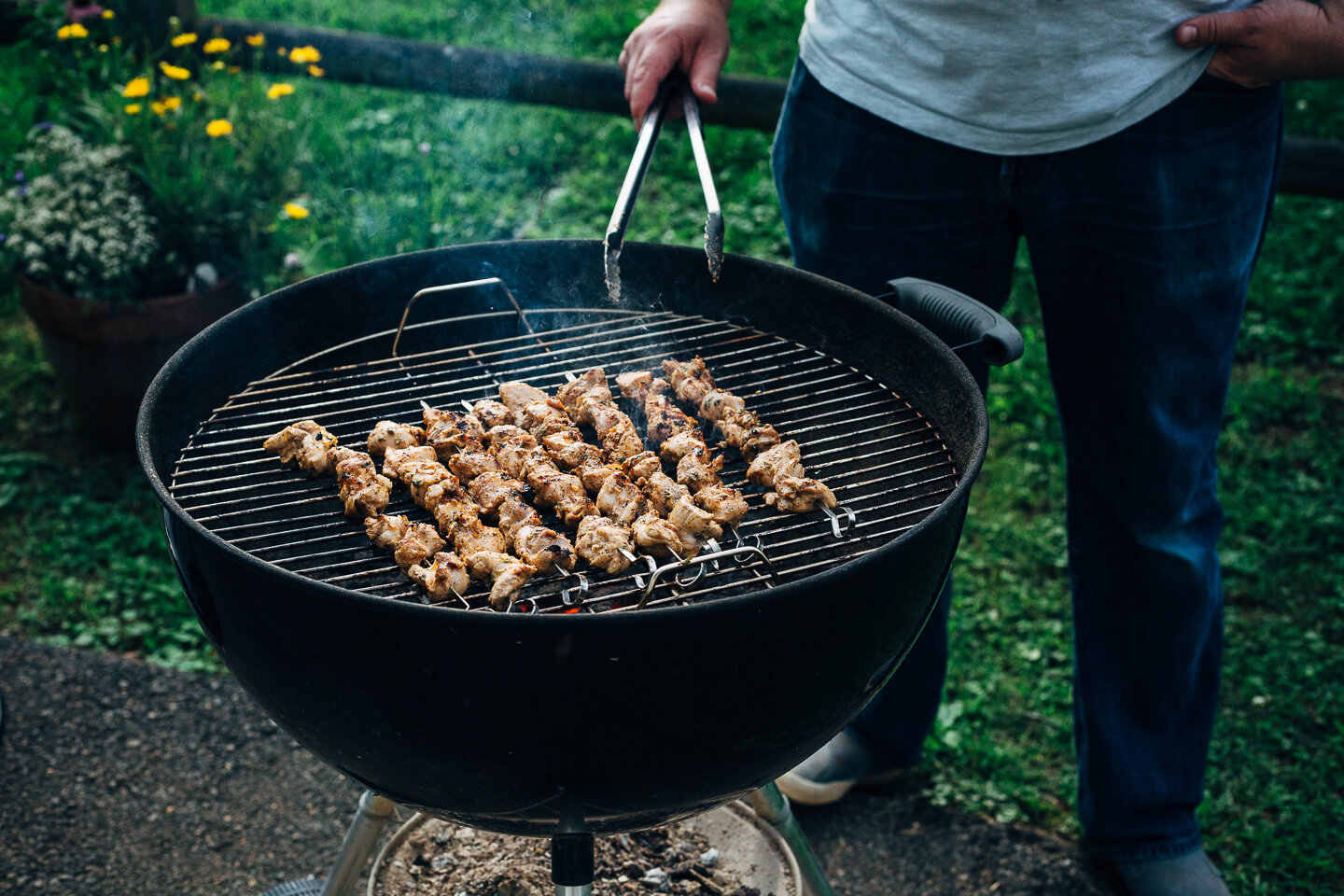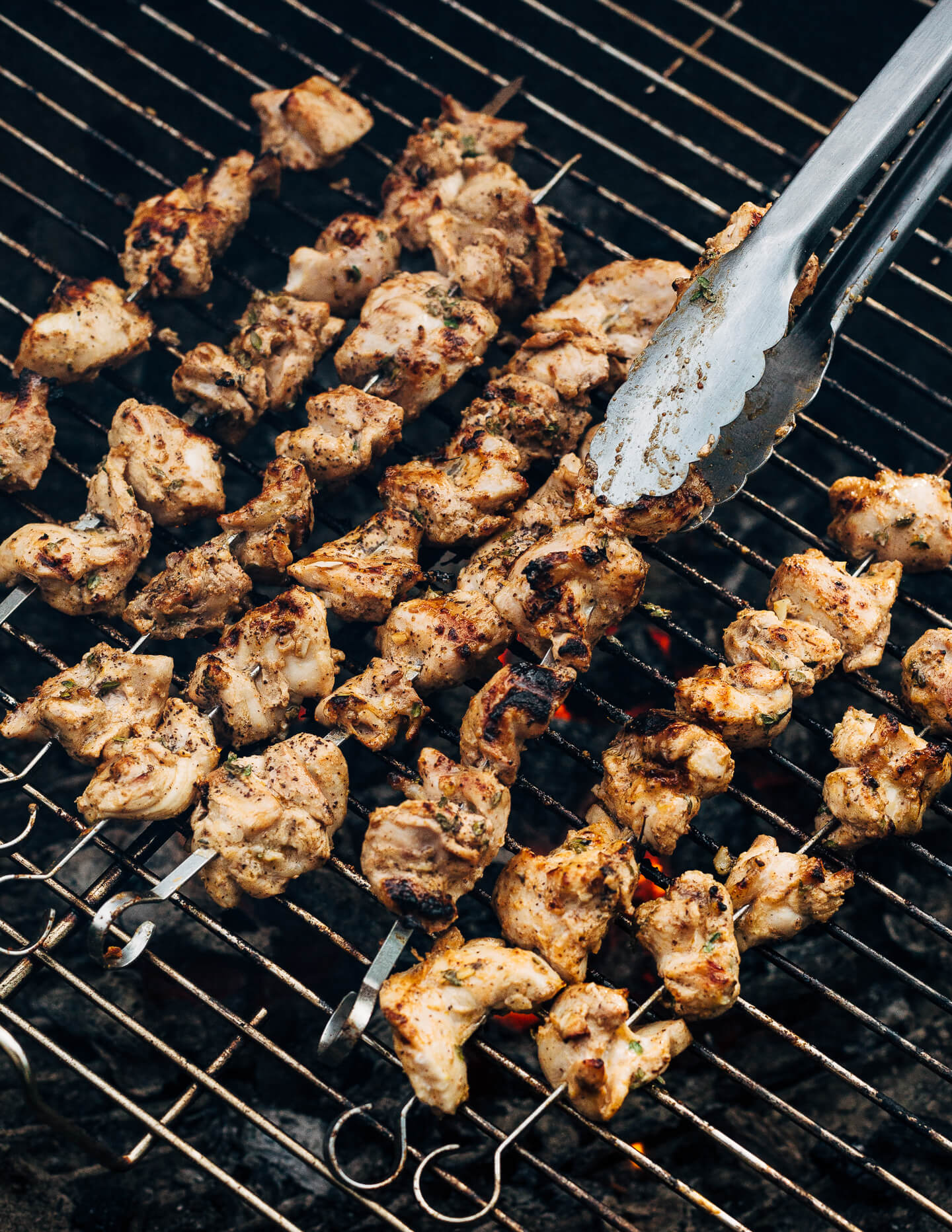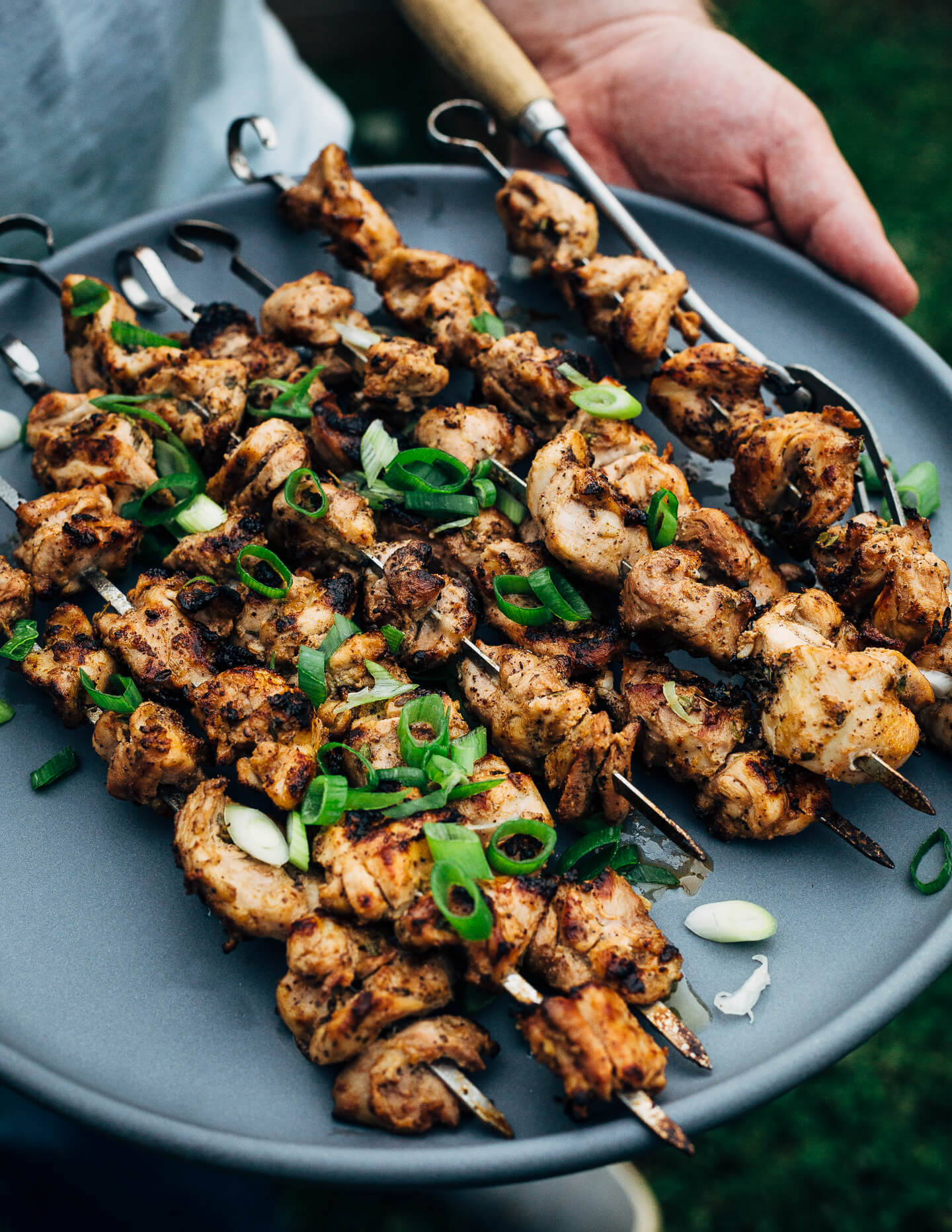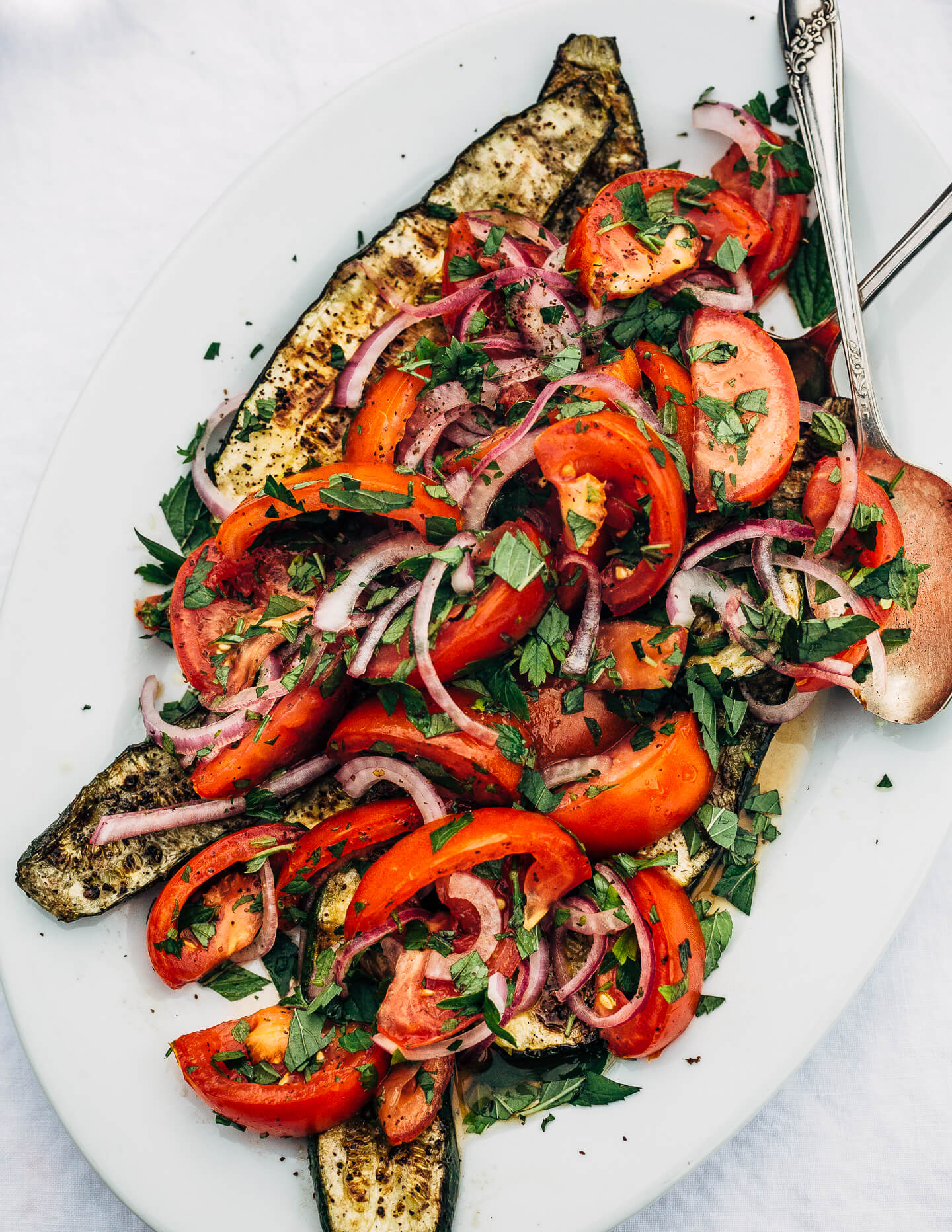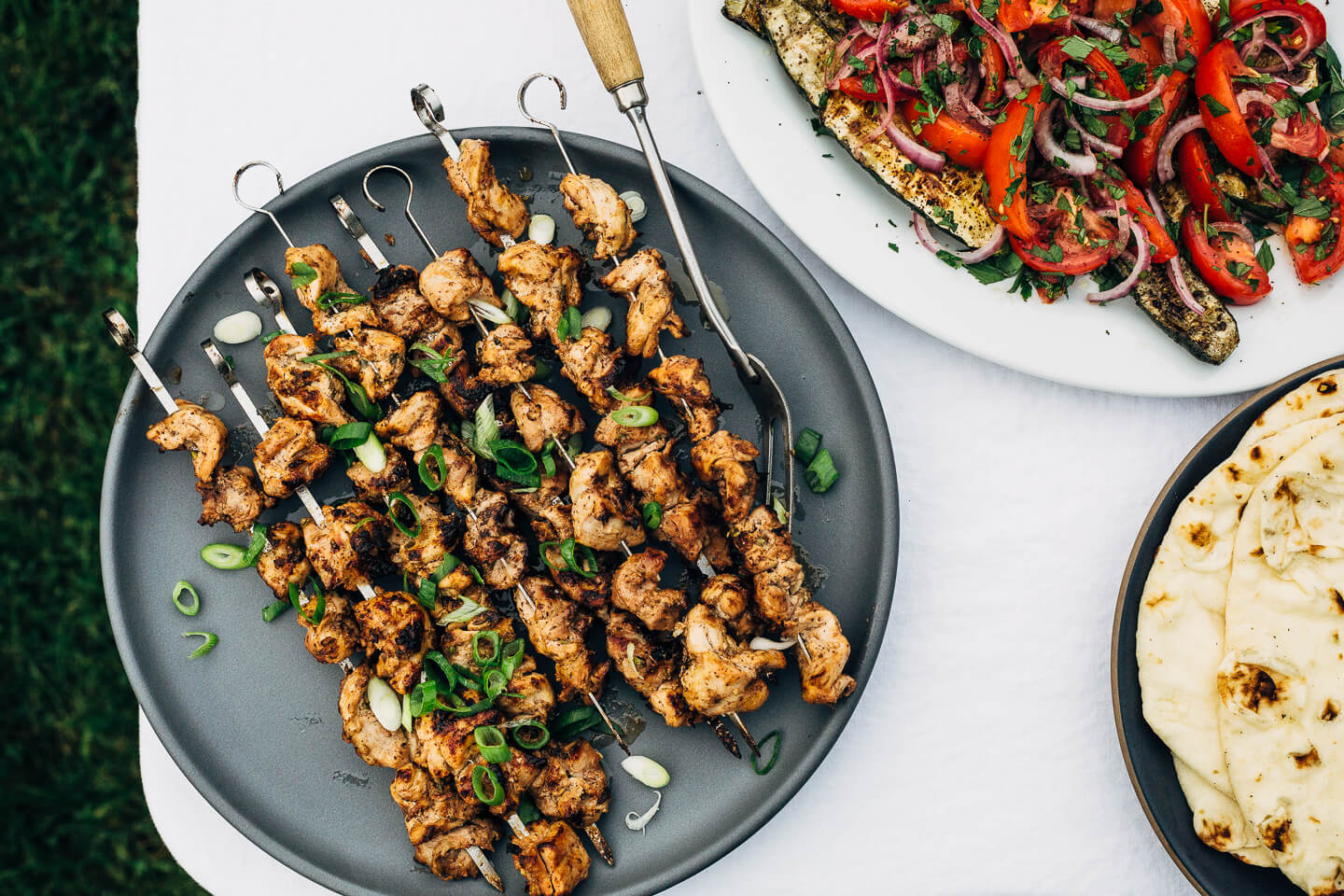 I wanted the dish to have flavors that would do such fantastic chicken justice. The simple yogurt and lemon marinade adds a mild tang and ensures exceptionally tender chicken kebabs. Seasoning the marinade with garlic, just-ground cumin, dried sumac, smoked paprika, and fresh thyme leaves make the flavors pop. In case you haven't encountered it before, sumac is a crimson spice that can be found in the spice aisle of specialty grocers. It lends a savory quality and a surprising bit of tang to dishes. Sumac is also a key ingredient, along with thyme and sesame seeds, in za'atar, a super flavorful spice blend that's delicious on everything from avocados to meats. If you don't have sumac on hand, sub za'atar for the thyme and sumac, or add a bit of lemon zest instead.
Overnight marinades are a great technique for company since you can prep everything the night before, and just have to thread the skewers the day of. On the grill, the yogurt-marinated chicken stays moist and flavorful while absorbing the charcoal's woody aroma and charring beautifully along the edges.
The resulting grilled chicken kebabs are extremely versatile, presenting an array of serving options. I chose to serve mine alongside grilled flatbreads, and a simple tzatziki, and a grilled zucchini and tomato salad. The salad contrasted smoky grilled zucchini slices with a lemony mix of fresh tomatoes, red onion slivers, and fresh-picked herbs from my garden. Though the zucchini sunk a bit after they came off the grill, they had exceptional flavor (even for lunch the next day).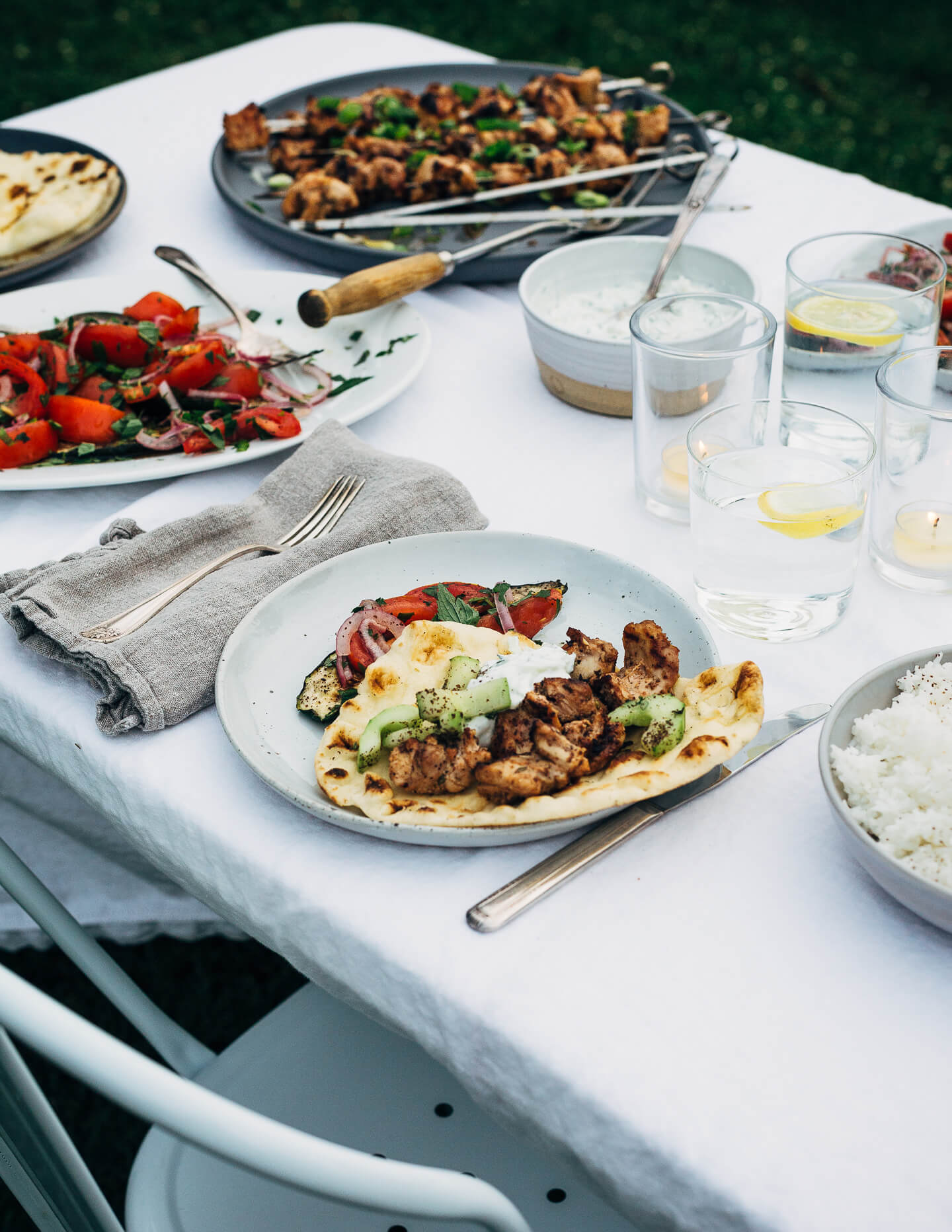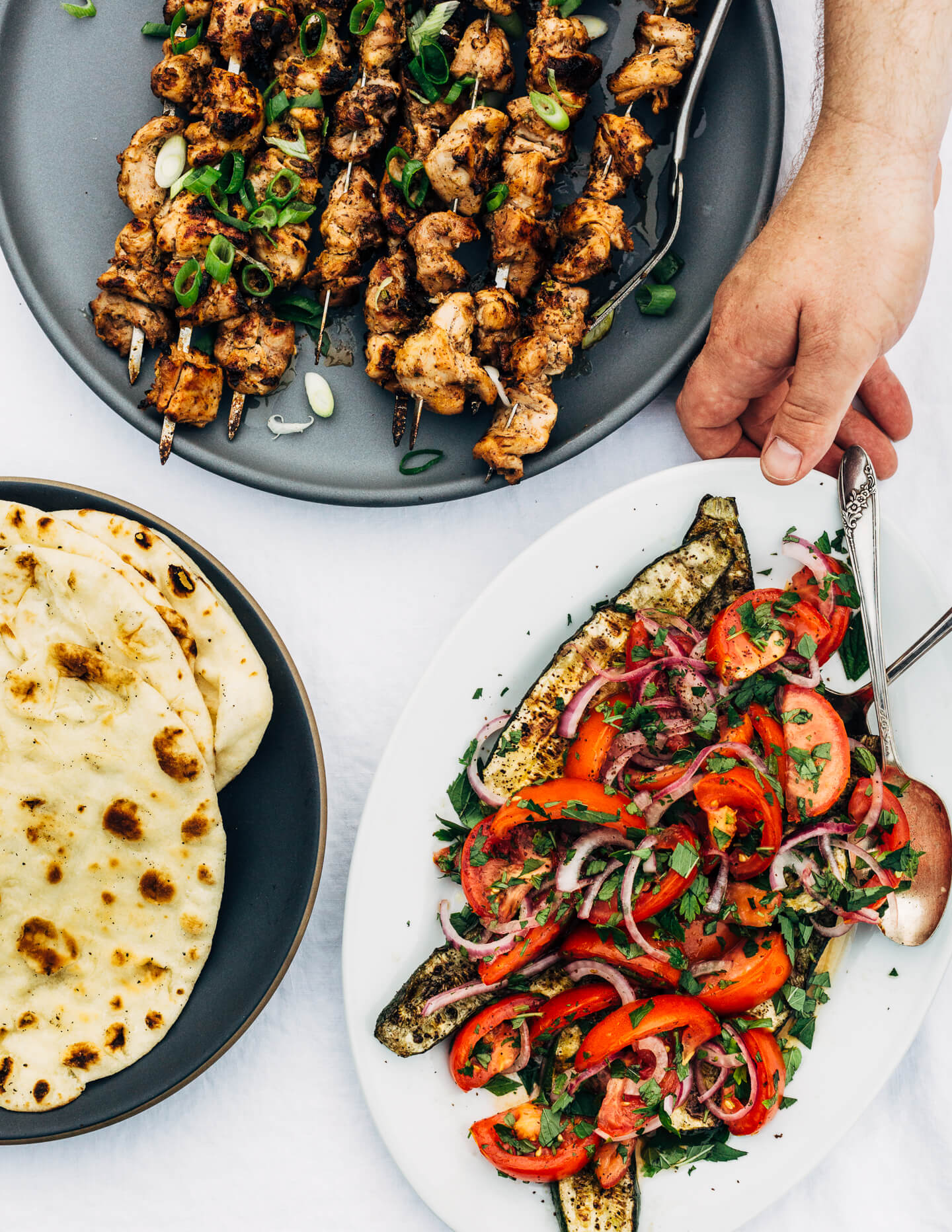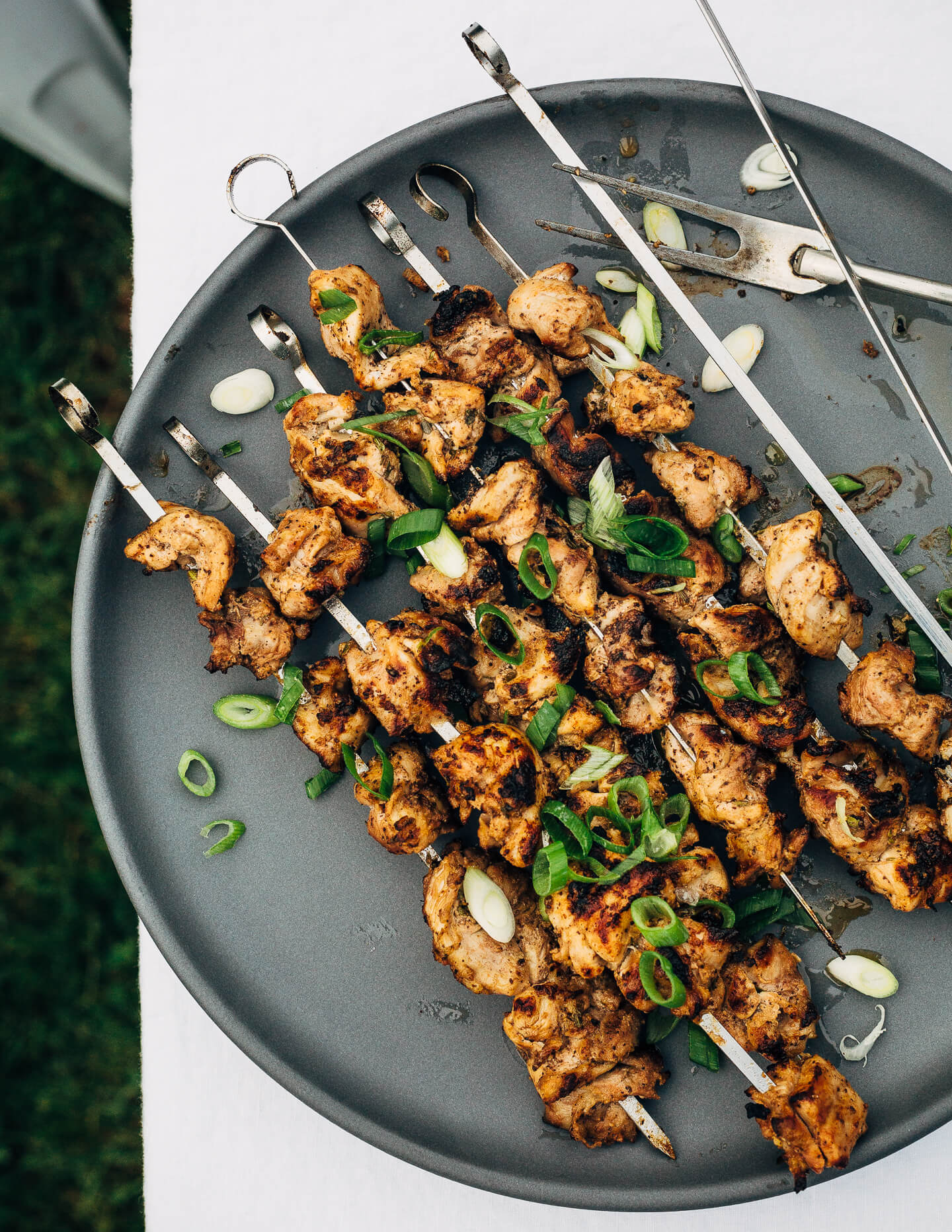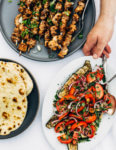 Yogurt Marinated Grilled Chicken Kebobs with Grilled Zucchini Salad
Tender lemon and yogurt-marinated grilled chicken kebobs make for vibrant summer cookout fare. The grilled chicken skewers are served alongside grilled flatbreads, tzatziki, and an herbed salad made with grilled zucchini, tomato, and red onion.
Ingredients
Marinated Chicken
2

pounds

Shenandoah Valley Organic Boneless Skinless Chicken Thighs,

cut into 2-inch pieces

1

cup

plain yogurt,

preferably full-fat

1/4

cup

fresh squeezed lemon juice

1/4

cup

extra virgin olive oil

10

cloves

garlic,

smashed, peeled, and finely minced

2

tablespoons

tomato paste

1

tablespoon

fresh thyme leaves

2

teaspoons

sumac

1

teaspoon

sea salt

1/4

teaspoon

smoked paprika
Salad
4

tomatoes,

seeded and sliced 1/2-inch thick

1/2

a red onion,

sliced paper thin

1/4

teaspoon

sea salt,

plus more for sprinkling, divided

4

zucchini,

ends trimmed and cut lengthwise into 1/2-inch thick slices

3

tablespoons

extra virgin olive oil,

plus more for brushing, divided

2

tablespoons

fresh squeezed lemon juice

1/2

cup

chopped mint leaves

1/4

cup

chopped parsley leaves

1/4

teaspoon

sumac,

plus more for finishing
To Serve
6

flatbreads,

optional

Sliced cucumbers tossed with sea salt,

optional

Tzatziki or toum sauce,

optional

Fresh herbs,

optional
Instructions
Prep chicken and set in a large container with a tight-fitting lid. In a small mixing bowl, combine all remaining marinade ingredients. Pour marinade over chicken, gently folding it in so everything is coated nicely. Cover and refrigerate at least 4 hours but preferably overnight.

The day-of, prepare a hot grill.

Thread chicken onto skewers (metal skewers make things much simpler), keeping chicken pieces close to the skewer by folding and piercing chicken in more than one spot where necessary, and set aside.

In a medium-sized bowl, toss tomatoes and red onions with a generous pinch of sea salt and set aside. Whisk to combine lemon juice, olive oil, and 1/4 teaspoon sea salt. Set aside.

When grill is hot, brush zucchini on both sides with olive oil, and sprinkle with sea salt and sumac. Grill 4 - 5 minutes per side, until zucchini are nicely browned with a little char. Set aside.

Next, grill chicken skewers by laying them on the grill with a little space between each skewer. Once chicken is nicely browned (about 4 - 6 minutes depending on the heat of your grill), flip skewers and cook until the other side is equally browned. Grilled chicken can be kept warm in a 200 degree F oven.

Finally, grill flatbreads, if serving.

Just before serving, drain any accumulated juices from the tomato mixture. Drizzle with dressing and toss in herbs. Arrange zucchini on a platter, top with tomato mixture and another splash of dressing. Take a quick taste and add additional sea salt or a sprinkle of sumac as needed.

Serve salad and chicken kebabs (either on or off the skewer), plus any other accompaniments, right away.
SaveSave
SaveSave
SaveSave
SaveSave
SaveSave
SaveSave
SaveSave
SaveSave