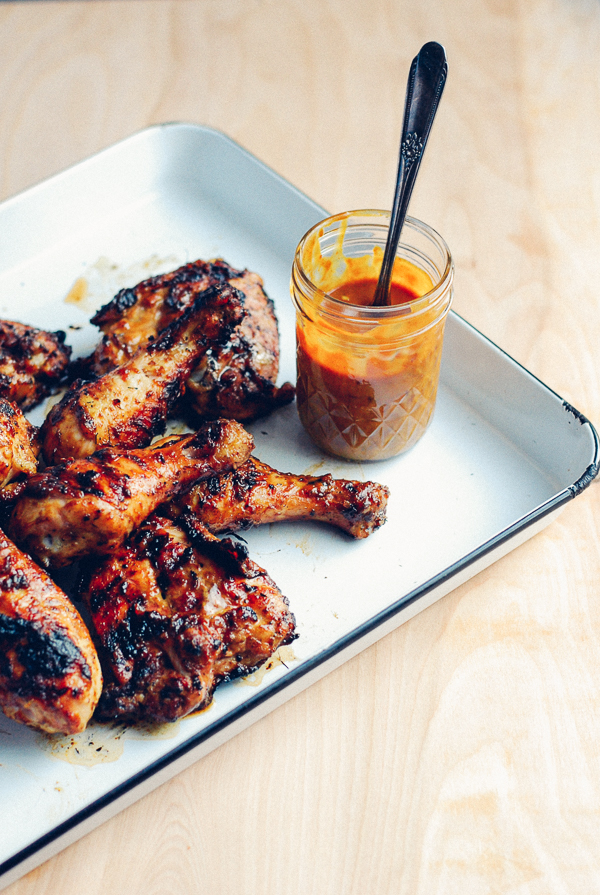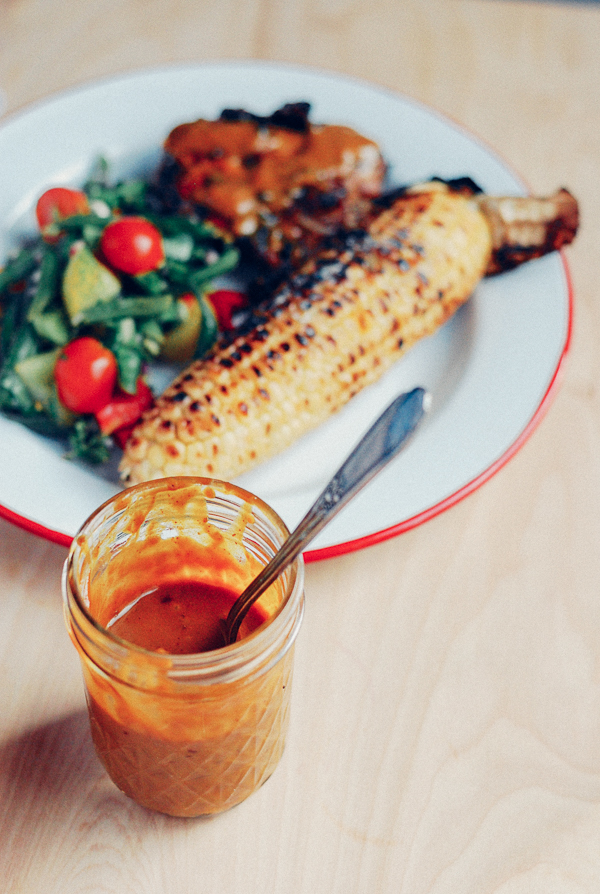 A recipe for smoky grilled chicken legs slathered in a tangy South Carolina-style barbecue sauce. Jump to recipe.
Our family has a range of feelings about mustard. Our younger daughter would be perfectly content to have a dinner of mustard and nothing else, while our older one won't touch it. Brian could spend an hour browsing the mustard section of our local international food store. And I fall somewhere in the middle. But, a mustard-based barbecue sauce – that's something that brings us all together. The first time we a made it, it was because it was easy. The second time, it was because the first iteration was just shy of completely addictive. At its best, mustard-based sauce, also known as South Carolina-style barbecue sauce, gets some zip from mustard and is heightened by additions like apple cider vinegar, chili powder, Worcestershire sauce, and hot sauce.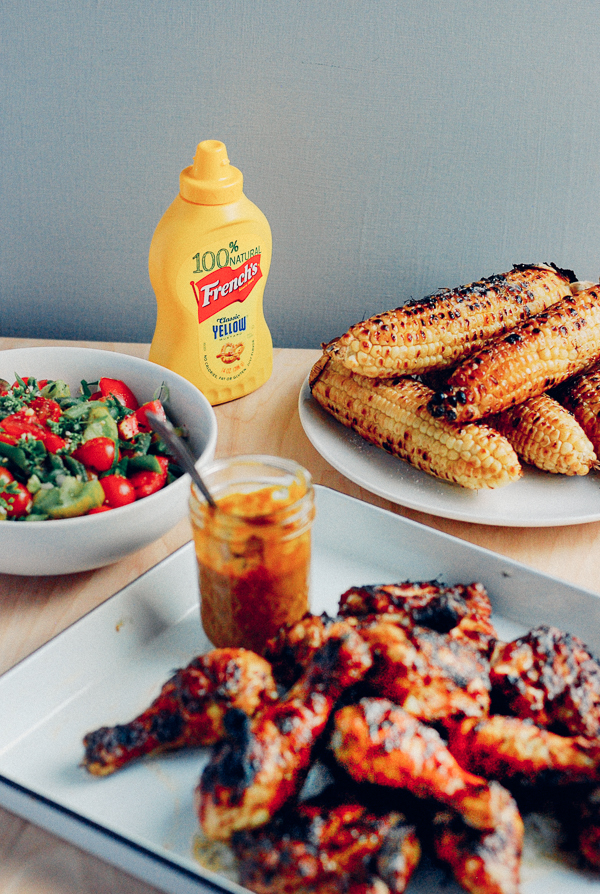 For this post and recipe, we're excited to partner with all-natural French's yellow mustard, since stand out South Carolina-style barbecue sauce starts with great ingredients. In a world where sneaky things frequently make their way into old favorites, you might be surprised to learn that French's mustard sports a short, completely pronounceable list of quality ingredients – just #1 grade mustard seeds, vinegar, salt, and a few spices with no fillers, chemical preservatives, or thickeners. This commitment to quality, and the knockout flavor, makes French's a mainstay of our pantry (and our mustard barbecue sauce). For a bit of inspiration and ideas for making everything better with mustard, check out the French's Pinterest page.
Our South Carolina-style sauce was slathered on a mess of grilled chicken legs, and it was nothing short of amazing. Perfectly smoky and sweet, caramelized and slightly gooey – the kind of meal where extra napkins are required. Keeping things simple, we served up our barbecue with an easy green bean and tomato salad and (more) grilled corn. It was one of the best meals of the summer (so far, anyway.)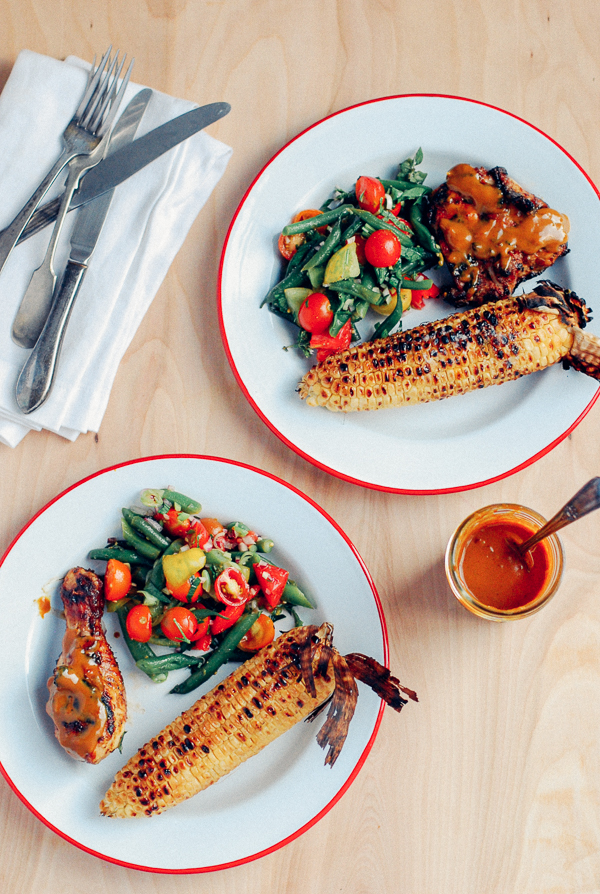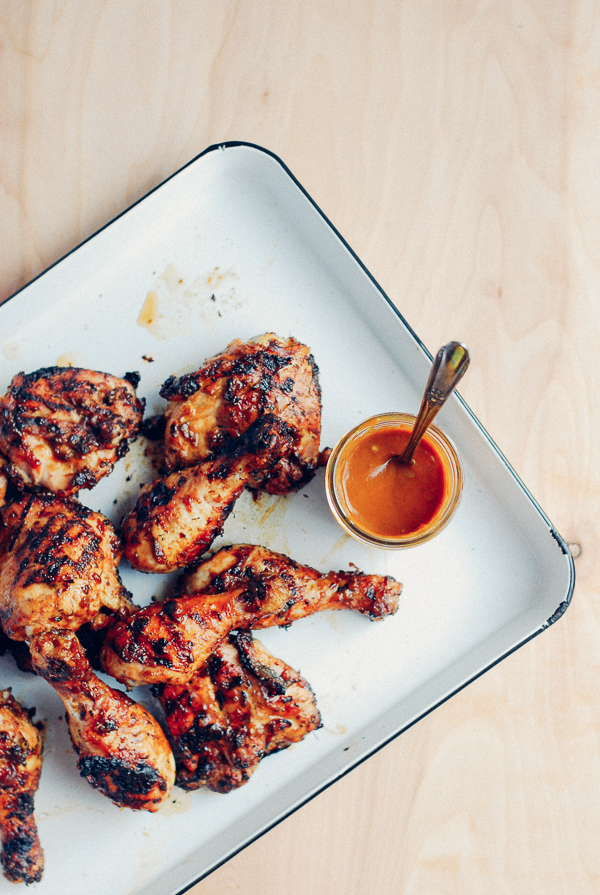 As your barbecue sauce bubbles away, play with the flavors – add spice or sweetness, kick up the vinegar, or add a hint of cumin. Versatility is the name of the game.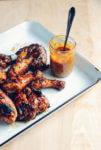 Grilled Chicken Legs with South Carolina-Style Barbecue Sauce
A recipe for smoky grilled chicken legs slathered in a tangy South Carolina-style barbecue sauce.
Ingredients
South Carolina-Style Sauce (makes about 1 1/2 cups)
2

tablespoons

extra virgin olive oil

1/4

cup

minced red onion

1

tablespoon

minced garlic

1

cup

French's yellow mustard

1/3

cup

turbinado sugar

2

tablespoons

molasses

2

tablespoons

apple cider vinegar

1

tablespoon

tomato ketchup

1

teaspoon

Worcestershire sauce

splash hot sauce

pinch chili powder

pinch sea salt and black pepper
Grilled Chicken
2

pounds

chicken legs and thighs

, skin on and bone in

olive oil

sea salt
Instructions
To make the South Carolina-style barbecue sauce, heat olive oil in a medium-sized saucepan over medium heat. Add the minced onions and sauté for 10 minutes. Edge heat down slightly if onions start to brown. Add the minced garlic and sauté for 1 minute more.

Next, stir in all of the remaining ingredients. Bring mixture to a gentle boil and then turn heat to low. Stirring often, cook over low heat for 10 minutes. Adjust sweeteners, spices, vinegar, and salt levels to taste. 

Spoon half the sauce into a bowl for brushing on the grilled chicken, and reserve remaining sauce for serving.

Sprinkle both sides of the chicken with sea salt.

Get a large pile of charcoal going in your grill. When all the coals are gray, use tongs to move them to one side of the grill.

Brush chicken on both sides with barbecue sauce and place it on the grill over the coals. (Keep an eye out for flare ups –– move chicken away from the coals for a little while if they get really intense). After 2 – 3 minutes, flip chicken.

After another 2 – 3 minutes move chicken to the side of the grill that's not over the coals and brush with barbecue sauce again. Cover grill and wait 4 minutes or so. Flip the chicken, brush with sauce again, and cover grill for another 4 minutes or so. 

Pull chicken from grill when the outside is a deep golden brown and the internal temperature reaches 165 degrees F.

Rest chicken for 10 minutes before serving.

Serve chicken with a generous drizzle of barbecue sauce.
This post was sponsored by 100 percent natural French's classic yellow mustard. Thanks for supporting Brooklyn Supper's sponsors!
SaveSave
SaveSave
SaveSave