A colorful, summer-inspired grilled chicken and peach salad, pickled onions, greens, and basil vinaigrette. This post was created in partnership with Farmer Focus.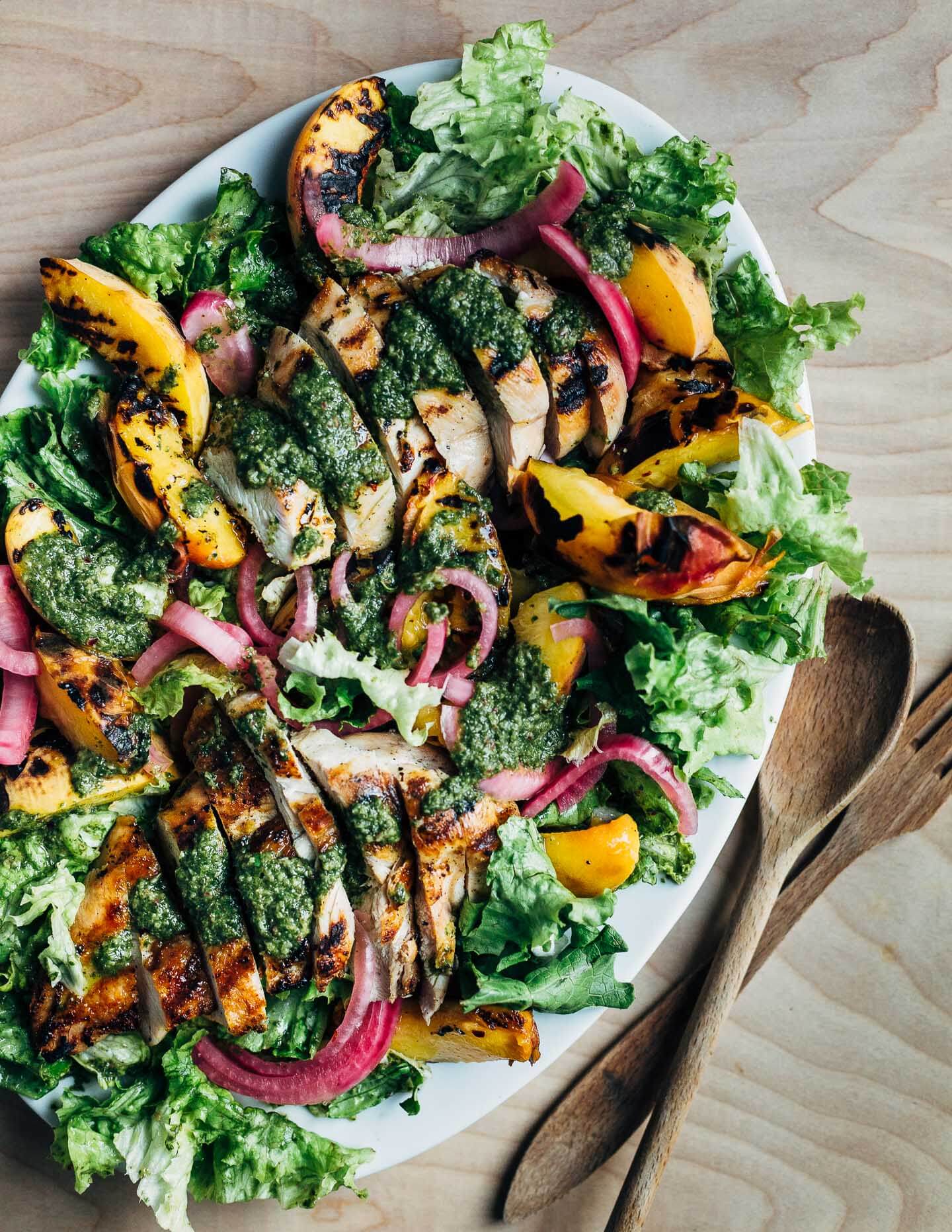 We've reached peak summer produce. It can be hard to keep up with all the ripe, delicious fruits and vegetables right now, but I'm happy to try. Freestone peaches, endless basil, beautifully acidic and sweet tomatoes, sweet and hot peppers, corn, okra – it's all here. Deciding what to make for dinner is dictated by what's ripening on the counter or in the garden. Pasta and other grains are always a good way to bring summer produce together. But sometimes, even a supplementary grain feels unnecessary, especially when piles of lettuce, tangy pickles, sweet peaches, and tender chicken are at the ready.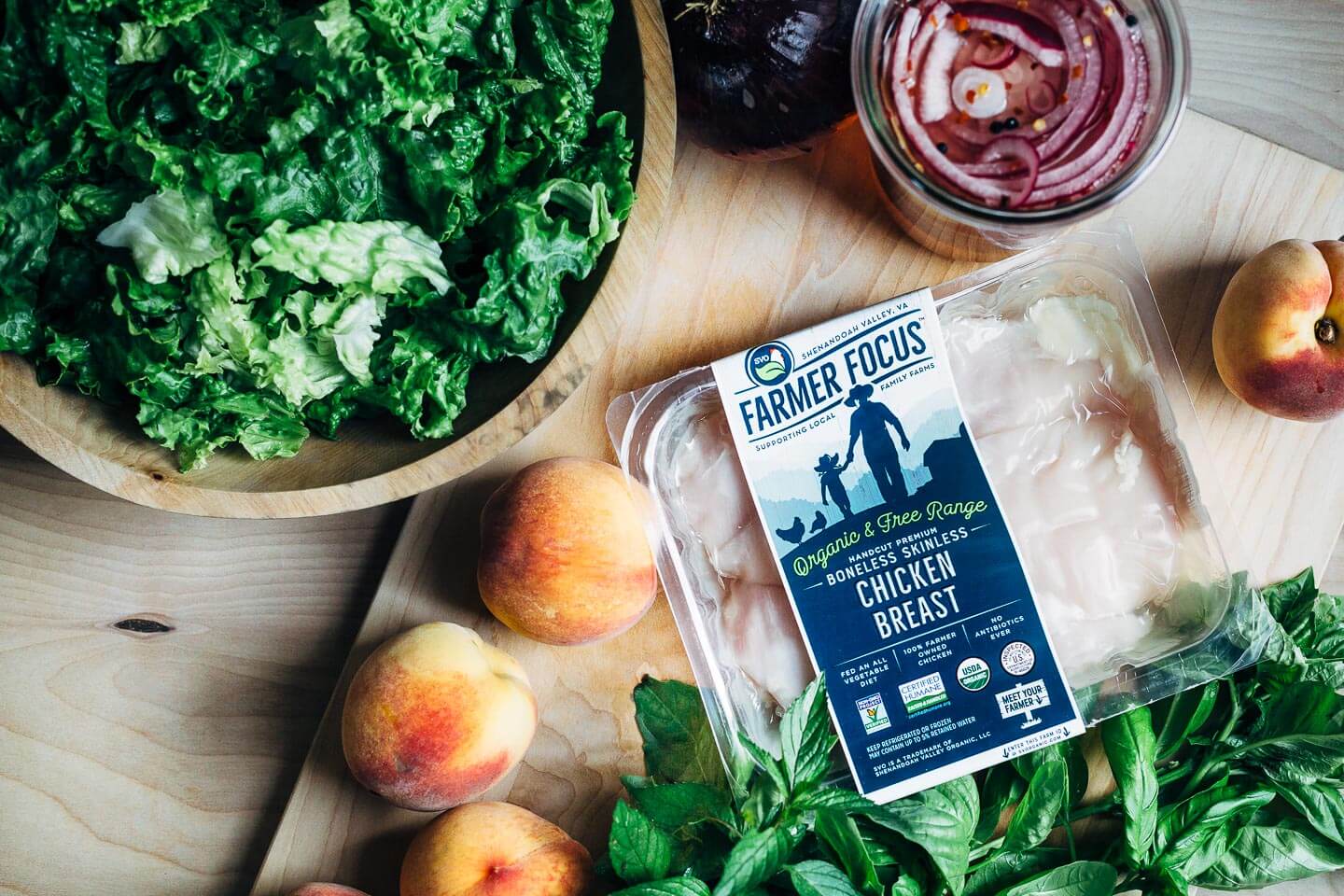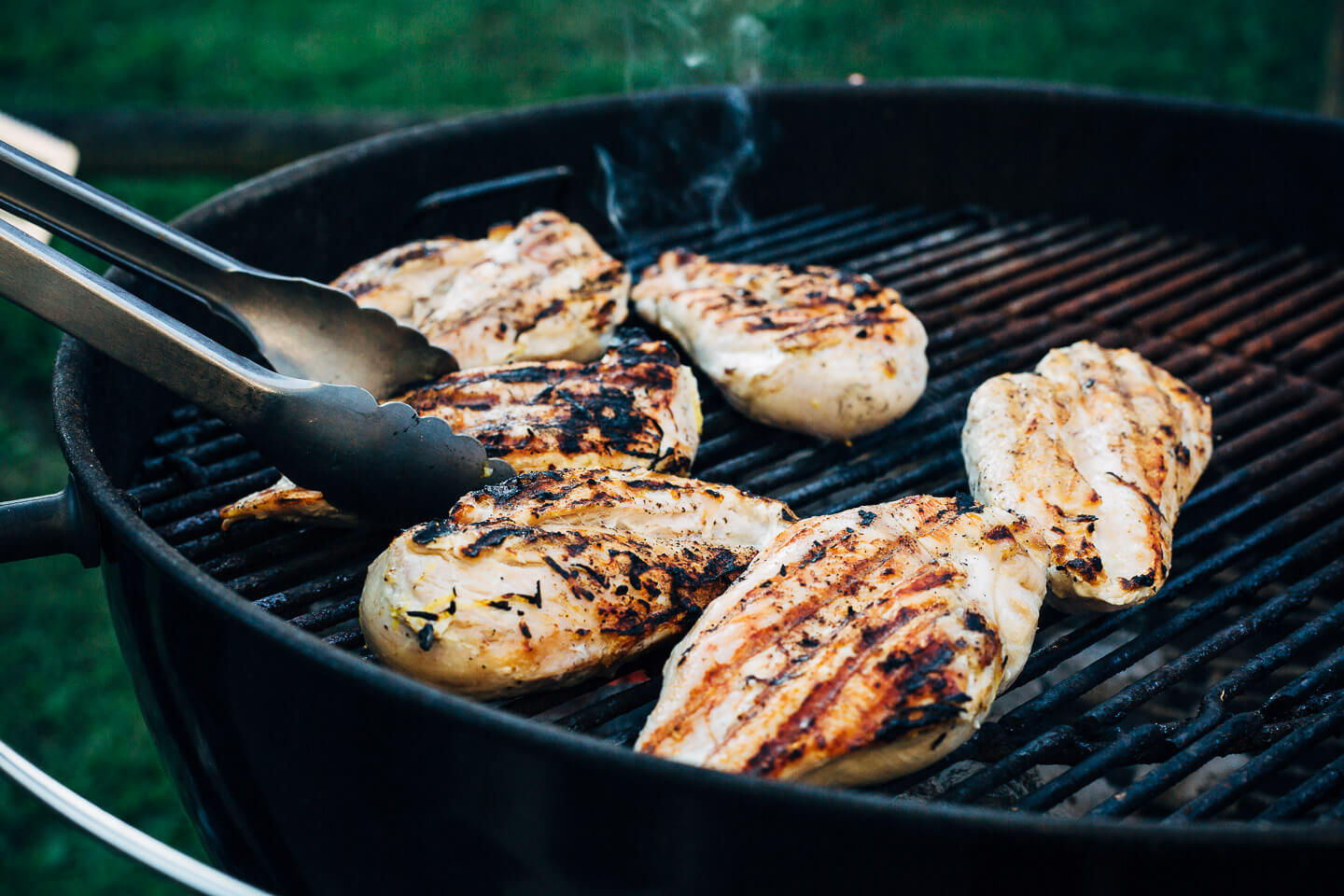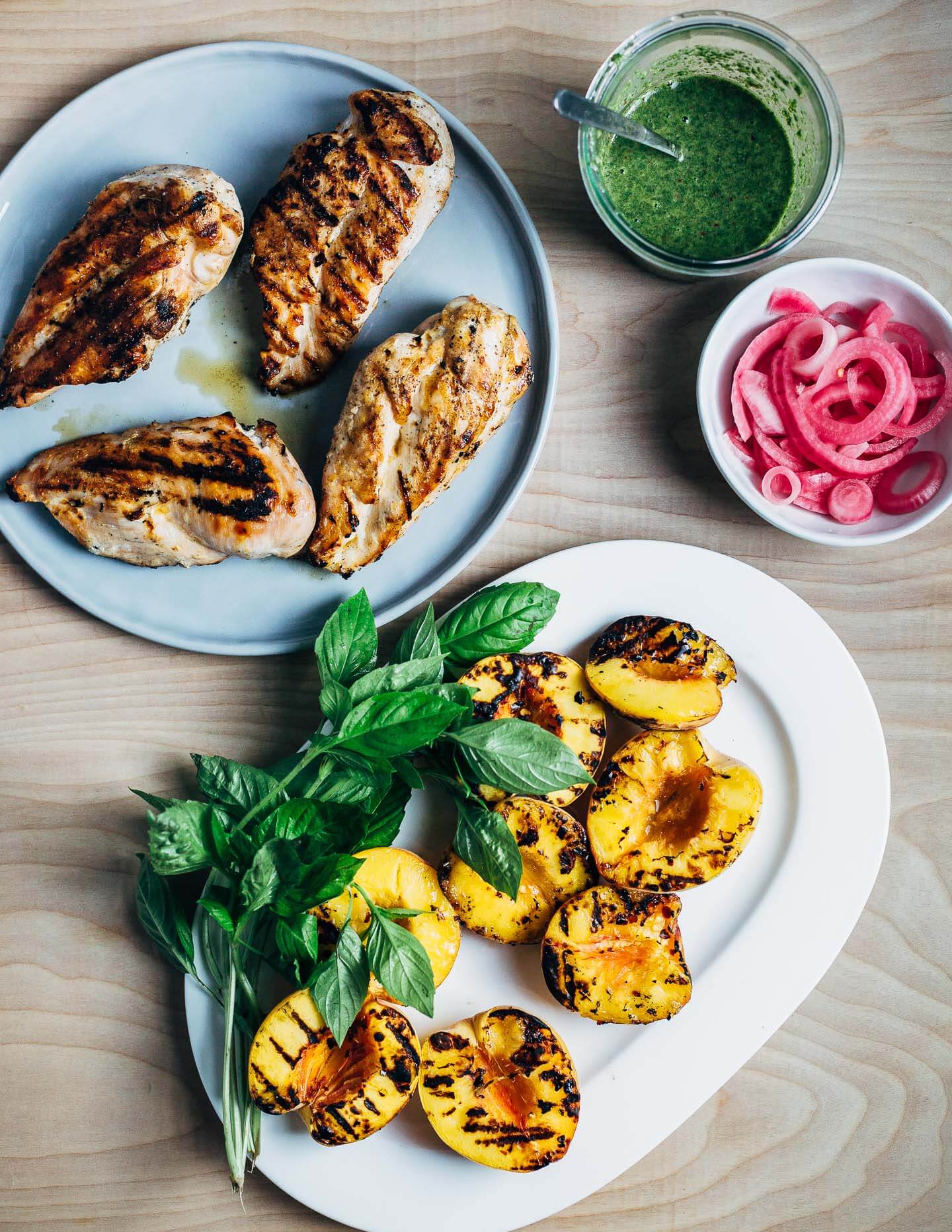 A Sense of Place
Just as I love the progression of summer produce – the way each vegetable and fruit is linked to the place it was grown and the weather in which it formed – I also love the sense of place that comes from quality proteins like Farmer Focus chicken, raised just over the Blue Ridge Mountains in the Shenandoah Valley.
There are so many reasons I'm glad to work with Farmer Focus – they care for the small family farmers who raise their chicken, they highlight these farmers' stories by including a Farm ID on each package where you can look up and learn about the farm where your chicken came from, and they ensure that all their chicken is USDA Certified Organic, Certified Humane, Non-GMO Project Verified, and has a Global Animal Partnership (GAP) Step 3 rating. Because of this commitment to quality, Farmer Focus chicken is also incredibly flavorful. Find Farmer Focus chicken at a retailer near you right here.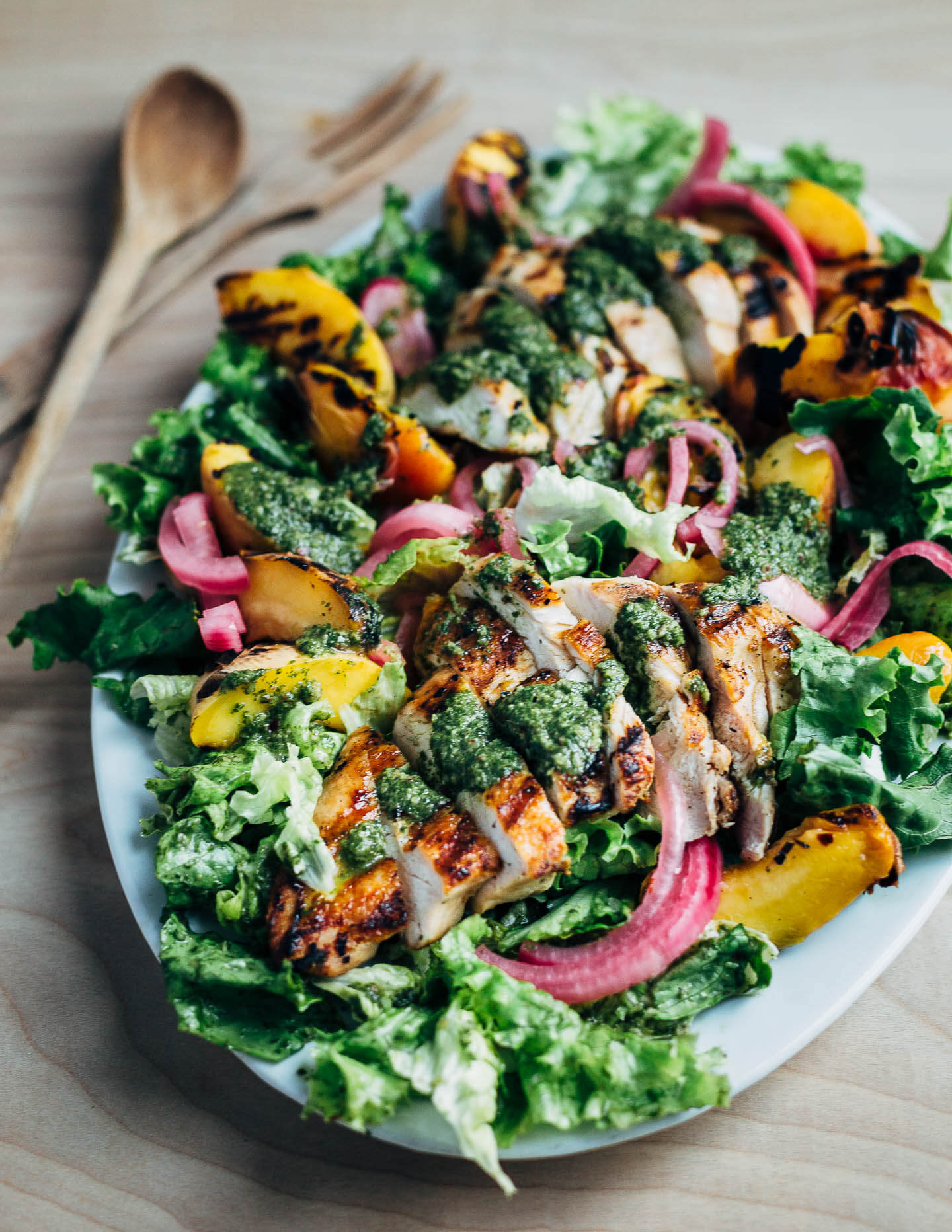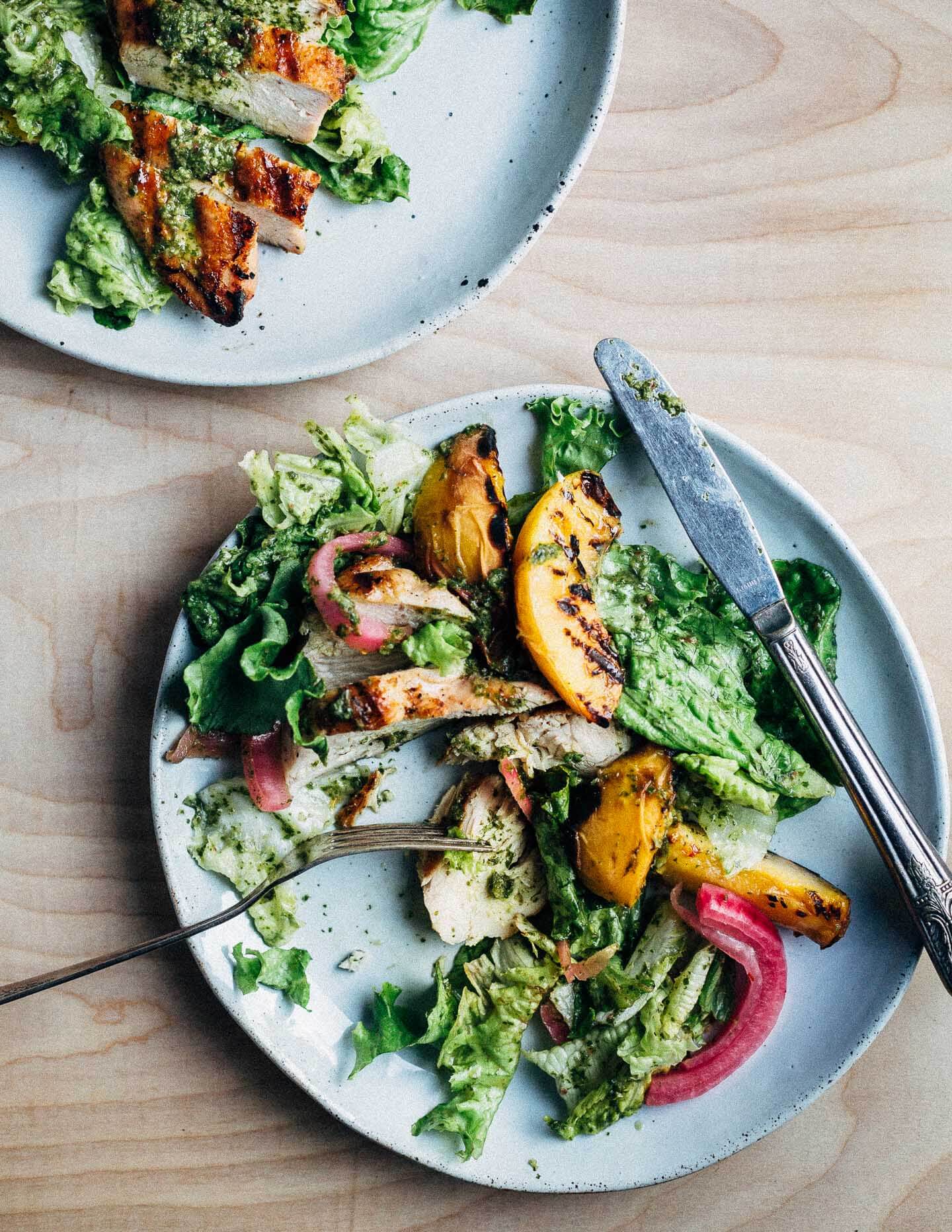 A Grilled Chicken Salad Inspired By Summer Ingredients
This summer-inspired grilled chicken and peach salad may feel showy at first glance, but it's quite simple, especially if you have a few elements, like the quick-pickled onions and basil vinaigrette, prepped ahead. Anytime I make chicken, I find it's much better if I take the time to salt it well ahead of time. Here, I also added pepper, lemon zest and a squeeze of juice to add tang and ensure the flavors would stand up to the bright sweetness of the peaches. It's an effortless preparation that leaves time to get the grilling just right.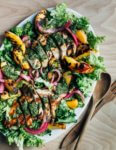 Grilled Chicken and Peach Salad with Basil Vinaigrette
A colorful, summer-inspired grilled chicken and peach salad, pickled onions, greens, and basil vinaigrette.
Keyword:
grilled chicken salad
Ingredients
Vinaigrette
2

cups

packed basil leaves

2

cloves

garlic,

smashed, peeled, and minced

1

tablespoon

fresh squeezed lemon juice

1

tablespoon

red wine vinegar

1/2

teaspoon

sea salt

1/2

cup

extra virgin olive oil

Freshly ground black pepper to taste
Salad
4

peaches,

halved (select peaches that are ripe, but firm)

Sea salt and pepper

to taste
Instructions
Working ahead, make the quick-pickles according to this recipe. In a small bowl, combine the lemon zest, 2 tablespoons juice, sea salt, and pepper. With paper towels, pat the chicken dry, set in a shallow dish, and drizzle with the marinade. Set in the fridge to chill at least 2 hours ahead or as long as overnight.

To make the vinaigrette, in the bowl of a food processor, pulse to blend the basil leaves, garlic, lemon juice, and vingar, just until reduced. With food processor running, add the sea salt and olive oil, blending until smooth. Add more sea salt or lemon to taste. The vinaigrette will keep well for three days covered tight in the fridge, but the color is best on the same day it's made.

When ready to make the salad, prepare a hot grill. Bank hot coals to one side, to create zones of high and indirect heat. Brush chicken breasts very sparingly with olive oil and lightly oil the grill grates.

Cook chicken over direct heat for 4 minutes, flip, and cook 4 minutes more. Move chicken over indirect heat and cook until the internal temperature hits 165 degrees F (3 - 5 minutes more). Cook peaches over direct heat 1 - 2 minutes per side and then remove to a plate.

Let chicken rest 10 minutes, then slice into 1/2-inch thick pieces. Slice each peaches into wedges.

To assemble the salad, toss the greens with half the dressing. Taste and add sea salt as needed. Arrange greens on a platter. Top with chicken, tuck peaches and pickled onions all around. Drizzle with remaining dressing. Serve right away.