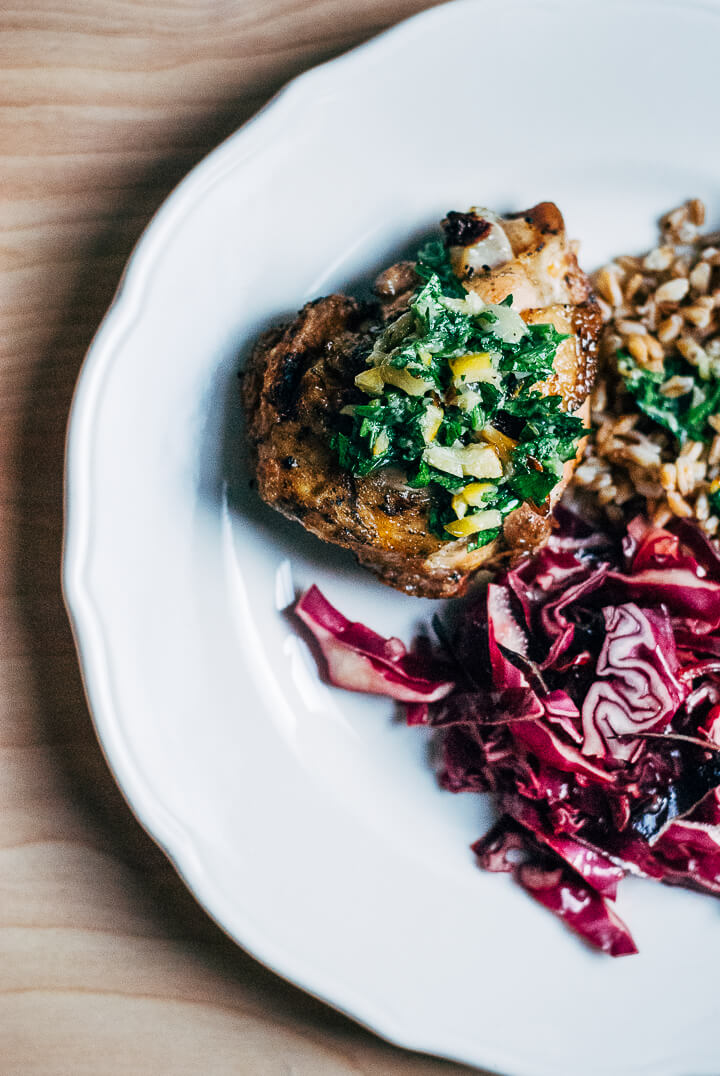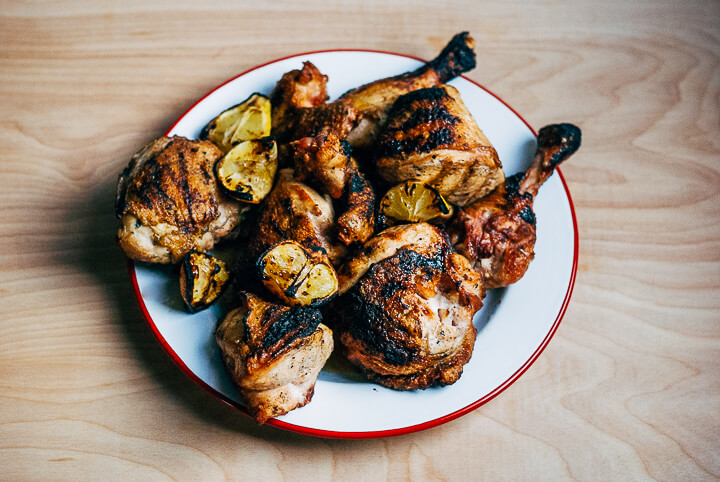 A simple recipe for smoky, savory grilled chicken with a bright and punchy grilled lemon and garlic relish. Jump to recipe.
All last week, we held our breath.
We waited and watched – refresh, refresh, refresh. Though quiet anticipation was an ever-present undercurrent, the surface was all chaos. Strong storms barreled in from the midwest nearly every evening. Our house, apparently, thought it a good time to have a meltdown, and a broken sink, bathtub, and faucet meant that our landlord spent the evenings repairing things. Perhaps taking cues from the house, our girls were in a state. (And only now, as I write this, do I realize that all that conflicting energy sent them to the brink. In the moment, I wondered if they were tired or bored with summer, sick of each other, and on and on. But of course, we were a bit of a mess, things were in disarray, and they responded accordingly.)
Then, on Tuesday of this week, the good news came.
Brian got a new job! We've needed this change for a while, and the new position is perfect in many ways. While our move from Brooklyn to Charlottesville was a good one, it hasn't been completely perfect – my freelance work comes in fits and starts and Brian's old position was neither intellectually nor financially rewarding. So, here we go, onto something new and good. We're thrilled.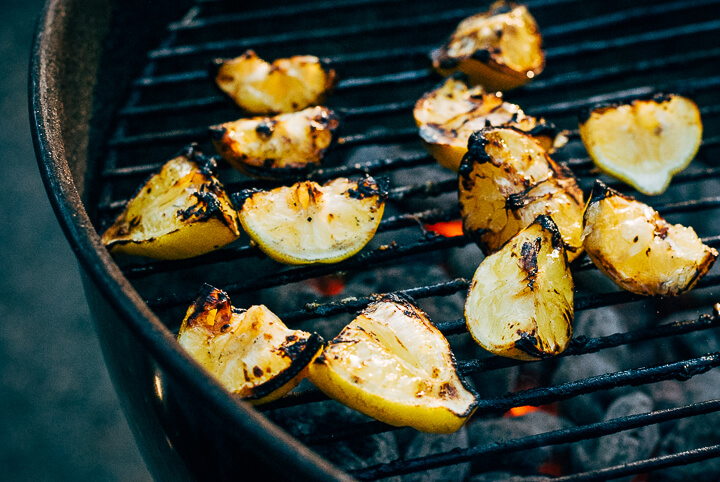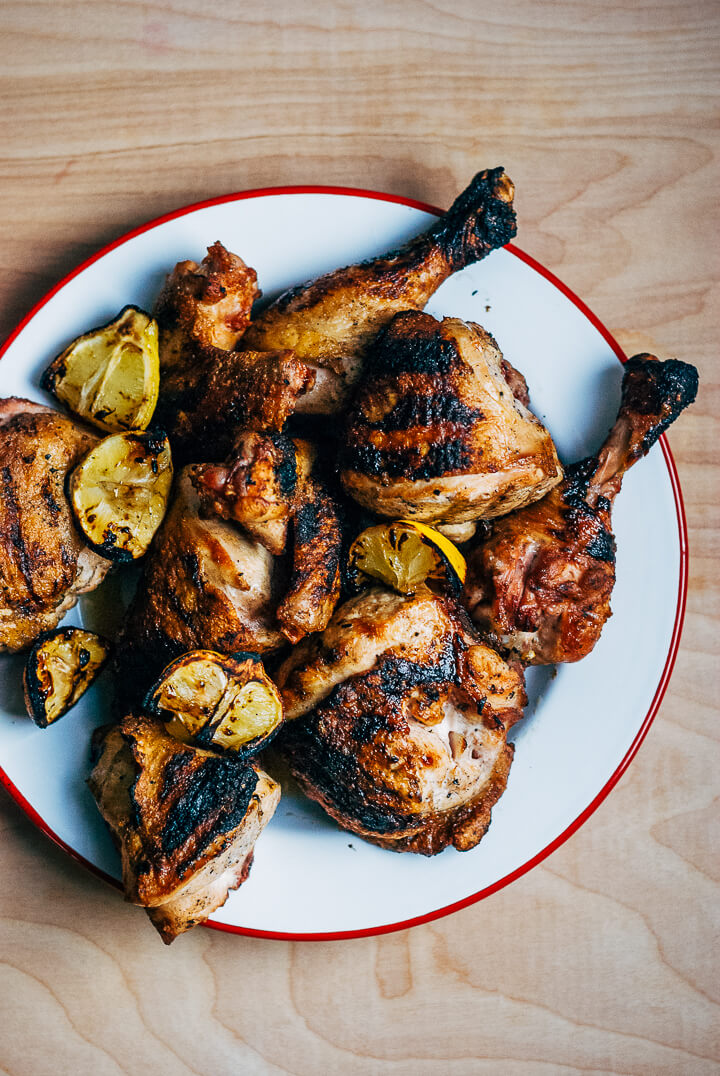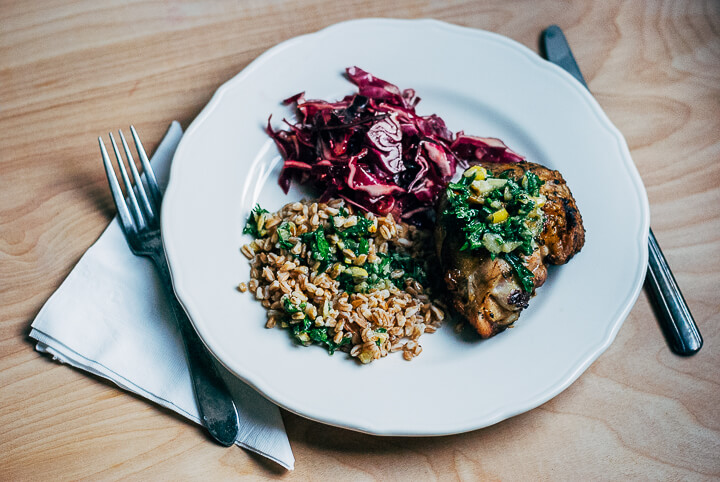 Back to last week – with the chaos I outlined above, adding an open flame to the mix might not have been the best of ideas, but I needed to test a grilling menu on a tight deadline and we figured we may as well make dinner, too. Chicken is often overlooked in the grilling arena, but it shouldn't be. The coals effortlessly crisp the skin, all the while imbuing everything with smoky richness. We also grilled up a bunch of lemons, using them both as an accompaniment for the chicken, and the base for a smoky, herbaceous relish. To round out the meal, we added farro and a simplified version of this salad with just purple cabbage and balsamic vinaigrette.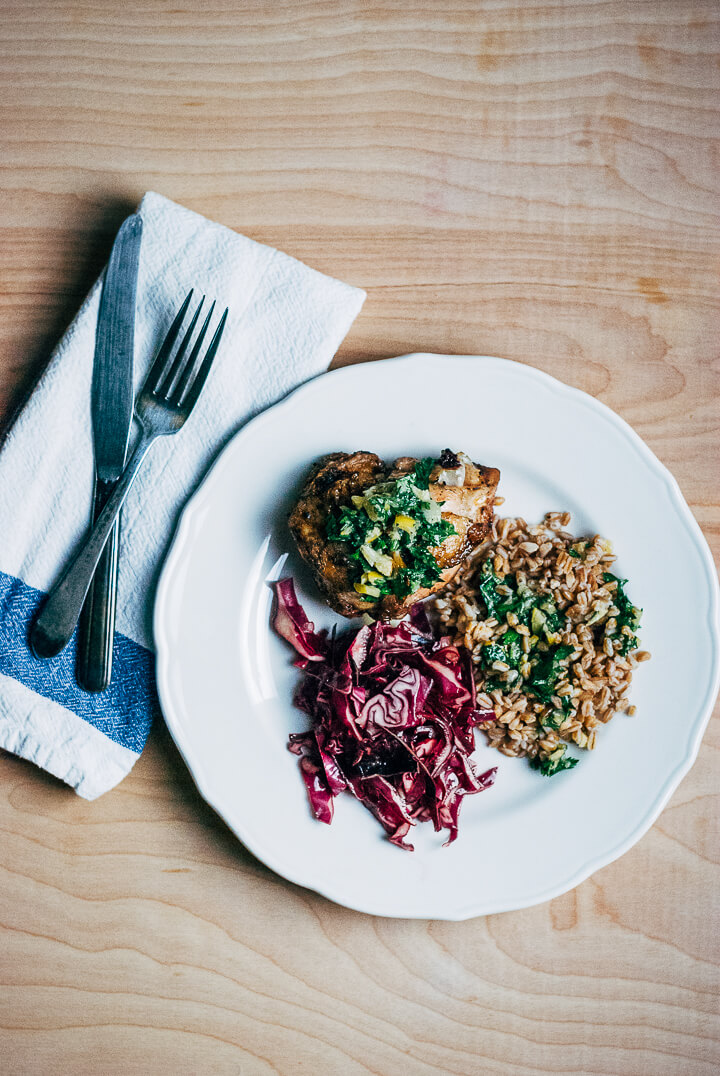 One note about grilling chicken: we cook on a charcoal grill, where there's a fine line between delightfully browned and inedibly charred. It's best to pile the coals up on one side, so you have a cooler side to move the chicken to if you're having a flare-up emergency or if the skin's looking good, but the chicken's not cooked through yet.
Lemons vary wildly – some are relatively thin-skinned and sweet, while other are housed in a thick flavorless pith and have sour flesh. When constructing the relish, taste as you go, adjusting cook time and lemon quantities accordingly.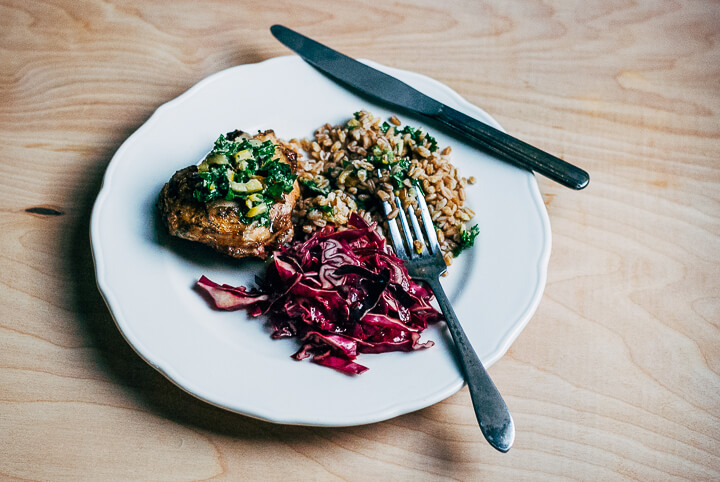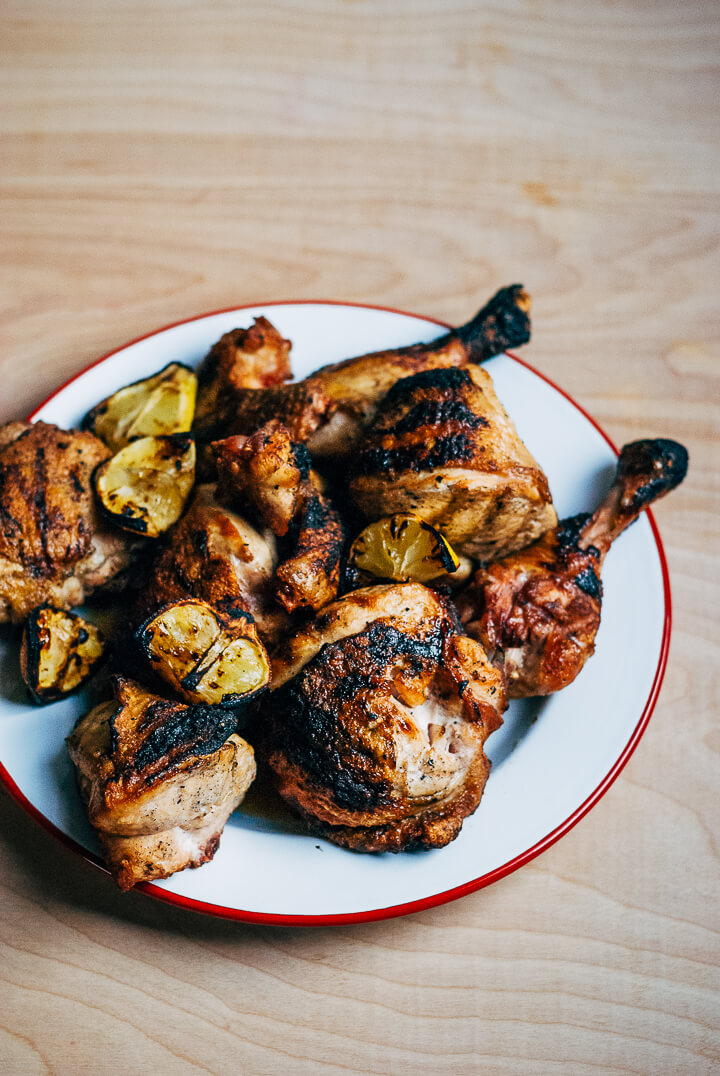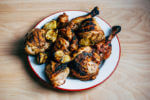 Grilled Chicken
A simple recipe for smoky, savory grilled chicken.
Ingredients
1

whole chicken

, cut into 10 parts - 2 legs, 2 wings, 2 thighs, and the 2 breasts each cut in half to make 4 pieces (These instructions for breaking down a cooked chicken work for a raw one as well.)

sea salt to taste

ground black pepper to taste

2 - 3

tablespoons

extra virgin olive oil
Instructions
Light coals; let them get hot enough that you can't hold you hand four inches above them for more than a few seconds.

While coals are heating, sprinkle both sides of chicken pieces with salt and pepper. When coals are up to temperature, pile them with tongs to one side and place grate on the grill.

Brush chicken sparingly with olive oil. (Too much will drip onto the coals and cause flare ups, while just a tiny amount will keep the skin from sticking.)

Place chicken pieces skin side down on the grill grate and cook for 2 - 3 minutes (until the skin is nicely browned). Flip chicken pieces and cook another 2 - 3 minutes on the other side. Move chicken to the side without coals and place lid on the grill. Cook until the chicken has reached an internal temperature of 165 degrees F (probably another 4 - 5 minutes); remove chicken pieces from the grill.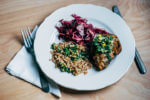 Grilled Lemon and Garlic Herb Relish
A piquant and smoky herb relish made with grilled lemon and garlic.
Ingredients
10

cloves

garlic

, lightly smashed and peeled

3

small lemons

, quartered

1/4

cup

plus 1 tablespoon extra virgin olive oil

, divided

1/2

cup

lightly packed minced herbs

, such as parsley, basil, and tarragon

sea salt to taste
Instructions
Prepare a hot grill. Use tongs to move coals over to one side to create a cool and hot side of the grill.

Place garlic cloves in an 8-inch square of foil. Drizzle with 1 tablespoon olive oil. Wrap foil around garlic carefully, so oil won't leak out onto the grill.

Place foil packet with garlic over the cooler side of the grill, and cook until garlic is cooked through and translucent, 10 - 15 minutes. Set aside to cool; when cool enough to handle, carefully open packet.

Place lemon slices over the hot part of the grill. Cook each side for 2 - 3 minutes, or until charred and golden brown. (The rind will take the longest, give it time to lightly char and soften up.) Lemons will be very soft and juicy, so handy carefully once cooked.

To make the relish, mash grilled garlic with a fork. Finely mince 1 lemon, peel and all.

Mash garlic, olive oil, and a pinch of sea salt with the minced herbs. Next, add the minced lemon (you may want to add the minced lemon sparingly – taste as you go). Squeeze the juice of one of the remaining grilled lemons onto the relish, using your hand to catch any seeds. Mix well with a fork, taste, and add more sea salt, lemon, or olive oil as needed.

Add the remaining grilled lemon pieces to the plate of grilled chicken.

Spoon relish onto grilled chicken, and enjoy.