Flavorful grilled lamb tossed with tender haricot vert and drizzled with a generously spiced coconut milk broth.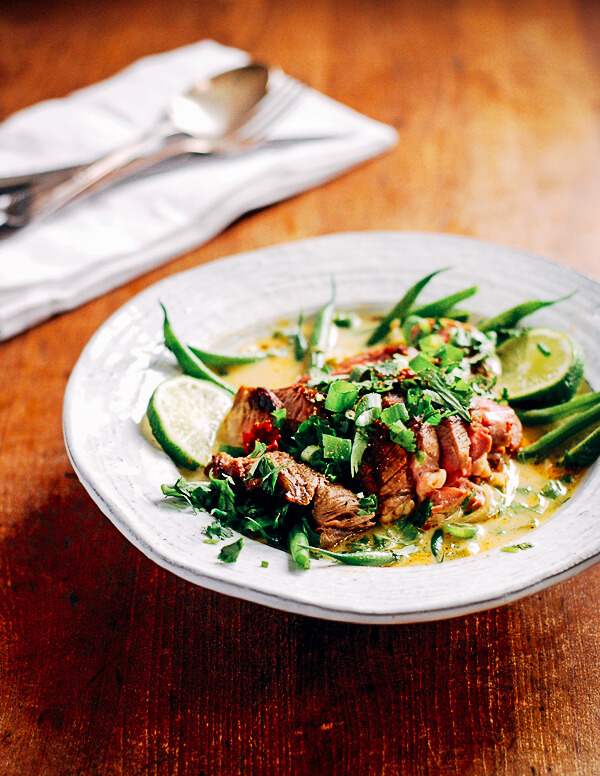 It might just be because the combination of a breezy May evening, medium-rare spring lamb, tender haricot vert, and a Thai-spiced coconut milk broth make for a straight-up amazing dinner, but last Sunday an unheard-of civility descended on our family table for a precious few minutes and it was the best. If you make this dish (and you should), I can't promise it will work the same kind of magic, but at least you'll know your tastebuds will be rewarded handsomely.
A creamy, spiced coconut milk broth makes up the base of the dish. It comes together quickly, but has all these great flavors like ginger, shallots, Thai spices, lime (cha-ching!), and cilantro. In light of all that, the lamb is prepared simply, with just salt and pepper. The haricot vert bring a nice sweetness to the dish, and can either be sautéed with fish sauce and coconut oil, or blanched.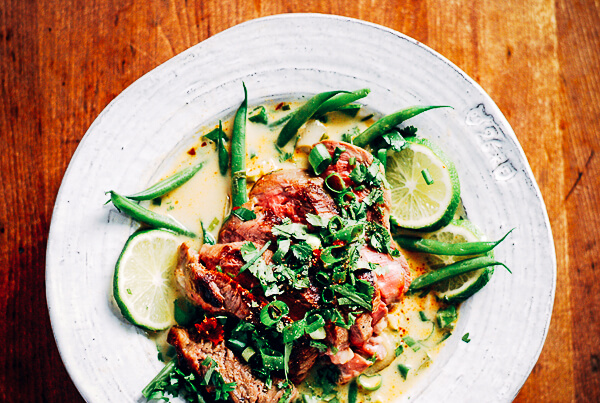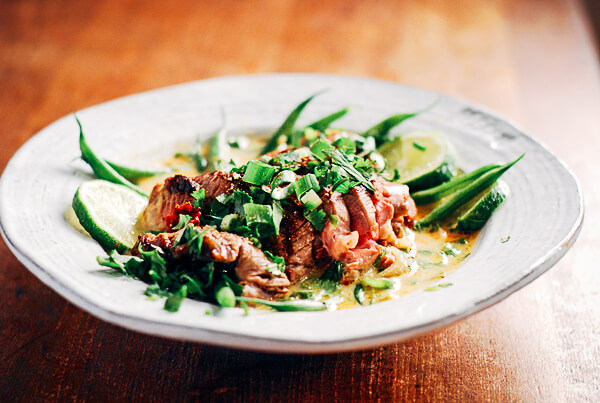 Lastly, this week we found out our oldest daughter daughter is almost certainly going to be fine –– it's a huge relief. Thank you again for all the kind wishes and notes; proof again that it's pretty great to be a part of this online community.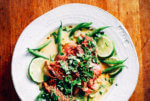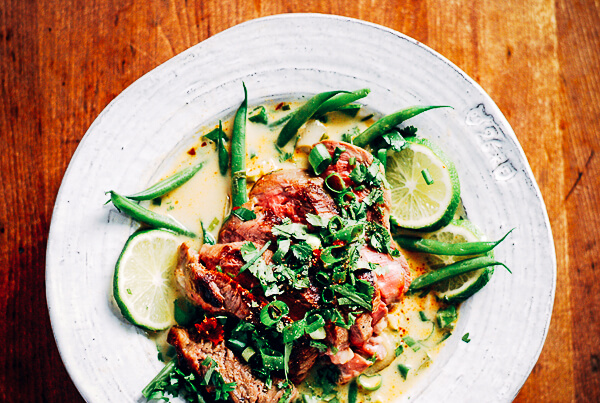 Grilled Lamb with Haricot Vert and Coconut Milk Broth
Flavorful grilled lamb tossed with tender haricot vert and drizzled with a generously spiced coconut milk broth.

A few notes: this dish is made with lamb, but I imagine it would be excellent with all sorts of fish or shellfish. For the green beans, I did use tiny, tender haricot vert, but plain old green beans would be fine too. You can blanch and serve the beans, or sauté them for added flavor. I tried both. I also thought about adding a few carrot matchsticks for color and sweetness, but left them out in the end. Finally, I liked the additional flavor of green curry paste in the broth. Note that most curry pastes contain dextrose, so if you're avoiding sugar or Whole 30-ing, you may want to leave this ingredient out.

Ingredients
Coconut Milk Broth
2

tablespoons

coconut oil

3

shallots,

chopped (roughly 1 cup)

2

inch

section of ginger,

peeled and minced

3

cloves

garlic,

smashed, peeled, and chopped

1

tablespoon

fish sauce

1 - 2

tablespoons

red chili paste

or to taste

2

tablespoons

green curry paste

(optional)

1/2 - 1

teaspoon

sea salt or to taste

14

ounce

can full fat coconut milk

2

cups

low sodium chicken or vegetable stock

1/4

cup

chopped green onions
Lamb and Haricot Vert
2

pounds

butterflied leg of lamb,

bone removed

4

large handfuls haricot vert,

trimmed

2

tablespoons

coconut oil,

optional

2

tablespoons

fish sauce,

optional

sea salt and pepper to taste

fresh lime wedges

1/2

cup

minced cilantro
Instructions
Coconut Milk Broth
Heat a large, deep-sided sauté pan or Dutch oven over medium-high heat. Add coconut oil and shallots. Sauté shallots until translucent and edges have browned. Edge heat down to medium, and add ginger, garlic, fish sauce, red chili paste, and (if using) green curry paste. Sauté 2 minutes more. Deglaze pan with a 1/2 cup of stock; use a wooden spoon to scrape up any brown bits. Stir in remaining stock and coconut milk. Bring mixture to a gentle boil, then turn heat to low and simmer while you make the rest of the dish. Toward the end of cook time, add green onions.
Lamb and Haricot Vert
Prepare a hot grill or grill pan. Remove any sliver skin, and trim the leg of lamb into 4 x 4 inch sections (roughly 3/4 - 1 inch thick). Rub each side generously with sea salt and pepper.

For medium-rare lamb, sear each side for 4 - 5 minutes, or until temp reaches 130 degrees F. Rest 3 minutes, then slice into 1/2-inch thick slices.

Meanwhile, blanch haricot vert in salted water for 2 minutes, then dip in ice cold water. Shake haricot vert dry. For added flavor, sauté green beans with 2 tablespoons coconut oil. Add green beans, sea salt to taste, and 2 tablespoons fish sauce. Remove from heat just as beans start to brown.

Add a handful of green beans each to wide4 bowls. Ladle in coconut milk broth and top with several slices of lamb. Top with a generous squeeze of lime, and a small handful each of cilantro and minced green onions.
SaveSave
SaveSave
SaveSave
SaveSave
SaveSave