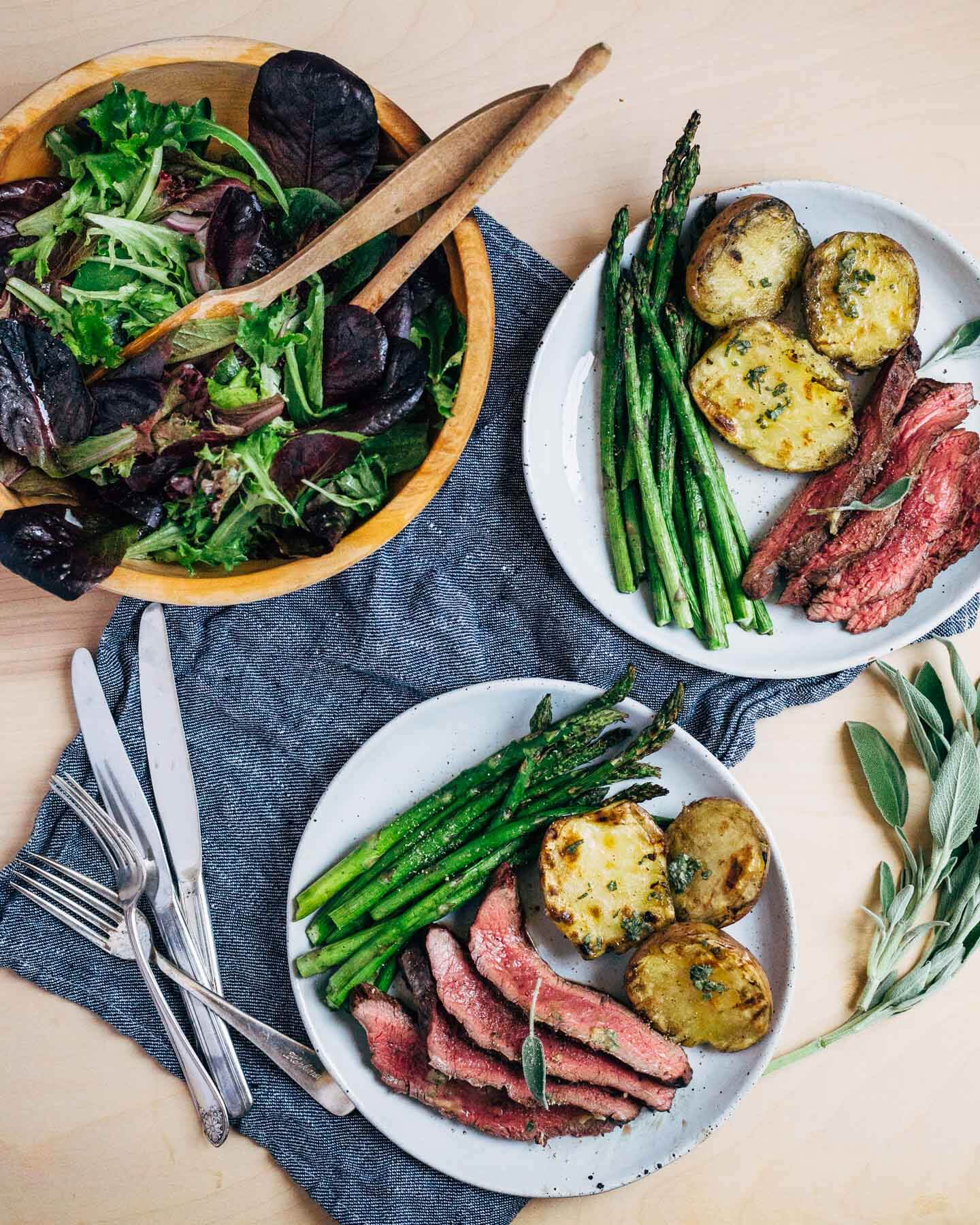 On the advice of my local whole animal butcher, I grilled a merlot steak, topped it with sage butter, and had a spring cookout that was both delicious and affordable. This post is created in partnership with Sub-Zero and their Fresh Food Matters initiative. Jump to recipe. 
Helping home cooks make affordable meals with good, local ingredients is one of our key missions at BkS. For us, learning to cook this way has been as much about sourcing ingredients as it is cooking them. Nowhere is this truer than with meat. It's easy enough to find cheap, delicious fruits and vegetables at your local farmer's market. But farmer's markets don't always sell meat or if they do, offerings lean toward expensive chops and steaks.
A trusted butcher is a really good thing and the knowledgeable team at JM Stock is an essential resource for much of the food I share here. A butcher we can ask (even basic) questions and learn from is a cherished part of our food community and one of the reasons we're so excited to feature the Fresh Food Matters initiative, which emphasizes the ways fresh food can strengthen our families, our communities and nourish the world around us. The Fresh Food Matters site has resources for everything from inspiring stories of food visionaries to seasonal produce guides and storage tips – head over and get inspired about seasonal food and the season of abundance to come.
A great, local, whole animal butcher shop is such an invaluable resource and a great place to start when you're looking to incorporate more sustainable, fresh food into your meals. Brian and I are fortunate to have just such a shop in JM Stock Provisions. In an odd bit of luck, JM Stock's owners, Matt Greene and James Lum, who worked at the shop we frequented in Brooklyn decamped for Charlottesville at the same time we did. Knowing that we'd have a great whole animal butcher right here in Charlottesville was a huge relief.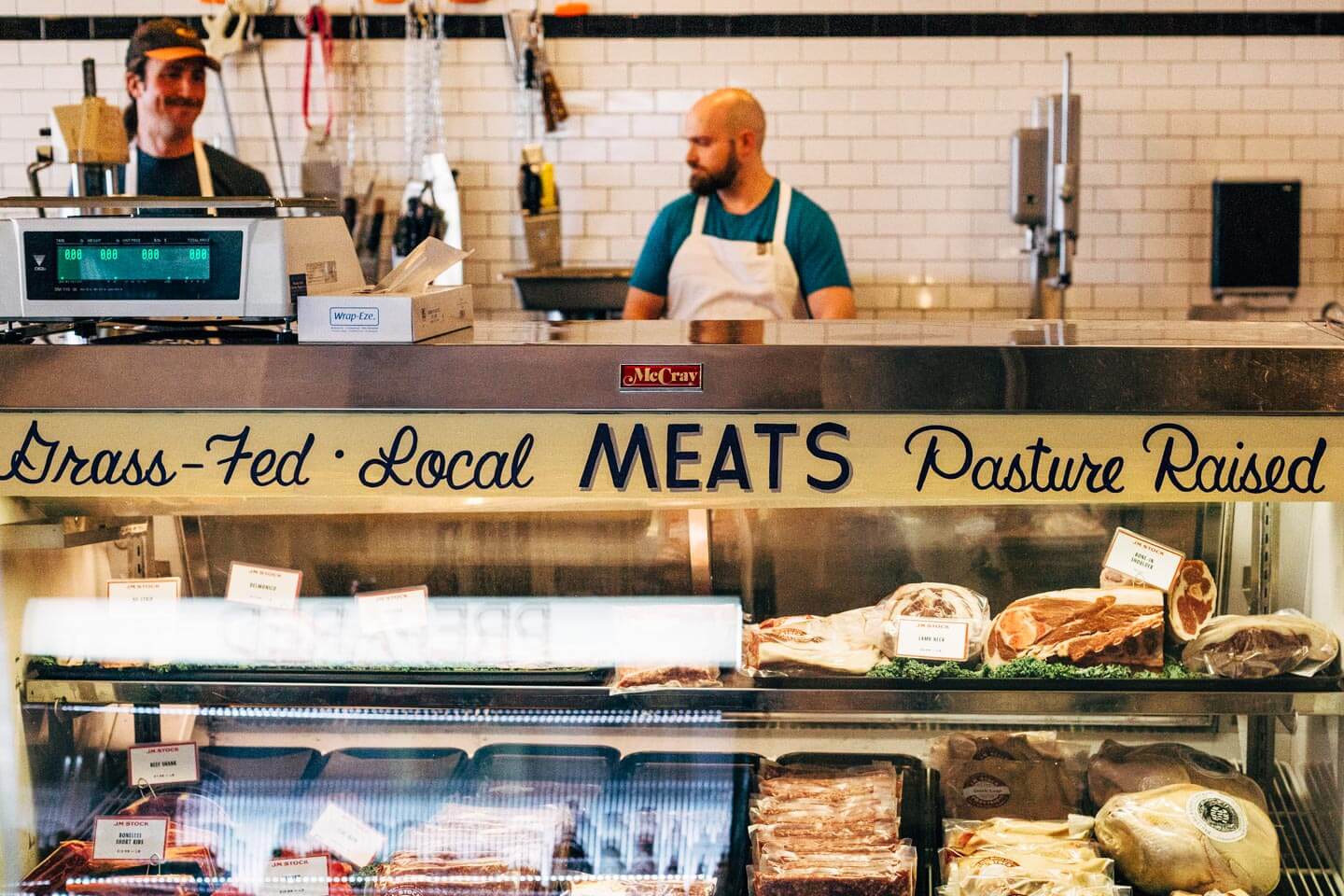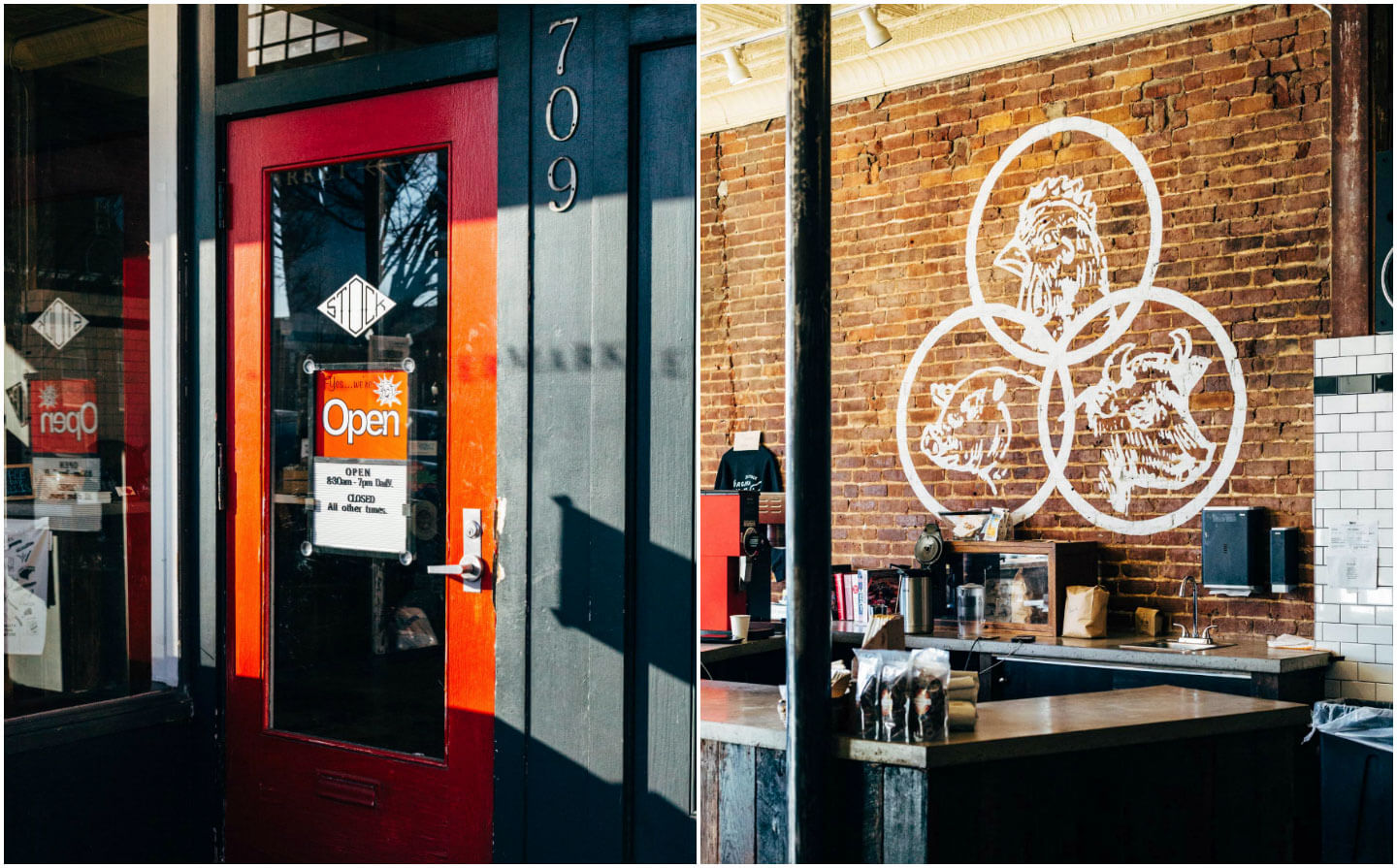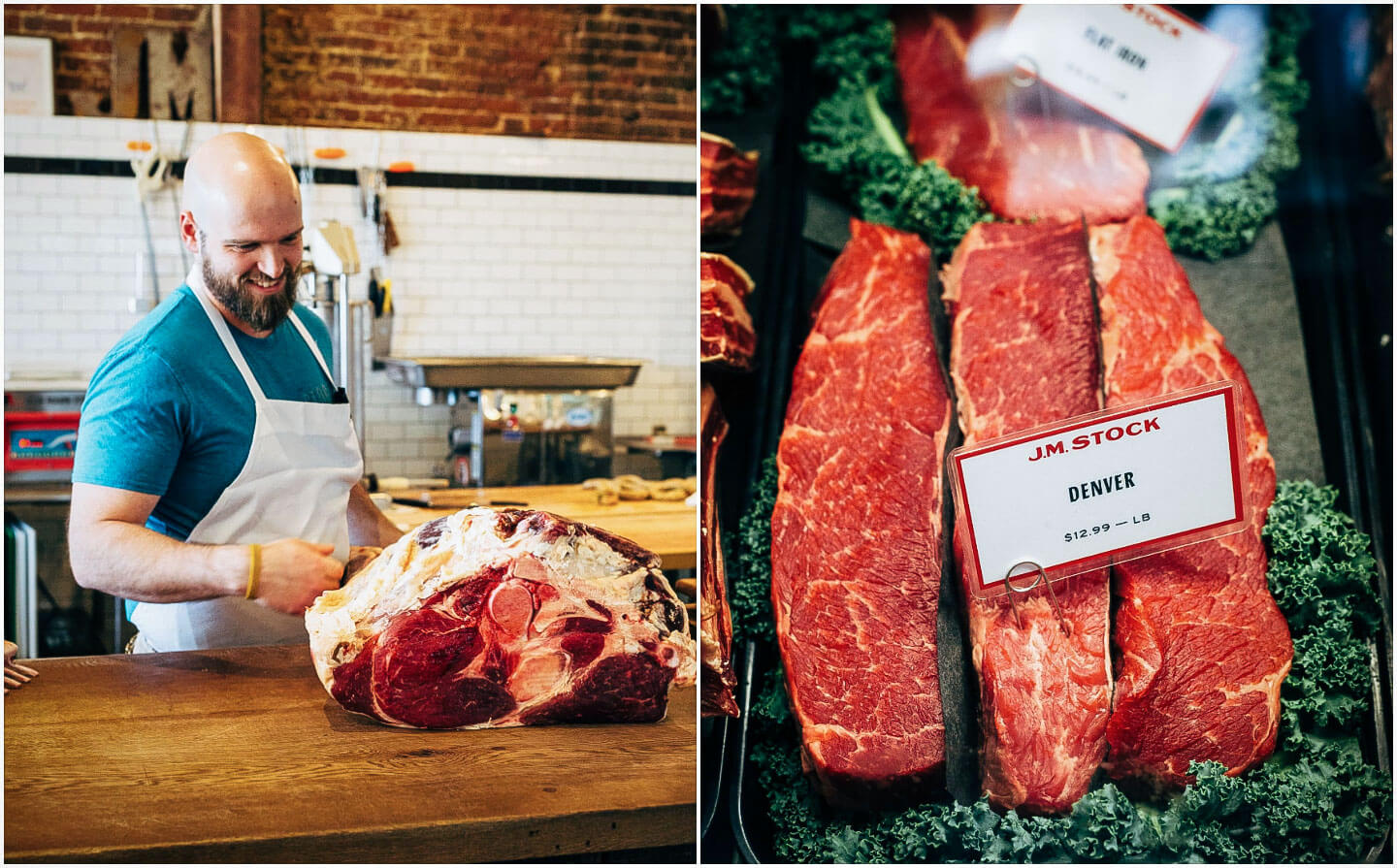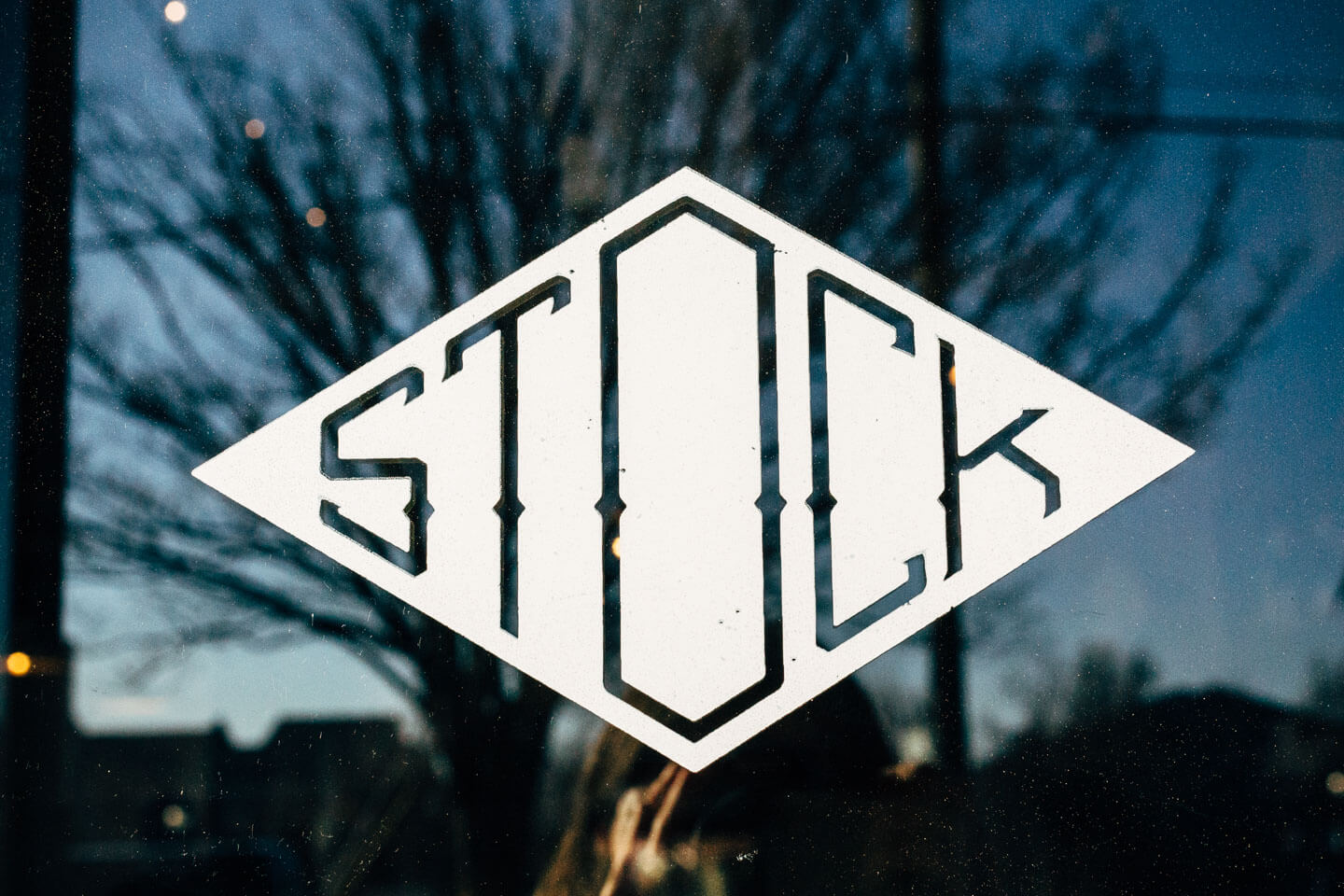 Our butchers, like many whole animal butchers, source their meats locally from small farms who pasture-raise their animals, which makes for more flavorful meats with a drastically lower carbon footprint. And on a more immediate level, they help us plan meals that work within our budget without sacrificing flavor or quality. One of our favorite things about JM Stock and the other whole animal butchers we've worked with is that they're always ready with a suggestion for an affordable, lesser-known cut that will work great in a braise or another one that will be fantastic on the grill.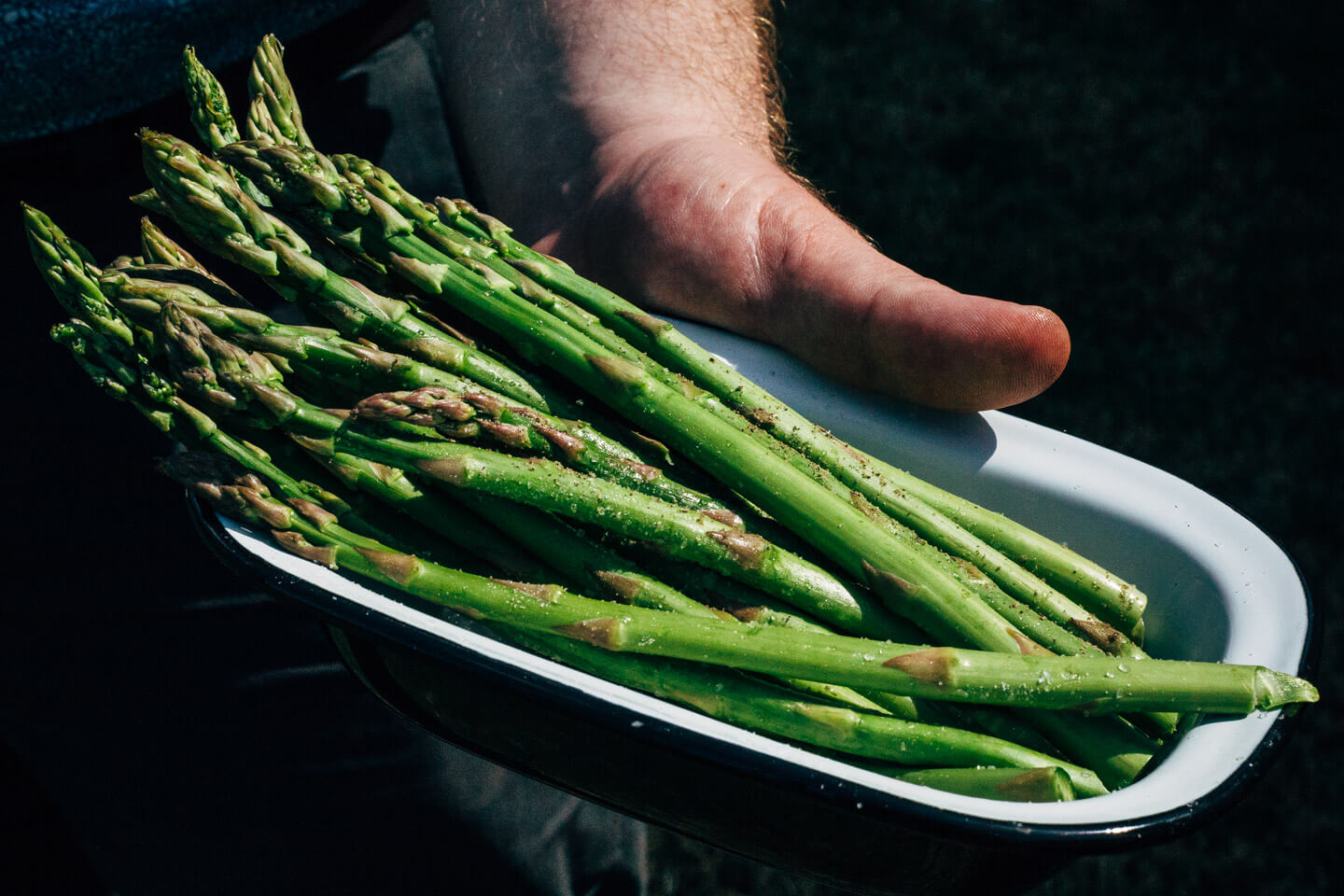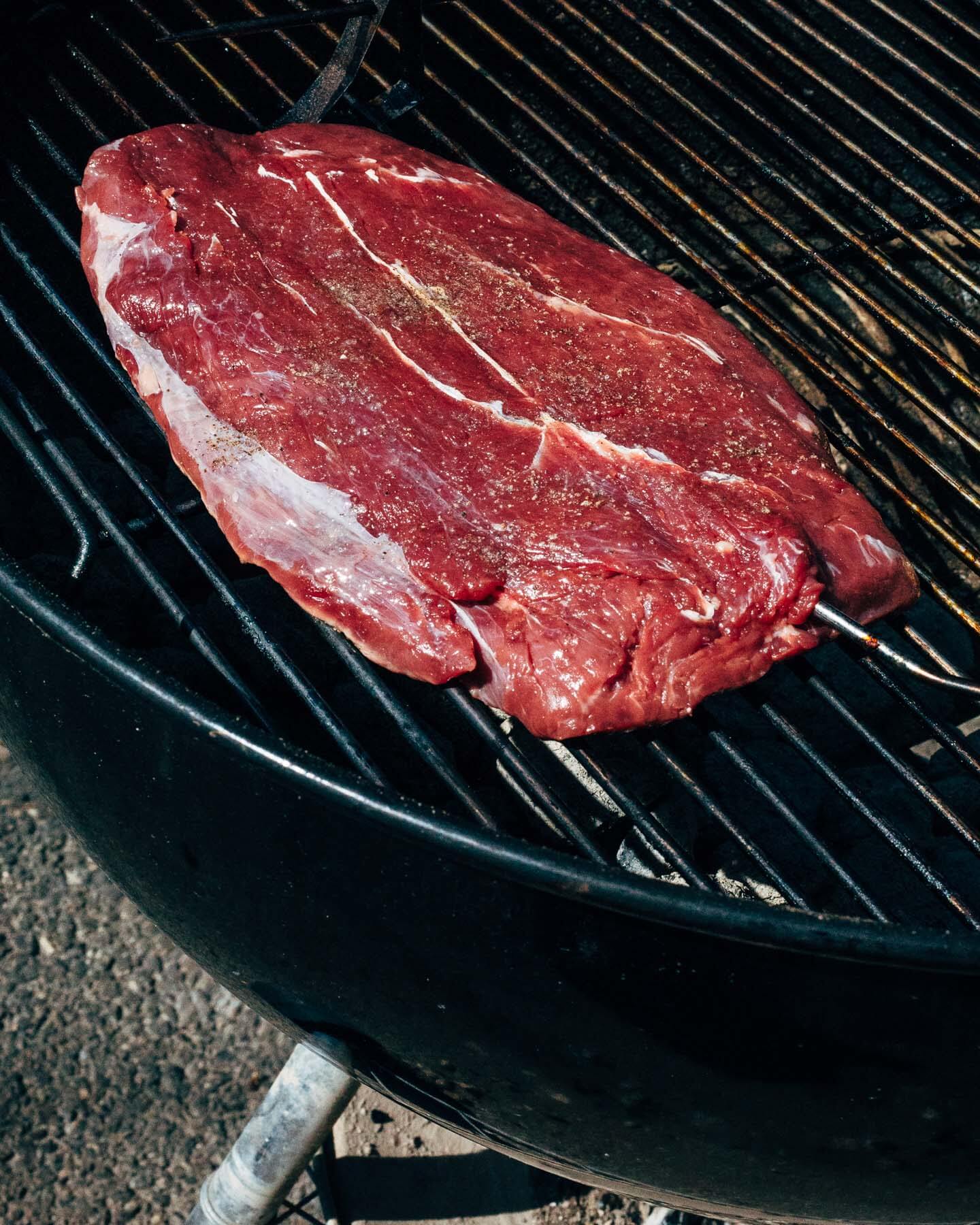 This grilled merlot steak was the result of just such a suggestion. Cut from the heel of the steer just above the Achilles tendon, the merlot steak is a lean cut that cooks quickly over high heat. Tender and rich, it's ideal for grilling and serving rare or medium rare.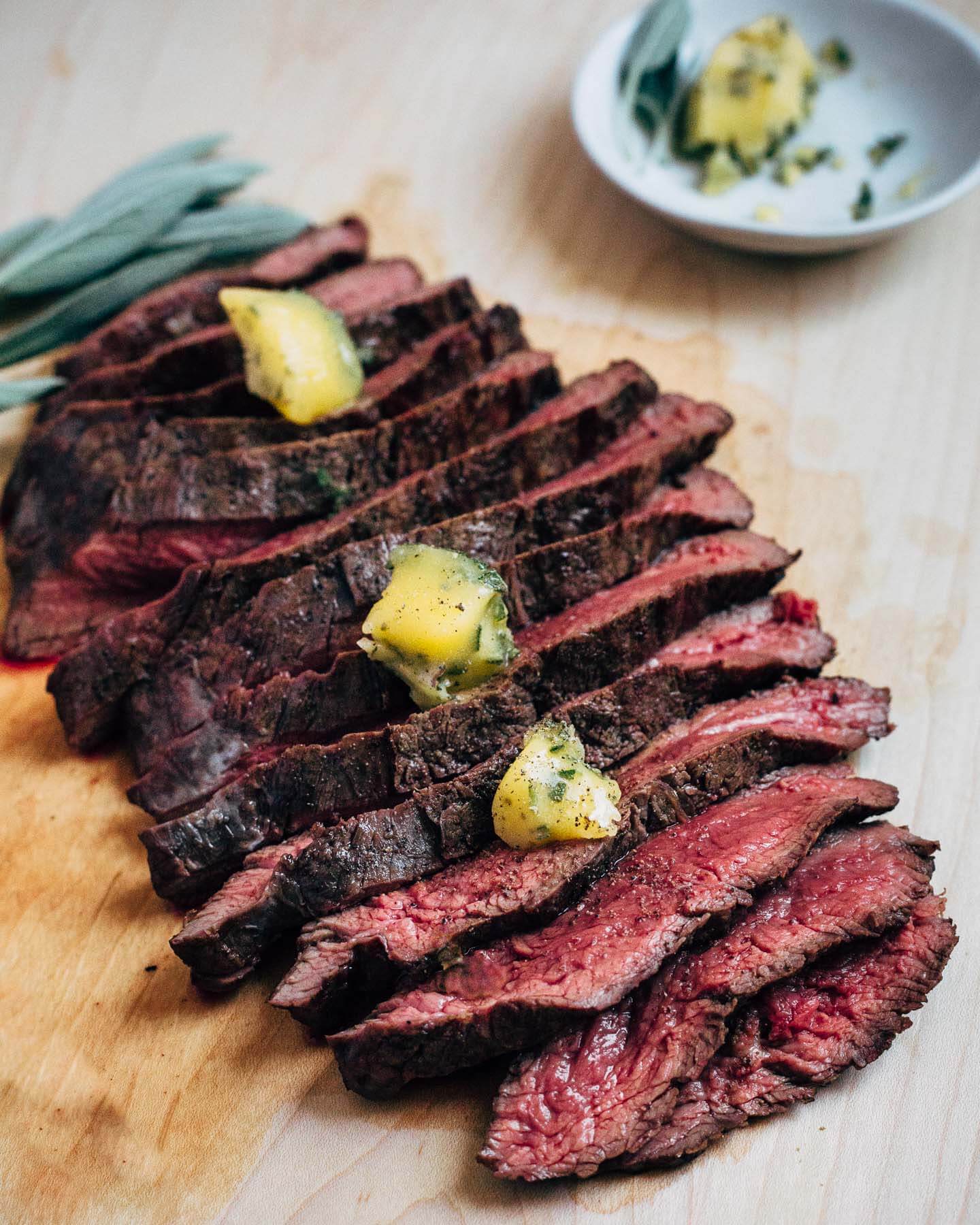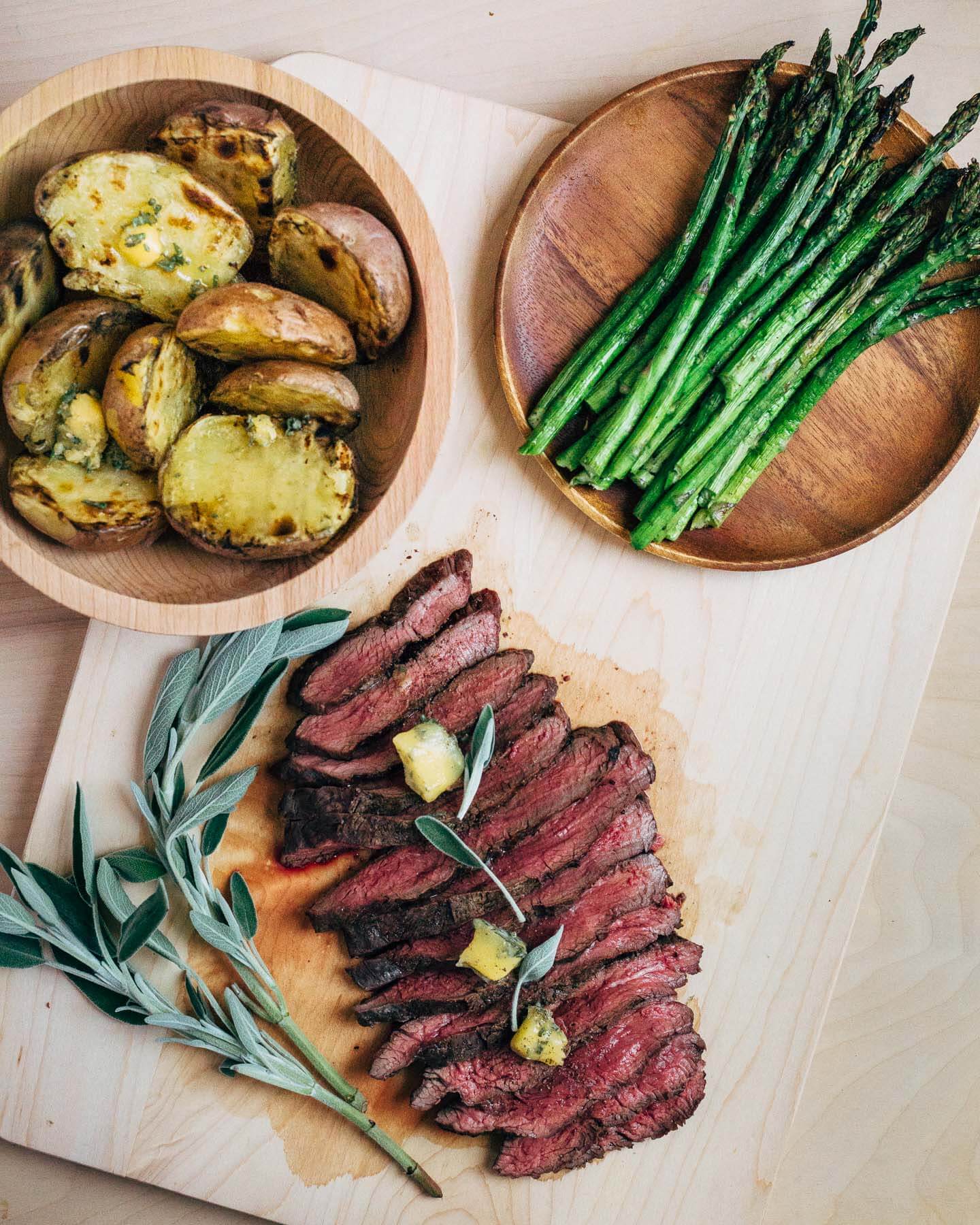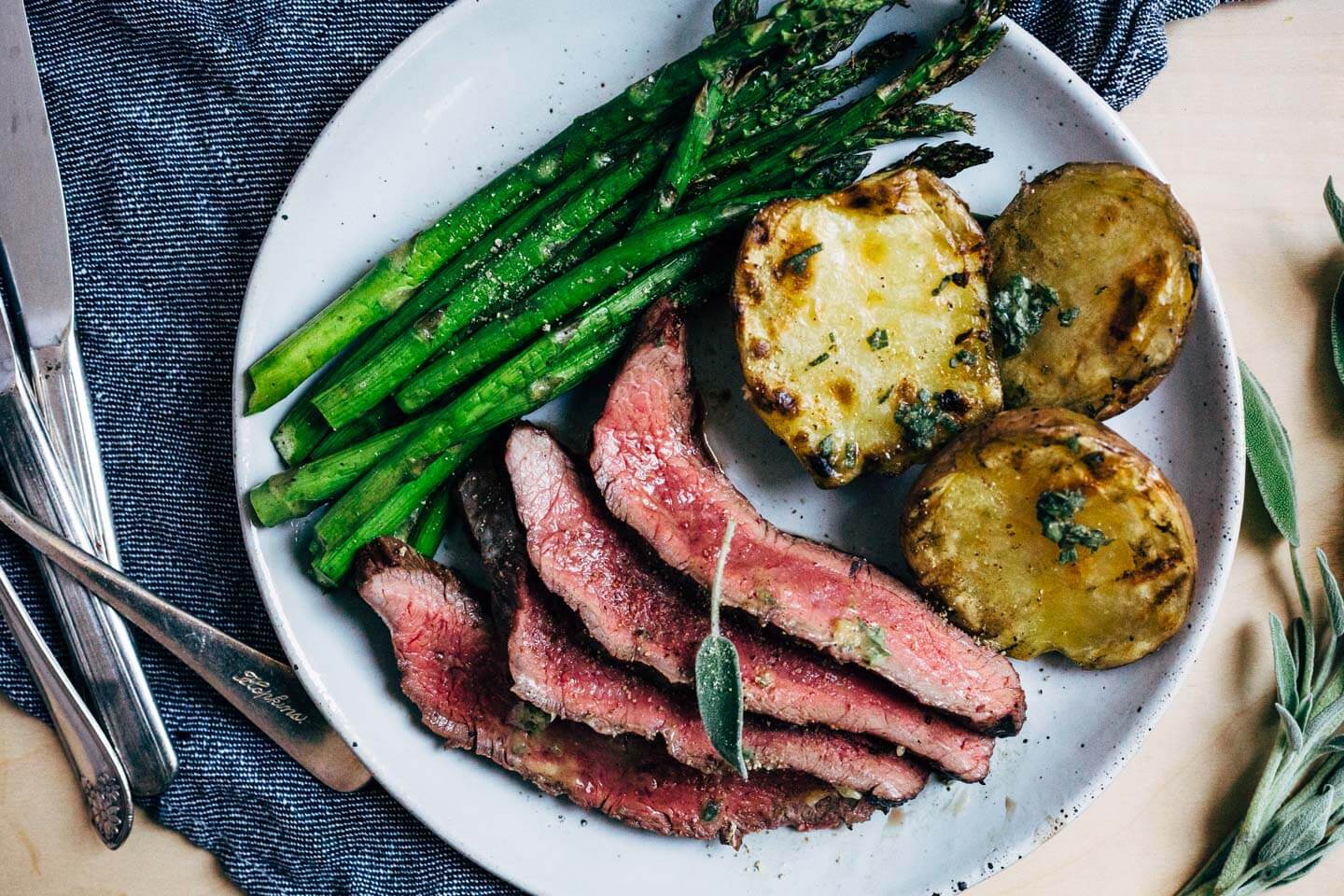 Before the recipe, I'd like to offer a note on finding a great butcher. There are more every day and they're easier to find than they were ten years ago, so a quick Google search will probably suffice. But it's also good to ask around. Ask the meat producers at your local farmer's market if they sell to any shops locally. And when you visit a butcher shop for the first time, don't be shy about asking questions about their sources and their suggestions. A good butcher is happy to talk meat with you.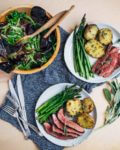 Grilled Merlot Steak with Sage Butter
Merlot steaks have a lot of flavor but are very lean. Grilled merlot steaks are best cooked to rare or medium-rare – going any hotter will dry them out. One steak, sliced, comfortably serves three to four people. Because it's a leaner cut, a hit of sage butter brings depth and a nice hit of salty herbaceous fat into the mix.
Ingredients
4

tablespoons

salted butter,

room temperature

2

tablespoons

minced sage leaves

1

merlot steak

(about 1 1/2 pounds)

sea salt

fresh ground pepper
Instructions
Ahead of time, mix sage into soft butter. Press into a mold or small, straight glass jar and set in fridge to chill.

Set steak on counter and to come to room temperature.

Prepare a hot grill. Allow coals to get hot enough that you can't hold you hand four inches above them for more than a few seconds. Bank coals to one side of the grill to create a zone of high heat and a zone of indirect heat.

Just before grilling, sprinkle merlot steak on both sides with sea salt and pepper; lightly press seasoning into surface. Set steak over hot coals, grill 2 - 3 minutes, flip, and grill 2 - 3 minutes longer. More steak over indirect heat until internal temperature reaches 130 degrees F for rare or 140 degrees F for medium-rare (steaks pictured are medium-rare). Rest 5 minutes.

With a very sharp chef's knife, slice steaks into thin (1/4-inch thick) slices, dot with butter, and serve immediately.
Recipe Notes
We served our steaks with grilled asparagus (To make: Salt asparagus and grill 3 - 4 minutes) and red potatoes (To make: Halve potatoes, set in a cold pot of water, bring to boil, add salt, and boil 4 minutes, or until just tender. Drain, plunge into ice water, and pat dry. Toss potatoes with olive oil and sea salt, and grill on both sides 3 - 4 minutes or until potatoes are tender and have a nice char.)
Help share and inspire fresh thinking about food by using #FreshFoodMatters on Facebook and Twitter.