We've partnered with Emmi USA on a recipe for juicy pork burgers perfectly grilled and topped with velvety melted Raclette cheese, grilled nectarine slices, crisp pickled red onions, and a smear of mayo.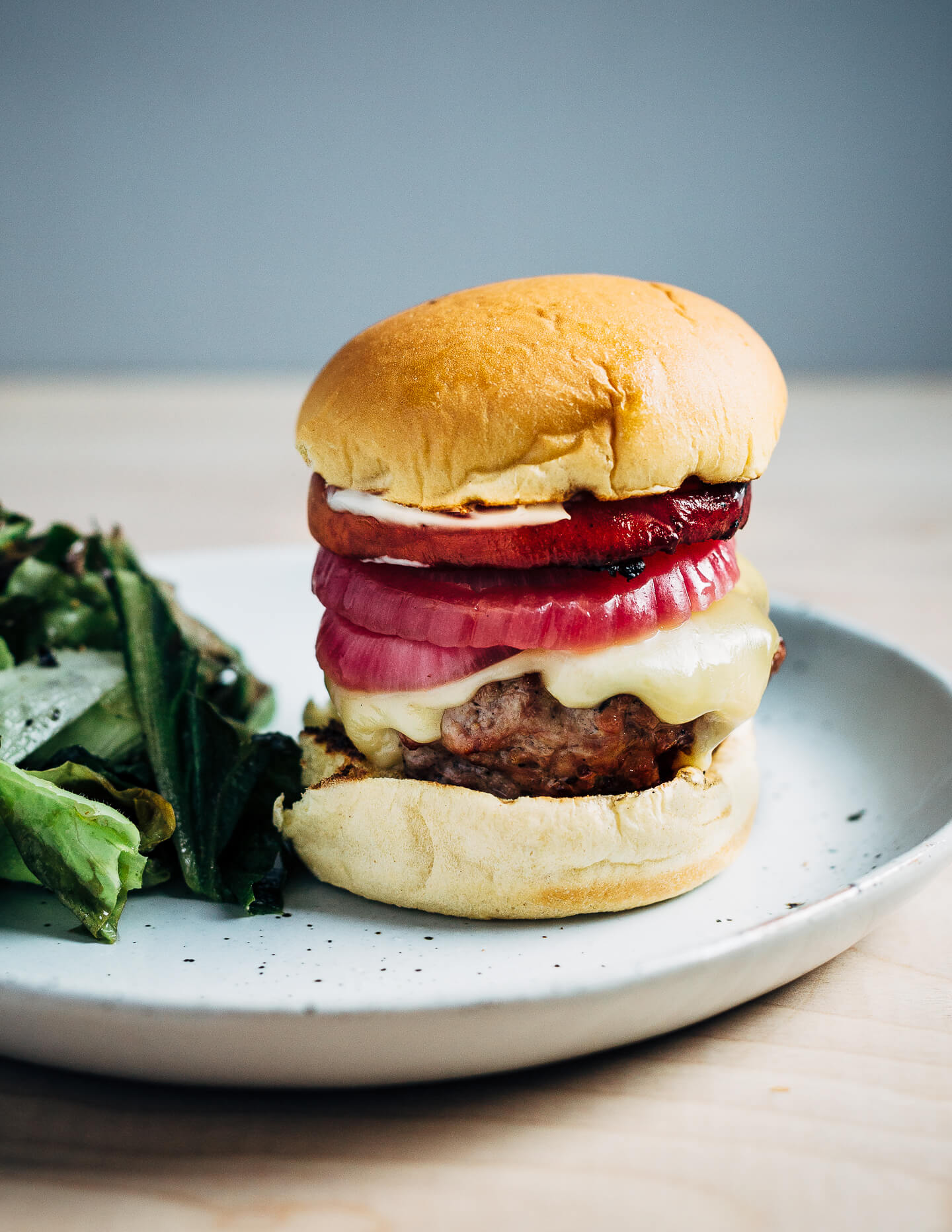 Simple flavors and fresh, seasonal produce have always been at the heart of Brooklyn Supper. At the height of summer, that makes my job easy since summer produce is practically perfect as it is. My role is just to come up with a few smart ingredient pairings and give the flavors a chance to show off. This recipe for grilled pork burgers – topped with deliciously rich and perfectly melted Emmi USA Raclette cheese, jammy grilled nectarine slices, and crisp quick-pickled onions – is just the kind of meal that epitomizes summer eating at its best.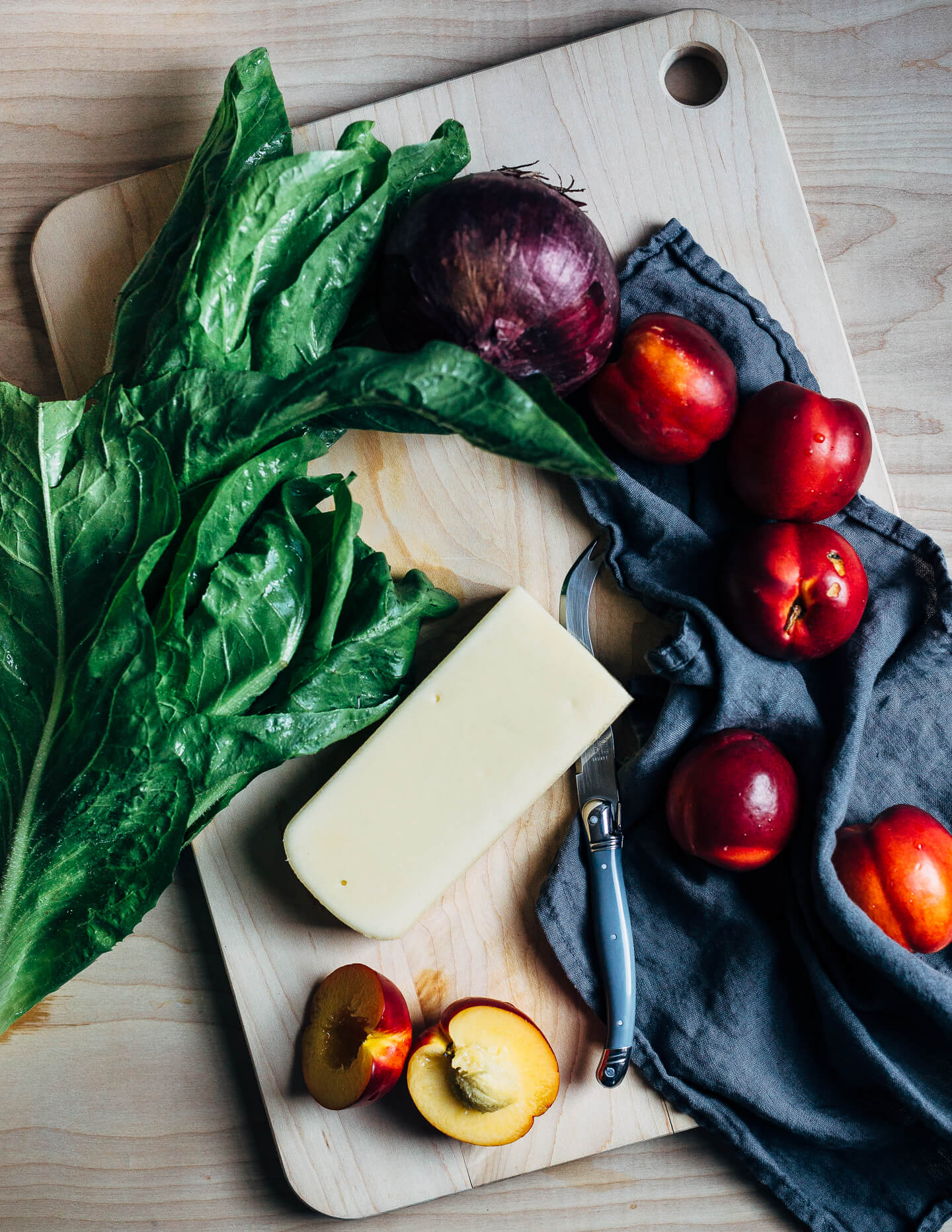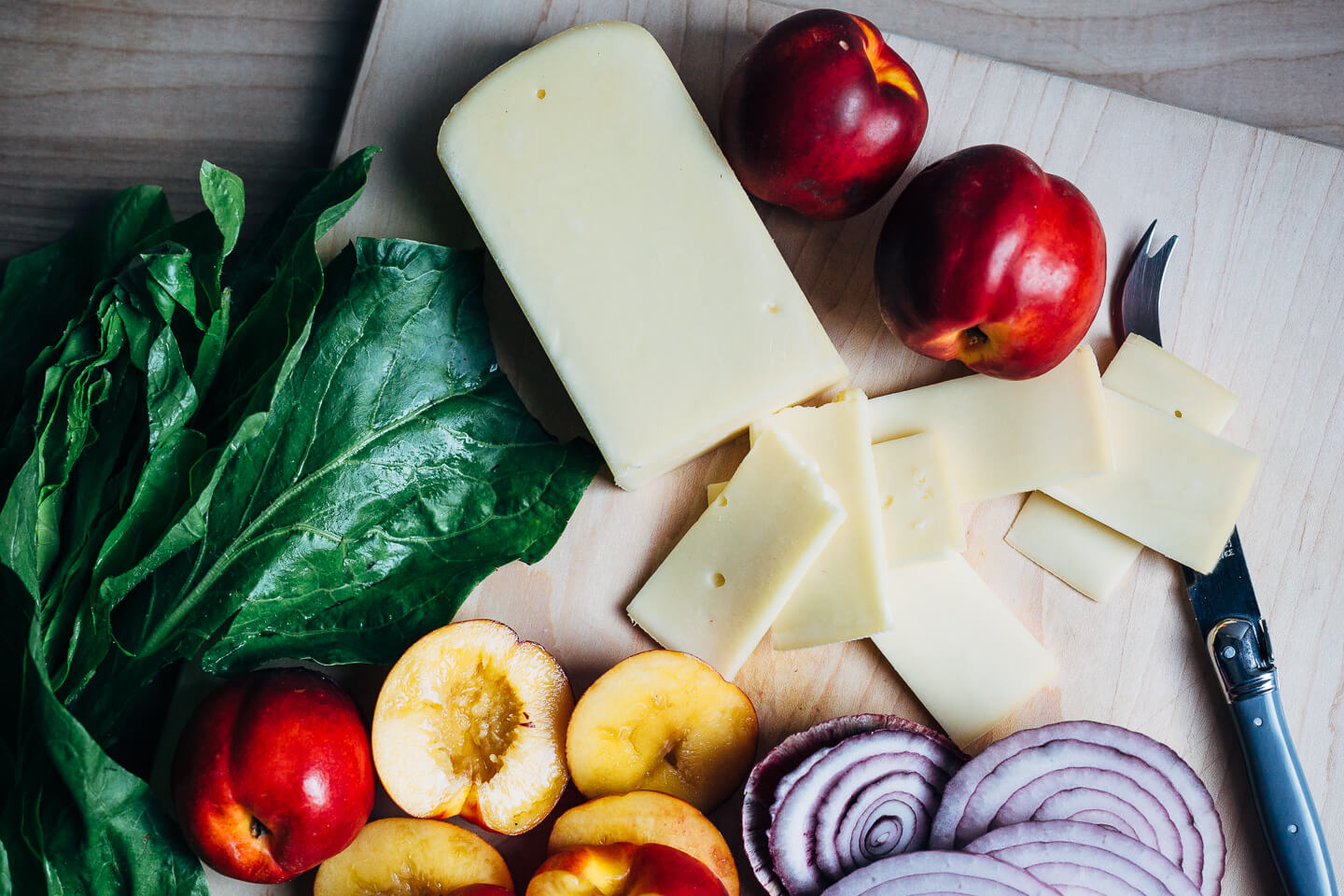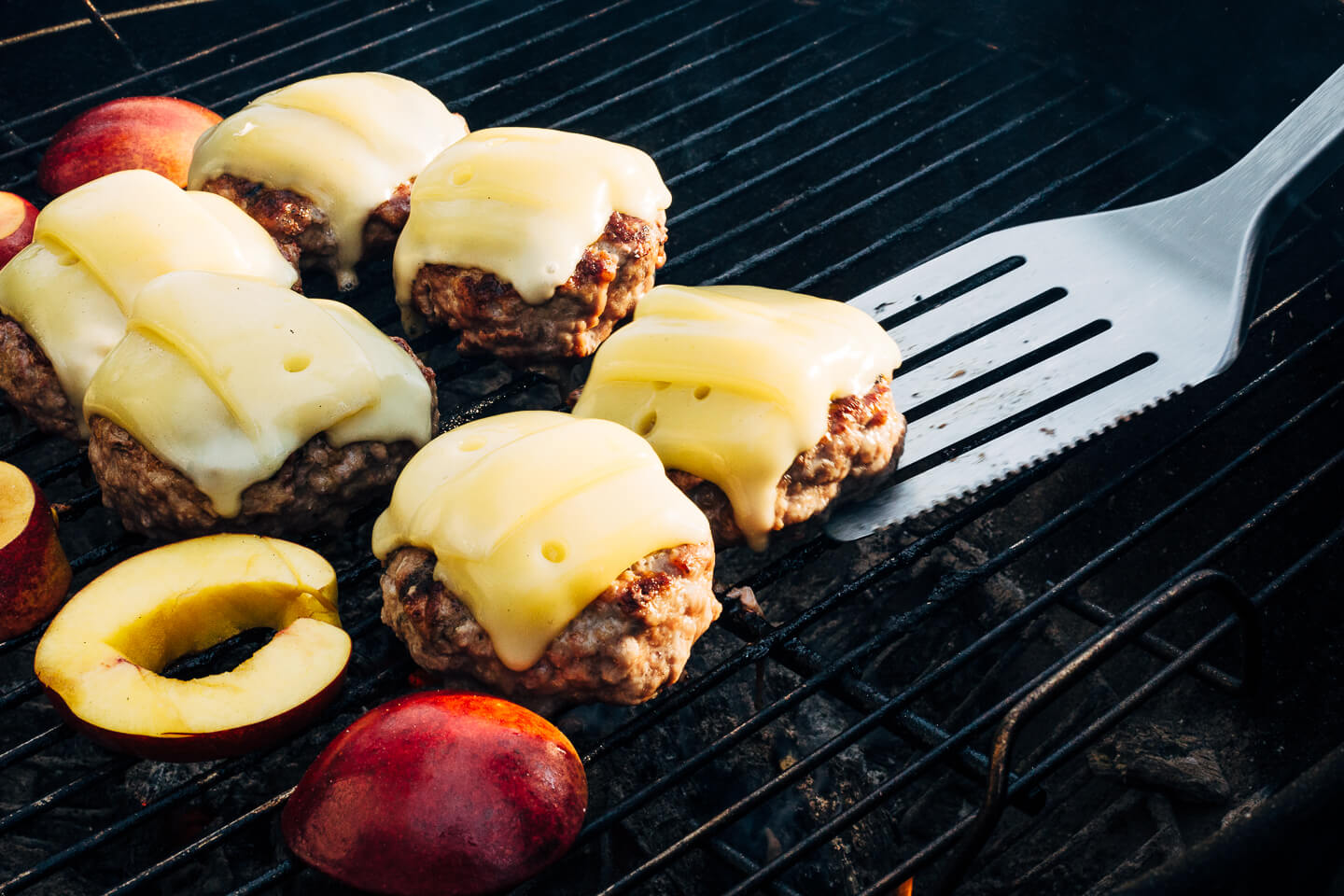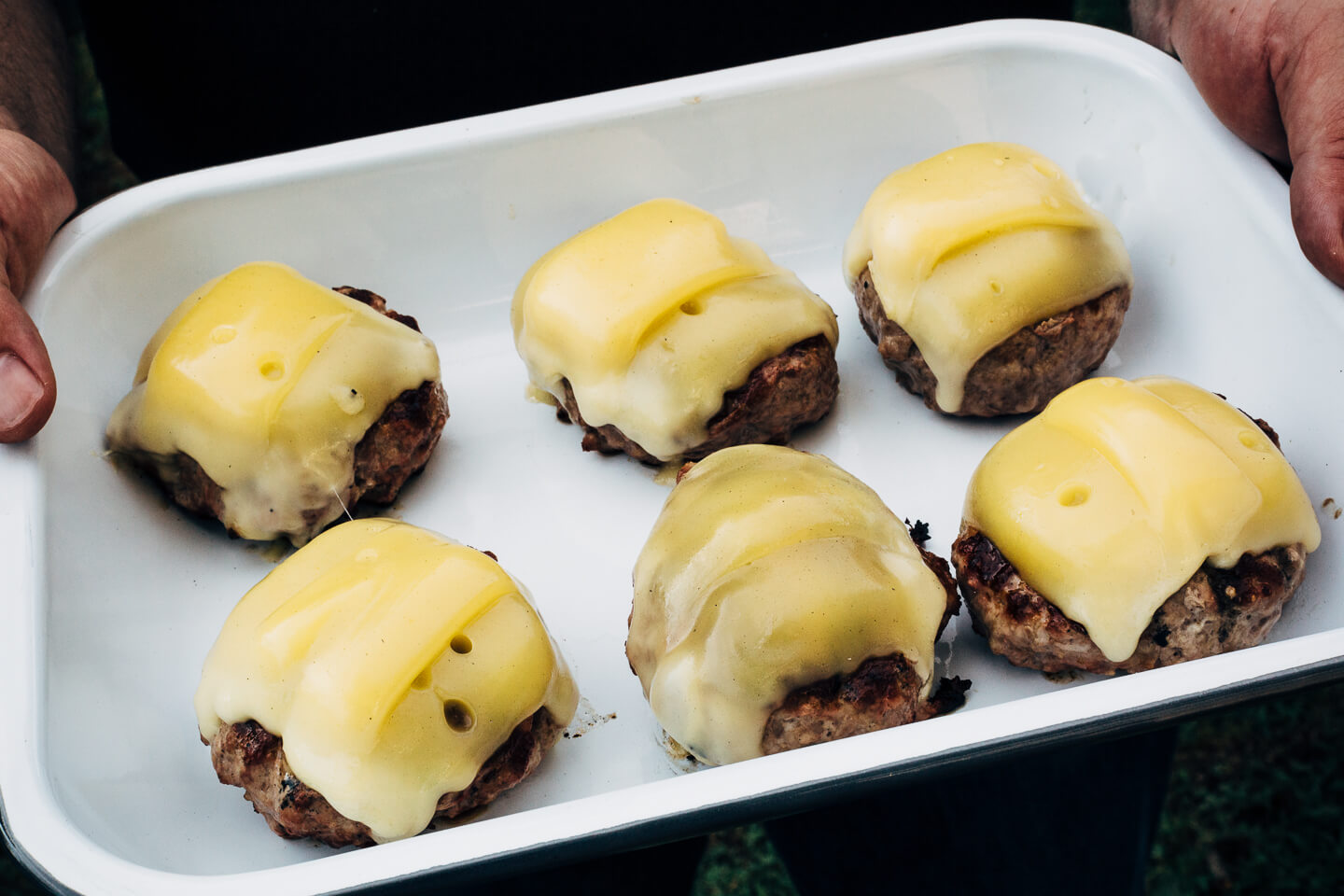 Quick-pickled red onions can be made ahead (in minutes), and I tend to tuck a few jars away in the fridge for impromptu cookouts. The nectarines came into play out of necessity – I have a weekly fruit share and they've been plentiful of late. Thinking of the crisp bite of red onions and the smoky sweetness of grilled nectarines, I chose to make a batch of pork burgers, certain that the rich flavors of the pork would set off the honeyed undertones nicely.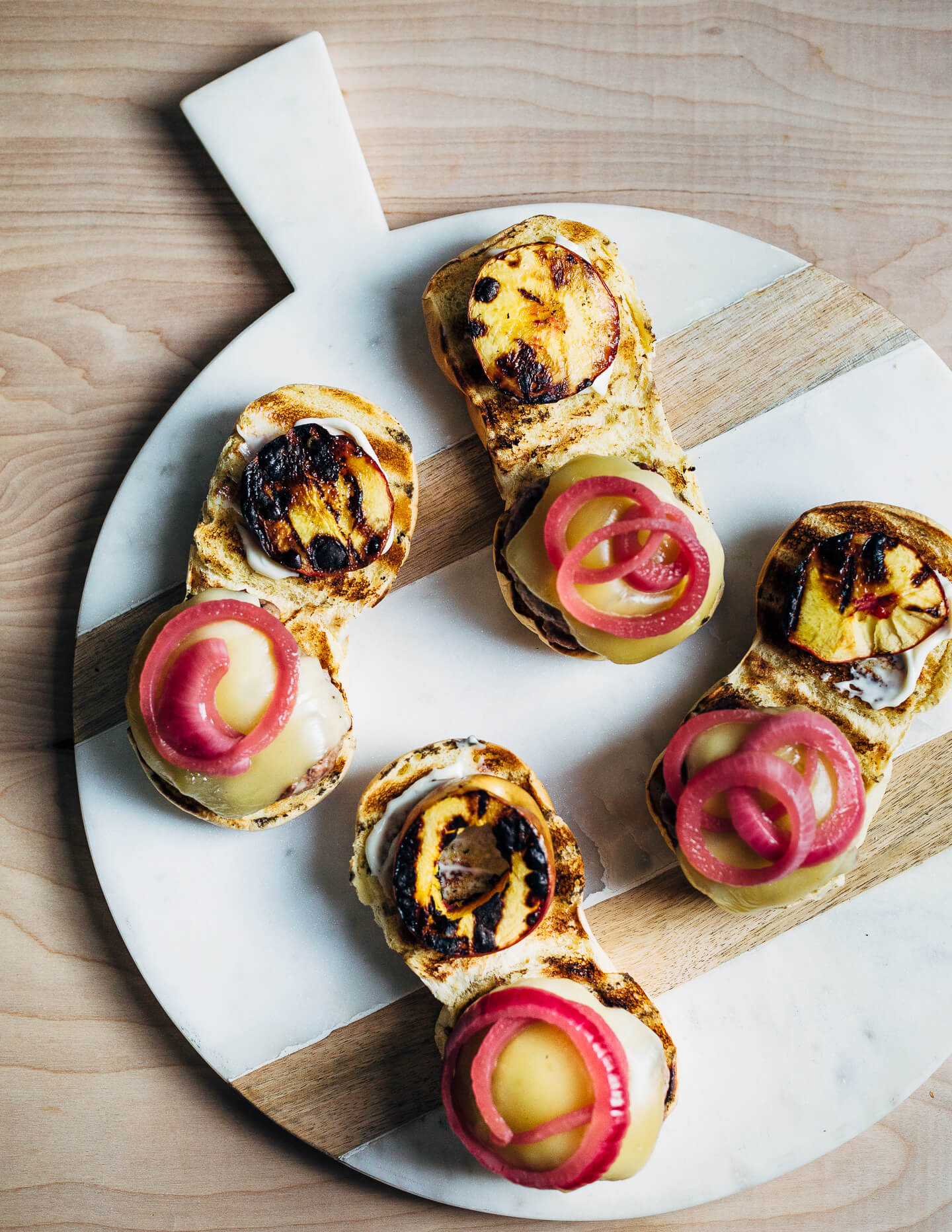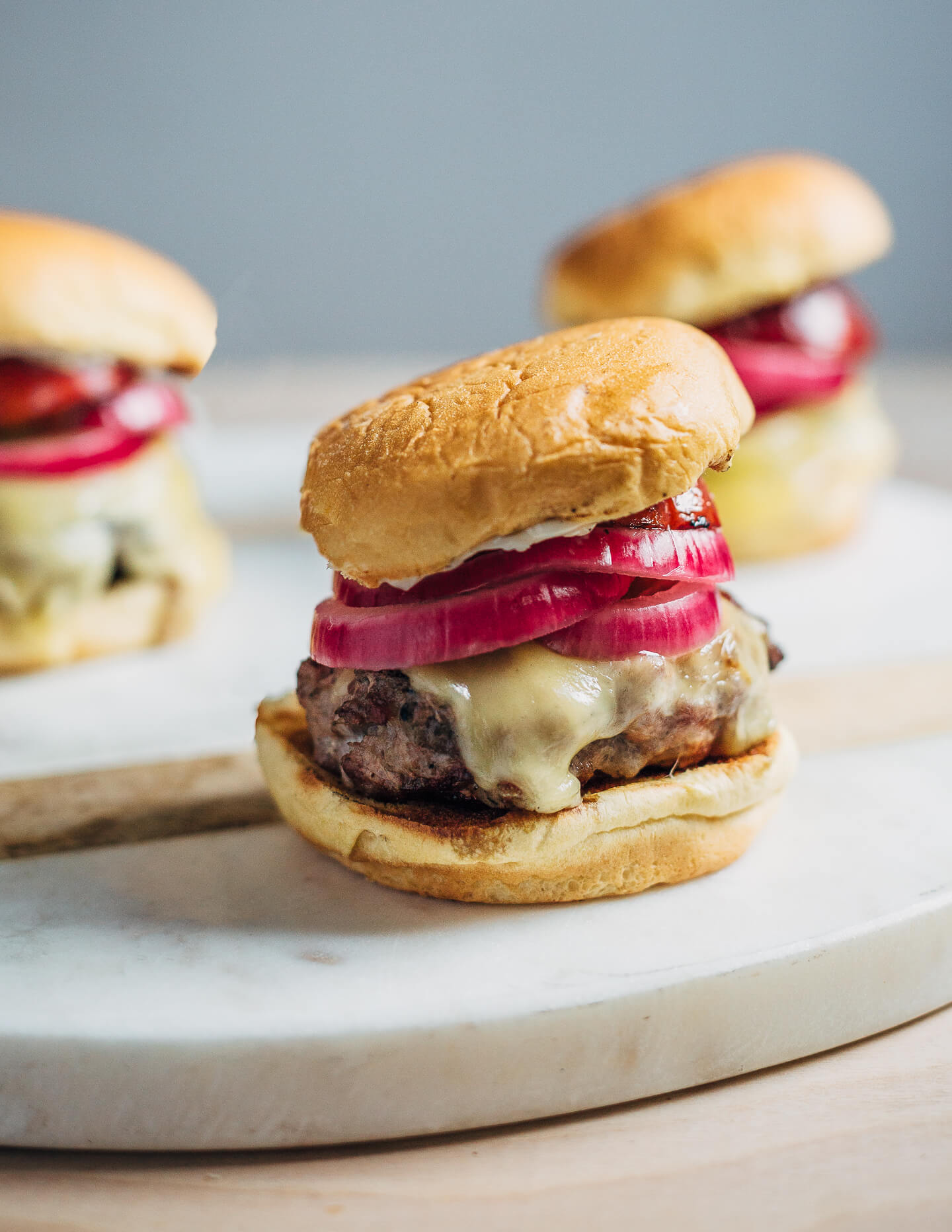 What brought the meal together, though, was a wedge of Emmi USA Raclette, whose assertive nose and hints of sweetness bridged the other flavors splendidly. Raclette is known as a superior melting cheese; its name is from the French "to scrape" and it's traditionally melted slightly, scraped onto bread, and served alongside potatoes and pickles. Here, the velvety texture of the melted Raclette balances sweet nectarines with its depth and heightens the richness of the crisp-edged, tender grilled pork burgers. I was thrilled that such a simple lineup of ingredients could make for such a show-stopping summer feast.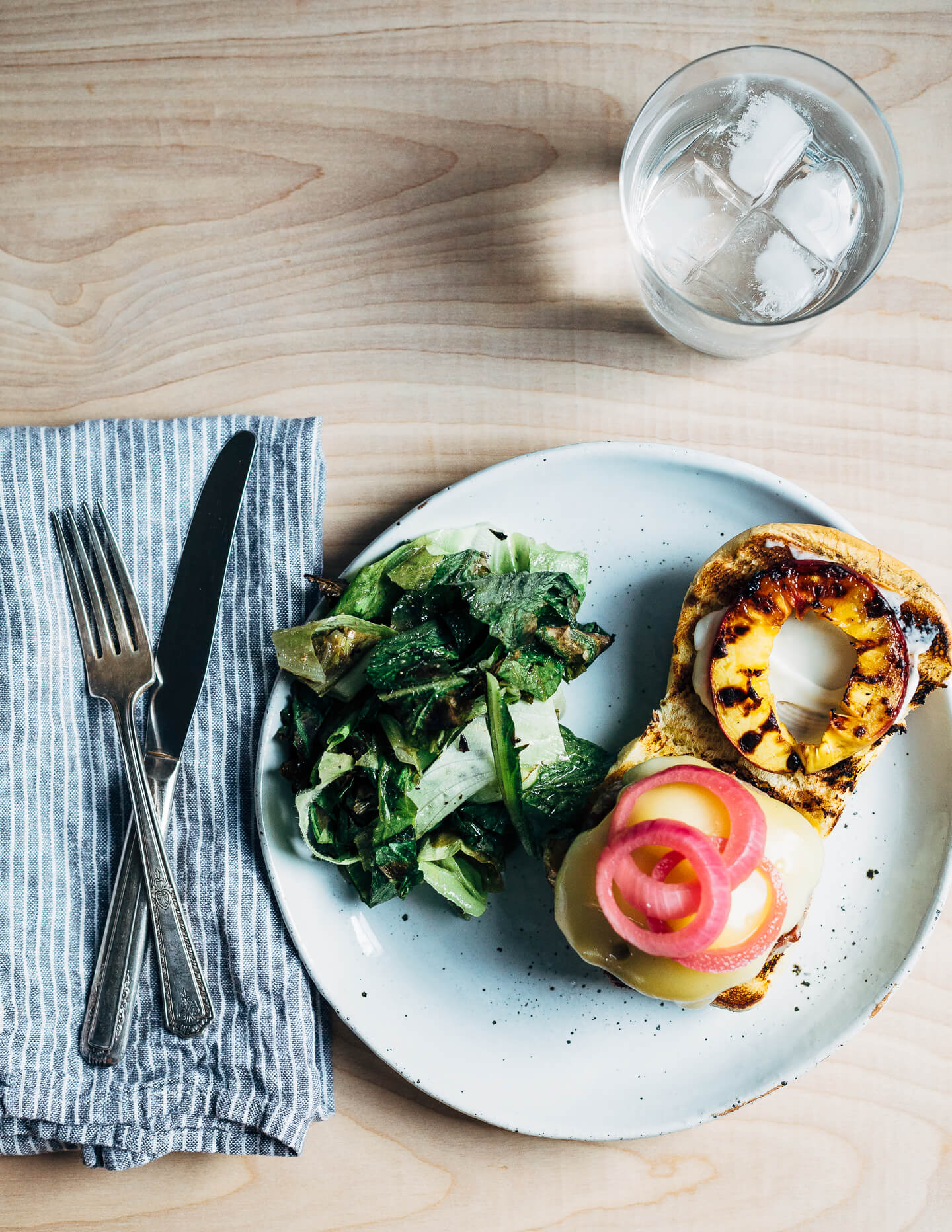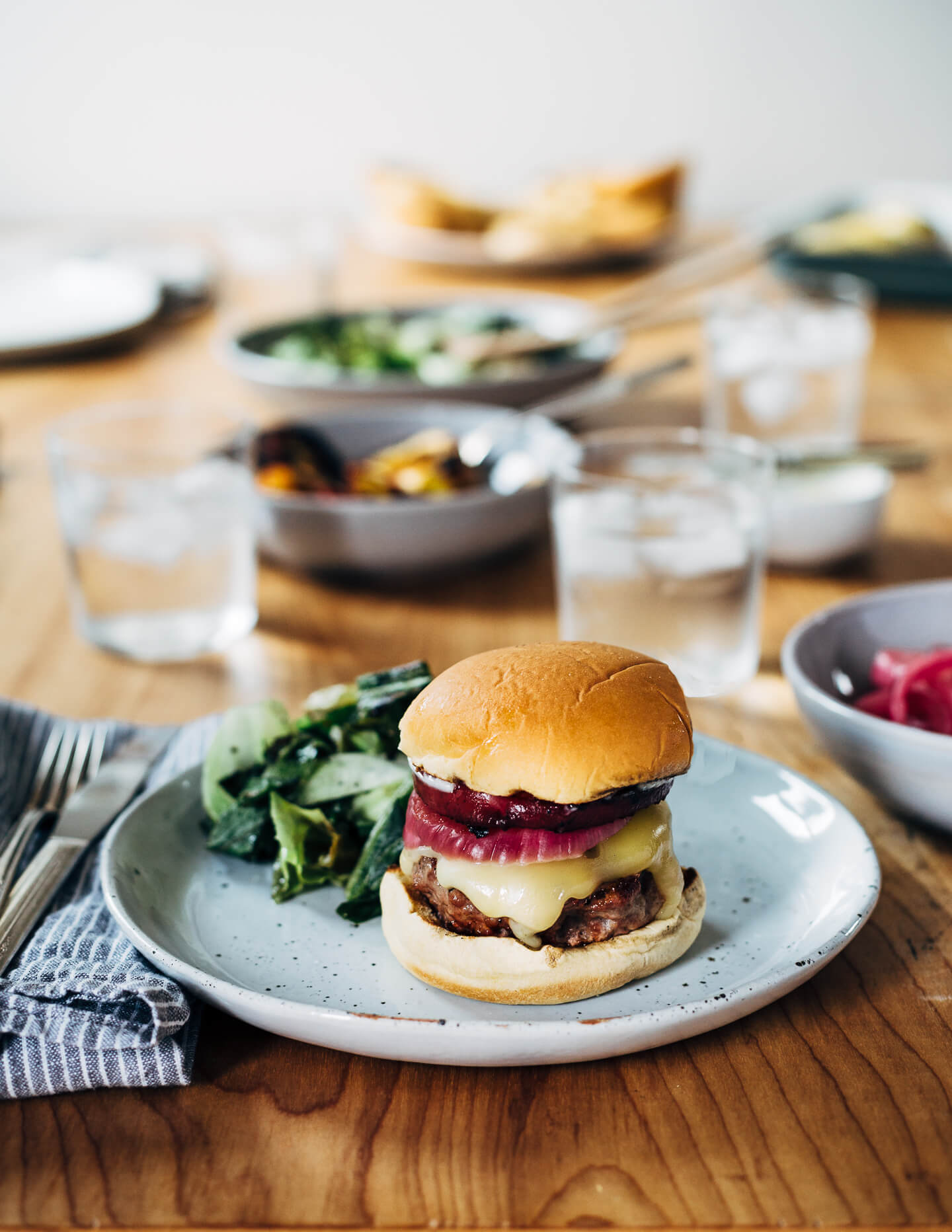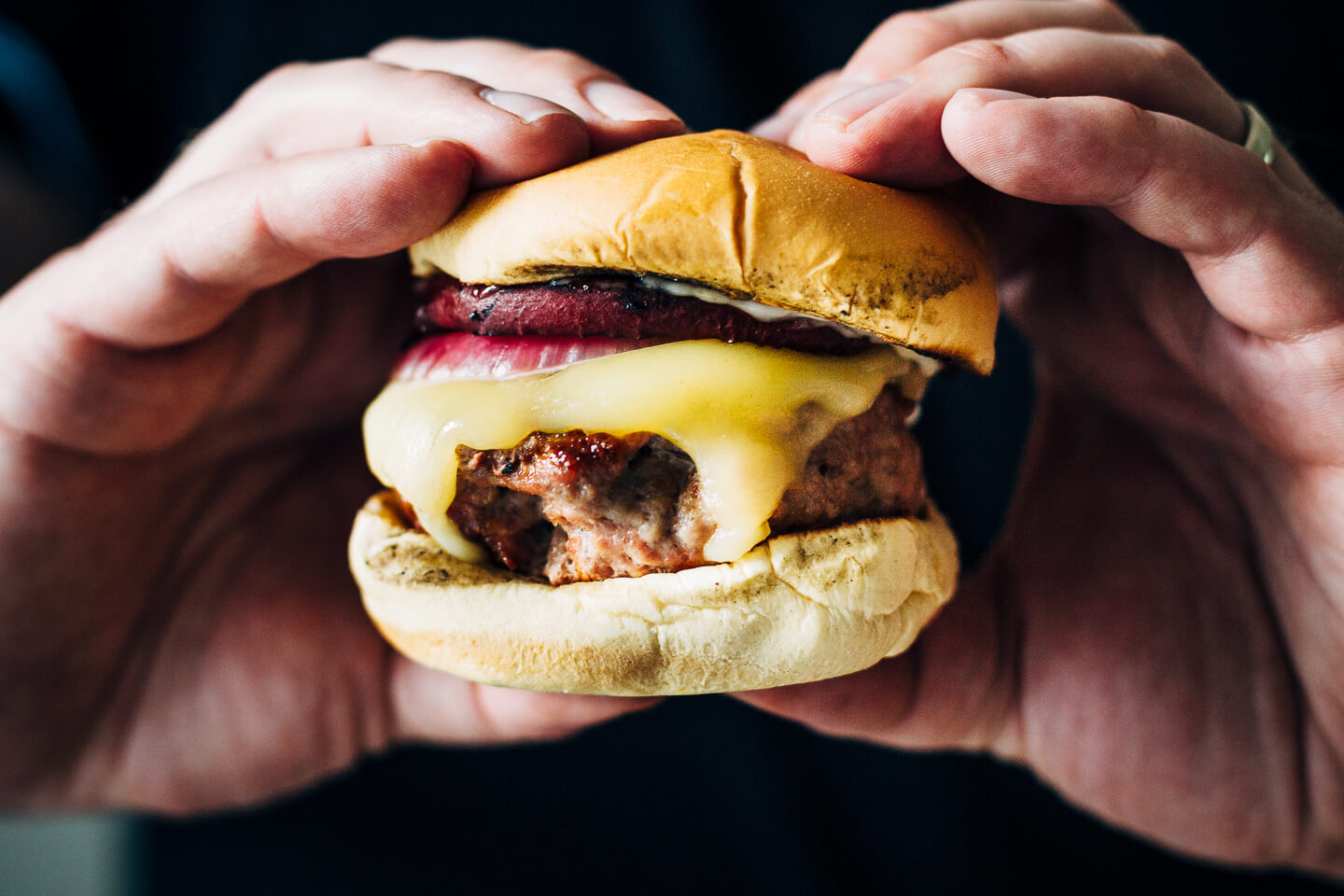 Lastly, our grilled pork burgers were accompanied by a simple grilled escarole salad. Sub romaine or frisee if you can't find escarole. Cool the grilled greens, and just before serving, chop and toss with a simple lemon, garlic, and olive oil dressing and a generous pinch of flaky salt.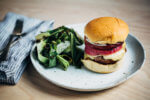 Grilled Pork Burgers with Nectarines and Raclette Cheese
A recipe for juicy grilled pork burgers perfectly seared and topped with velvety melted Raclette cheese, grilled nectarine slices, crisp pickled red onions, and a smear of mayo.
Ingredients
Burgers
2

pounds

ground pork

1

teaspoon

sea salt

6

hamburger buns

3

small or medium nectarines,

pitted and halved or sliced 1/2-inch thick

12

ounces

Emmi USA Raclette Cheese,

sliced 1/2-inch thick

4

tablespoons

mayonnaise
Salad
2

heads escarole,

washed thoroughly with core intact (or sub romaine)

1

clove

garlic,

smashed, peeled, and minced

2

tablespoons

fresh squeezed lemon juice

3

tablespoons

extra virgin olive oil

1/4

teaspoon

flaky sea salt,

plus more to taste
Instructions
Several days or at least 4 hours ahead of time, make the quick-pickled onions. Set in fridge to chill.

Prepare a hot grill.

Divide the ground pork into 6 equal portions and form into patties. Sprinkle 1 teaspoon sea salt over both sides of the patties.

When coals are hot, arrange them in the middle of the grill. Working quickly, toast the buns, about 20 seconds per side and set aside.

Grill the greens, 2 - 3 minutes a side. Set aside. When greens are cool enough to handle, cut away the core and chop. Whisk to combine garlic, lemon juice, olive oil, and sea salt, and drizzle over greens. Top with flaky sea salt to taste.

Set burgers over the hottest part of the grill and tuck nectarine halves in and around the burgers. Grill 4 minutes, flip both burgers and fruit, and grill 4 minutes more. Pull the fruit when it has a nice char on both sides and has softened slightly. Check the internal temperature of the burgers – cook until it hits 165 degrees F. Next, top each patty with 2 - 3 slices of Raclette, cover, and grill 2 minutes more, or until cheese is melted and just starting to drip down the sides. Remove from heat.

Working quickly, add a smear of mayonnaise and a grilled nectarine to the top of the toasted bun. Set Raclette pork burgers on the bottom bun and top with 2 or 3 red onion rounds.

Serve immediately and enjoy!

Disclosure: This post has been sponsored by Emmi USA. As always, all opinions expressed here on Brooklyn Supper are my own.
SaveSave
SaveSave
SaveSave
SaveSave
SaveSave
SaveSave
SaveSave
SaveSave
SaveSave
SaveSave