A simple grilled summer feast featuring grilled scallops served atop zucchini noodles tossed with charred corn and fresh herbs. Recipe created in partnership with OXO.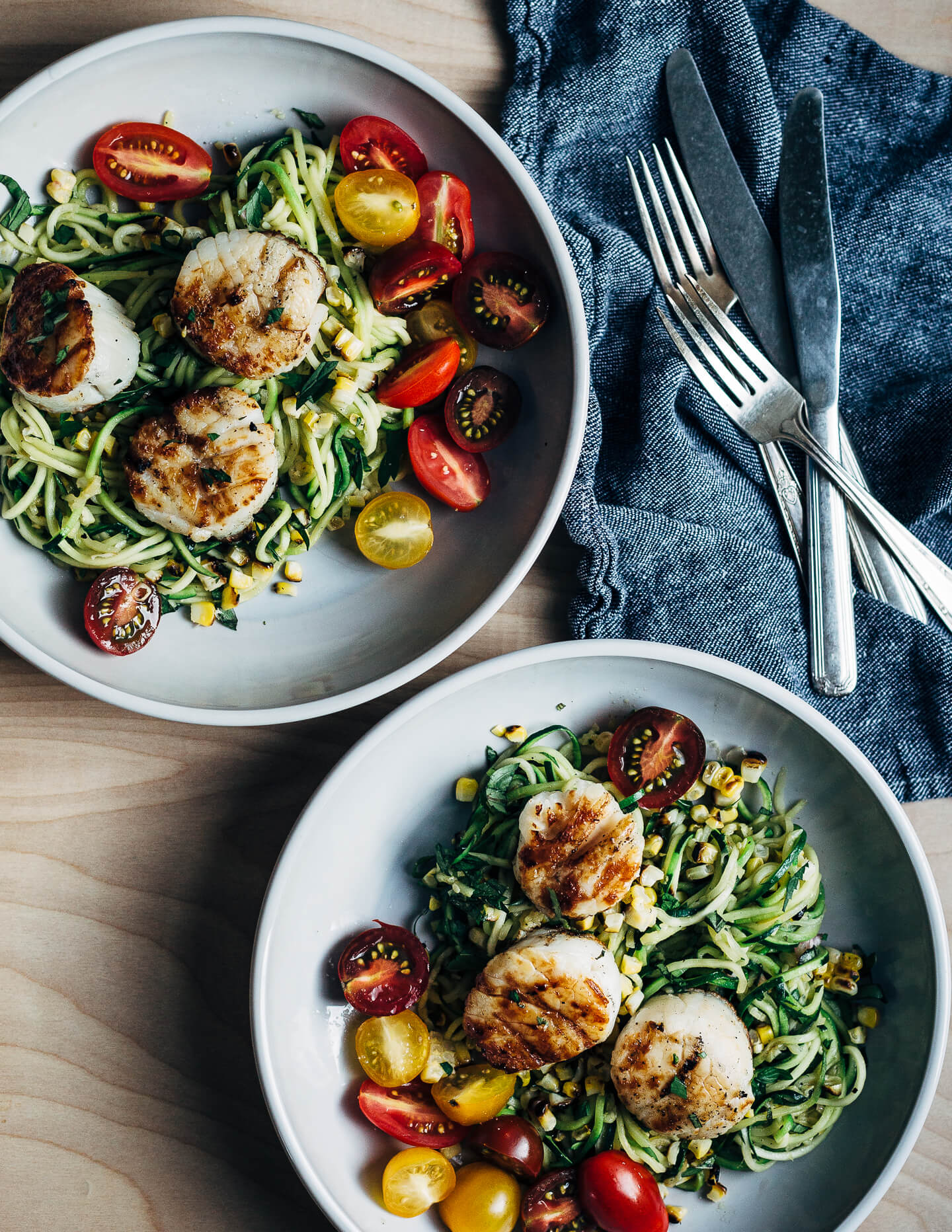 Summer has hit with full force. I can scarcely believe that it was ever cold enough for a sweater or even full-length jeans. My meals have gone full-on summer, too. To me, seasonal eating isn't just about enjoying ingredients at their peak (though that's a big part of it), it's also about meals that capture the moment perfectly. In winter, it's a long cooked braise with hearty roots served on a bitterly cold evening. And now, at the height of summer, it's this dish featuring crisp-edged grilled scallops served atop charred corn and spiralized zucchini noodles. A lemony dressing, fresh herbs, and sweet cherry tomatoes all lend pops of color and flavor, and make for a meal that captures early July eating perfectly. I'm positive that this dish will be a favorite for a long time to come.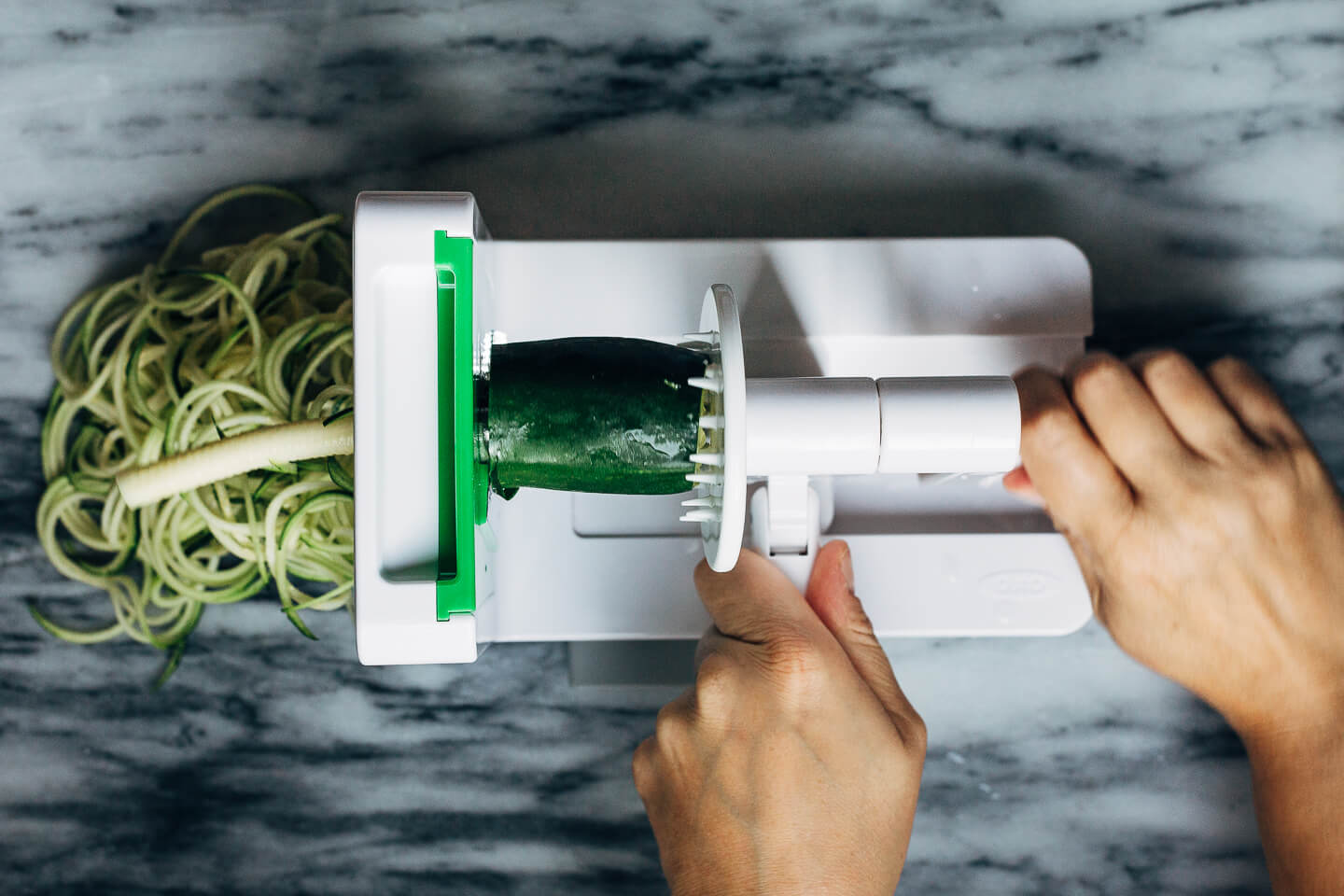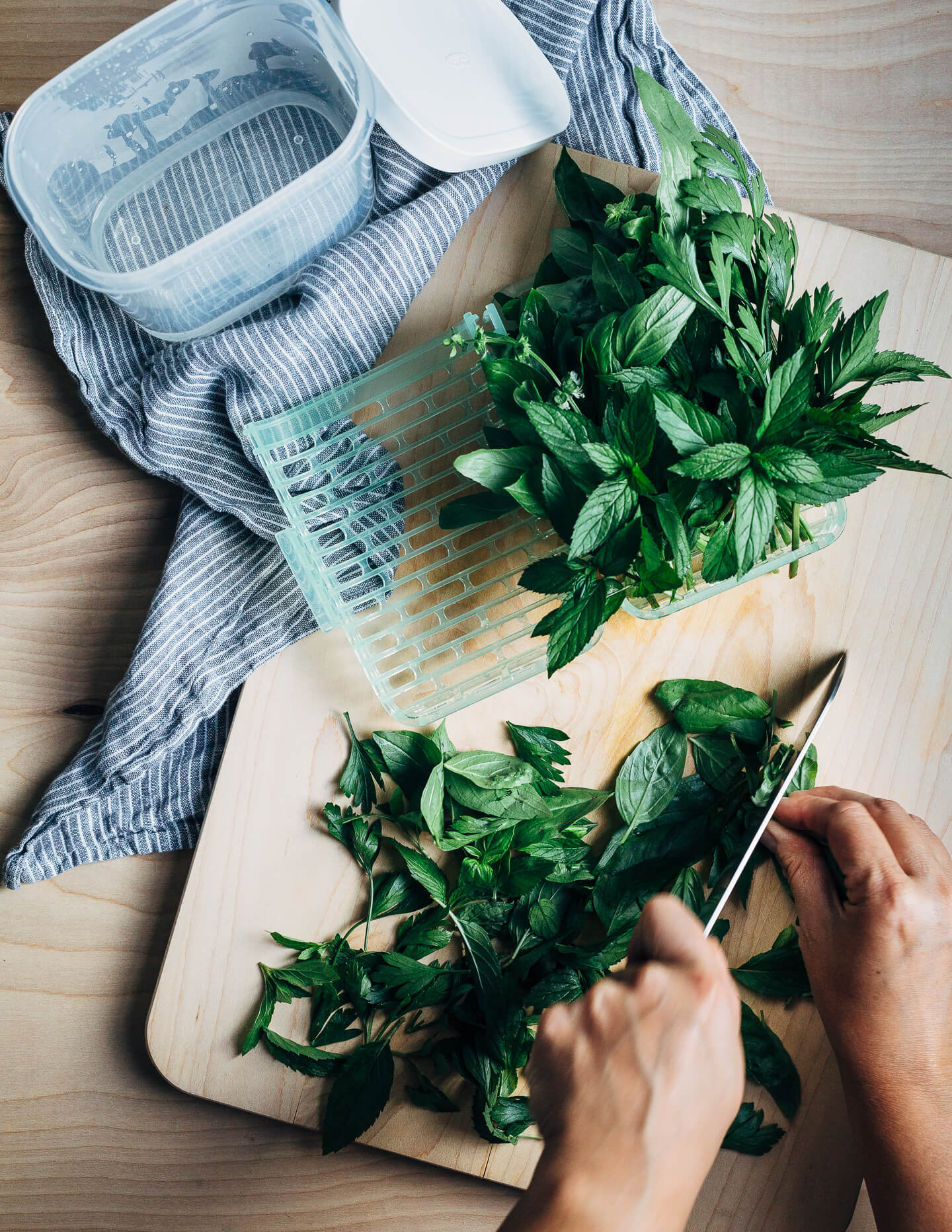 After a busy day out and about in the sweltering heat, it was thrilling to come home and cook up such an uncomplicated feast. While Brian fired up the grill, I prepped the zucchini noodles, herbs, and a simple lemon dressing. The OXO Tabletop Spiralizercut zucchini noodles in minutes flat. Like everything from OXO, it was easy to use with intuitive design features like a suction cup that holds the spiralizer firmly in place. Cleanup was a breeze thanks to dishwasher-safe parts. I also loved the thoughtful design that made delightfully long noodles and cored the zucchini at the same time (no seeds!). I'd been storing a bunch of basil in the OXO Herb Keeper, which helps herbs stay fresher longer with upright storage and a bit of water on the bottom so stems remain moist while air circulates around the leaves. To the fresh basil, I added a bit of mint and parsley straight from the garden, and chopped it all up for dinner.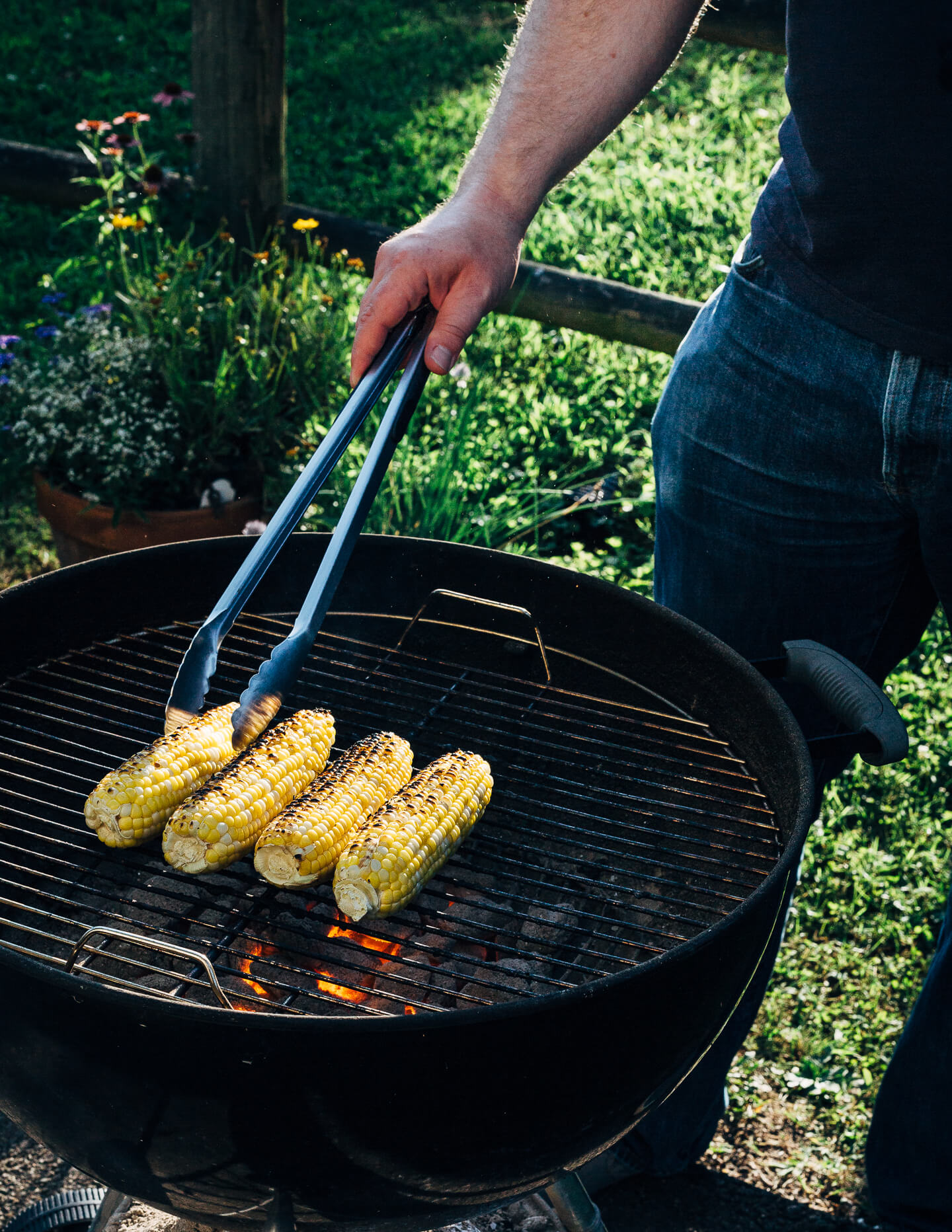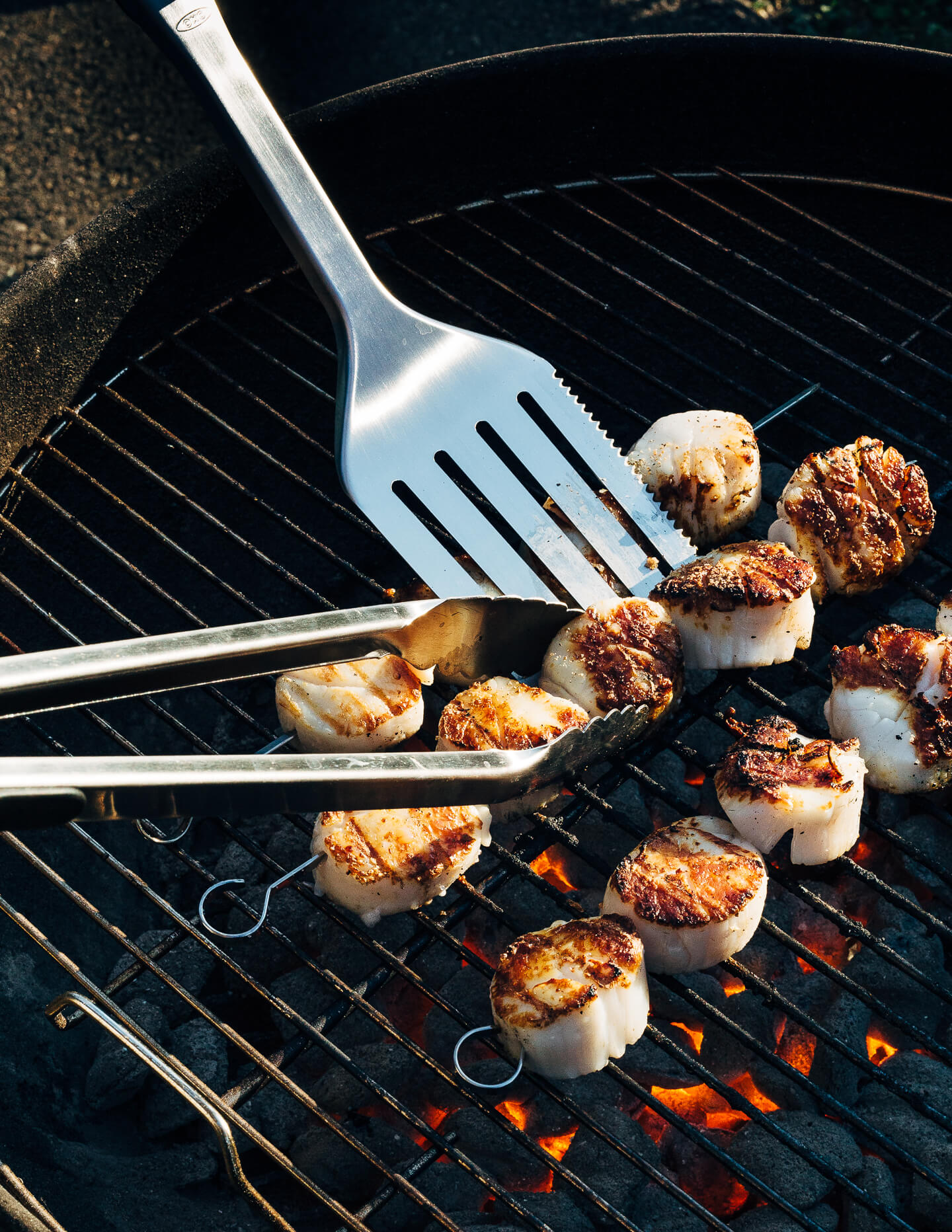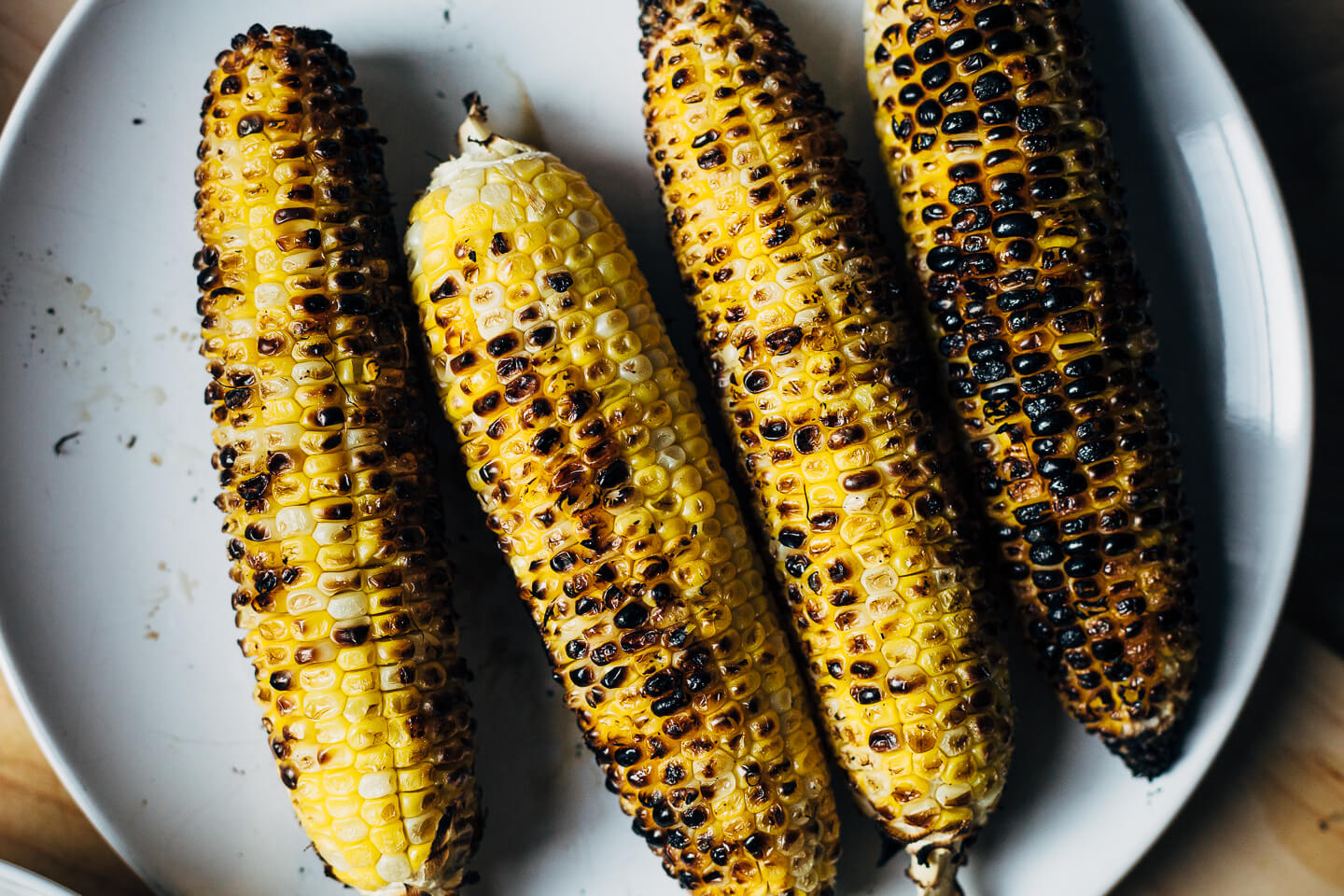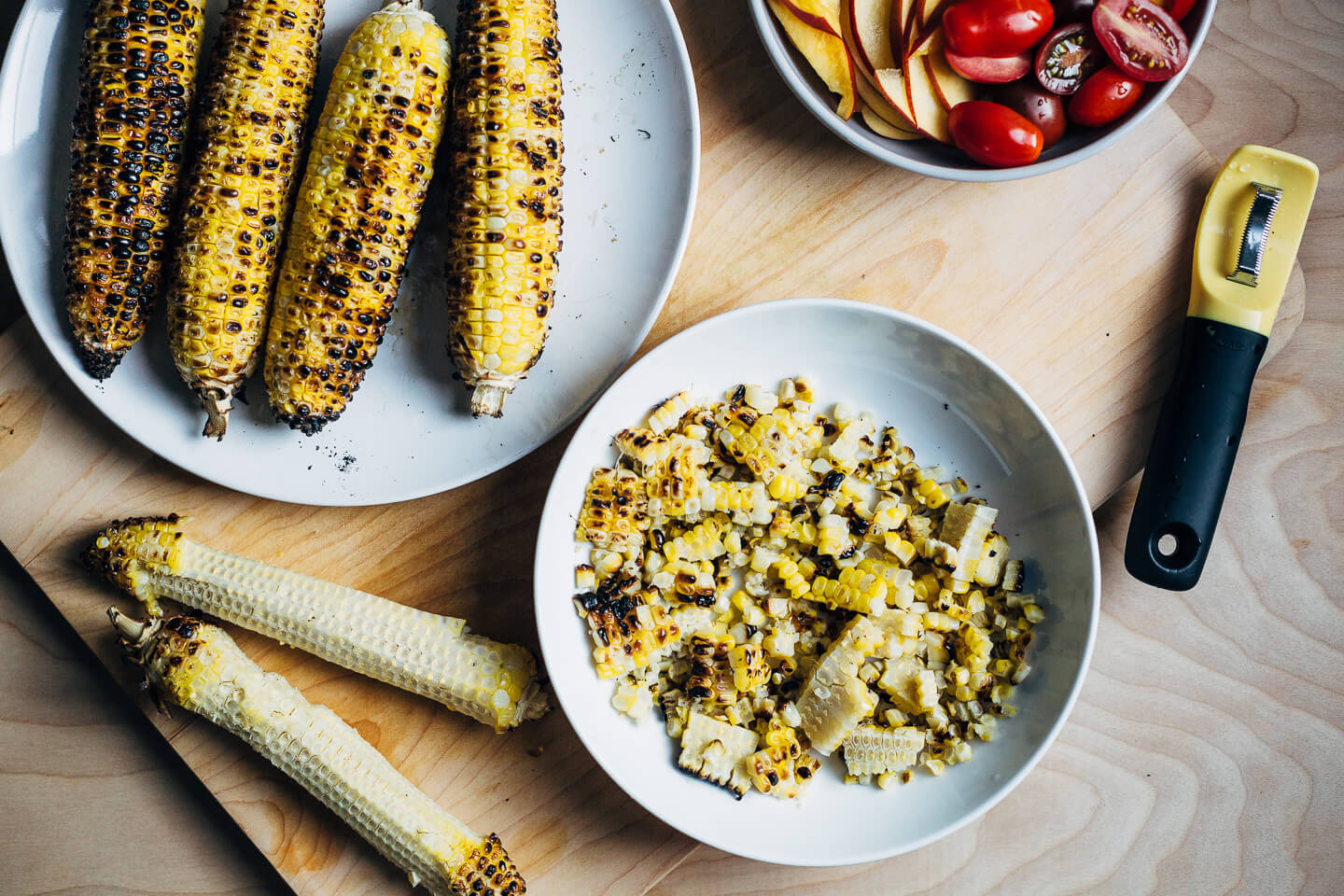 Out on the grill, Brian used the OXO Grilling Set to char the corn and grill the scallops. We've made the switch to all hardwood charcoal, and with the searing heat from the grill and relentless sun, it was comical to hear some of the corn kernels popping away over the fire. Brian quickly moved them over indirect heat and things settled down. The scallops, which can stick to the grate, were easily scooped up and flipped with the OXO grilling tools – the spatula features a beveled edge that effortlessly slides between the food and the grate and a long enough handle to keep your hands away from the heat. The tongs are likewise nice and long, allowing Brian the space to move and adjust things without fear of getting singed.
To bring the meal together, I zipped the charred kernels from the corncobs using the OXO Corn Peeler, gave the zucchini noodles a quick sauté in olive oil, and tossed it all in a lemony dressing along with a few handfuls of chopped herbs. We set the seared scallops on top and tucked into a lovely summer feast.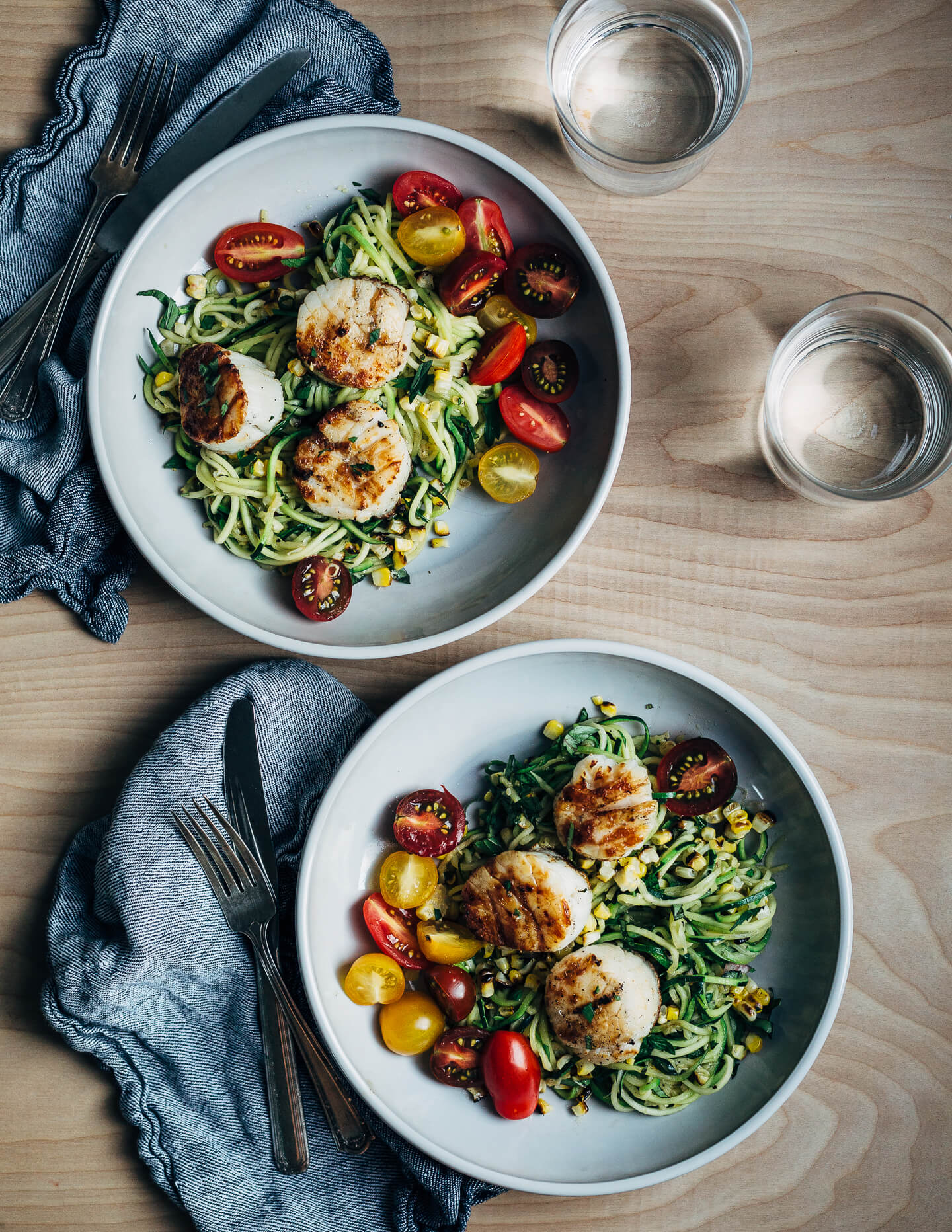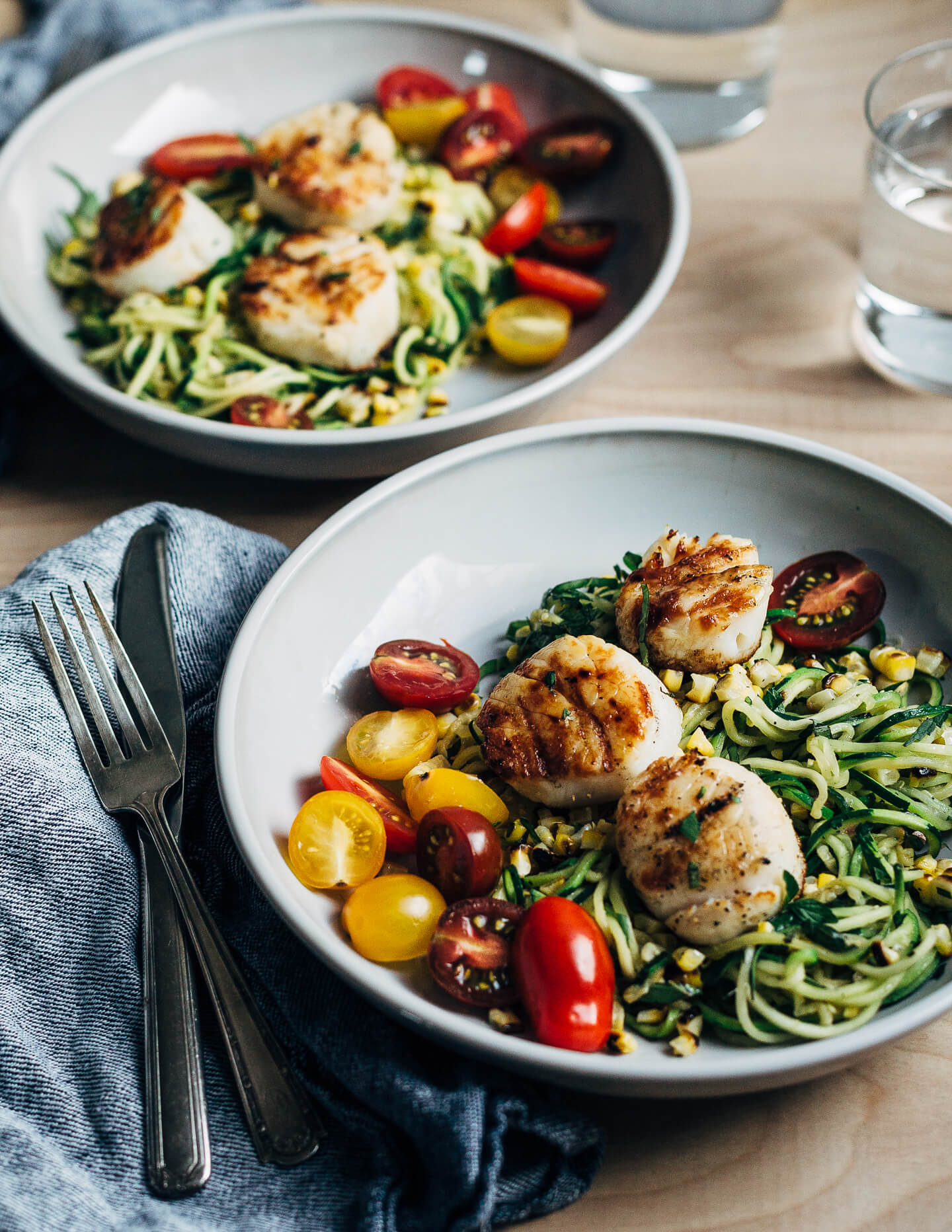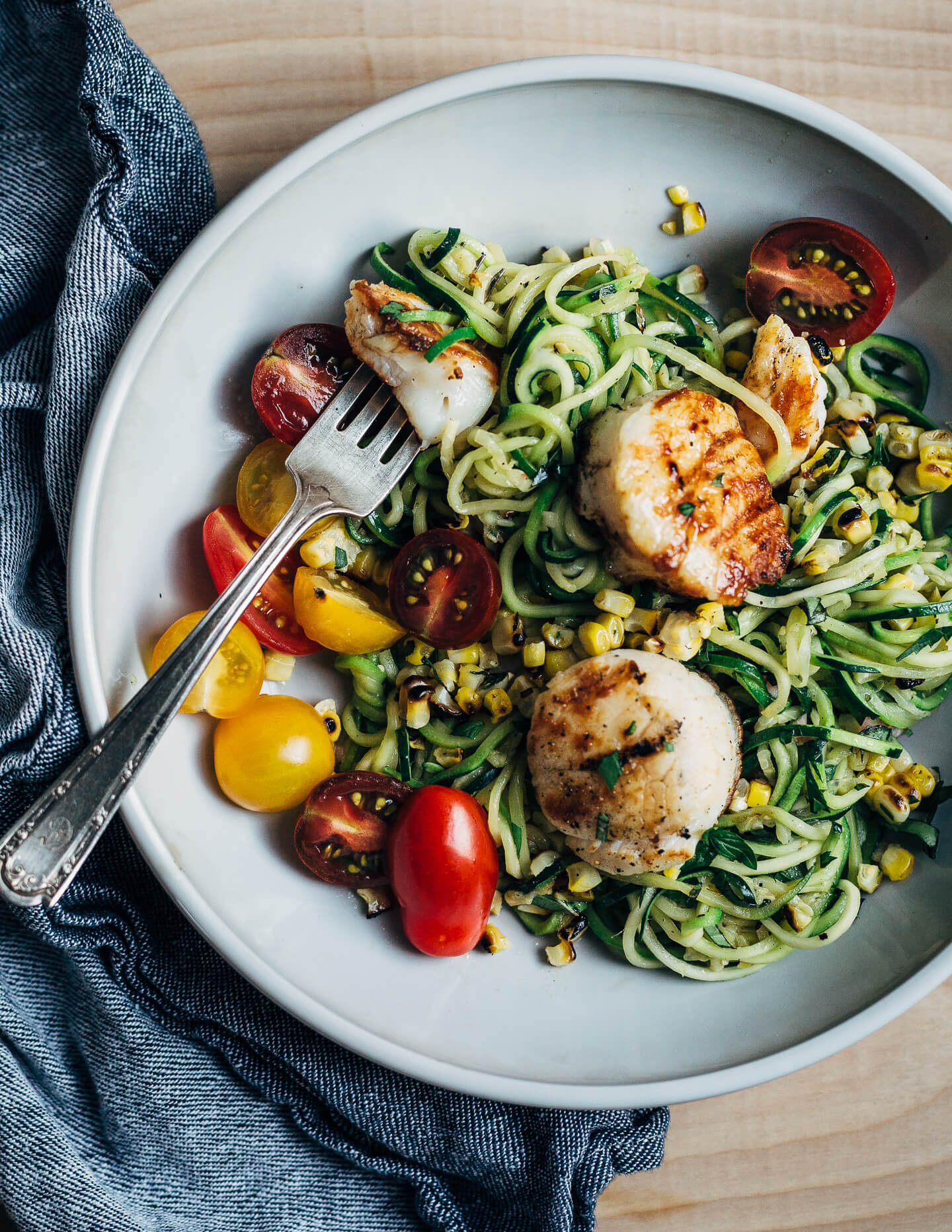 This recipe scales up easily and would be great for a dinner party. And though grilled scallops were our protein of choice here, this meal could work well with everything from grilled seafood to steak to tofu. Make the recipe yours!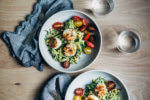 Grilled Scallops with Herbed Zucchini Noodles and Charred Corn
A simple grilled summer feast featuring grilled scallops served atop zucchini noodles tossed with charred corn, fresh herbs, and a lemony dressing.
Grilling scallops is a delicate business. You'll want to start with a clean grate to prevent sticking. I've found metal skewers to be most reliable for grilling; if using bamboo skewers, be sure to soak them ahead of time and use two skewers for each group to secure scallops. Lastly, I've found that a very quick rinse in cold water followed by a quick blot in paper towels helps remove any fine sand from the scallops.
Ingredients
Dressing
2

tablespoons

minced shallot

(about 1 medium shallot)

zest of 1 lemon plus 1 tablespoon juice

1

tablespoon

rice wine vinegar

1/4

teaspoon

sea salt

3

tablespoons

extra virgin olive oil
Zucchini Noodles
4

medium zucchini,

ends trimmed (2 1/2 - 3 pounds total)

1

tablespoon

extra virgin olive oil,

divided

1/4

cup

chopped basil

1/4

cup

chopped parsley

1/4

cup

chopped mint

1

cup

cherry tomatoes,

halved (optional)

1

nectarine,

sliced thin (optional)
To Grill
3

ears corn,

shucked

2

pounds

scallops,

preferably large ones or about 10 - 15 per pound

sea salt

fresh ground pepper

grapeseed oil for grill grate
Instructions
Prepare a hot grill.

To make dressing, whisk to combine shallot, lemon zest and juice, vinegar, and sea salt. Set aside to allow shallots to marinate for 15 minutes, then whisk in olive oil.

If you'd like, rinse scallops and blot dry. Thread groups of 5 on a single metal skewer or 2 bamboo ones. Set on a platter and refrigerate until needed.

Spiralize the zucchini noodles. Set aside.

When grill is up to temperature, set corn over direct heat and grill 2 – 3 minutes per side until corn is charred all over. Move corn to the side and cook until kernels are tender, about 4 minutes more. Set aside to cool, then use a corn peeler or sharp knife to remove kernels from the cob. Set aside.

Sprinkle scallops on both sides with sea salt and pepper. Dampen a paper towel with oil, grasp the towel with tongs, and quickly wipe grill grate down with oil. Set scallop skewers over direct heat. Use a spatula to gently lift the scallops as they cook to prevent sticking. Cook 3 - 4 minutes or until cooked side is golden brown. Using both spatula and tongs, carefully scrape up scallops and flip. Cook 3 - 4 minutes more, or until scallops have a golden brown sear.

Set a large skillet over medium heat, add 1/2 teaspoon olive oil, and then half the zucchini noodles. Sprinkle with sea salt. Sauté 3 minutes or just until noodles are tender. Remove to a large bowl. Repeat process for second batch.

Drizzle about half the prepared dressing over noodles. Add charred corn and herbs, and toss. Taste and add sea salt or more dressing as needed.

Plate noodles along with 2 or 3 scallops. If desired, garnish with sliced cherry tomatoes or nectarines. Serve immediately.
SaveSave
SaveSave
SaveSave
SaveSave
SaveSave
SaveSave
SaveSave
SaveSave