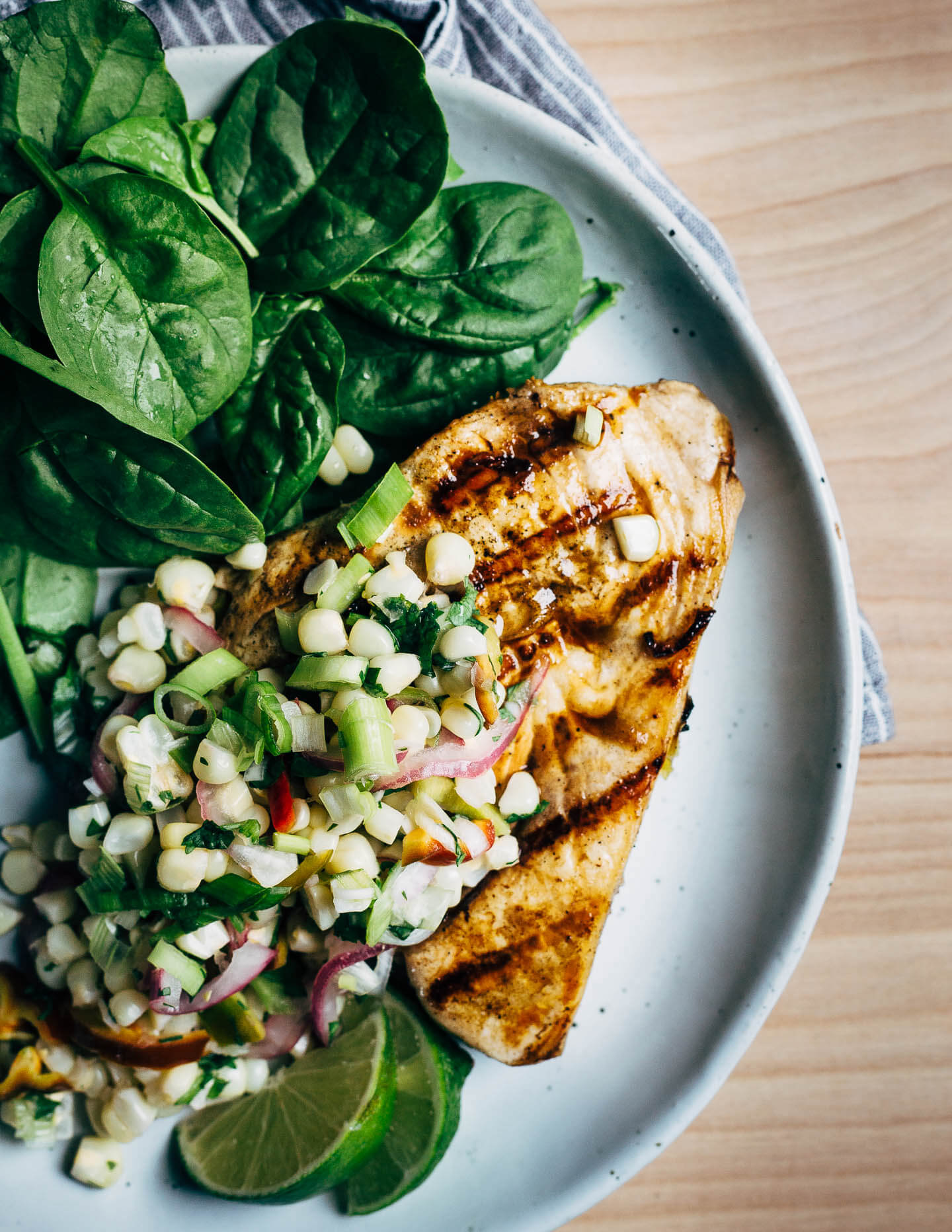 We've teamed up with Whole Foods Market on a recipe for MSC-certified swordfish steaks topped with a vibrant herbed corn salad. Jump to recipe. 
It takes me a while to settle into each new season. With so many fresh ingredients suddenly available, summer's challenge is remembering all my favorite ways of combining them. For a few weeks now, this lime and herb white corn salad has held my attention; and each successive version and refinement has brought it closer to perfection. Fresh squeezed lime juice unites the flavors, bridging the sweetness of the corn and the pop of green onions, while a small but essential drizzle of sherry vinegar lends umami undertones.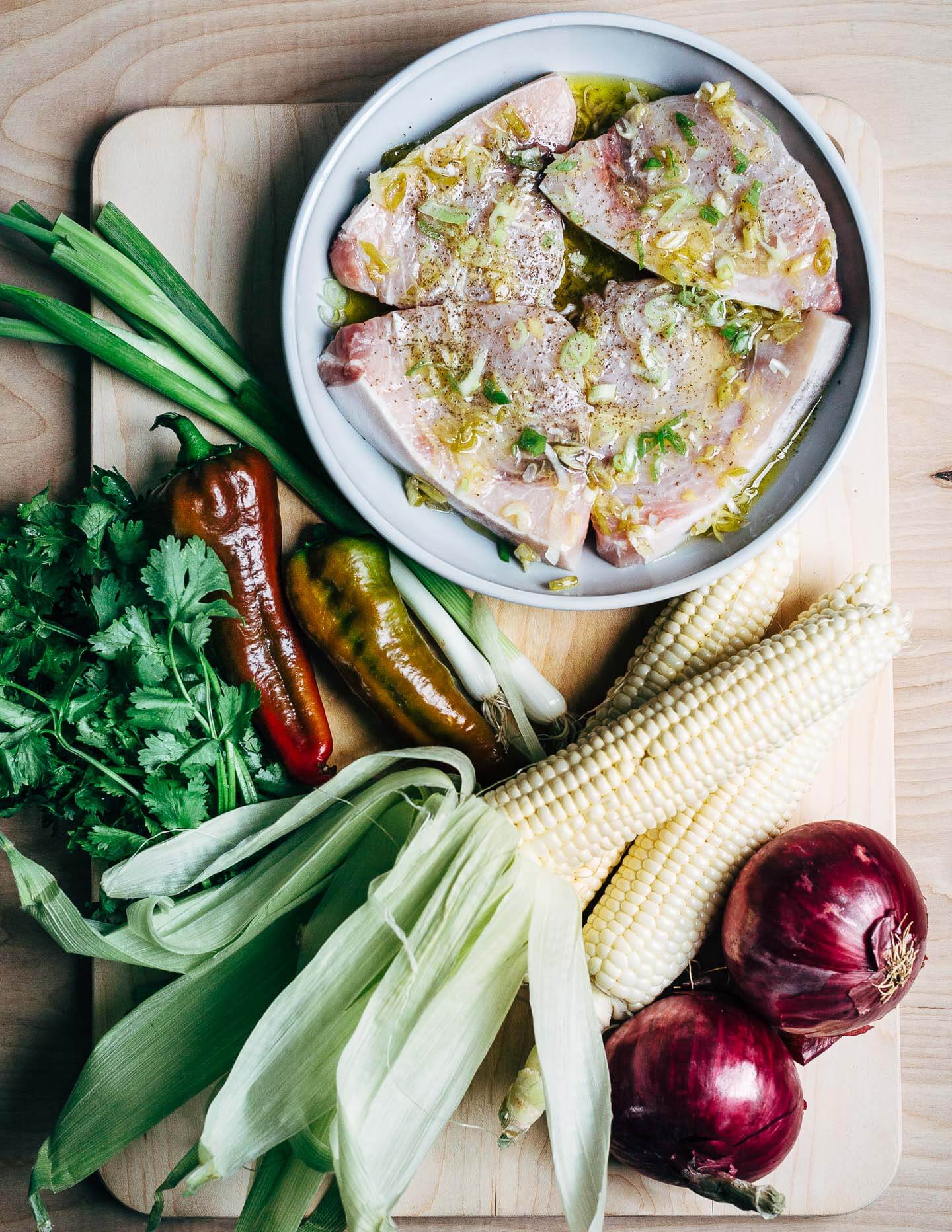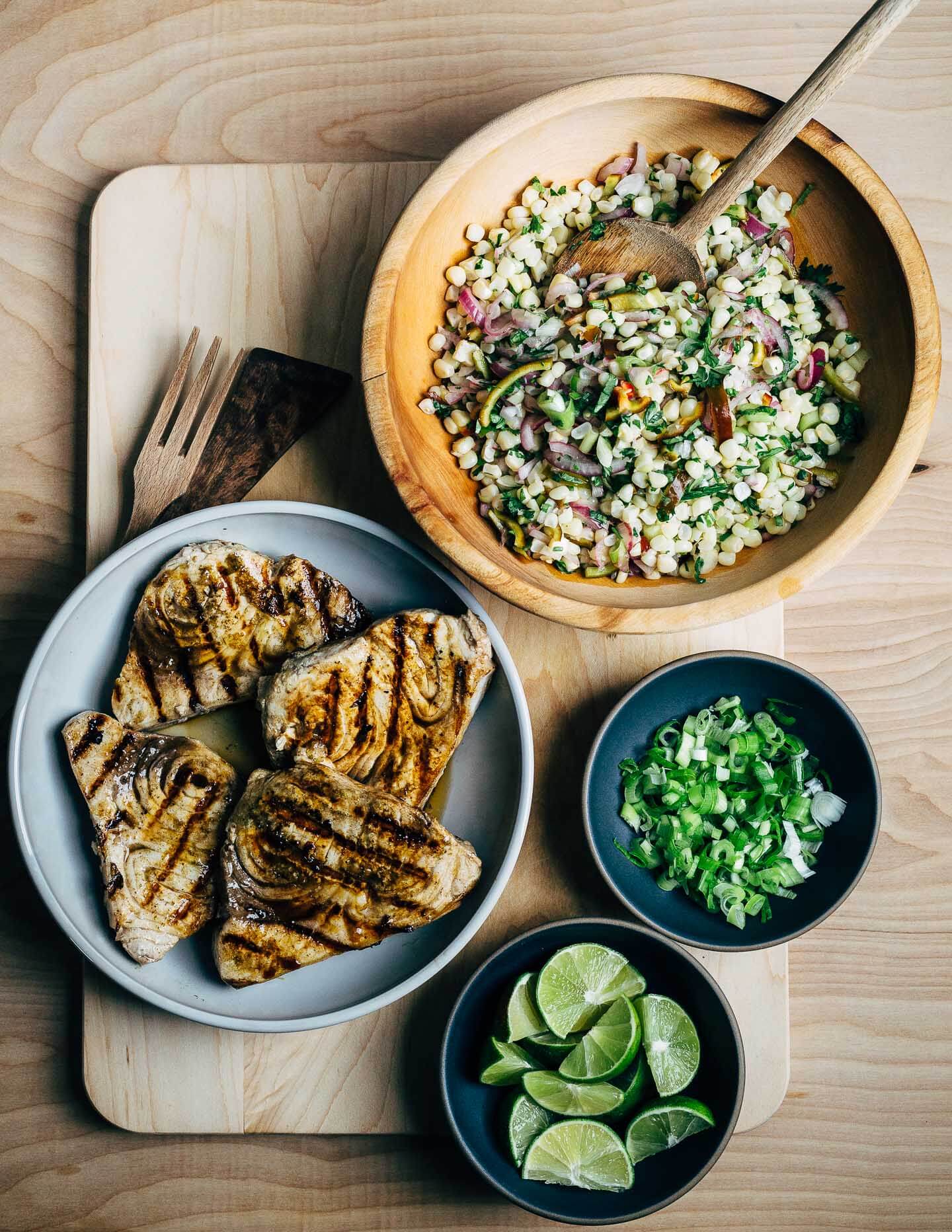 Though the corn salad took a while to perfect, I knew these thick-cut swordfish steaks would be delicious from the outset. Even so, I was pleasantly surprised by just how delicious they were – meaty, with a smoky sear from the grill, and still wonderfully moist and flaky inside. I don't like to mess with a good thing, and topping the swordfish with the aforementioned perfect corn salad made for an ideal mix of summer flavors; the meatiness of the fish giving way to plump sweet corn kernels swimming in lime juice, cilantro, and punchy green onions.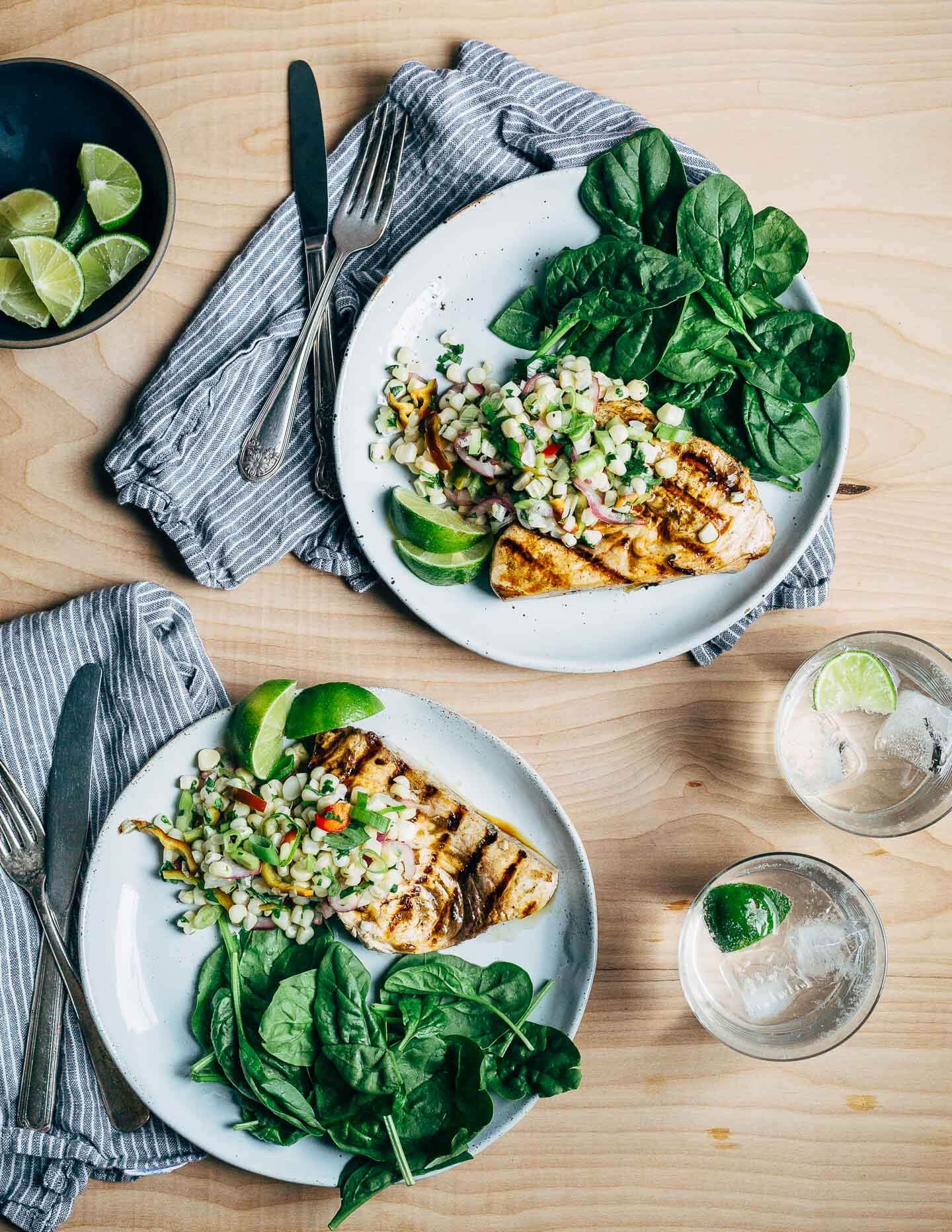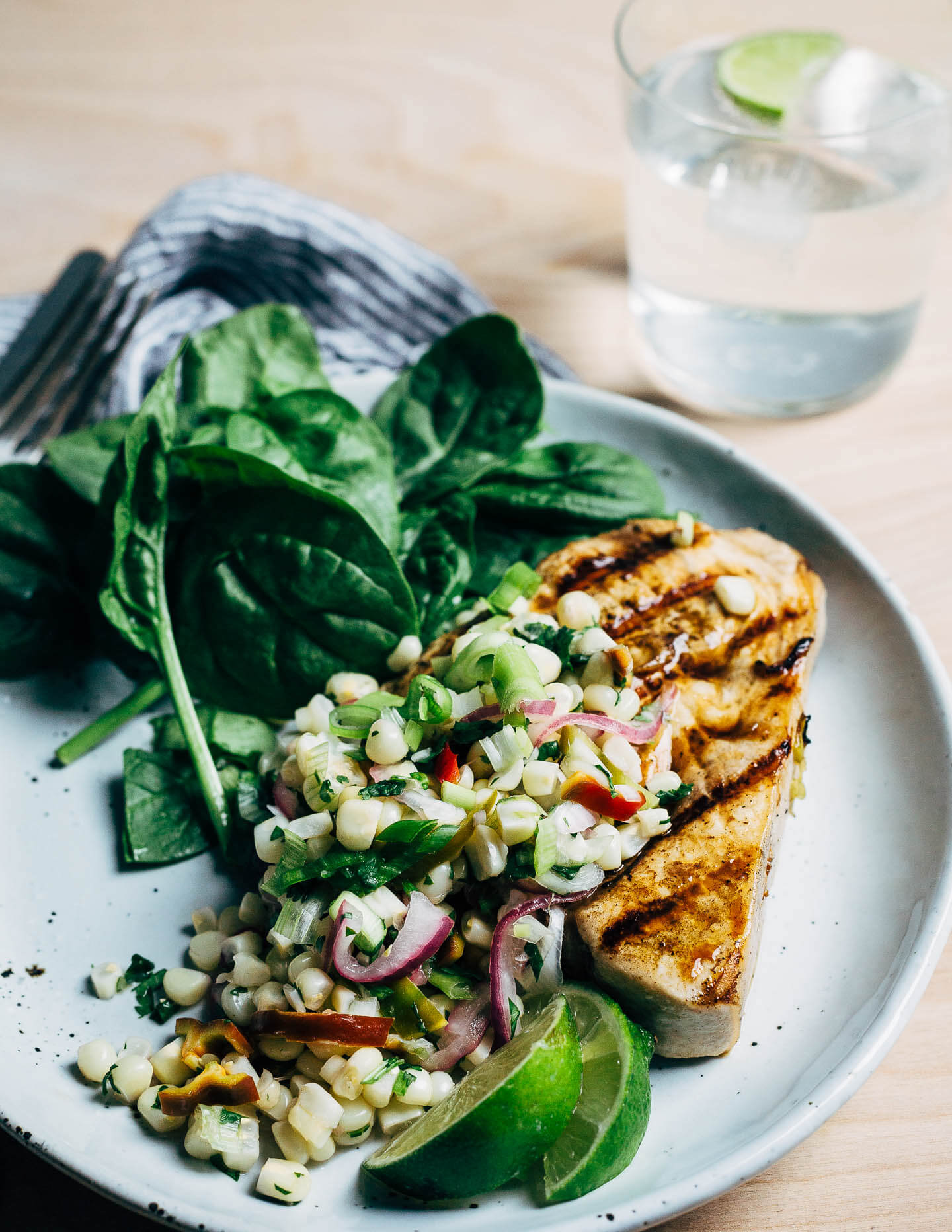 Just as my favorite summer dishes are simply prepared, I'm also partial to ingredients that are simple to shop for. From August 16 – 22, these fresh, wild-caught Marine Stewardship Council-certified swordfish steaks are on sale for $12.99 a pound at Whole Foods Markets (a savings of $7 a pound). Whole Foods Market works closely with fish suppliers, ensuring fresh, never frozen fish, and traceability from the sea to the table.
While you're picking up swordfish at Whole Foods, you can also swing by the produce aisle and grab all the vibrant produce you'll need to make the salad. From there, you're ready to enjoy summery grilled swordfish steaks topped with a fantastic corn salad.
A note on consuming swordfish: Like other large fish, swordfish is high in mercury. Pregnant and nursing women and parents of children should consult the FDA's website for advice before consuming swordfish.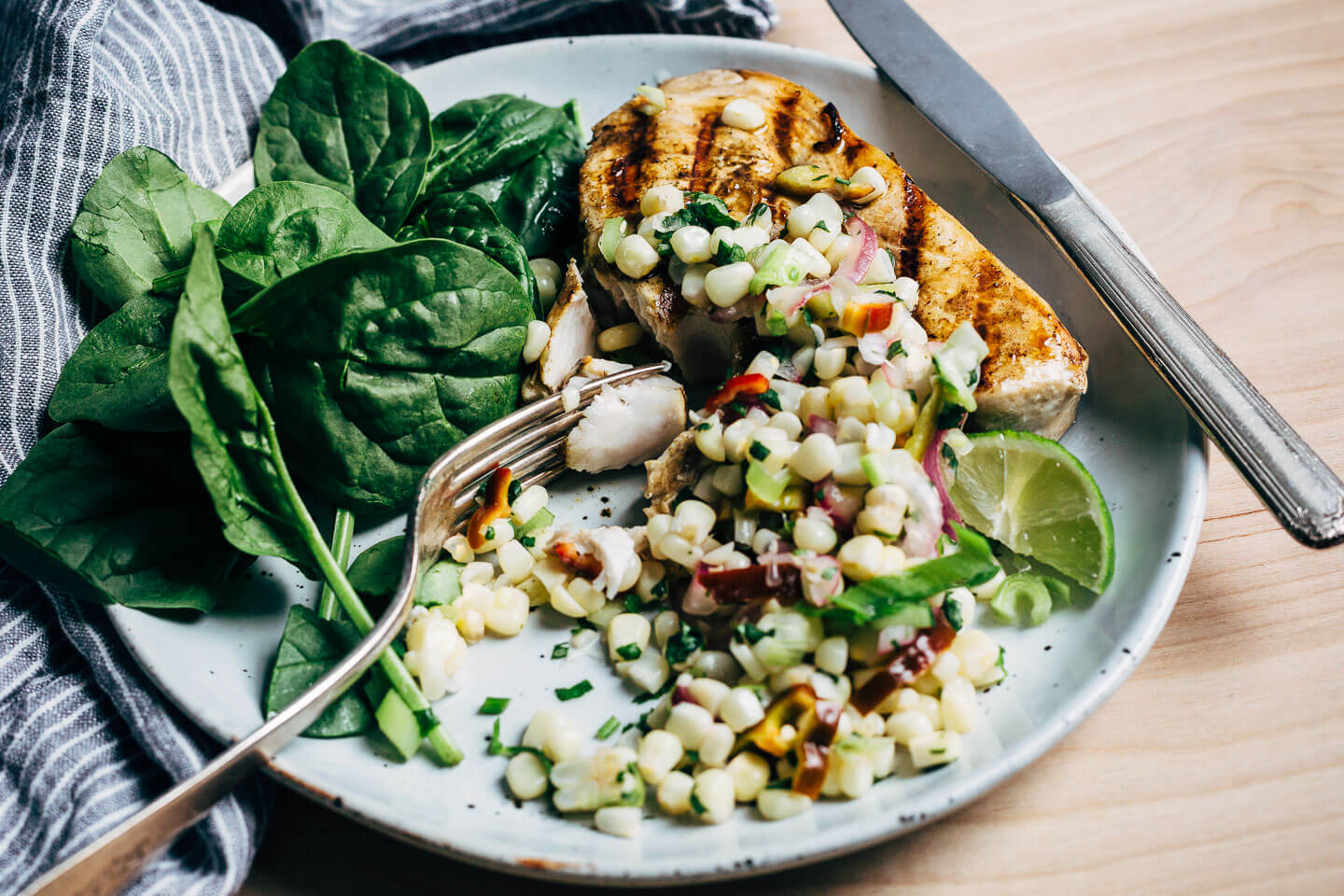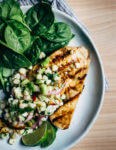 Grilled Swordfish Steaks with Herbed Corn Salad
A simple, summery recipe for grilled swordfish steaks topped with a vibrant herbed corn salad.
Ingredients
For the Corn Salad
2

ears corn

, shucked

½

red onion

, minced

½

a red pepper

, cut into thin slivers

juice of 1 lime

(about 2 tablespoons)

1

teaspoon

sherry vinegar

½

teaspoon

sea salt

¼

teaspoon

fresh ground black pepper

½

cup

chopped cilantro leaves

2

green onions

, sliced thin
For the Swordfish and Marinade
2

limes

, divided

2

tablespoons

extra virgin olive oil

1

teaspoon

sherry vinegar

2

green onions

, sliced

½

teaspoon

sea salt

, plus more for sprinkling

½

teaspoon

fresh ground black pepper

4

6 - 8-ounce swordfish steaks (about 1-inch thick)
Instructions
To make corn salad, blanche corn in salted boiling water for 2 minutes then plunge into a large bowl filled with ice water. Cut kernels from the cob.

In a medium-sized bowl, toss corn kernels with red onion, red pepper, lime juice, sherry vinegar, sea salt, and pepper. Set aside to marinate at room temperature. Just before serving, toss with cilantro and green onion.

Prepare a hot grill.

To make the swordfish marinade, juice one of the limes and slice the other into wedges. Set wedges aside. Whisk to combine the lime juice, olive oil, sherry vinegar, green onions, sea salt, and pepper. Set swordfish steaks in a shallow dish, pour marinade over swordfish, cover, and refrigerate. Marinate steaks 15 minutes, flipping in marinade halfway through. Marinating longer is not advised, as the acids in the marinade will start to cook the exterior of the fish (think ceviche).

Set swordfish steaks over high heat on the grill. Grill 3 - 4 minutes, flip, and grill 3 - 4 minutes longer. The fish will continue to cook once removed from the grill. Look for fish to be nicely seared on the outside and have a good amount of give when touched.

Sprinkle swordfish steaks with sea salt. Plate with lightly dressed greens, and top with corn salad and a big squeeze of lime. Serve immediately.
SaveSave