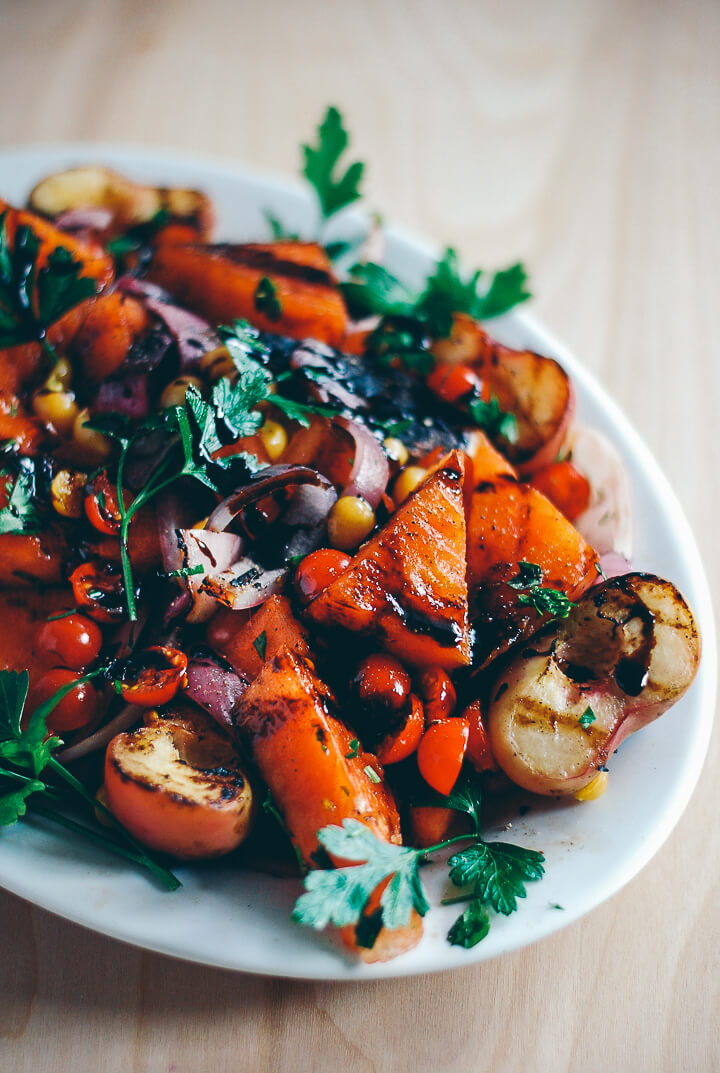 A sweet, savory grilled watermelon salad and donut peach salad with donut peaches, herbs, cherry tomatoes, and topped with balsamic reduction. Jump to recipe.
Charlottesville is just 25 miles from the Blue Ridge Mountains, and the Shenandoah National Park, but it took us more than a year of living here to make our way out there. And even then, we barely made it. To start, it one was of those weekends – equal parts magical and exhausting – where Brian and I fit way too much in. It was like a marathon as we madly hopped from one fun activity to the next, with hardly any time for important things like sitting around or making food.
No matter, on Sunday we had brunch with visiting friends and then set out for a trip to the mountains. We packed hurriedly, got everyone in the car and started off. And, by 4pm or so, we started our hike, which involved taking the wrong trail for a while (my bad), incessant whining from both girls, and a sneaking yet pervasive humidity. And then the flies started buzzing our ears. This is when we realized that we'd forgotten the bug spray. Oops. We struggled through anyway, dragging our tired girls along the trail, with me possibly shouting at them to stop whining and enjoy this nature (dammit). It was fun. Afterwards, we headed to the Blue Mountain Brewery in Nelson County to sit outside and drink the best.beers.ever., eat junk food, and take in the mountain views.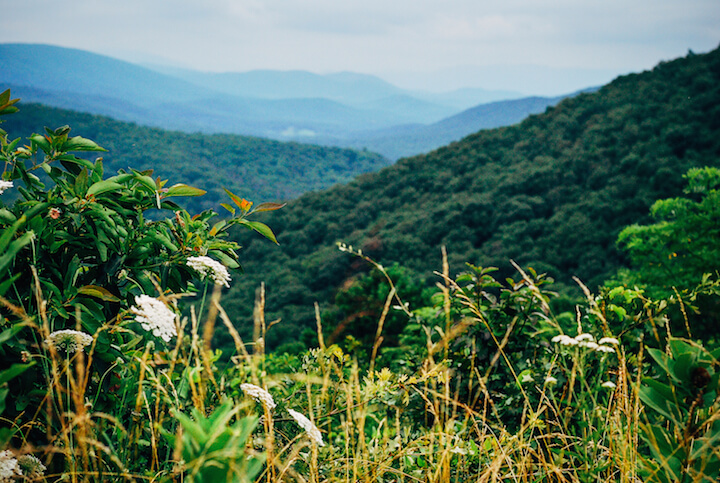 After dinner, plus root beer floats for the girls, peace had been restored. It was then that I said, "We should probably do a quick tick check." That's when Tickmageddon 2014 kicked off. In the parking lot, we found at least five. The 25 mile drive back to town was itchy and filled with the wanderings of our active imaginations. Once home, despite the fact that it was already 9pm, the girls were bathed and checked for ticks twice. Then Brian and I checked ourselves and bathed and did laundry, and 18 ticks later, we sat down for about 5 minutes and promptly fell asleep.
Predictably, while talking to Brian on Monday afternoon, barely 12 hours later, we were already reminiscing about what an idyllic afternoon we'd had. Maybe that's why there's such an emphasis on "creating memories" in our culture – the present may be harrowing, but just like filters on Instagram, our minds sift through our remembrances with all the fuzzy/cuddlly/frolicing in the woods moments coming to the fore. And really, I'm cool with that. We had such a nice time that we might go back next Saturday. (Bug spray in hand, god willing.)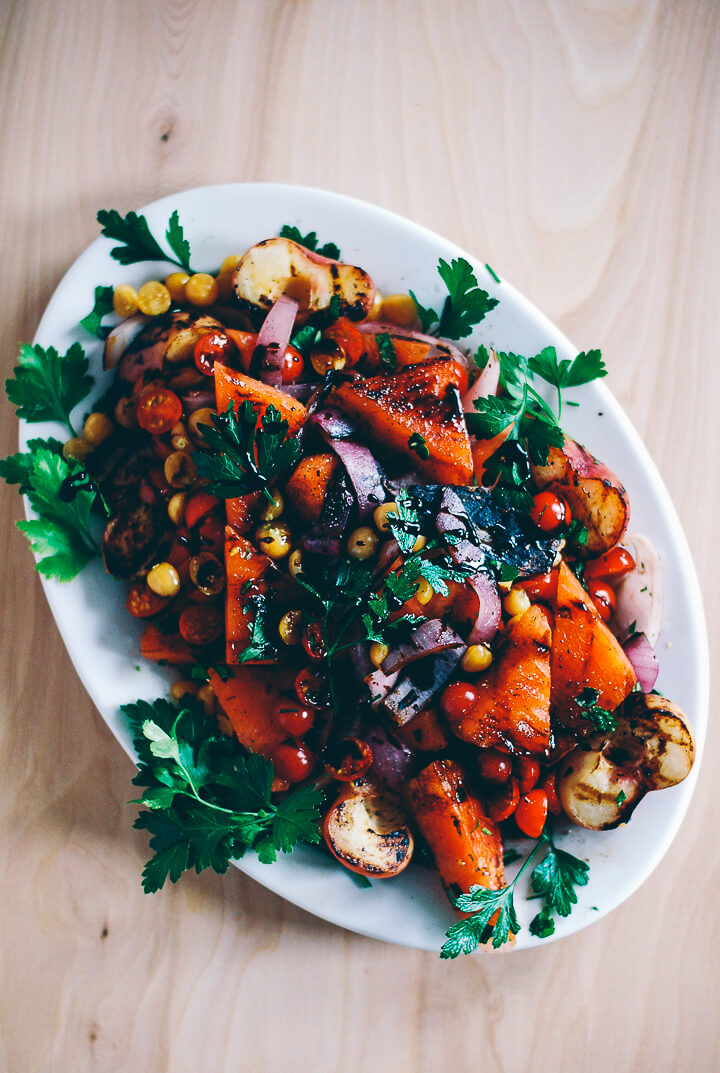 And that long tale, a thinly veiled attempt to assert my newish country lifestyle with some kind of tick cred, is my way of setting up the fact that all this away time means CSA anxiety is really setting in. I have to eat approximately 8 zucchini and 2 heads of lettuce in the next 20 hours. So it was just crazy to open up a watermelon and create even more trouble. But, whatever.
This grilled watermelon salad does a lot with the whole sweet and savory thing. Watermelon gets all smoky and caramelized, while grilled donut peaches trade in a bit of their cloyingly sweet edge for some depth and all around good looks. I have a nearly overwhelming supply of cherry tomatoes, ground cherries, oregano, and parsley from the garden, so adding those things was nothing short of obligatory. And then everything was rounded out with a simple balsamic reduction and crumbled Parmesan. Watermelon salad with a creamy, briny cheese is the standard, but here the Parmesan, with all it's wonderful complexity, was just right for tying everything together.
Before we head to the recipe, I've had a busy week and wanted to share a bit of exciting news with you! To begin, I am over the moon excited to be the featured photographer on the Conde Nast Traveler Instagram feed. Check it out! (Do you follow us on Instagram? Here's the link, just in case.) Second, the thoughtful, lovely blog PAPER/PLATES recently interviewed me! Over there, I'm talking books, inspiration, and my dream dinner with Edward Gorey. Read the interview here.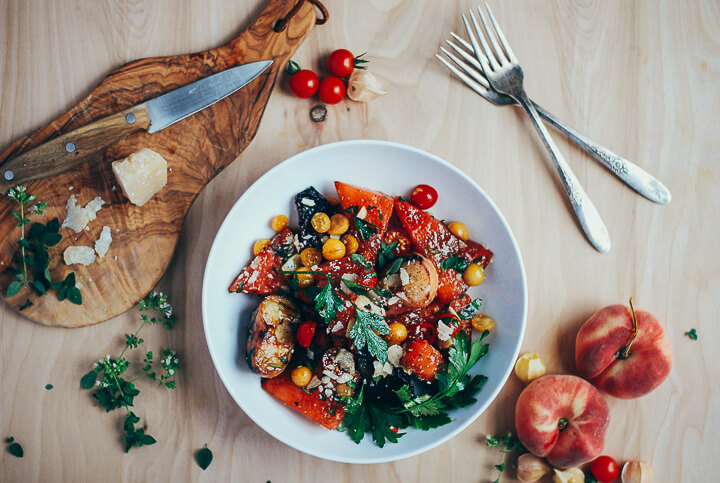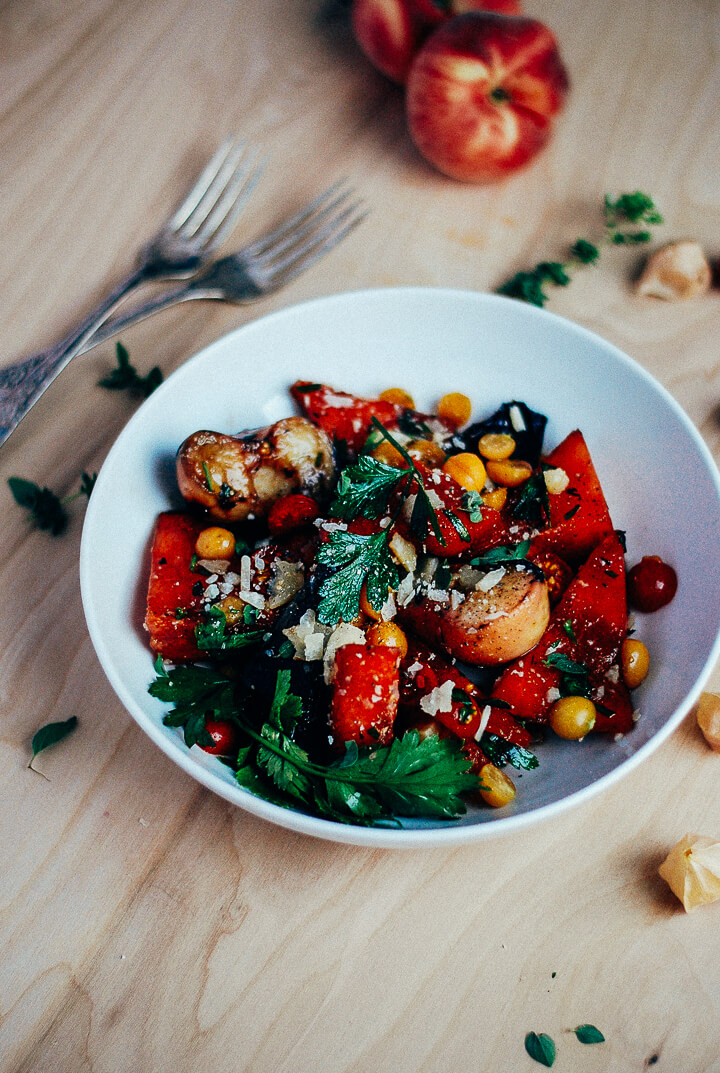 A few flavor notes: though this salad was solid the night we served it, a night in the fridge did wonders. I'd hate to actually recommend that you go to the trouble to grill fruit and then put it in the fridge, but even an hour of co-mingling would do much to unite the flavors. Word to the wise – where watermelon is concerned, the seedy varieties have much more robust flavor (also, spitting seeds is fun!). Finally, salt leaches the flavor out of watery fruits like watermelon quickly, so hold off on all but a pinch of salt until just before serving.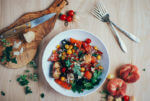 Grilled Watermelon Salad with and Donut Peaches and Balsamic Reduction
A sweet, savory grilled watermelon salad and donut peach salad with donut peaches, herbs, cherry tomatoes, and topped with balsamic reduction.
Ingredients
5

large half moon watermelon slices

(halve the melon, then slice up one of the halves), rind removed, sliced 3/4-inch thick

4

donut peaches

(sweeter white peaches will sub in seamlessly, though any peach should be fine), halved and pitted

1

small red onion

, halved and peeled

olive oil for grilling

, plus a drizzle more for serving

1/4

cup

each fresh parsley and oregano

, chopped

1/2

cup

balsamic vinegar

squeeze of fresh lime juice

1

cup

sweet cherry tomatoes and/or ground cherries

, halved (Unless you grow your own, ground cherries are pretty hard to find – go ahead and use all cherry tomatoes if you don't have them.)

sea salt and fresh ground pepper to taste

1/3

cup

crumbled Parmesan
Instructions
Brush watermelon with just the tiniest bit of oil (you want to keep it from sticking, but you don't oil dripping off and causing flare-ups). Over a bed of hot coals or a high flame on your gas grill, grill watermelon 2 minutes a side. This watermelon was pretty firm and could be flipped with tongs, but if yours is a little riper and juicier, you may want to flip gently using two spatulas. The peaches are grilled similarly. Their skins can get really black, but they also come off easily if you find they've gotten too black. The onion halves should be grilled over indirect heat until quite dark on the outside and tender on the inside, 3 – 4 minutes per side.

Pull the fruit and onion and set aside to cool. Cut the onion into thin ribbons and the watermelon into generous triangles.

Meanwhile, make the balsamic reduction by simmering vinegar in a non-reactive saucepan over medium heat. Once vinegar is bubbling vigorously, edge heat down to a gentle bubble and cook, stirring often, for 15 minutes or so, or until the mixture has thickened and reduced by half.

Toss the fruit with the onion ribbons and herbs, along with a pinch of sea salt. Fold in the herbs, drizzle with half of the balsamic reduction, and set in the fridge to chill for an hour or as long as overnight. Before serving, add the cherry tomatoes and ground cherries, adjust salt levels, drizzle with olive oil and a bit more reduction, a few herb leaves, and the Parmesan, and serve.

The balsamic reduction can be gently reheated if it gets too thick, and leftovers should be saved for tomato sandwiches or even as a

dessert drizzle

.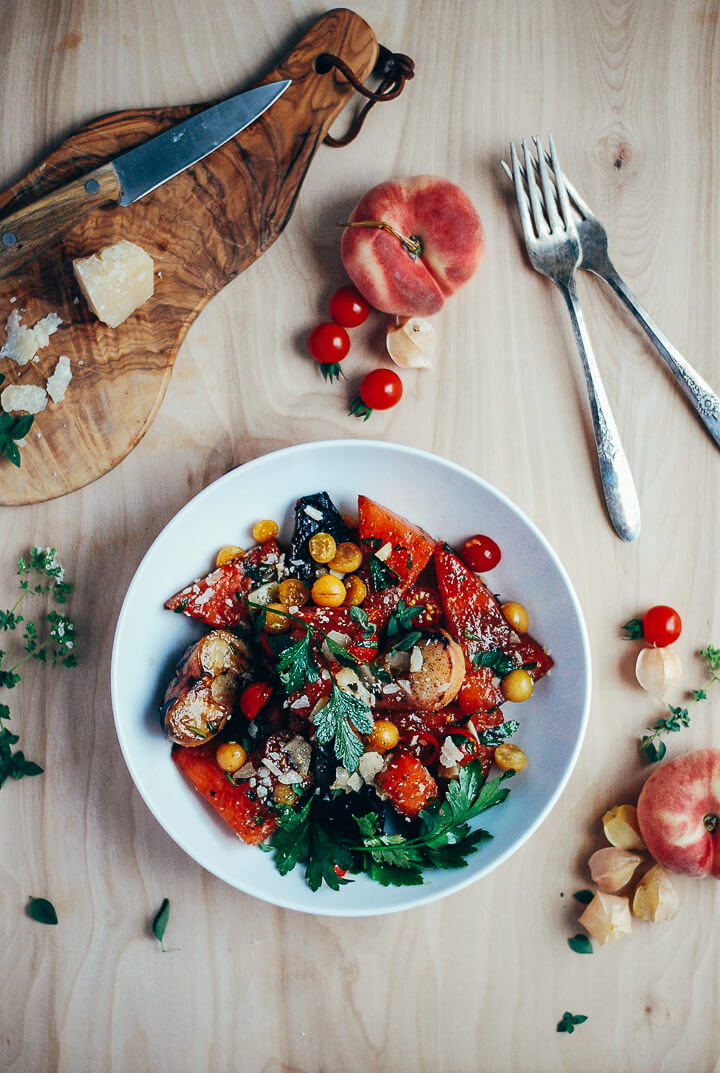 SaveSave