A simple hakurei turnip salad with sliced radishes and lemony bitter greens.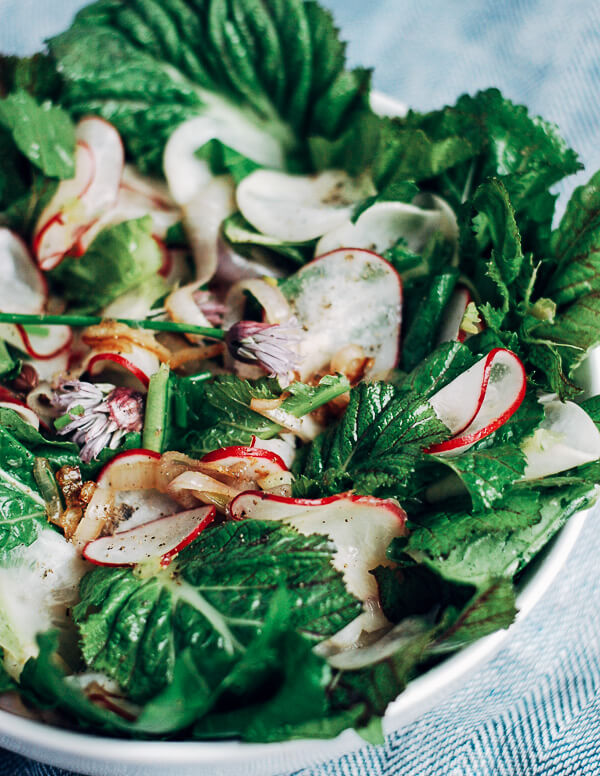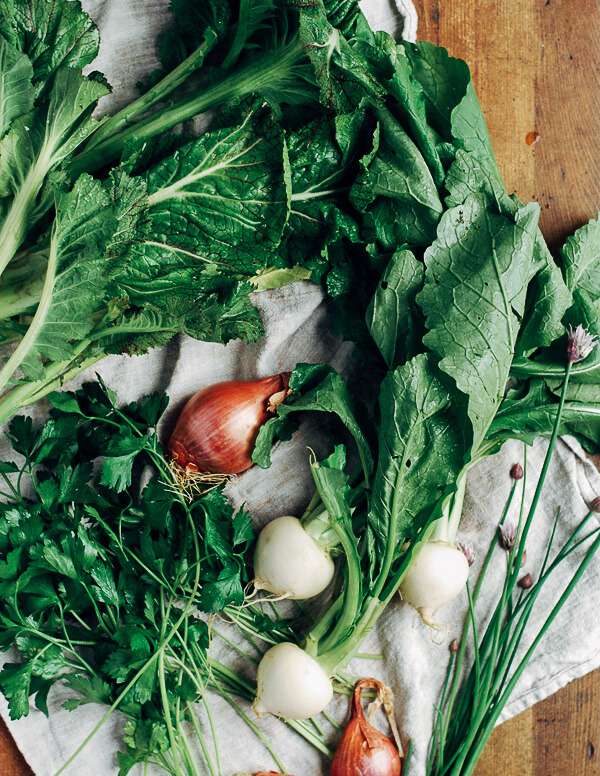 Real Life

Let's begin here: I hadn't really meant to take a break from the blog, but it just kind of happened. At first, I was taking a little time to think about my blog and what it's for. There are So.Many.Food.Blogs. And lots of them are the work of incredibly talented and passionate people. Sometimes it's overwhelming to keep throwing my stuff out there, hoping that amidst all that greatness, my tiny slice of this huge internet will continue to be meaningful. (And please know, I am totally not fishing. These are just the cruel facts, people.)
So it started in March with me thinking I should take a small break. Meet some of the other pressing deadlines for my freelance stuff and give myself time to think on things. I've had a few ideas floating around for a while now, but never seem to find the pause button I need to see them through.
And then, so predictably, life happened. I spent a lot of the month not working on the weekends and instead spending time with the family. Things on the home front are in flux these days, with our oldest daughter quickly becoming an all-out kid, and really neither Brian nor I have any idea how to deal with this new person and her eternal quest for independence. I mean, I think of myself as being really good at parenting the littles. But bigs? I am lost. For real.
Later, there were some health things with our oldest that we're still wading through. I'll say that I'm nearly positive that things are fine and are going to be fine, but we've had a few weeks with visits to various pediatric specialists, and no matter how brave or prepared or rational you are, that shit is scary. Also, in the face of all that, can I really wax on about a salad?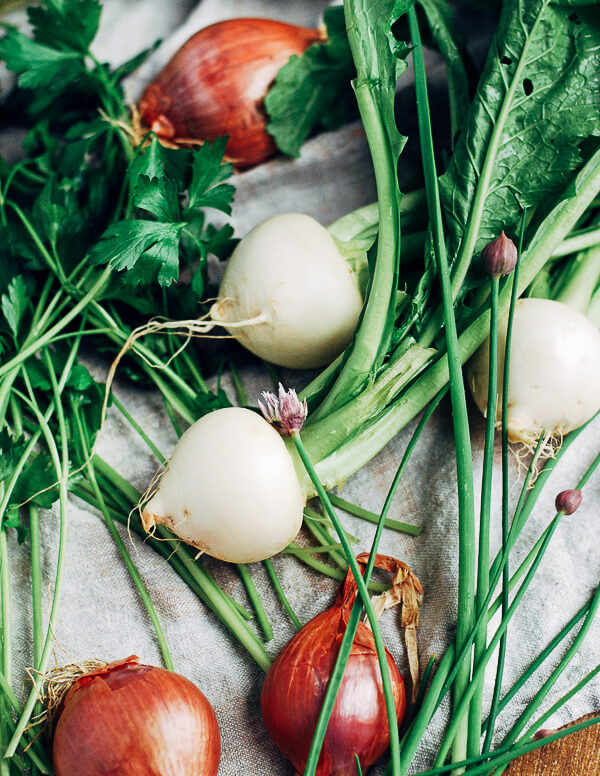 A Spring Salad
But writing about salad is kind of my job, so yesterday, despite all the uncertainty/worried stuff, I dragged myself to a favorite haunt to pick up some of whatever is good right now. The late start to spring has meant that there's still relatively little local stuff to be had; still, one can find motley bunches of asparagus, lots of radishes, turnips, herbs, and the beginnings of bitter greens.
Had I never belonged to a CSA, it's certain that I'd never have come to love bitter greens as I do. They're so perfectly of-the-moment, encapsulating all the verdant green-ness of the season in one bite. It's also worth noting that the early bitter greens, like mustard, radish, and turnip greens, are all really great right now. As they age, the greens take on more bitter spiciness and toughen up quickly. Late in the season, they're best braised; but right now, they're perfect for salads.
This salad is a riff on something I make each spring. Little white hakurei turnips have a milky bite and are one of my early spring favorites. Traditional radishes play off of them well, offering up a little spice. The greens wilt nicely under a sprinkle of sea salt and a light vinaigrette, and everything gets a final hit of sweetness from caramelized shallots.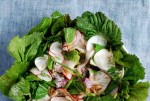 Hakurei Turnip, Radish, and Bitter Greens Salad
This is a simple salad meant to showcase early spring ingredients without a lot of fanfare. As such, I've included the most basic of vinaigrette recipes, the one I turn to almost daily. If you'd like something a bit more complex, feel free to sub in your fave.
This recipe makes a lot of salad. Happily, it holds up surprisingly well, so consider making it for dinner and then bringing it for lunch or dropping a fried egg on it for an awesome breakfast.
Ingredients
Vinaigrette
2

tablespoons

fresh squeezed lemon juice

tiny pinch sea salt

3

tablespoons

extra virgin olive oil
Salad
3

large shallots

1

tablespoon

butter or ghee

1

bunch hakurei turnips

with greens

1

bunch small radishes

with greens

1

bunch mustard greens

2

tablespoons

minced chives

with or without blossoms

sea salt and pepper to taste
Instructions
To make dressing, whisk olive oil and sea salt into lemon juice until mixture gets creamy and emulsified.

Heat a medium-sized skillet over medium heat. Melt butter or ghee and add shallots. Cook 2 minutes, stirring a bit. Turn heat to low and cook 20 minutes more, stirring occasionally.

Meanwhile, trim greens from turnips and radishes and set aside. Slice turnips and radishes paper thin, very carefully using either a sharp knife or mandoline. Toss turnip and radish slices with a pinch or two of sea salt and two tablespoons of the vinaigrette. Set aside.

The turnip and radish greens will likely be sandy, so submerge them in a sink of water to get sand out, and then wash and spin as normal. Tear into pieces and set in a big bowl. For my salad, I used only a bit of the radish greens – taste yours and then add them according to your preference. Sprinkle a pinch of sea salt on greens, drizzle in enough vinaigrette to lightly coat the leaves, and toss with your hands.

To serve, toss greens with turnips, radishes, and any accumulated juices. Top with warm shallots and minced chives; finish with a pinch of sea salt and pepper to taste. Serve right away.
SaveSave
SaveSave