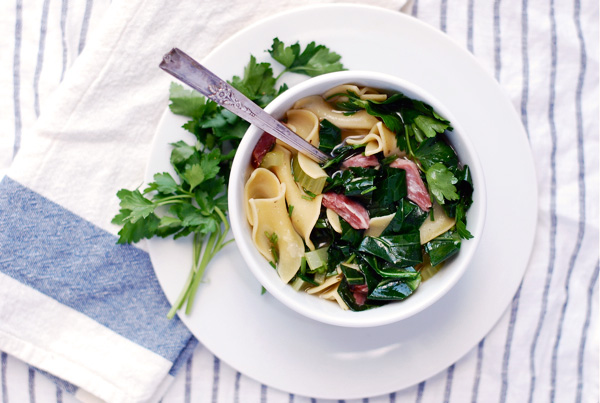 How do you like to cook? Is it the process or the end result? Are you inspired by the ingredients in their raw states, or only after they've been transformed? For some reason, this soup got me thinking about that stuff. Blogging has changed how I cook, and sometimes I worry that it has slowly made food feel like work. This dish took me back to my cooking roots and made us all a little happier.
It was inspired by the things we had on hand – a robust bunch of collards, a bit of fennel, garlic, chives, and a giant ham hock. I took my cues from this potlikker soup, but tried to play up the greenness of the broth. My experiment yielded a a rich, almost winey broth that went beautifully with simple braised collards, egg noodles, and spring's very first chives. (Did you see that? I mentioned spring.)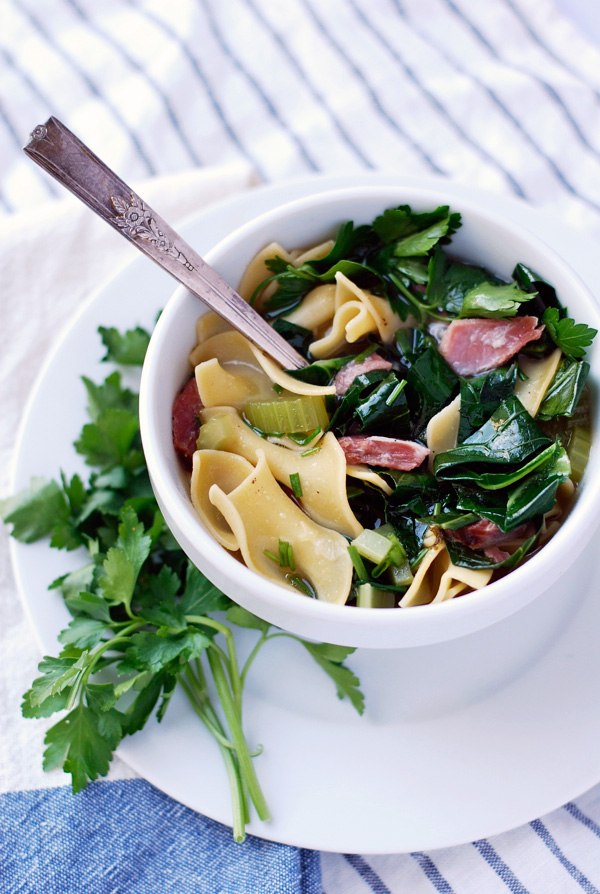 Ham Hock and Collard Soup with Egg Noodles
1 teaspoon olive oil
1 ham hock
1 large bunch collard greens, washed
1/2 cup fennel stems, washed
1 small bunch celery, washed
1 bunch parsley, washed
1 bulb of garlic, each clove smashed, and peeled
15 whole peppercorns
2 teaspoons sea salt
8 cups water
2 cups egg noodles
3 tablespoons minced chives
Chop the stems off the collards, and then chop the leaves into thin ribbons. Trim, and cut all but 4 celery stalks into 4 inch segments. Cut the remaining celery into half moon slices and set aside. Remove the fennel core, and chop into large chunks. Cut the stems off the parsley and rough chop the leaves. Smash and peel the garlic.
With a sharp knife, score the skin of the ham hock 5 or 6 times.
In a large Dutch oven or other ample pot, heat the olive oil over medium-high heat. Add the ham hock and sear on all sides. Add the collard stems, all of the 4 inch celery stalks, parsley stems and leaves (reserving 1/4 cup of the leaves for garnish), and garlic, and saute for 10 minutes, stirring often. Add the water, peppercorns, and sea salt.
Bring broth to a boil, and then turn down to simmer until ham hock is falling off the bone, about 5 hours. Adjust salt or add water as needed.
Remove ham hock and set on a cutting board to cool, and then separate the meat from the ham hock. Trim the fat and skin, and then chop up the meat. Meanwhile, strain the vegetables and spices out of the broth so you are left with clear liquid.
Return broth to the pot and add the chopped ham hock, reserved collard ribbons, celery half moons, and egg noodles. Bring mixture to a boil and then turn down to a simmer. Cook for 12 – 15 minutes, or until egg noodles are tender.
Check salt levels and adjust as needed. Ladle into bowls and garnish with parsley leaves, minced chives, and ground black pepper.