Whether you're after something simple or celebratory, sourdough toasts with herbed sardines and a shaved fennel salad are the height of easy decadence. Featuring Matiz tinned wild sardines, these herbed sardine toasts come together in minutes. This post was created in partnership with Matiz.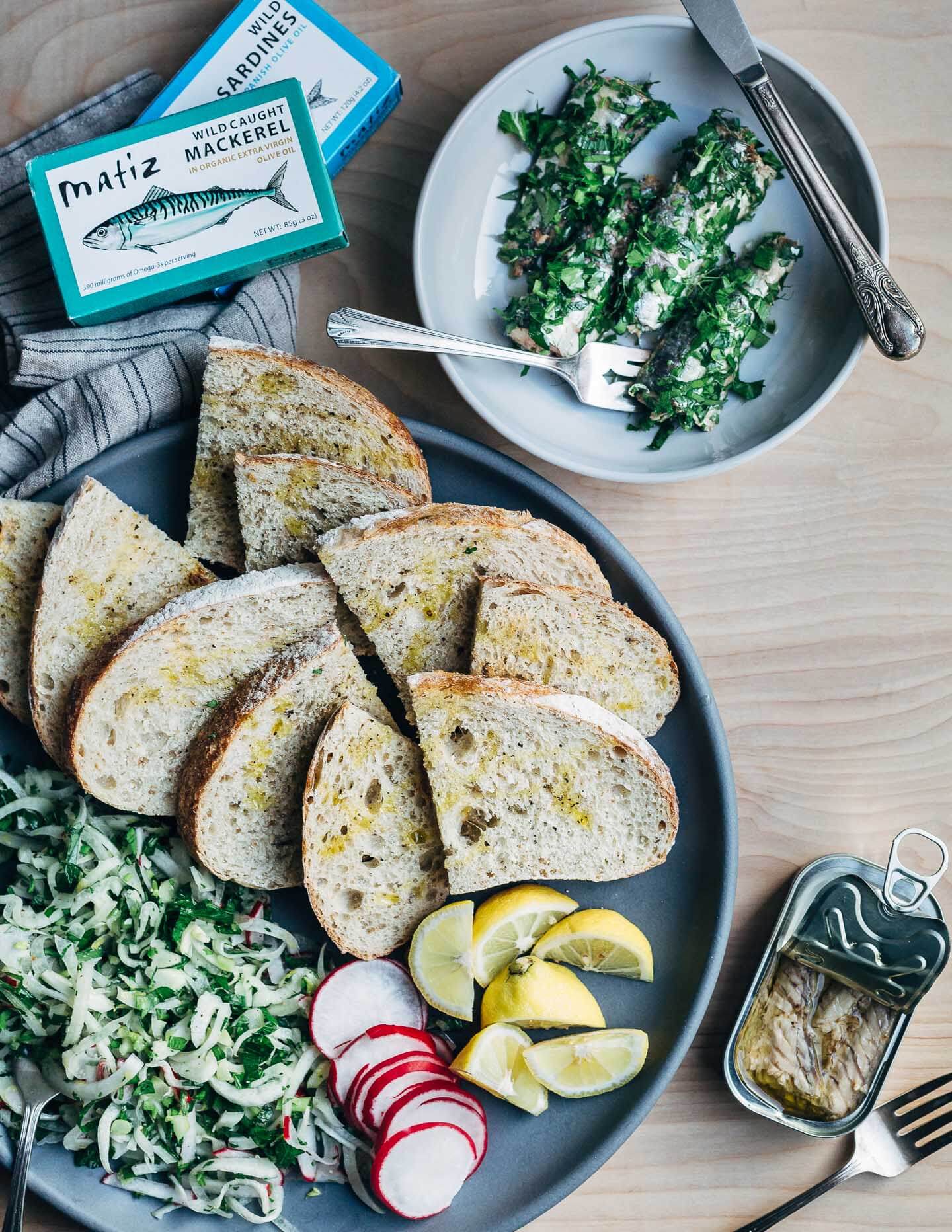 Many of us have spent the past months stocking our pantries, cooking simple meals, and learning to improvise with what we have on hand. If you're like me, you've also just been cooking a lot. It's overwhelming at times, so I try to balance complex meals with simpler ones like this assortment of tinned Matiz Wild Sardines covered in fresh herbs, garlicky sourdough toasts, and a zippy fennel salad.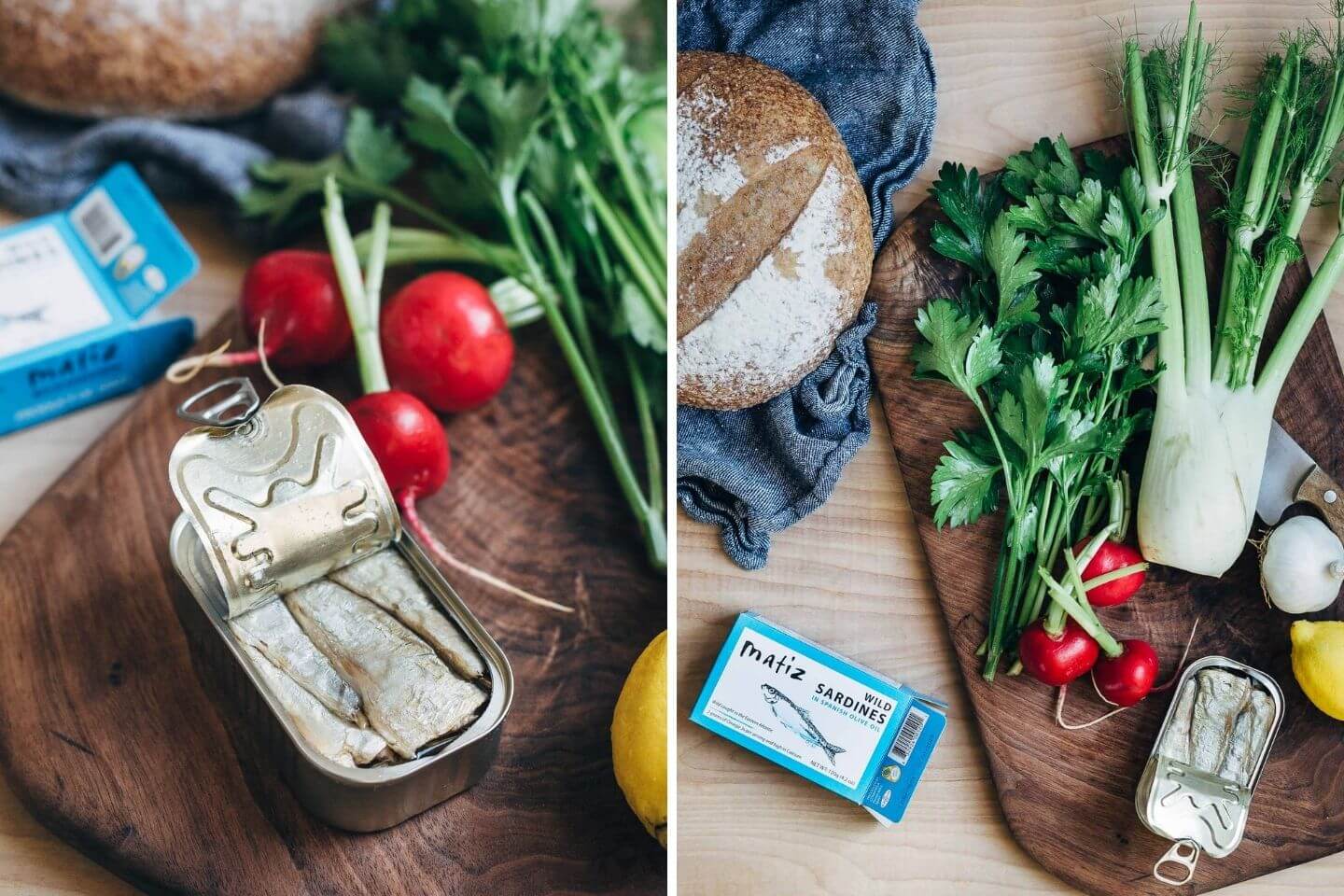 I wasn't always wise to the ease and deliciousness of tinned fish. It's not something my family ate growing up, but once I was out in the world and cultivated a more adventurous palate, I fell in love with the surprising richness of tinned sardines. And now, Matiz Sardines are an essential part of my well-stocked pantry and repertoire of quick meals.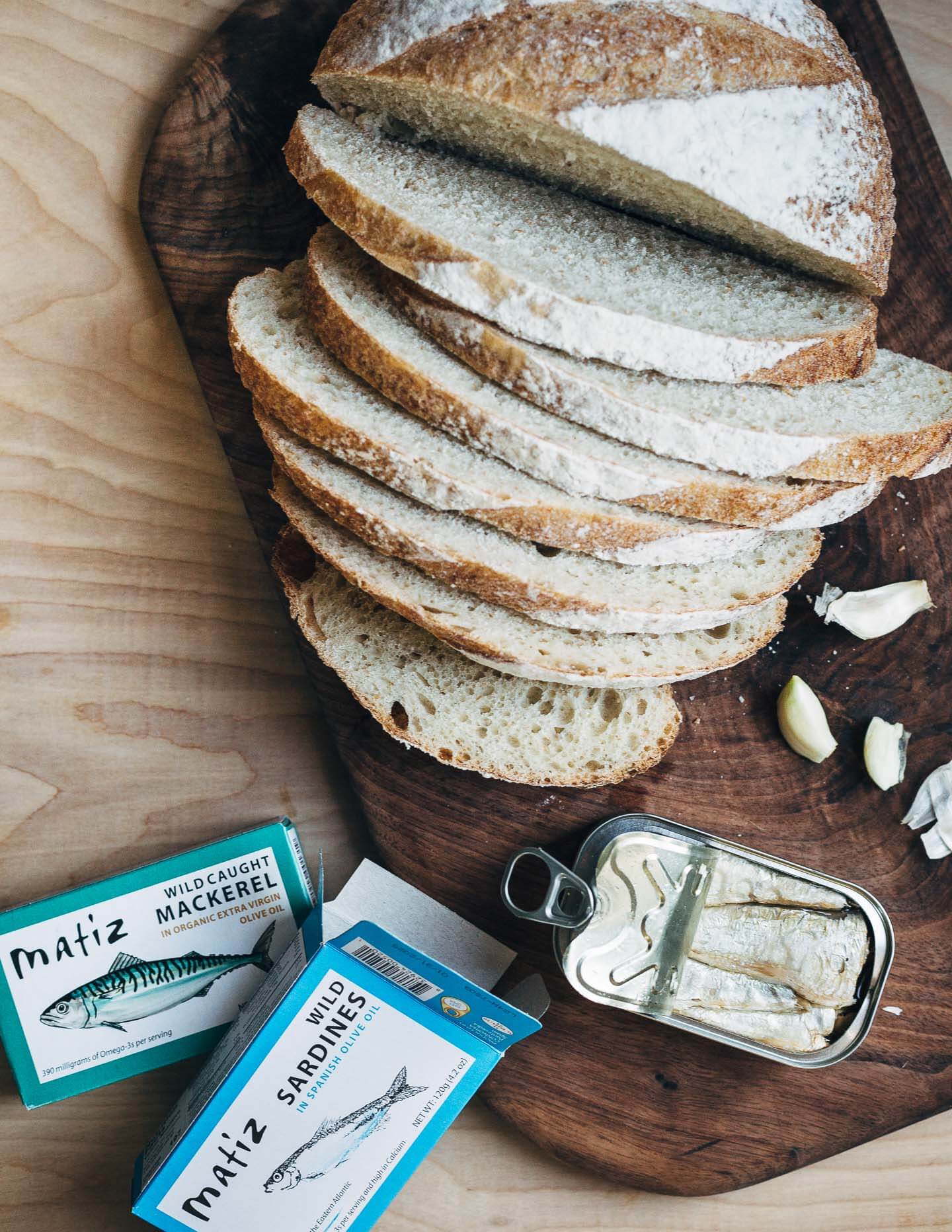 Tinned Sardines: A Spanish Delicacy
Matiz sardines are wild caught off Spain's Galician coast, prepared with traditional methods, and cooked just once at a low temperature to preserve texture and quality. This care comes through in every bite – Matiz sardines are delicate and full of flavor. They're also rich in protein, omega-3 fatty acids, and calcium, making them an incredibly nutritious option for everything from quick meals and snacks, to more thoughtful tapas, apps, or celebratory meals.
Herbed Sardine Toasts: Effortless and Delicious
Herbs sardine toasts with a lemony shaved fennel salad is the kind of assemblage that's equally suited to a low-key dinner or, if prepped ahead, an easy two-bite small plate for holiday gatherings within your pod. Fresh parsley and just a bit of fennel lend a lovely herbaceous pop to the meaty sardines, while a drizzle of extra virgin olive oil adds a hint of floral richness. The sourdough toasts get a little extra attention, too, with a garlic rub, a pinch each sea salt and pepper, and an olive oil drizzle. And finally, the lemony fennel salad is a crunchy foil to all that rich flavor, making for a wonderfully balanced bite.
Matiz has just started offering tinned wild mackerel, and I decided to serve it alongside the sardines. More assertively flavored than the sardines, Matiz's mackerel is beautifully textured with just a hint of unctuousness that mackerel lovers like me crave. You can pick up the full line of Matiz tinned fish products online at thespanishtable.com. Or, head over to Instagram where I'm giving away three Matiz Sardine gift packs!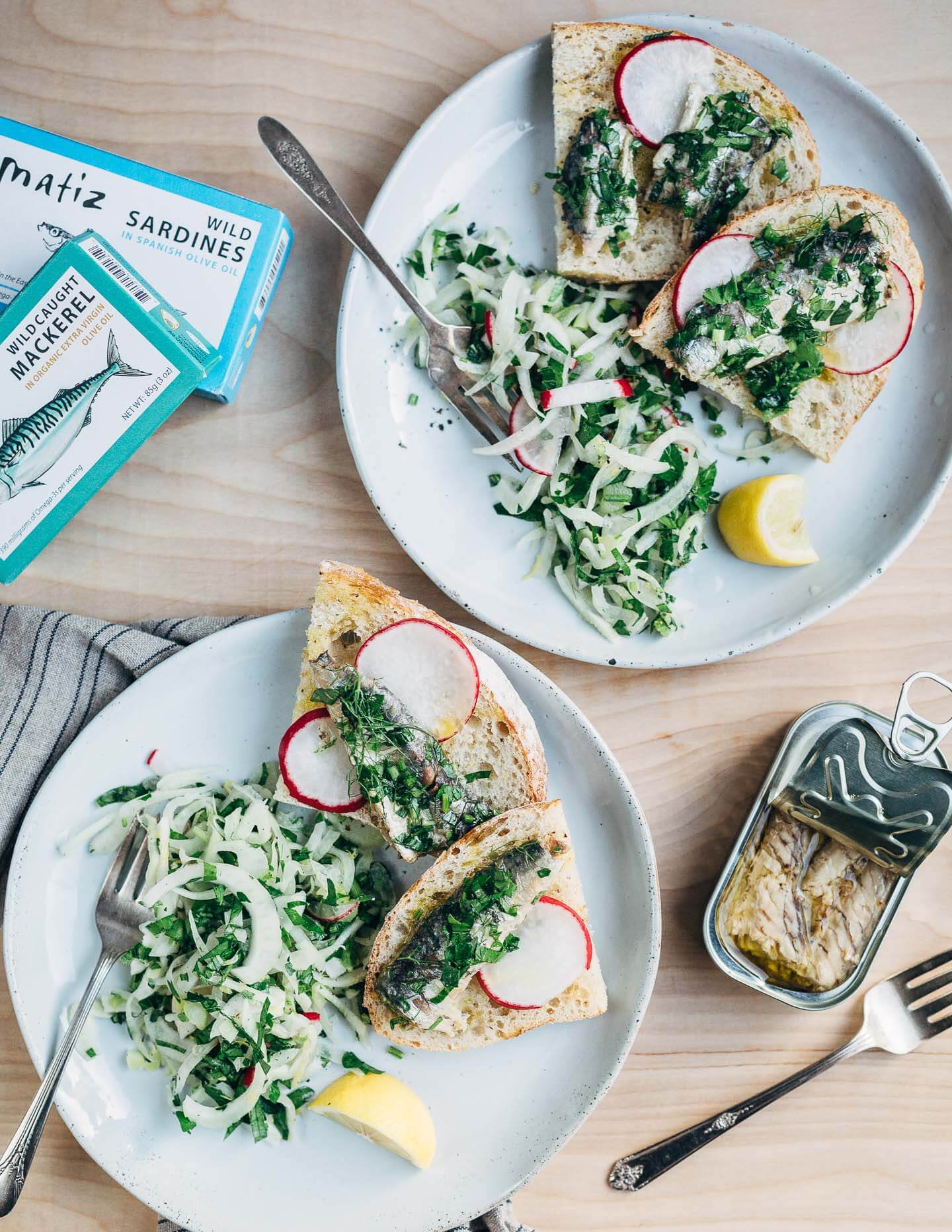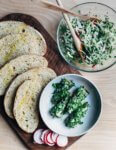 Sourdough Toasts with Herbed Sardines and Shaved Fennel Salad
Whether you're after something simple or celebratory, sourdough toasts with herbed sardines and a shaved fennel salad are the height of easy decadence.
Ingredients
Salad
1

bulb fennel,

top and root trimmed, with core removed

4

radishes,

julienned

2

tablespoons

lemon juice

¼

teaspoon

sea salt,

plus more to taste
Toasts
6

large slices sourdough bread

1

clove

garlic,

peeled

¼

teaspoon

sea salt

¼

teaspoon

pepper

1

tablespoon

olive oil
Sardines
½

cup

minced parsley

2

tablespoons

minced fennel fronds

1

tablespoon

olive oil

Squeeze of lemon
To Serve
Sliced radishes

Lemon wedges

Sea salt
Instructions
Working carefully with a mandoline slicer or with a sharp knife, cut fennel into paper-thin slices. Toss with radishes, lemon, and sea salt. Set aside for 10 minutes, then taste and additional salt or lemon as needed.

Toast sourdough until it's crisp and golden. Rub slices on both sides with the garlic. Slice toasts in half, or quarters for smaller bites. Sprinkle with sea salt and pepper, and drizzle with olive oil.

Carefully remove sardines from the tin. In a shallow bowl, toss sardines with the parsley and fennel. Set on a small, rimmed plate, drizzle with olive oil, and finish with a squeeze of lemon.

Arrange toasts, fennel salad, radishes, and lemon on a big platter and serve alongside the herbed sardines. If desired, halve sardines lengthwise along the spine just before serving.