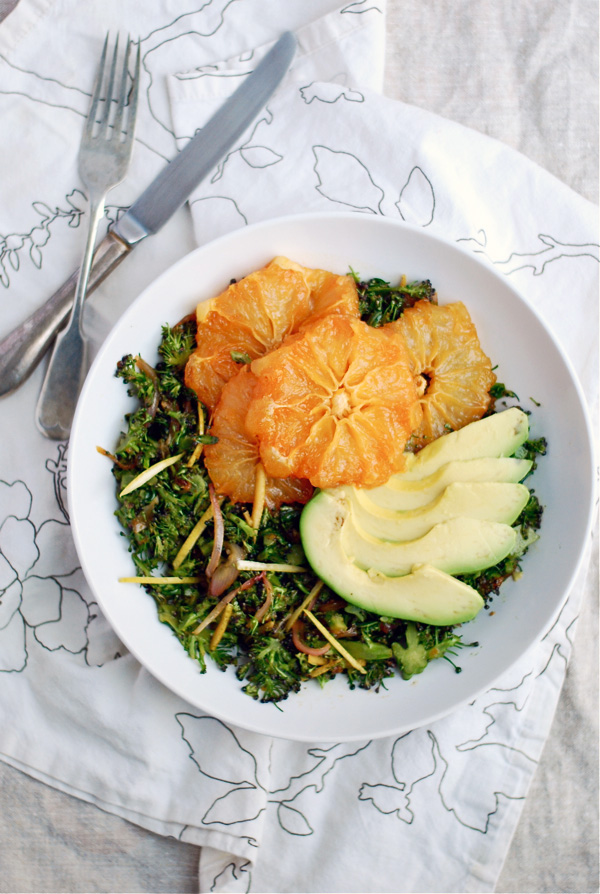 We've been hinting at big news for a while now, and today we're ready to come out with it. After months of planning and thought, Brian and I are leaving New York City. The ball started rolling when our landlord's son got into a local college and we learned he'd be taking our apartment. Our neighborhood has changed considerably over the past eight years, with the check-cashing place becoming a fancy boutique, neighborhood pioneer Black Betty getting the heave-ho, a down-and-out warehouse becoming a Milkbar, and our favorite steakhouse taking up in a vacant storefront. And for a long time, we've embraced these changes and loved our block, but lately the thrill is gone. New York will always be changing, that's what makes it New York, but the city has also grown increasingly expensive, and the oddballs and artists and natives that used to populate the neighborhood aren't part of its future. And now, neither are we.
Ever since I quit my full-time job to stay home with our youngest daughter, I've been working four freelance jobs while also somehow being a full-time mom to our girls. And Brian has been stretched thin, too, with full-time work and childcare and blogging duties. As we looked at the prospect of our rent doubling or tripling, we realized we had a better shot at the kind of life we want in our native Virginia, where we'll be able to work less, work more in this space, and have more time to live the good life.
You might be wondering about the "Brooklyn" part of "Brooklyn Supper" and, to be honest, it's something we've wondered about, too. For now, we'll just see how it sorts itself out. We still have a lot of business and many dear friends here, so while we're leaving this apartment, we don't plan to say goodbye to this borough or it's food scene permanently. On a practical level, the seasons more or less line up in both places, so our seasonal recipes will still work for New Yorkers. Don't worry! But our readers are the most important thing to us, so we'd really love to get your thoughts on this, too.
One thing is certain, we will keep showing up here at least a couple times a week and we'll always love sharing our recipes and stories with you. In Virginia, we'll have more space and a backyard, so we're looking to include much more entertaining and gardening content here, since those were always some of our favorite things to do. Whatever the future holds (only good things, please!), this space will be part of what made it happen. My accidental blogging career has been the impetus for so many positive changes in our lives and truly amazing opportunities, and for that I'd like to thank you. Whoever you are out there, you've made a difference to us and we're so, so grateful.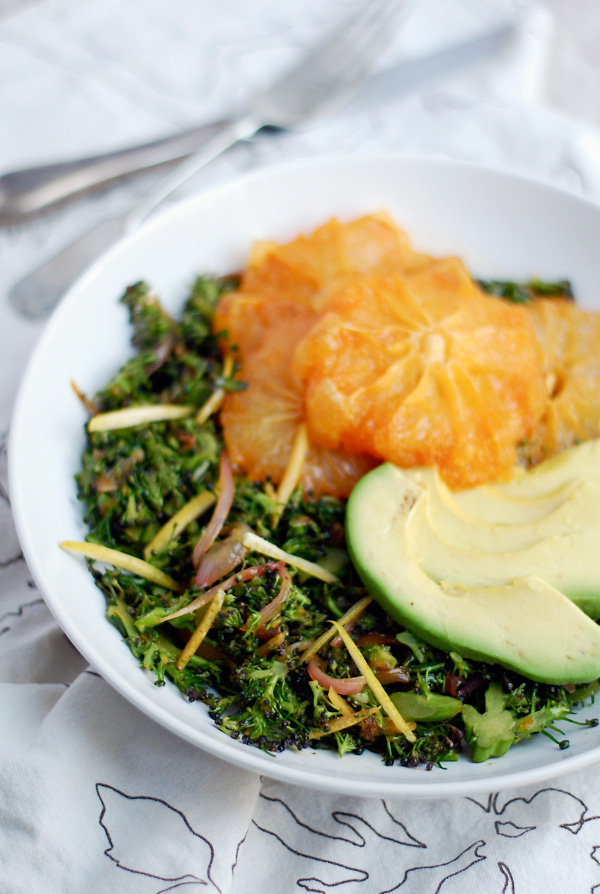 And now, a recipe. This post is long enough, so let's skip the segway, shall we? Broccoli slaw is an inventive way to enjoy some of the first sprouts of spring. Tender young broccoli gets chopped up and is drizzled with a lightly sweet, smoky grapefruit-infused dressing. Caramelized shallots and grapefruit add a pleasant bitterness, while the avocado brings the creaminess that ties it all together. This recipe has a few steps, but is actually pretty easy to make. I think it would be a lovely addition to a dinner party menu or on its own as a special lunch.
Broccoli Slaw with Caramelized Grapefruit and Avocado
serves 4 as a side, 2 as a meal
for the caramelized grapefruit
2 large grapefruits
2 tablespoons sugar
2 tablespoons olive oil
for the grapefruit dressing
juice of 1 large grapefruit, about ¾ cup
½ cup olive oil
2 tablespoons Dijon mustard
2 tablespoons red wine vinegar
2 cloves garlic, minced
½ teaspoon sea salt
for the slaw
1 large or 2 small heads broccoli, sliced paper thin with a mandoline or the slicing attachment on a food processor
1 large shallot, trimmed, peeled, and sliced
1 avocado, peeled and sliced
Use a peeler to slice of several 4 inch segments of grapefruit zest and slice into thin, 2 inch long strips. Set aside. Cut the softest grapefruit in half and juice it. You will need 3/4 cup fresh grapefruit juice.
Set a large skillet over medium-high heat. Cut off the rounded bottom and top off of the two remaining grapefruits, and then carefully slice off the peel. Use a sharp knife to slice into ½ inch thick slices. Spread the sugar on a large platter and carefully press both sides of the sliced grapefruits into it. Add the olive oil to the hot skillet and then use a spatula to place the grapefruit slices in the hot oil. Cook each side for 2 – 3 minutes, and then carefully remove to a plate to cool. While the pan is still hot, add the shallots and saute for 2 minutes. Remove from pan and set aside.
While the skillet is still hot, add the grapefruit juice. Bring to a boil, and then turn down to medium-high heat. Stir as the juice reduces, being sure it doesn't burn. Cook for 7 – 8 minutes, or until the grapefruit juice has reduced to about a quarter cup. Pour off the juice and set aside.
In a small bowl, whisk together 1/4 cup of the grapefruit juice reduction, the mustard, vinegar, garlic, and sea salt. Whisk in the olive oil.
Combine the broccoli, grapefruit zest, and cooked shallots in a large bowl. Drizzle in half the dressing, and toss. The slaw will absorb the dressing and release its juices as it marinates; the slaw will be great after 20 minutes and heavenly after a few hours.
When ready to serve, taste the slaw, add more dressing if needed, and then arrange on a plate and serve with sliced avocado and caramelized grapefruit slices.