We've been doing a lot of family food blogging lately, here and elsewhere, so it's nice to do a recipe that's strictly for the grown-ups–homemade Bloody Marys. I am reading your mind through the computer right now. You are thinking "Isn't this a lot of work for a drink? I think I'll stick with the Bloody Mary mix."
Well, friend, you will be missing out on all that incredible tomato flavor. Think of this as being like a drinkable gazpacho with vodka. That sounds good, right? It is good. And your brunch guests will think it's good, too.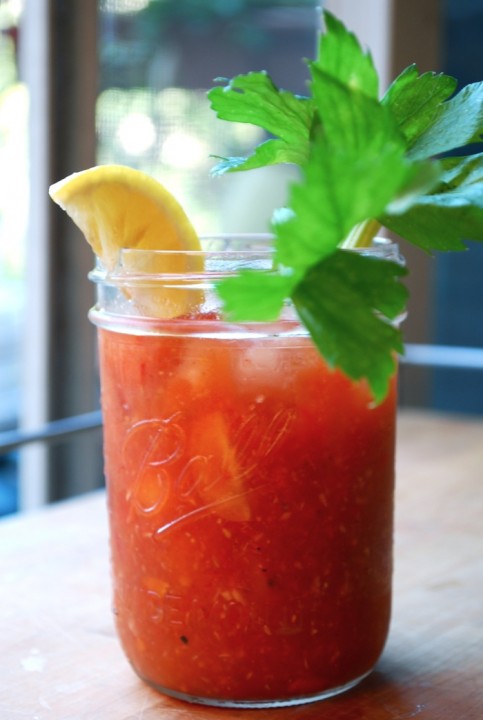 Also, let's admit something else–you're kind of sick of tomatoes, right? Like when tomato season started, you were so excited. Now, you're kind of done with them. In July, you'd buy them on Saturday and they'd be gone by Monday. Now they're hanging around a little longer. Well, here's a recipe to make you excited about them again, so you can end tomato season on a positive note.
Homemade Bloody Marys
for the mix (adapted from Mrs. Wheelbarrow's recipe on Food52)
6 medium tomatoes, blanched for a minute and peeled
2 carrots, rough chopped
1 onion, rough chopped
1 red pepper, seeded and chopped
1 jalapeno, seeded and chopped
4 tablespoons prepared horseradish
1/4 teaspoon ground cayenne pepper
1/2 teaspoon celery seeds, crushed a bit
at least 1 teaspoons salt
plenty of black pepper to taste
Crush the peeled tomatoes in a large saucepan and cook over medium high heat. Put the carrots, onions, red pepper and jalapeno into your blender and puree. Add tomato juice if you need liquid. Pour the pureed vegetables into the tomato mixture, add the celery seed, horseradish, cayenne, salt and pepper. Simmer for a half hour. Then pour mixture into an airtight container and chill for several hours or overnight if you have time.
for the drinks (adapted from the old standby, Mr. Boston)
1 1/2 oz. vodka
1 tablespoon lemon juice
3 oz. Bloody Mary mix
1/2 teaspoon Worcestershire sauce
drizzle of Tabasco sauce
sprinkle of celery seeds
Mix ingredients in a drink shaker with ice and strain into large glasses. Garnish with lemon or lime wedges, celery stalks, olives, or cucumbers.