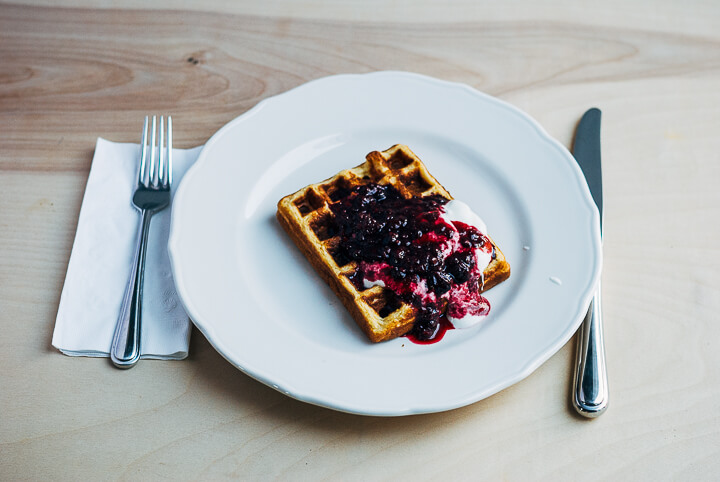 A recipe for crisp cornmeal waffles with honey and fresh blackberry syrup. Jump to recipe.
I'm not having a productive summer and it's getting worse. Despite waking up late most mornings, I've now napped two days in a row. My coffee game is off. Getting work done feels like it depends on some strange alchemy. If I sit in the right spot, glasses cleaned and aligned just so, and the coffee's fresh, maybe I'll make progress? Nope. I wander out to the garden instead.
Billowing thunderheads, the deafening roar of the cicadas, minuscule progressions in the growth of my watermelons (you guys – I'm growing watermelons!), all seem far more important than work right now.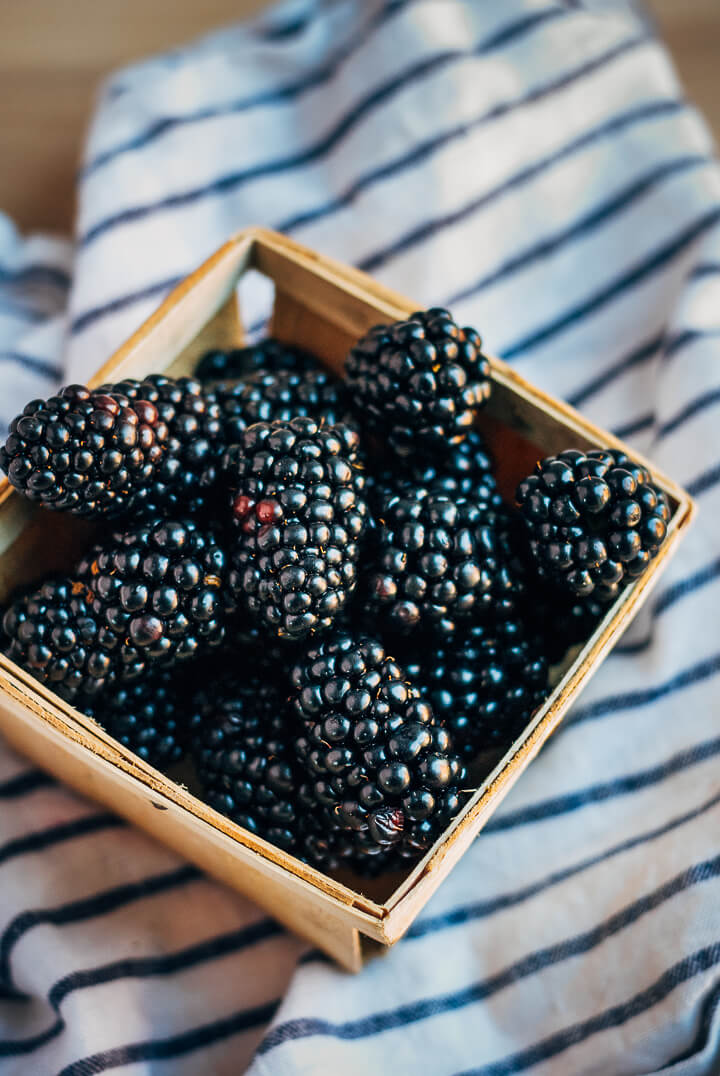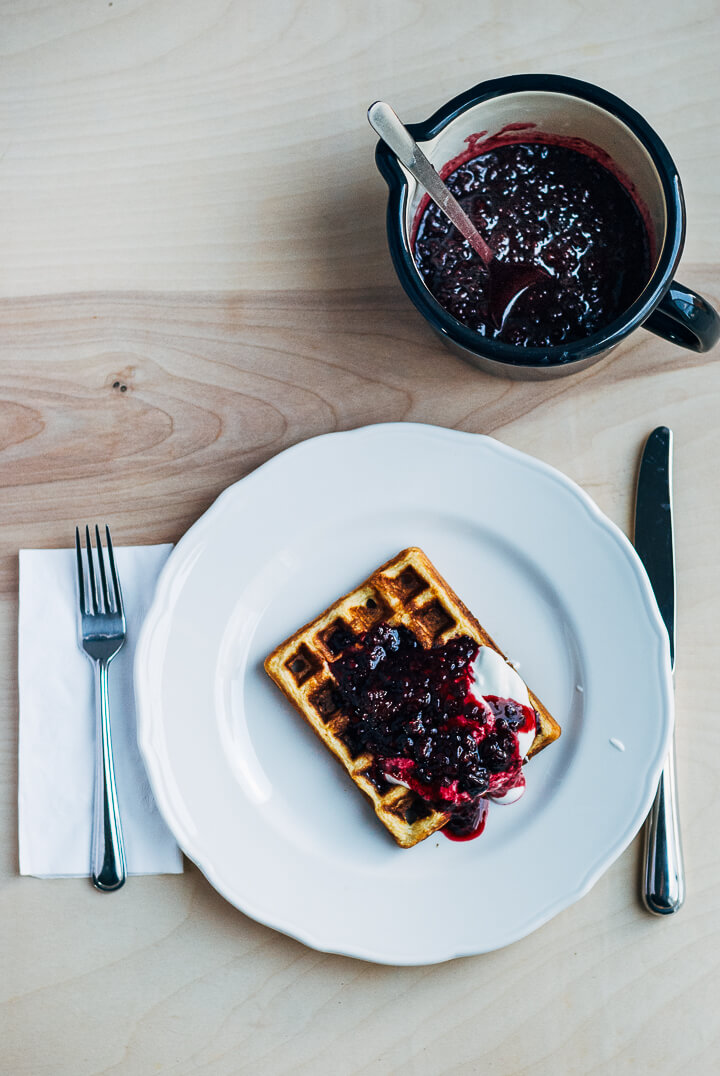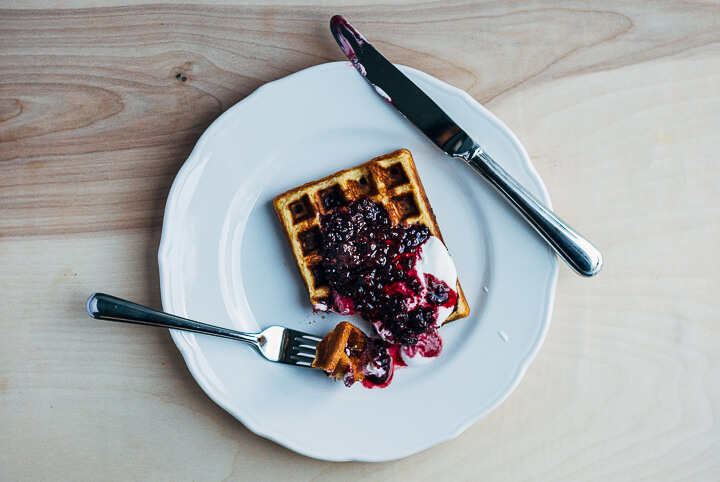 The girls are out of school for the summer, and Brian and I made the (questionable) decision to keep them out of camp, too. Without a doubt, their daily presence is the unraveling force in my normally productive life. I assume that you, like me, have a lot to do despite all these searing sunny days and the promise of refreshment offered by everything from oceans to streams. But summers are short, as is childhood, and so I'm ducking my editors, losing my to-do list, and trying my utmost to enjoy every second of this summer spent at home with both of my daughters.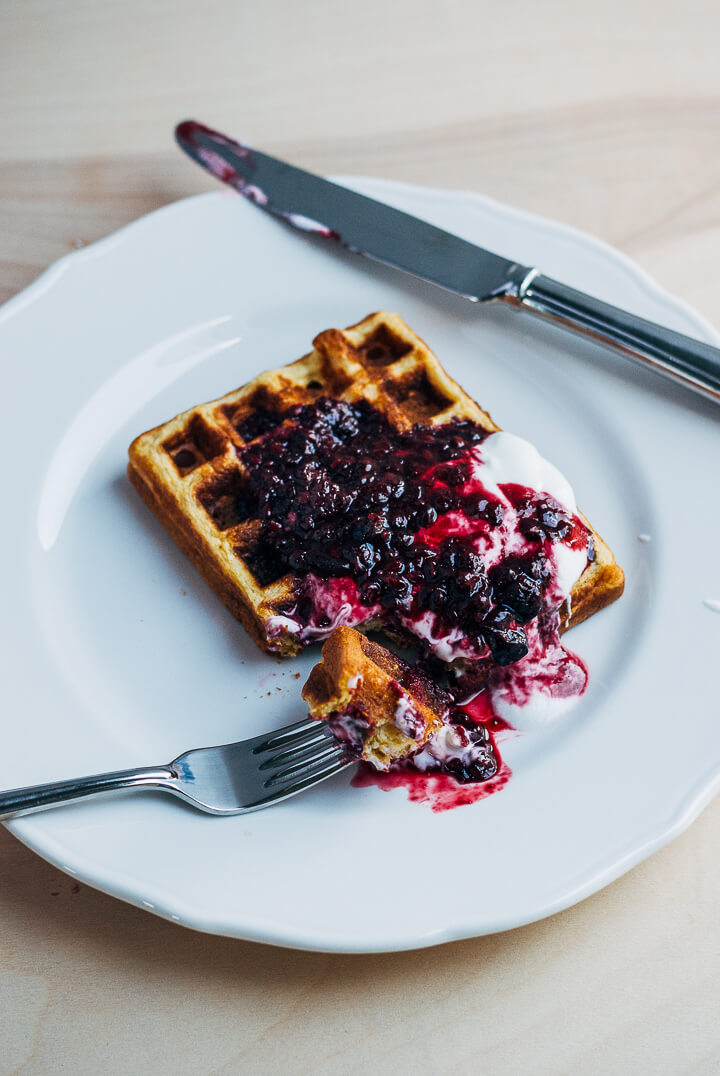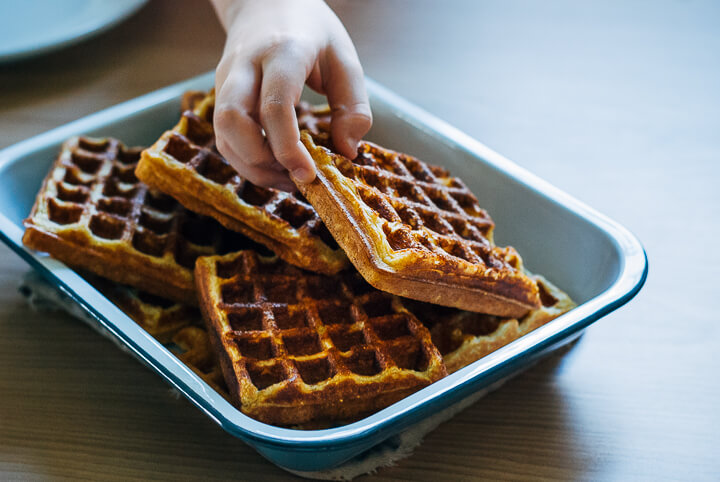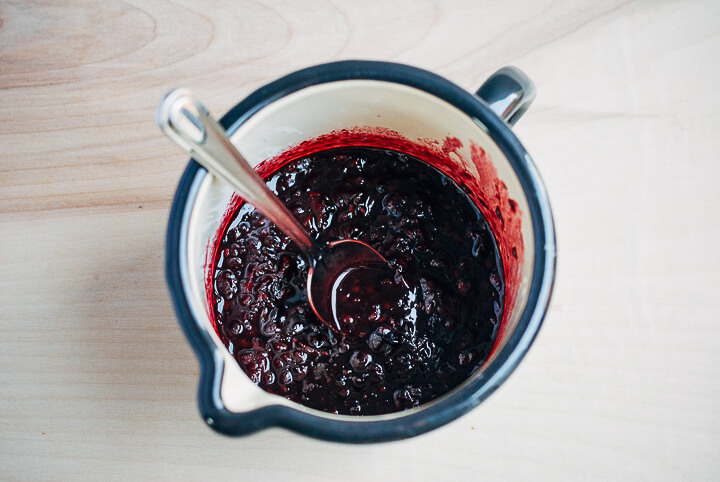 One way I make the most of my summer swoon is by cooking up fancy breakfasts. Brian, who is a saint, gets up with the girls daily. He waits to wake me until the last possible minute, just as he ducks into the shower to get ready for his day at work. I stumble out of bed, and do my best to make coffee before he's out the door. Once he pulls out of the driveway, it's just me and the two barbarians. Food calms their restlessness, so if I have time at all, I'll make a batch of waffles. They are children, and as such, prefer their waffles to be perfectly pillowy and smothered in syrup. If I'm going to take the time to waffle, it's in search of a more complex equation – the subtle grit of cornmeal; crisp, golden edges; spoonfuls of tangy blackberry syrup; and a big dollop of plain yogurt, lending contrast and creaminess. As it turns out, they like that too.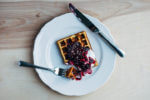 Honey Cornmeal Waffles with Blackberry Syrup
A recipe for crisp cornmeal waffles with honey and fresh blackberry syrup.
Ingredients
For the Waffles

4

tablespoons

butter

, melted and cooled

1

cup

medium-grind cornmeal

1

cup

unbleached all-purpose flour

2

teaspoons

baking powder

1/2

teaspoon

baking soda

1/2

teaspoon

sea salt

2

eggs

2

tablespoons

honey

2

cups

buttermilk

For the Blackberry Syrup

1

pint

blackberries

, picked over and rinsed

1

teaspoon

lemon zest

1

tablespoon

lemon juice

2

tablespoon

honey
Instructions
Preheat waffle iron. Preheat oven to 200 degrees F and slide a rimmed baking sheet inside to preheat as well.

In a medium bowl, combine the cornmeal, flour, baking powder, baking soda, and sea salt. In a small bowl, lightly beat the eggs, and stir in the honey and buttermilk. Fold wet ingredients into the dry, stirring just until combined. Fold in the melted, cooled butter.

Cook waffles according to your waffle maker's instructions. (Mine makes 4-inch square waffles and I used about 1/3 cup of batter per waffle.) Keep cooked waffles on the baking sheet in the warm oven.

Meanwhile, combine the blackberries, lemon zest and juice, and honey in a medium-sized saucepan over medium heat. Bring mixture to a slow boil, stir, then turn down to a gentle simmer. Cook for 15 minutes.

Serve waffles with the blackberry syrup and a spoonful of plain yogurt.