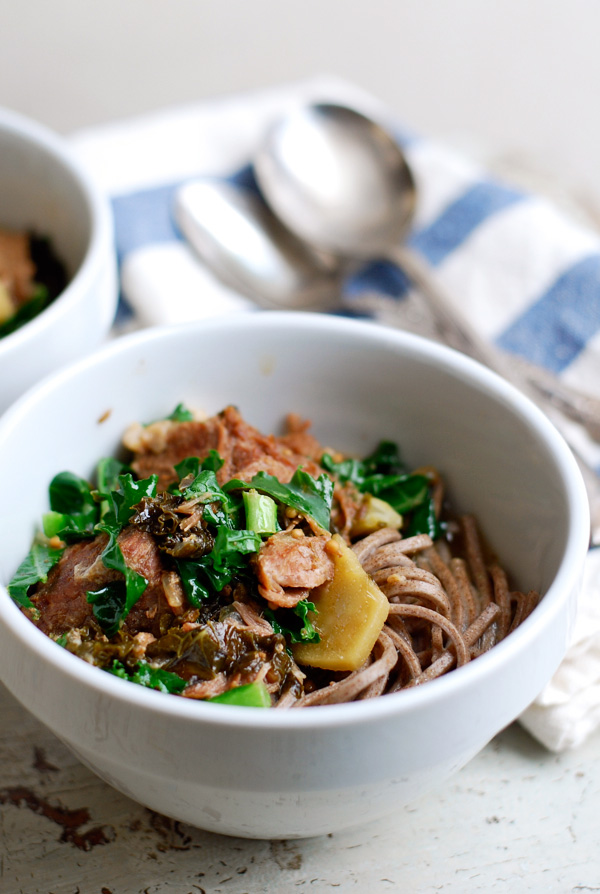 Every January, the endless drear of New York City in winter gets to me and I tell Brian I want to move to the country to raise chickens. Afterwards, I usually wander into the kitchen and cook something elaborate like a tart or homemade pasta or a chicken pot pie, and then my yearning for greener surroundings abates and I feel better.
But as this too warm January progresses, there's a difference. Namely, our daughters. There's no time for elaborate. Dinner needs to be in the table early so we can get the kids in bed in time to (possibly) have a coherent conversation afterwards. But there's still solace to be found, not in the making, but in the cooking. Having a rich stew bubbling away all day on the stove is nearly as comforting as hours spent rolling noodles or crimping crusts. The house is filled with warmth and a lovely fragrance, and dinner basically makes itself.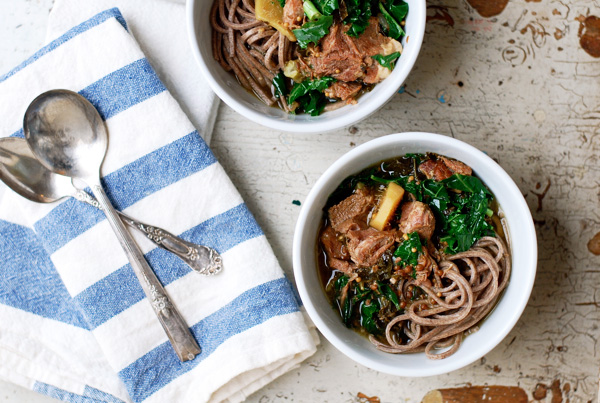 We've been turning to easy braises for a few months now. We'll serve the pork over noodles or polenta the first night, and on the second we'll change the flavors a bit, add some tomatoes, garlic, and more onion, and serve it with pasta. This one has subtle notes of honey and ginger, and would also take nicely to a bit of spice, or a generous splash of vinegar. Easy food makes for good living, and gives me more time to daydream about my future life as a homesteader.
Honey Ginger Pork Braise with Kale
serves 6
3 pounds pork stew meat (usually from the shoulder), cut into 2 inch cubes
3 – 4 teaspoons sea salt
2 small red onions, halved
3 tablespoons honey
1 tablespoon cumin seed
1 tablespoon coriander seed
1 tablespoon yellow mustard seed
2 carrots, peeled and trimmed
3 celery stalks, trimmed
2 inch segment of fresh ginger, peeled and cut into thick round slices
5 cups water
1 small bunch kale, washed and cut into 1/2 inch ribbons
Heat a large Dutch oven or other heavy-bottomed pot over high heat. Add the pork, sprinkle it all over with the salt, and sear on all sides, cooking for about 7 – 10 minutes. Next add the onions, honey, and spices, stir, and cook for another 3 minutes. Turn heat down to medium-high, add the whole carrots and celery, ginger slices, and water. Bring just to a boil and turn heat to low (or just hot enough that the mixture bubbles gently). Cover, and cook, stirring occasionally, for 4 hours.
At this point the meat will be quite tender, but there will be a good deal of fat and brown sludge on the top. You can do one of three things to deal with the fat: 1. skim the fatty top 1/2 inch of the liquid and discard. 2. Let the braise cool for a while in the fridge to better help the fat rise to the top, and then proceed as in the first option. 3. Cool the braise in the fridge overnight, and skim the congealed fat and undesirables. By giving all these options, I fear I'm making it to complicated, but try not to stress about it–you're about to eat delicious, tender pork. Also fish out the carrots, celery, and a few of the onions, and discard.
When you are ready to serve, cook up a batch of buckwheat noodles. Heat the braise, turn heat to low, add the kale, and cover for 20 minutes. Check salt levels and adjust if needed. Ladle into bowls over buckwheat noodles, fish out a slice of cooked ginger for each bowl, and serve.