Honey-soy skillet chicken is a simple, versatile weekend dinner option with a quick honey-soy sauce that doubles as a marinade and a smoky glaze. This post was created in partnership with Farmer Focus.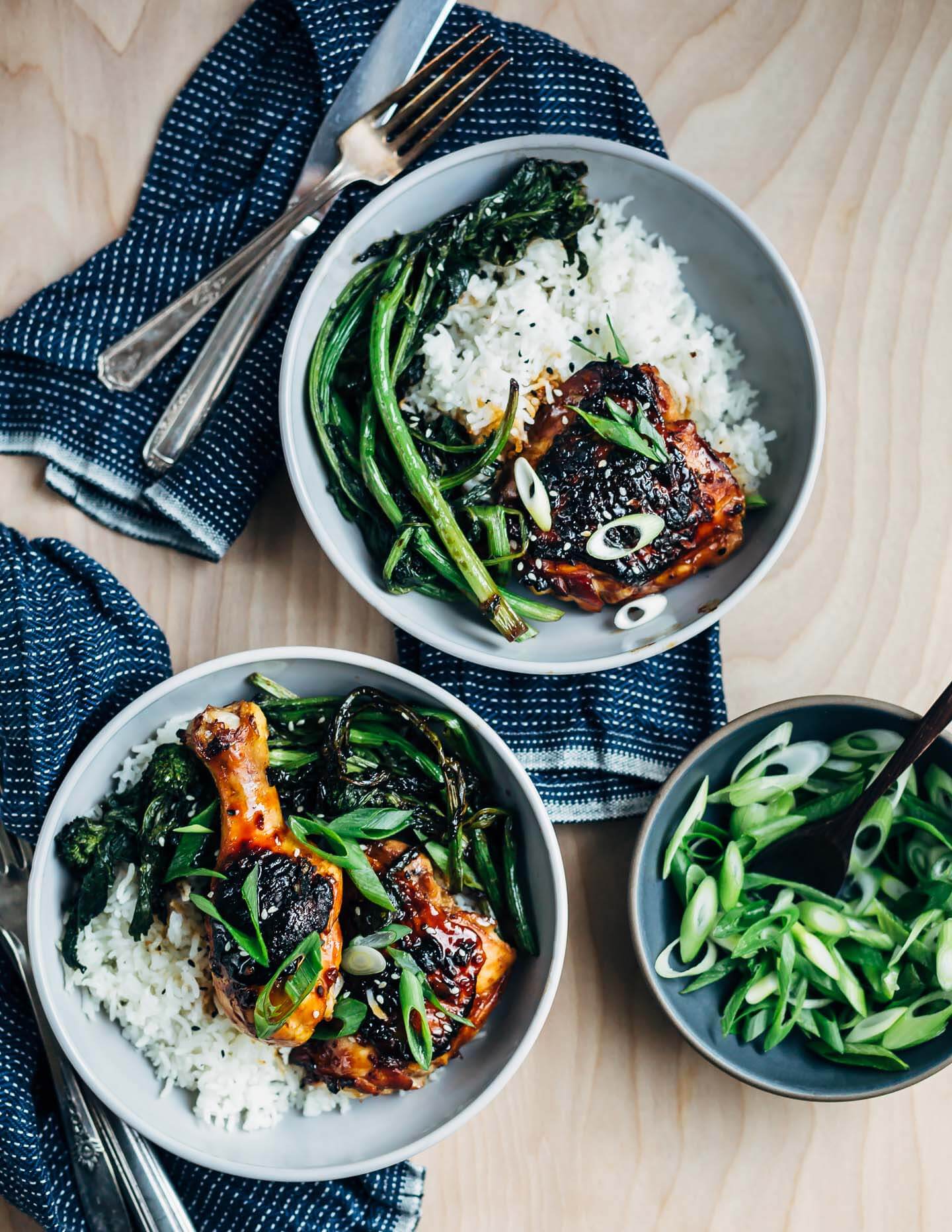 When I first started this site, I dedicated myself to the pursuit of simple food made with seasonal ingredients. My idea of simplicity was defined by an everything-slow-and-from-scratch ethos that turned out to be pretty complicated, actually.
These days, my kitchen philosophy is still rooted in seasonal ingredients and from-scratch cooking, but with an eye toward actually simple recipes you can get to the table in about 40 minutes. And I'm as dedicated as ever to using the best ingredients, sourced from as close to home as possible.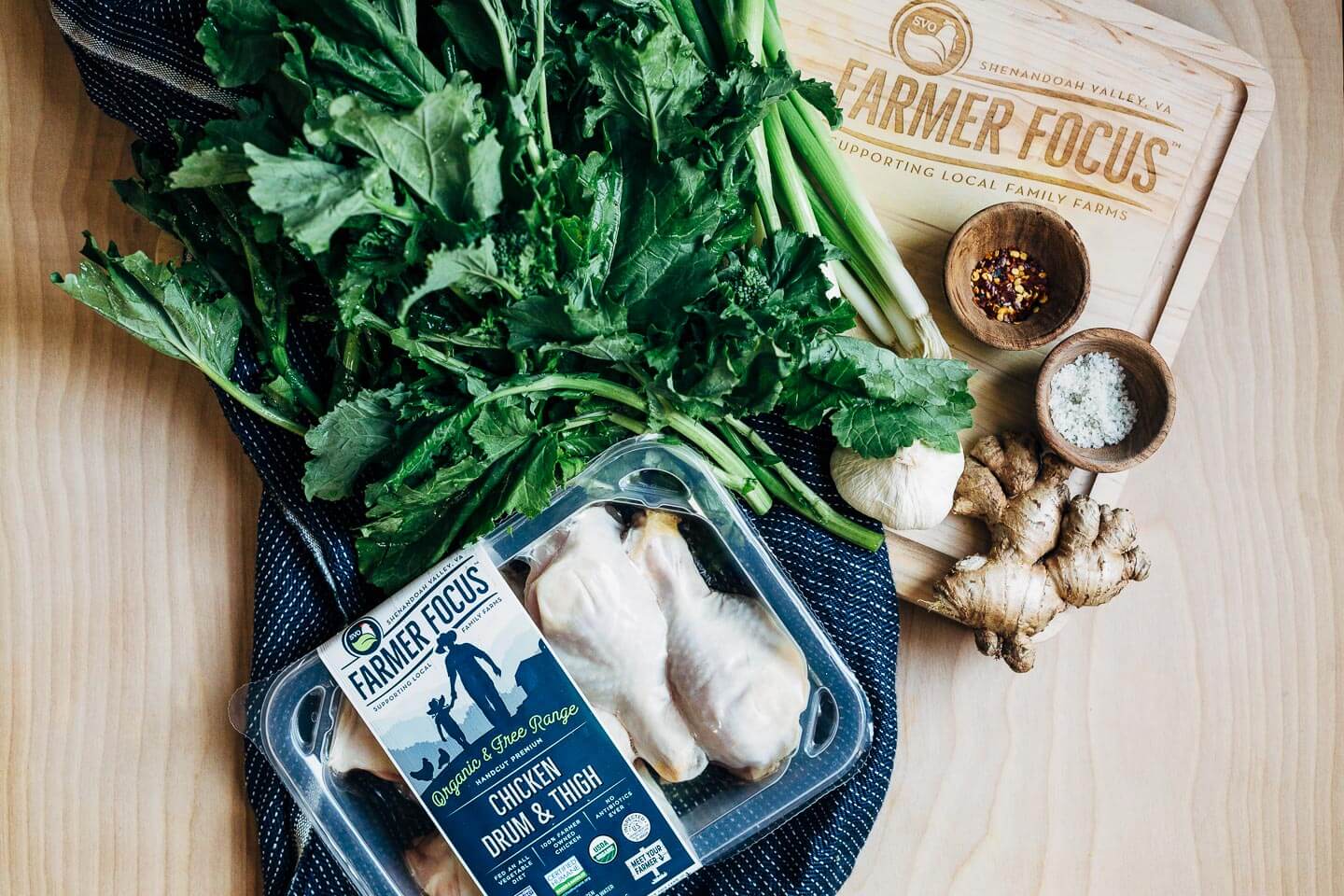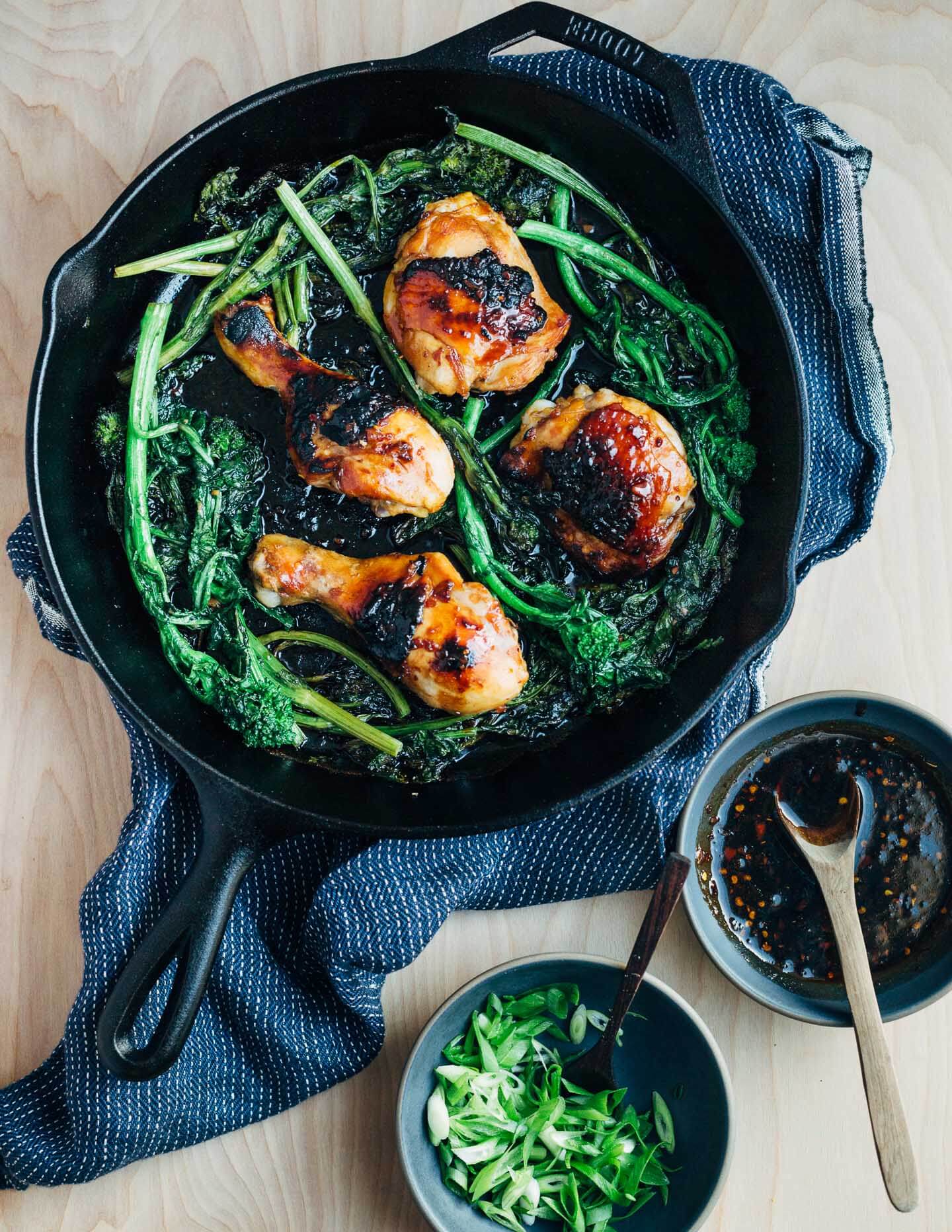 Farmer Focus Chicken
Since produce isn't exactly bountiful right now, it's a wonderful time to focus on quality proteins like the these Chicken Drum and Thigh packs from Farmer Focus. Farmer Focus chicken comes from the Shenandoah Valley and there's a number on each package that allows you to look up the specific farm where the chicken was raised. Traceable, transparent, raised with care, and just plain delicious – those are just some of the reasons I think Farmer Focus chicken is the best. Find Farmer Focus at a store near you here.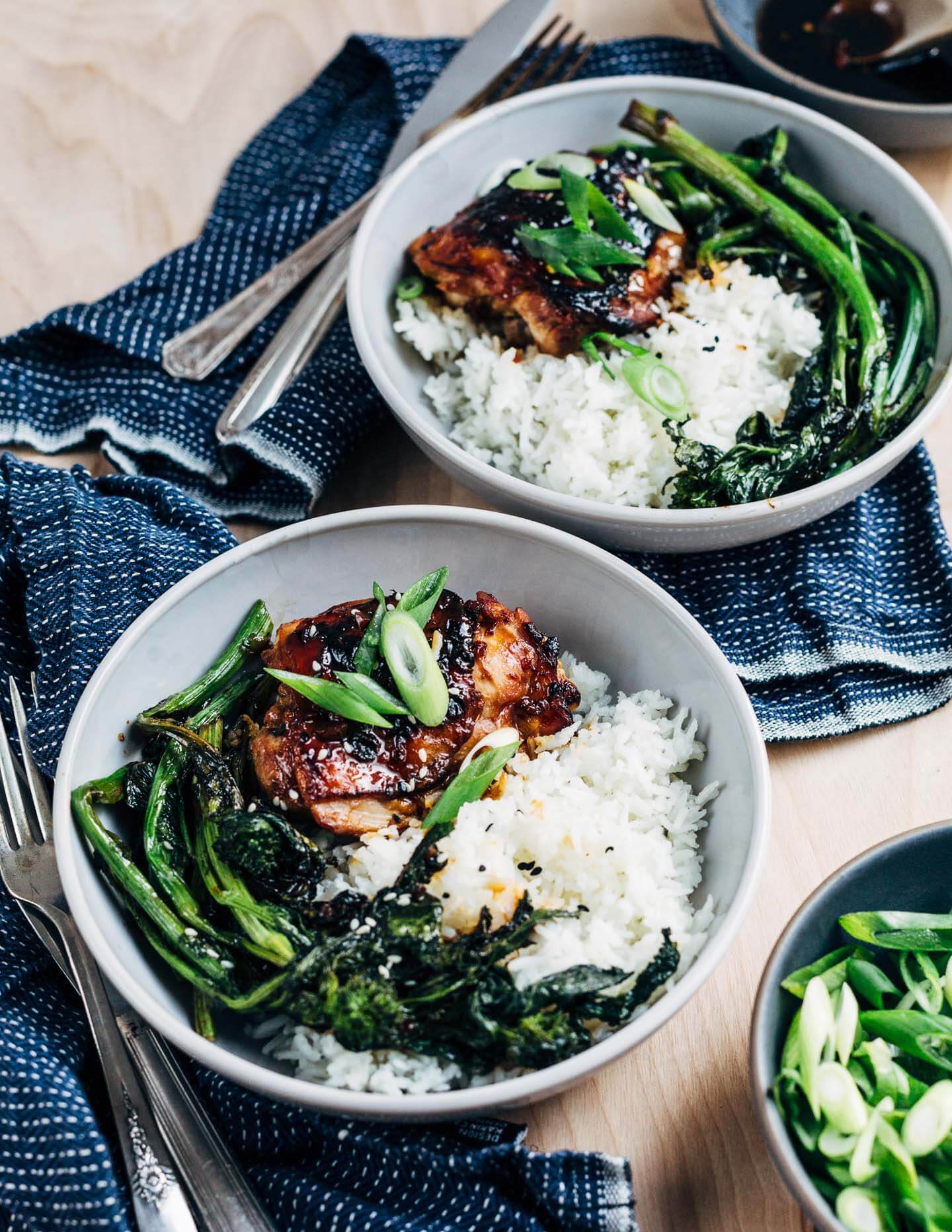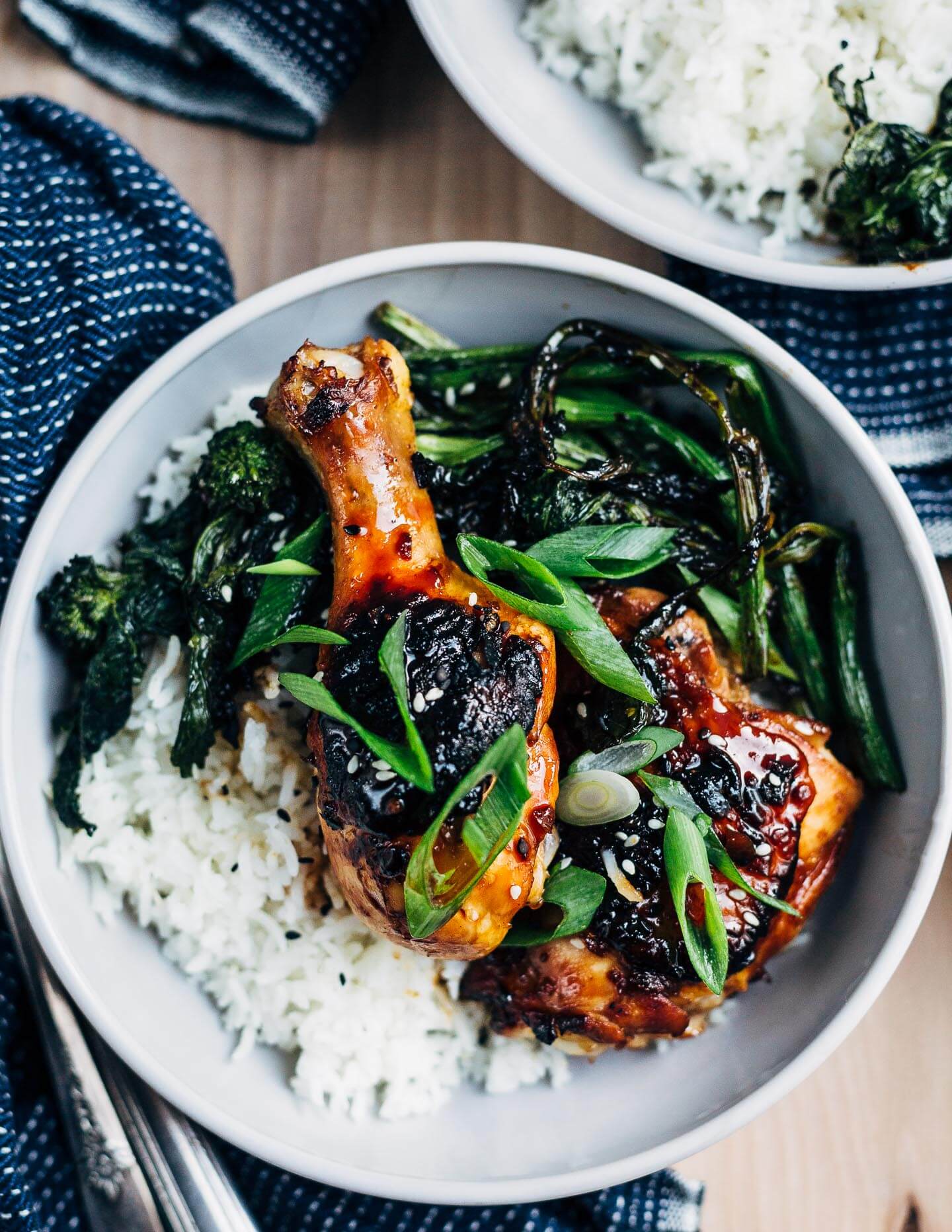 A Simple Weeknight Meal
For this honey-soy skillet chicken recipe, Farmer Focus chicken drums and thighs are salted and then tossed in the honey-soy sauce for a quick marinade. Next, they're seared, roasted alongside broccoli rabe, and then served over fluffy rice with extra glaze.
Broccoli rabe lends an earthy edge to the recipe. If you don't cook with it often, broccoli rabe tastes a lot like broccoli, but with a hint of bitterness. Depending on your palate, this bitterness can either be delightful or not so much. Happily, in this recipe, broccoli rabe's bitterness is tempered by the sweetness of the honey-soy glaze and it stands up beautifully next to the tender dark meat chicken.
If broccoli rabe just isn't your thing, sub in leggy broccolini or regular broccoli cut into thin florets.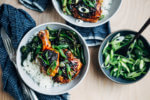 Honey-Soy Skillet Chicken with Broccoli Rabe
Honey-soy skillet chicken is a simple, versatile weekend dinner option with a quick honey-soy glaze that doubles as a marinade and a smoky glaze.
Ingredients
1

package Farmer Focus Chicken Drum and Thigh

(about 1 1/2 pounds - 2 drums and 2 thighs)

Sea salt

3

tablespoons

canola oil,

divided

2

tablespoons

garlic,

smashed, peeled, and minced

2

tablespoons

ginger,

peeled and minced

1/2

teaspoon

red pepper flakes

3/4

cup

soy sauce

1/2

cup

honey

1

bunch broccoli rabe or broccolini

(about 1 pound), ends trimmed

1

cup

dry basmati rice,

cooked

4

green onions,

sliced thin

½

teaspoon

each black and white sesame seeds for garnish
Instructions
Set chicken in a shallow dish and sprinkle with sea salt on both sides. Leave on the counter so chicken can come up to temperature.

Preheat oven to 400 degrees F.

Set a small skillet over medium heat. Add 1 tablespoon oil, and when hot, add the garlic, ginger and sauté 3 minutes. Add red pepper flakes and sauté 1 minute more. Slowly pour in soy sauce, and then add the honey. Bring to slow boil, then quickly turn heat down to a gentle simmer until mixture thickens considerably, 7 - 10 minutes. (You may need to remove the pan from heat if it starts to bubble over.) Set aside to cool briefly.

Spoon 1/4 cup sauce over the chicken and toss to coat.

Heat a cast iron skillet over medium/medium-high heat. Add 1 tablespoon canola oil. Add half the broccoli rabe, sauté 2 minutes, then add the other half. Sprinkle with sea salt. Sauté, turning often, just until broccoli rabe has just wilted and is a vibrant green hue. Remove to a plate.

Add 2 more tablespoons oil to the same skillet, and when hot, add the chicken skin side down. Sear just until skin is golden, 2 minutes. Flip chicken and tuck broccoli rabe all around it.

Slide into oven and roast 10 minutes, brush chicken all over with 1/4 cup sauce, and then cook 10 - 15 minutes longer, or until chicken reaches an internal temperature of 165 or higher.

Serve chicken and broccoli rabe over rice with an extra drizzle of glaze, sesame seeds, and sliced green onions.