These wonderfully delicate and creamy honey vanilla pots de crème with fresh strawberries and tarragon are the perfect spring dessert.
My house is full of old chairs and antique cabinets, many of which I picked up working at an antique store during and just after college. It's all simple furniture, a bit rickety, and covered in all the dings and scratches and stains that convey generations of lives well lived.
At first glance, my job selling Qing-era apothecary cabinets and my job writing about and photographing the food I make seem miles apart, but they have something important in common – character. Just as I love furniture with a story to tell – repaired joints, worn drawers, or the luminous patina of old lacquer – I like food that tells a story too. My favorite foods capture a place or a moment or the story of how they came to be.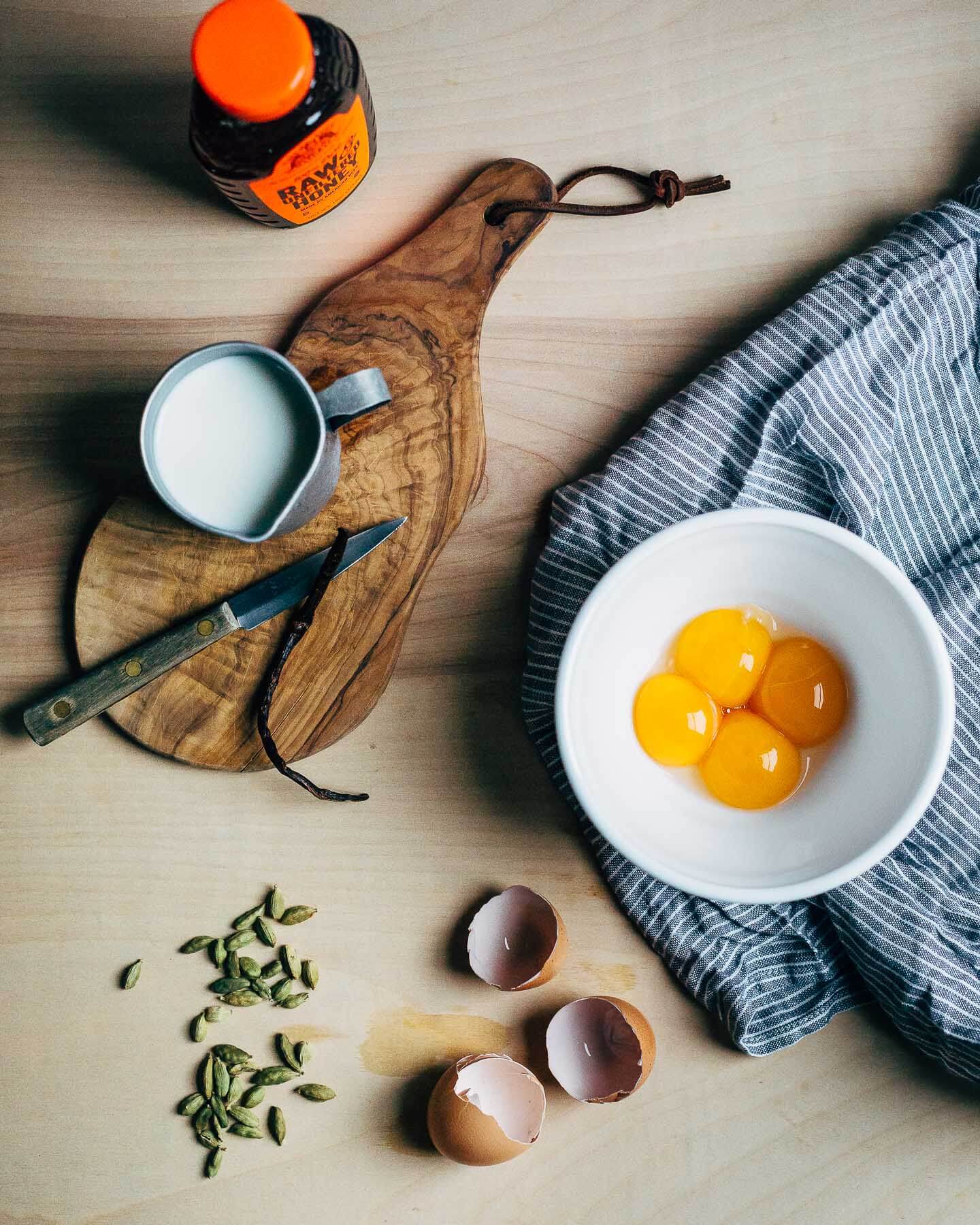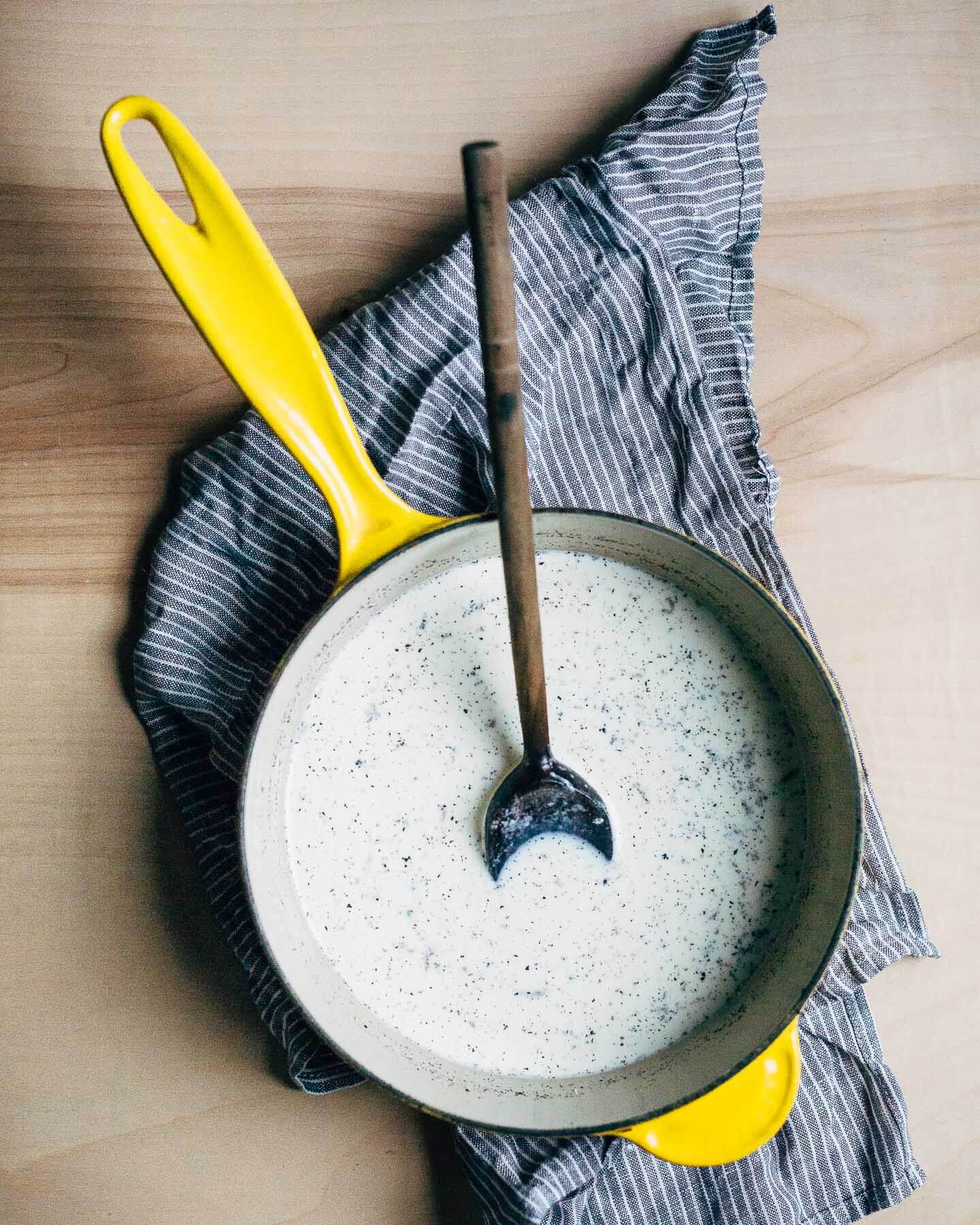 Honey and a Sense of Place
The flavors of honey, made by bees from whatever is flowering in the moment, are inherently tied to the story of when and where it came from. If I can, I like to source honey from close by. But even grocery store honey can convey a sense of the weather or the season – the delicate flavors shifting as certain trees, flowers, and grasses bloom.
Honey Vanilla Pots de Crème
These simple, perfectly of-the-moment honey vanilla pots de crème made with local eggs, farmer's market strawberries, and tarragon from my yard showcase local wildflower honey nicely. Honeyed pots de crème are different from their cane sugar counterparts – they're supple, airy, and delicate. The custard cream is infused with vanilla bean and freshly ground cardamom, and the strawberries are drizzled with honey and minced tarragon. It makes for a layered dessert, equal parts rich and fragrant, understated and fleeting.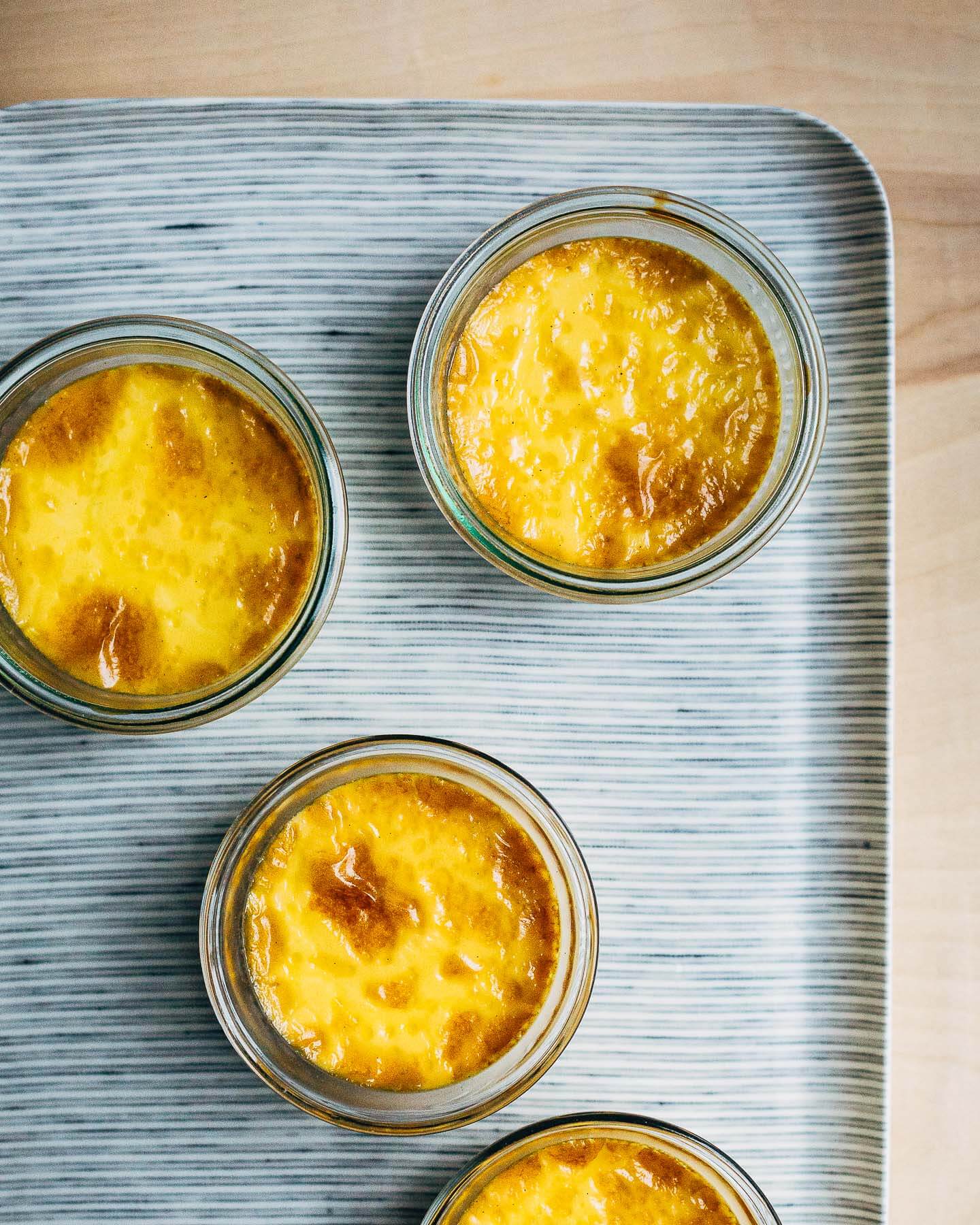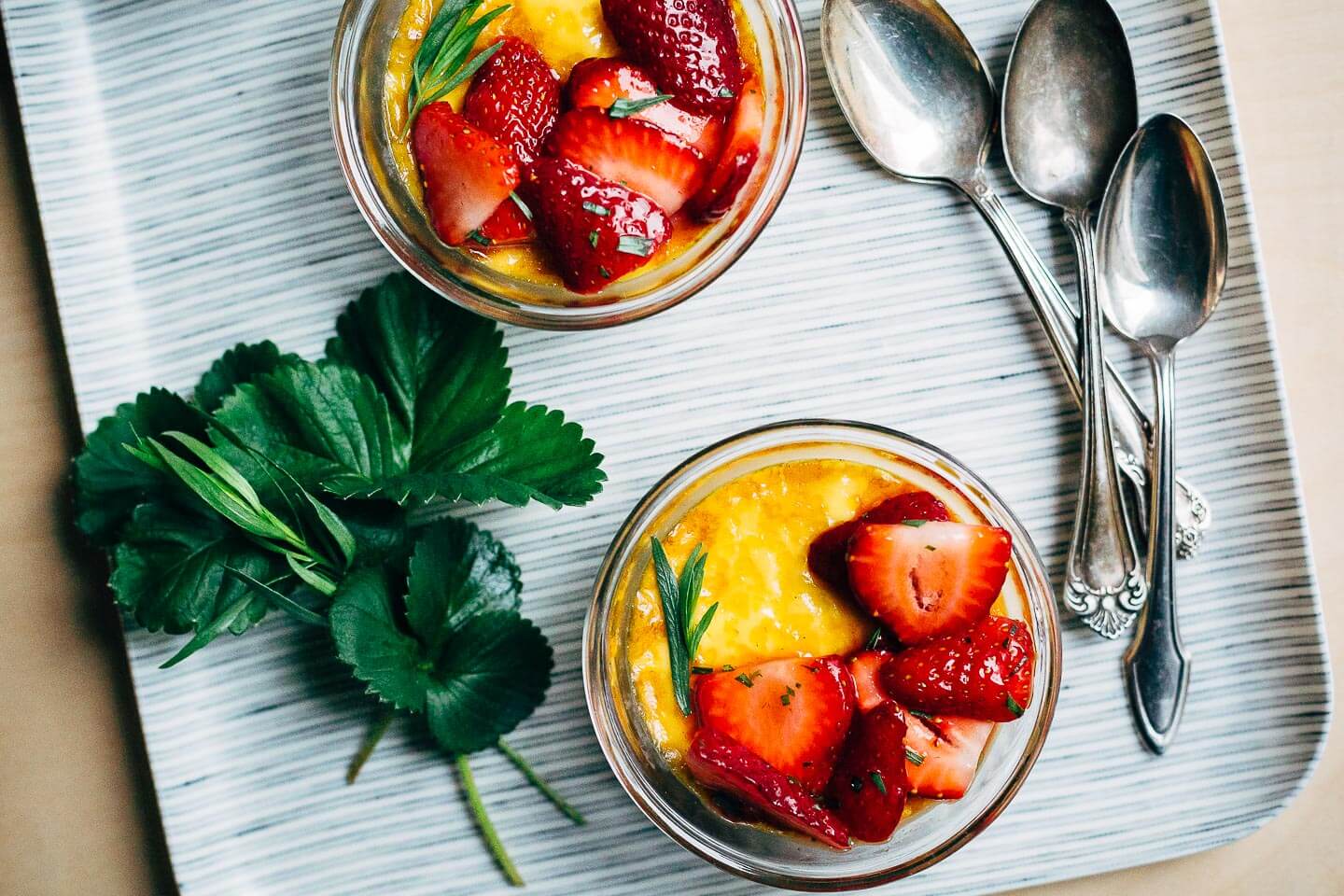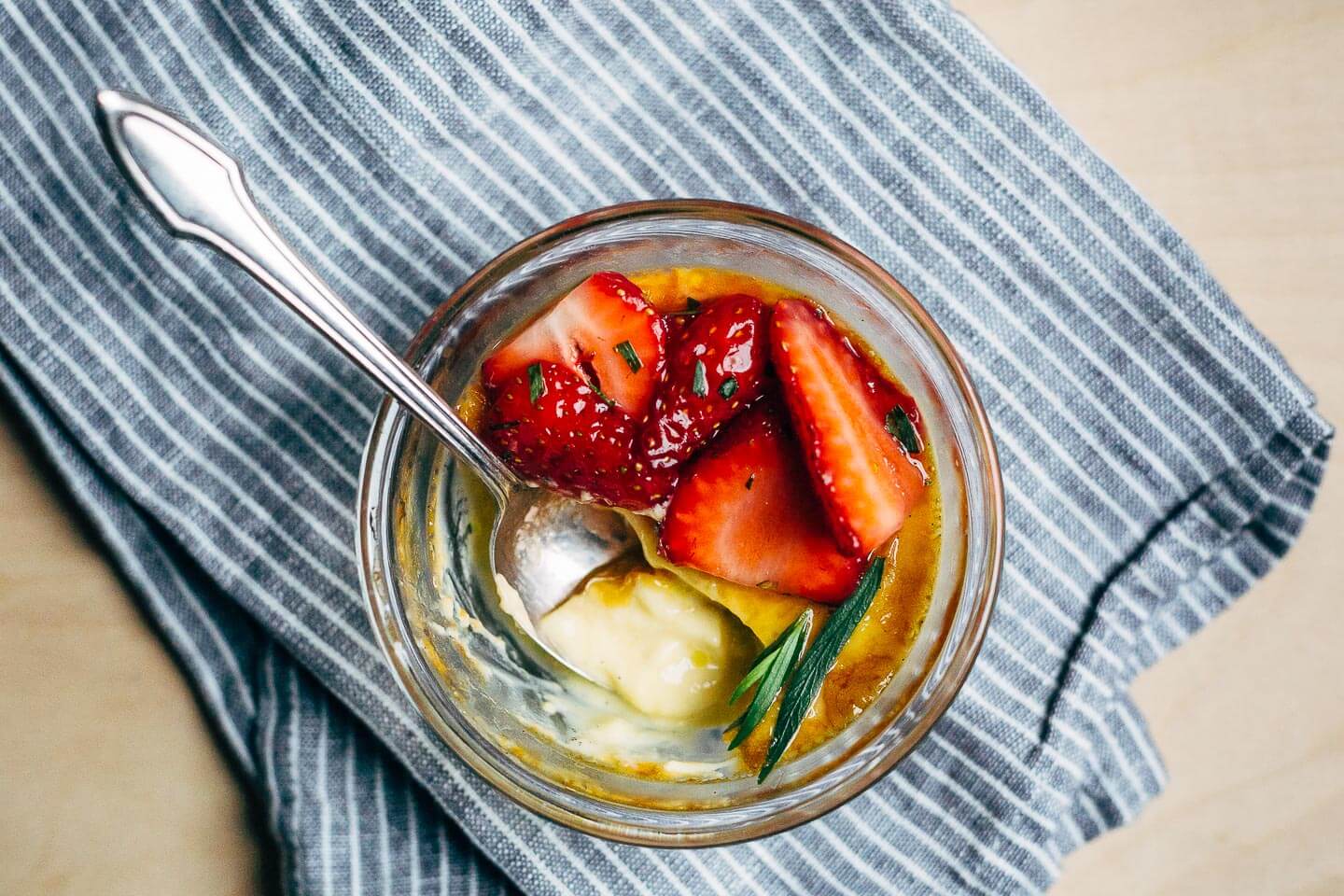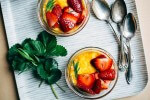 Honey Vanilla Pots de Crème
These wonderfully delicate and creamy honey vanilla pots de crème with fresh strawberries and tarragon are the perfect spring dessert.
Custards are delicate and should not be overcooked. Look for the edges to set up and the center to jiggle a bit, but without tiny ripples. As you near the end of cook time, check often – a knife inserted should come out clean, without any custard clinging to it.
Keyword:
honey vanilla pots de creme
Ingredients
Pots de Crème
1

cup

whole milk

1

cup

heavy cream

1 5-

inch

vanilla bean,

split lengthwise

1/2

teaspoon

ground cardamom

4

egg yolks

1/4

cup

honey

pinch sea salt
Strawberry Topping
1

pint

strawberries,

hulled and sliced

2

tablespoons

honey

2

tablespoons

minced tarragon leaves, plus more for garnish
Instructions
Preheat oven to 325 degrees F. Set out a 2-inch deep baking pan and fill with 1-inch water.

In a heavy bottomed saucepan, stirring frequently, heat milk and cream over medium high heat until mixture is steamy and small bubbles form along the edges, about 7 minutes. Remove from heat, scrape vanilla beans into mixture, and add the pods, cardamom, and sea salt. Cover; steep 10 minutes.

Whisk to combine egg yolks and honey in a large mixing bowl.

Strain warm cream mixture through a fine mesh sieve and discard vanilla bean pods. Whisking constantly, drizzle strained cream into yolk and honey mixture until base is well combined.

Ladle into 6 ounce ramekins or oven-proof jars. Place ramekins in prepared baking pan, and slide into oven. Bake until edges of custard are just set and a knife inserted in center comes out clean, 60 - 70 minutes. Carefully remove from water bath and set out to cool. Once cool, custard can be covered and chilled in the fridge or served at room temperature.

For the strawberry topping, fold together strawberries, honey, and tarragon. Let sit 10 minutes, then spoon onto custards along with any accumulated juices. Garnish with tarragon leaves and serve.

Pots de crème can be kept in the fridge for a day or two. Add strawberries just before serving.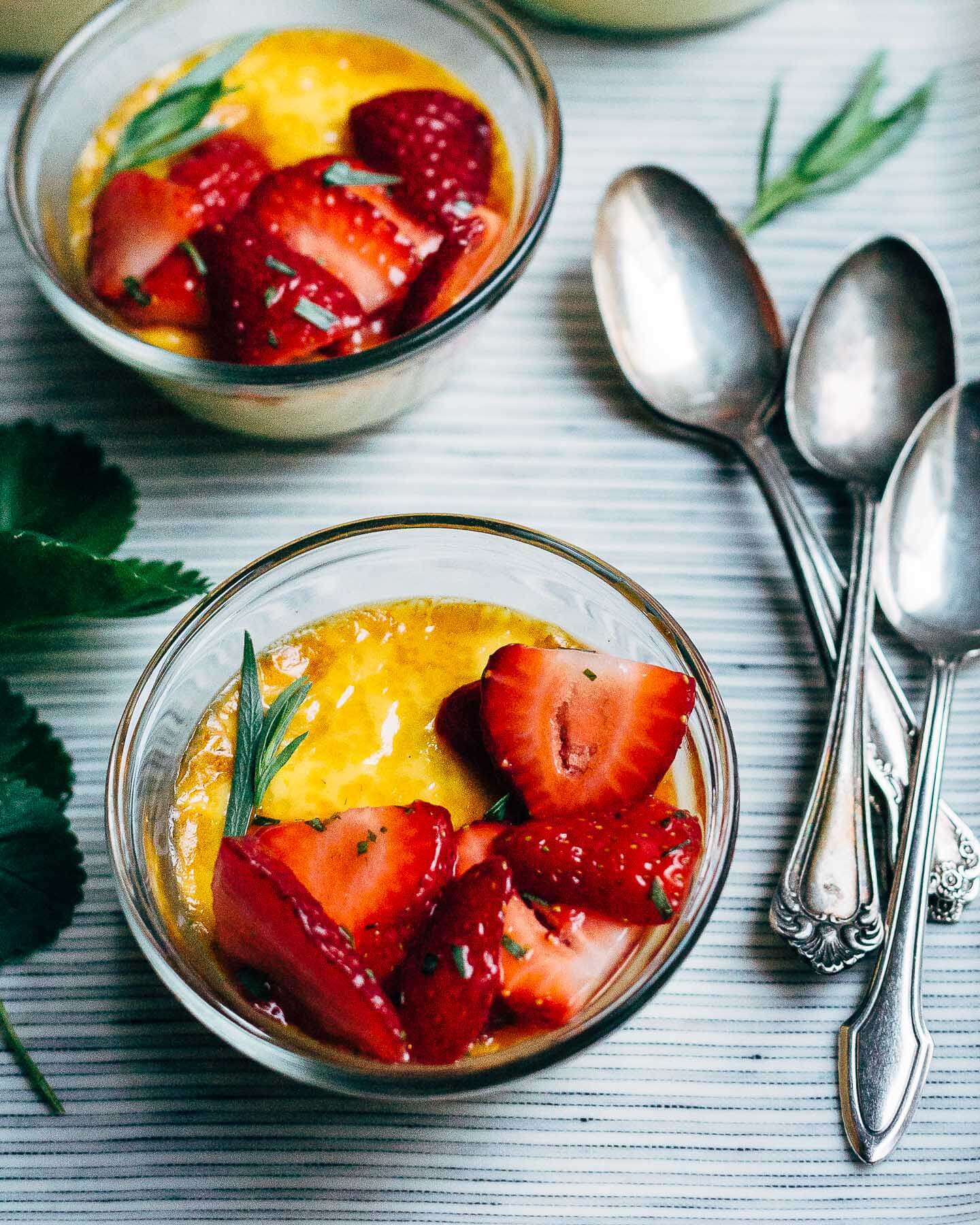 Disclosure: This post is sponsored by Nature Nate's. As always, all opinions expressed here are my own. Thanks for supporting the partners that make our work possible!