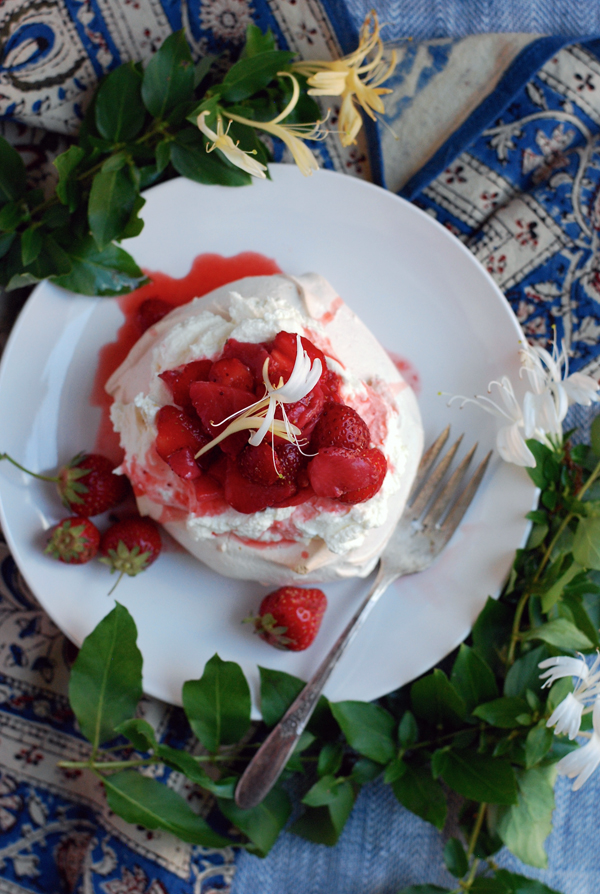 A sweet honeysuckle syrup made with freshly picked flowers is a lovely addition to this easy strawberry pavlova recipe. Jump to recipe. 
Lately, just making it from one day to the next feels like an accomplishment. Not that there's anything out of sorts around here – my days tend to get sucked into the chaos of helping two little kids through their day. It's all the little things that one would fully expect from life with a six and two year old. But all those little things add up to minutes and hours spent locating missing socks, lost lovies, discussing the finer points of potty use, or sorting out the latest disagreement. All this leads to a sense of stumbling through my days, with countless emails left unanswered and the chaos always barely contained.
I'm not writing this because I think my situation is particularly remarkable. I'm pretty sure we all have some version of balance to strike in the day-to-day. But I do hope that in sharing my dissatisfaction with the state of things, maybe I can start to make some changes. Lately, I've been ready to take a leap into whatever's next, whether that be a new direction here, a new site, or something completely fresh. In the summer days ahead, as I float in the pool, work in the garden, sit on our stoop, or make my daily loops of dropping off and picking up, I'll have my sites set on daydreaming. My summer goal is that: practiced unproductivity. I'll let you know how it goes.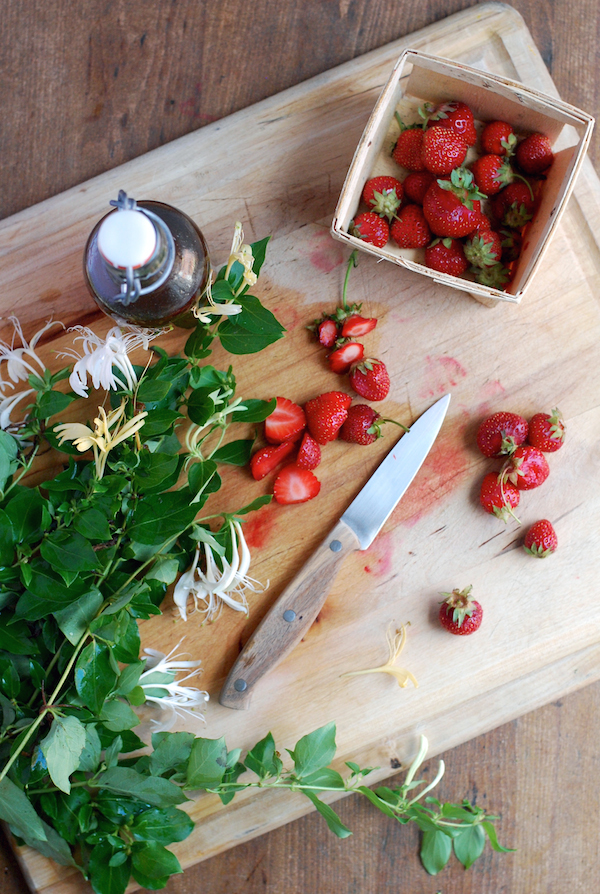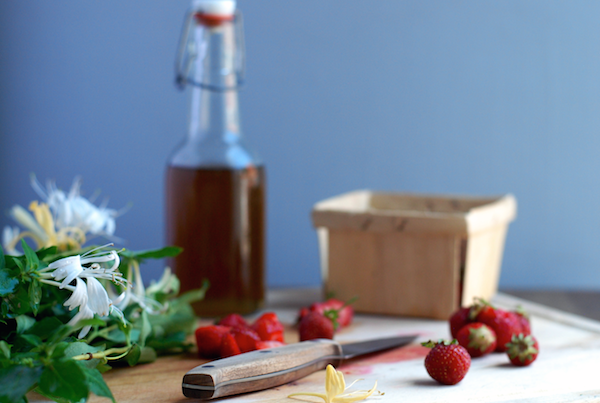 In keeping with summer and idyll, our family spent a recent Sunday afternoon at the pool grilling with friends. While there, I did a little exploring and harvested honeysuckle. Standing in the golden light, sorting through all those tangled Virginia vines was pretty perfect. I didn't have a picturesque wicker basket – just a Swiss army knife and a paper bag – but still, it was just great. I brought my harvest home, picked off each flower, and made a simple honeysuckle syrup. This syrup is lightly fragrant, smelling like a combination of honeysuckle and meadow grass. I'm currently working very hard to perfect the honeysuckle syrup cocktail, but have yet to strike gold.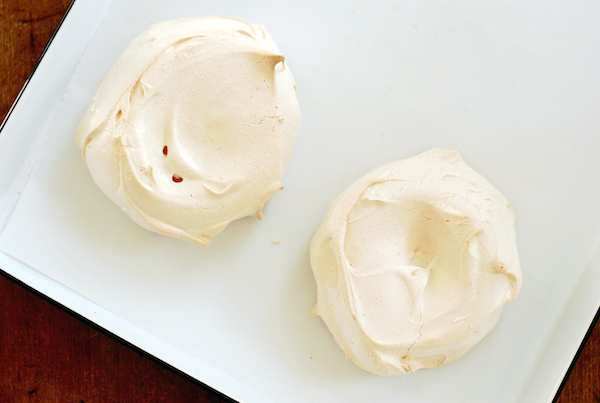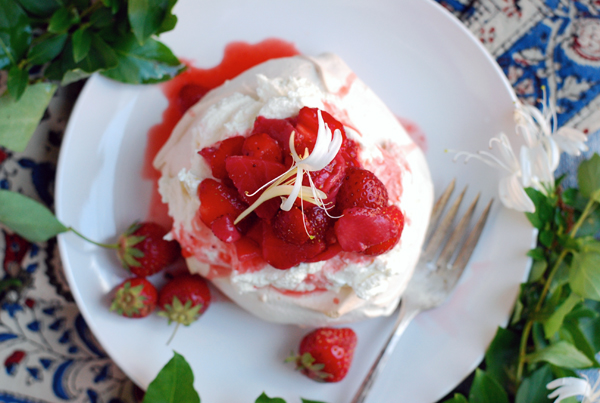 As it happens, honeysuckle syrup was exactly the thing to add a subtle something to juicy strawberries and sit atop an airy pavlova. I first had a pavlova at a dinner at Will and Susan's loft, and even though it was more than a year ago, I haven't stopped wanting to make a pavlova for myself. After a few attempts, I'd like to think I've unlocked its mysteries. A good pavlova has a crisp outer shell, one that shatters with the first stab of a fork. Underneath the shell, you'll find a mound of gooey, sweet goodness; it's often compared to marshmallow fluff, but it also has a bit of melt-in-your-mouth cotton candy kind of thing happening. The strawberries and their juices scatter over the plate, melding with the whipped cream and pavlova hunks for bite after bite of the good stuff.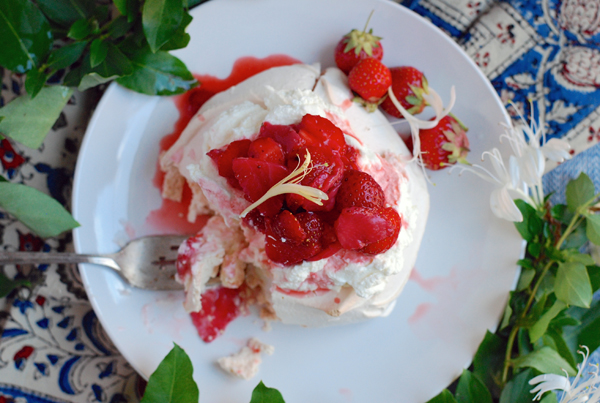 Because the pavlova itself is quite sweet, I opted for just a hint of sugar in the strawberries and whipped cream.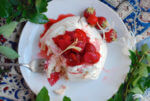 Honeysuckle Syrup
A simple homemade honeysuckle syrup recipe that's perfect for desserts and drinks.
Ingredients
2

packed cups ripe honeysuckle flowers

1 1/2

cups

water

1

cup

sugar
Instructions
Bring the water to a boil. Pour over honeysuckle flowers, pressing each down into the water. Cover, and steep flowers in the refrigerator overnight.

The next day, strain the flowers, reserving all of the liquid. Bring flower tea to a boil. Reduce boiling liquid to 1 cup. Stir in sugar. Simmer over low heat for 5 – 10 minutes.

Pour syrup into containers; it will thicken as it cools. Store in the refrigerator.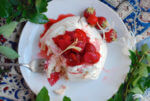 Honeysuckle Strawberry Pavlovas
A sweet honeysuckle syrup made with freshly picked flowers is a lovely addition to this easy strawberry pavlova recipe.
Makes
:
6
individual pavlovas
Ingredients
Pavlovas
1

cup

sugar

1

tablespoon

corn starch

4

egg whites

a pinch of cream of tarter

(about 1/3 a teaspoon)

1

teaspoon

vanilla extract
Honeysuckle Strawberry Syrup and Whipped Cream
3

cups

sliced strawberries

, divided

3

tablespoons

honeysuckle syrup

, divided

zest and juice of 1 lemon

2

cups

heavy whipping cream
Instructions
Preheat the oven to 275 degrees F. 

Line a rimmed baking sheet with parchment paper.

In a small bowl, use a fork to combine sugar and cornstarch.

Beating egg whites should be a simple process. Keep in mind that you'll want to start with spotless equipment and make sure there is no yolk at all in your mixture – even a spec of grease or yolk can leave your egg whites flat. In a large bowl, use beaters on medium speed to beat the egg whites 3 minutes. Add cream of tarter and continue beating 1 minute more. With mixer on medium-high, add sugar mixture a bit at a time. Continue beating until merengue is shiny and smooth, and forms stiff peaks, 4 – 5 minutes. Finally, add vanilla extract and mix just until incorporated.

Use two spoons to dollop merengue onto prepared baking sheet. Each mound should be about 4-inches wide. Smooth the mounds so that they're round, and press an indentation into the center of each.

Bake 50 – 60 minutes. Check pavlovas as they cook – if they are taking on any color, edge heat lower. Otherwise, carefully rotate baking sheet halfway through cook time. When pavlovas are done, the outer shell with be firm to the touch but still have some flexibility and the edges will be a faint golden hue. Overcooking, or anything more than the faintest color, will lead to a dry, disappointing pavlova. Turn off oven heat, leave the door slightly ajar, and allow pavlovas to cool completely in the oven. Pavlovas will keep quite well in a dry, airtight container for up to 3 days.

To make the honeysuckle strawberry syrup, in a medium bowl, combine 1 cup strawberries, 2 tablespoons honeysuckle syrup, and the lemon zest and juice. Mash the berries down into the syrup. Set aside.

Before serving, fold in remaining sliced berries.

Whip cream to very soft peaks, and drizzle in remaining tablespoon of honeysuckle syrup.

To serve, set a pavlova on a plate. Add a generous dollop of whipped cream and spoon on a pile of berries, along with the juice.
SaveSave
SaveSave