These hot honey grilled chicken thighs have it all – smoky char from the grill, crispy skin that's sticky sweet with a kick of heat, and wonderfully tender, falling off the bone meat. This post was created in partnership with Farmer Focus.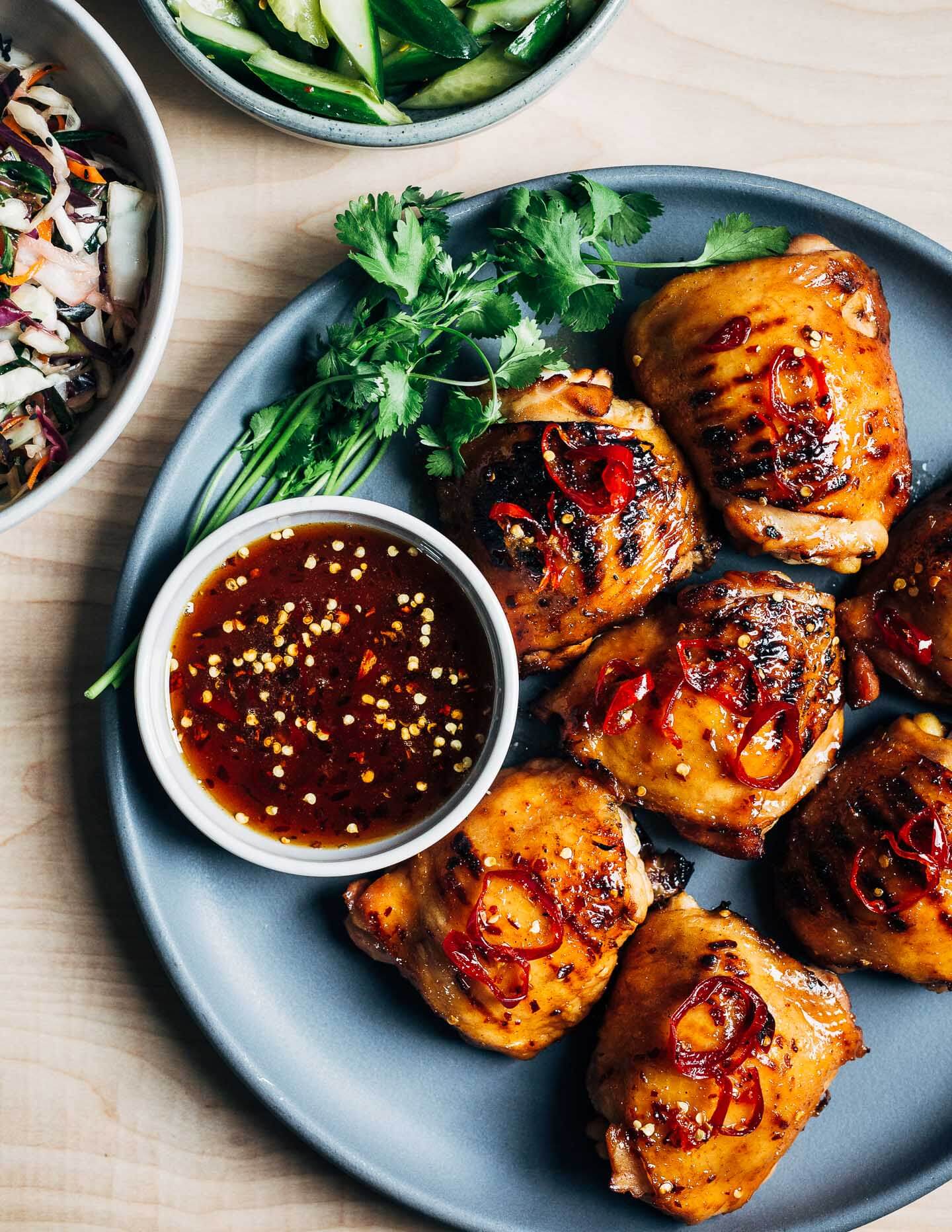 Summer Cookouts
Cookout nights are usually pretty laid back at my house. My husband and I will claim that we need to "watch the grill" while the coals heat up (and really, we do) and then sit outside taking in the sunset while we have a cocktail. My favorite grilling recipes are the kind that take a little while – the flash of cooking burgers or hot dogs is too immediate to savor. But chicken grills at a more leisurely pace, allowing it plenty of time to take on the flavors of the charcoal grill while the grill watchers have time to sit back and enjoy the summer evening.
Hot Honey Grilled Chicken Thighs
I love the way the skin of these hot honey grilled chicken thighs crisps up on the grill and how the meat gets so wonderfully tender.
The best grilled chicken starts with a generous salting, ideally the night before to give the salt plenty of time to really permeate the meat. When it's time to grill, I give the chicken a quick glaze of the hot honey and then cook both sides over medium heat for a few minutes to get a crisp layer started on the skin (if the coals are too hot you risk flare-ups that will blacken the skin). Next, I move the chicken over indirect heat, cover the grill, and let the chicken cook in the smoke until it reaches temperature. About halfway through, the chicken gets a second hit of hot honey that will turn a deep golden hue in the heat and smoke. This chicken comes off the grill with depth of flavor, char, and crispy skin that's sweet and salty with a pleasant amount of heat.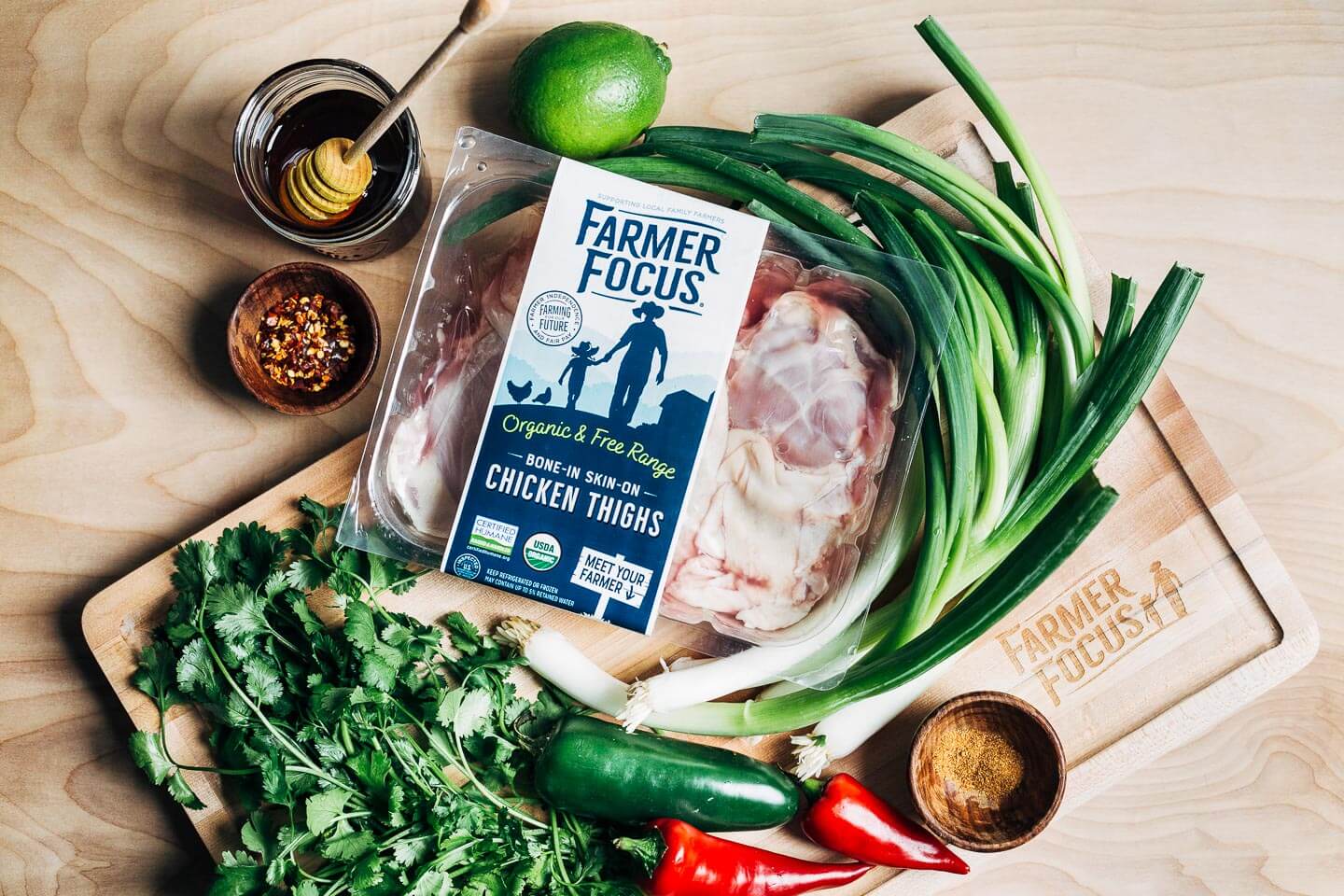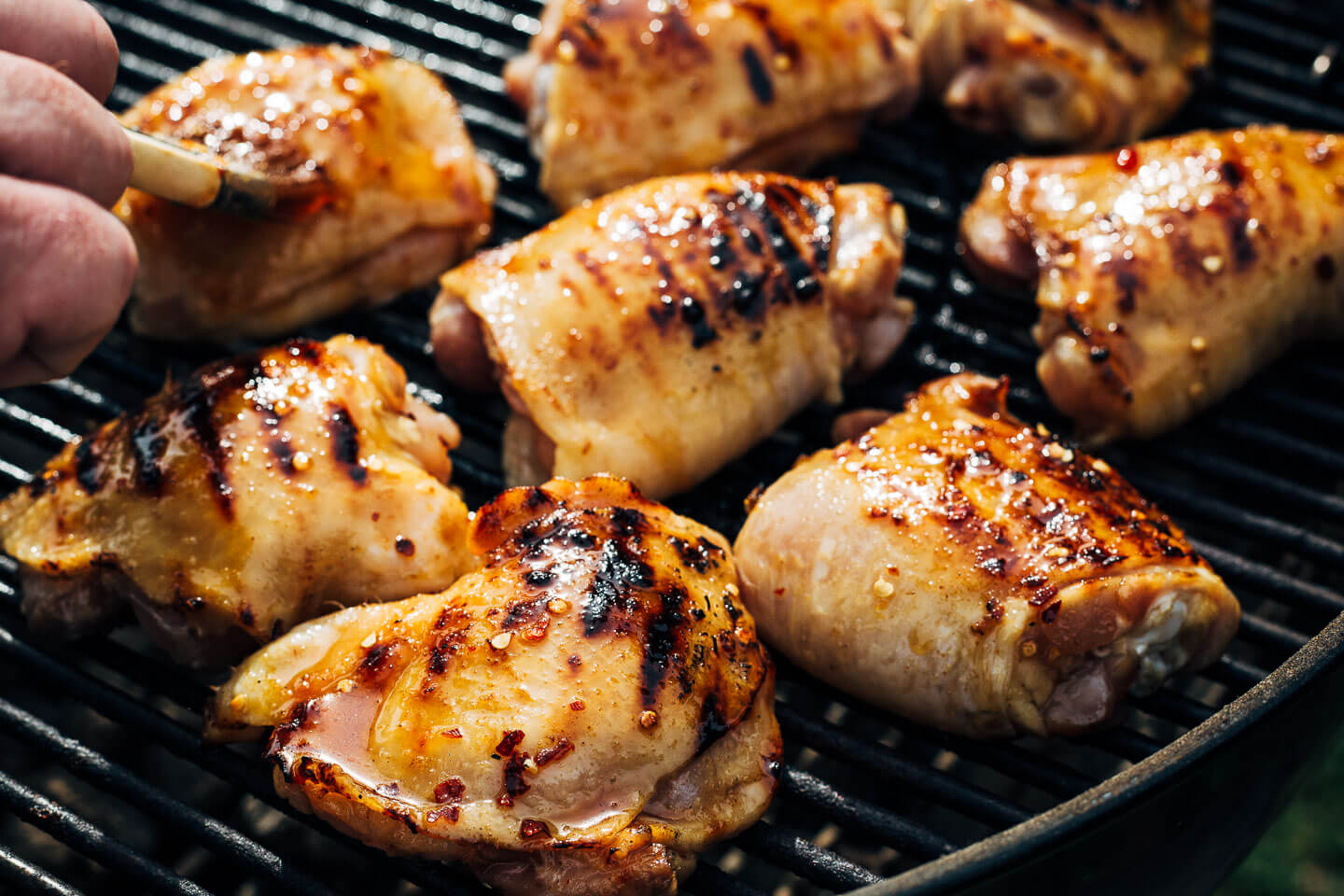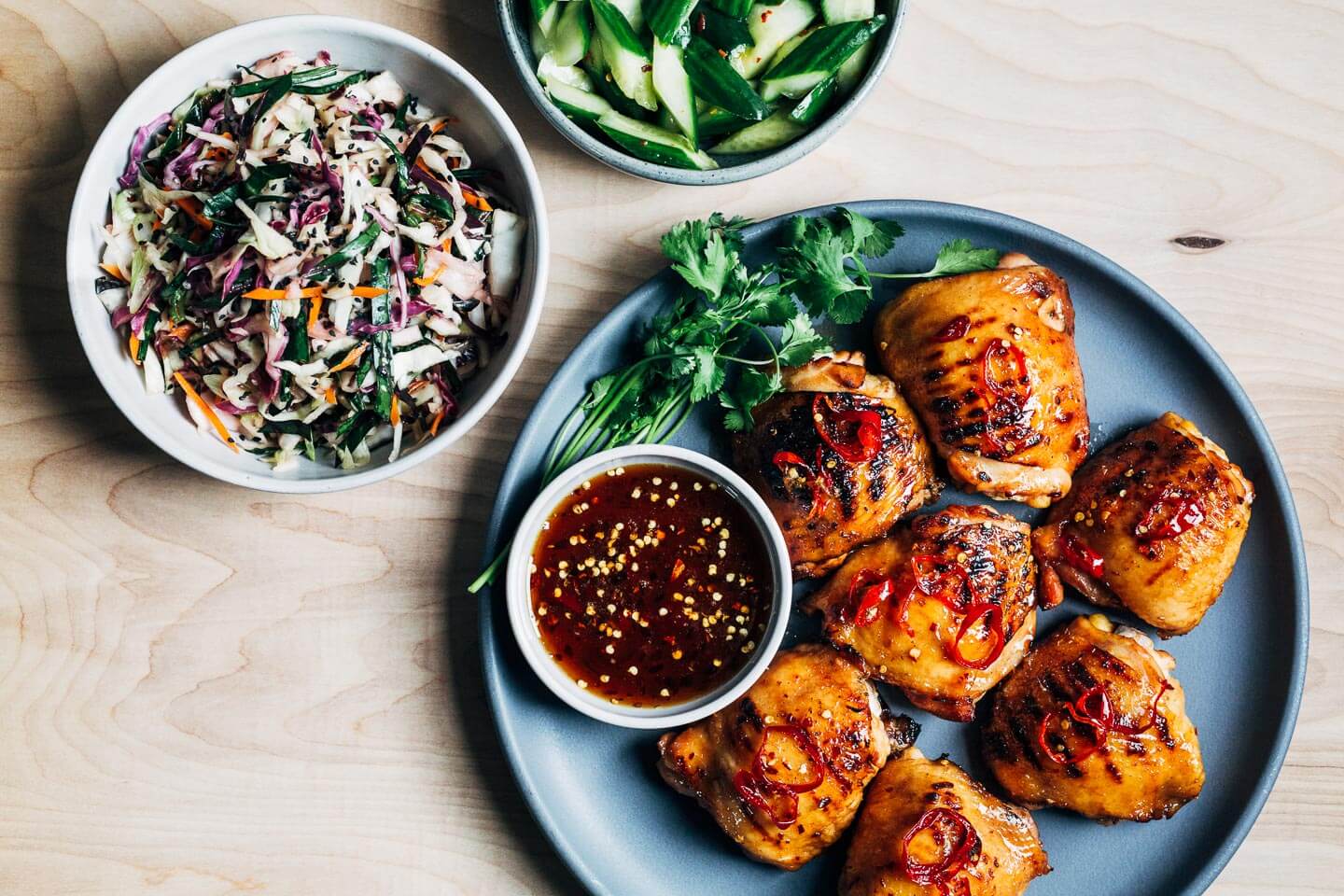 This hot honey grilled chicken is my favorite kind of recipe – a classic preparation with just a few flavor twists that make it extraordinary. And just like any great recipe, quality ingredients like Farmer Focus chicken make the meal.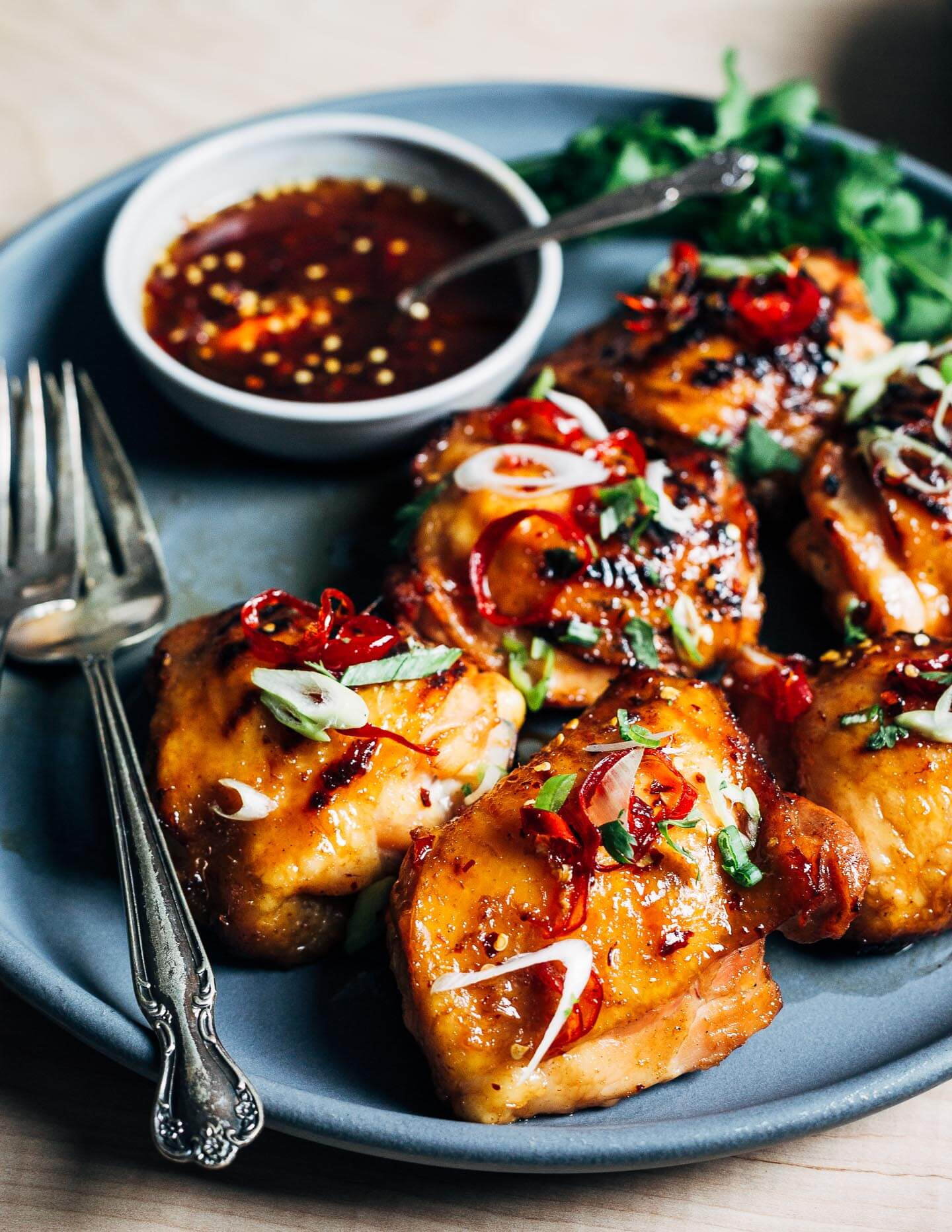 The BEST Chicken
I love the flavor, quality, and traceability of Farmer Focus, but just as much, I love that they center farmers in everything they do. Farmer Focus partner farmers own the chicken they raise, which allows them to make decisions on how to best care for their birds and also ensures that they are compensated well above industry standards. Each pack of Farmer Focus chicken comes with a Farm ID so you can look up the farm where your chicken was raised and get to know the famers and families that brought your meal to the table.
Farmer Focus chickens are all fed organic and Non-GMO verified vegetarian feed, and have outdoor access, space, and clean, fresh water. Their chickens are all USDA Organic, Certified Humane, and carry a Step 3 Global Animal Partnership rating. And best of all, Farmer Focus is expanding this list of stores where their chicken is available – check out the store locator to find a store near you, or look for Farmer Focus at CostCo, Fresh Direct, Publix, and Kroger.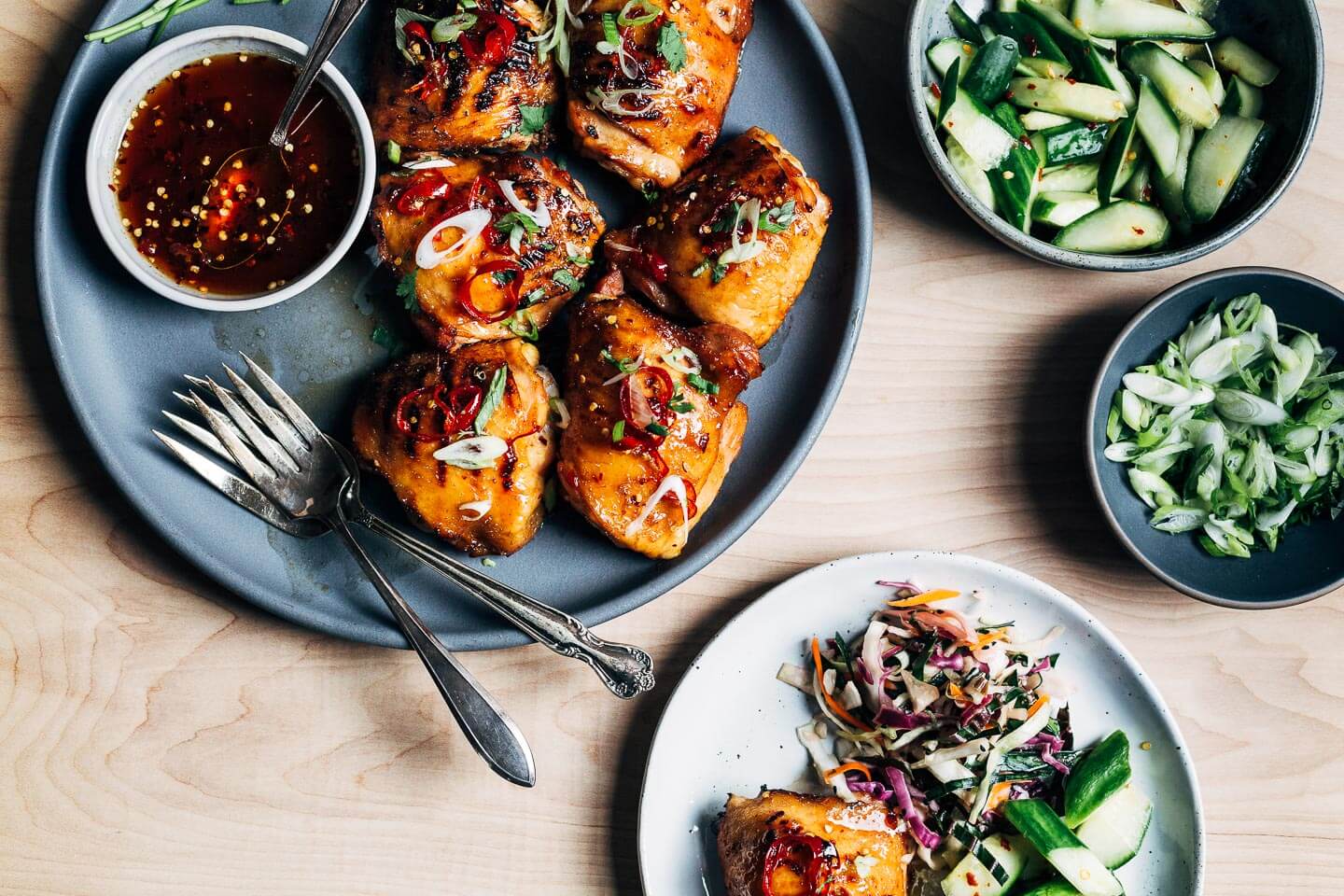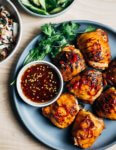 Hot Honey Grilled Chicken Thighs
These hot honey grilled chicken thighs have it all – smoky char from the grill, crispy skin that's sticky sweet with a kick of heat, and wonderfully tender, falling off the bone meat.
Recipe Type:
Dinner, Grilling
Keyword:
hot honey grilled chicken
Ingredients
Hot Honey
1/2

cup

honey

1 - 2

red chilies,

such as Fresno or Thai, thinly sliced

1

tablespoon

apple cider vinegar

1

tablespoon

fish sauce

1

teaspoon

ground cayenne

1

teaspoon

red pepper flakes

Pinch

sea salt
Chicken
2

packs Farmer Focus Bone-In,

Skin-On Chicken Thighs (about 8 thighs)

1

tablespoon

sea salt

1

teaspoon

ground cayenne

Sliced green onions

minced cilantro, and lime wedge for serving
Instructions
The night before, pat chicken thighs dry and set in a wide, shallow dish. Sprinkle chicken on both sides with sea salt and cayenne pepper. Refrigerate uncovered overnight.

To make the hot honey, combine the honey, chilies, vinegar, fish sauce, cayenne, red pepper flakes, and pinch sea salt in a small saucepan over medium heat. Let mixture come to a gentle simmer, then turn heat to low and cook 5 minutes. Stir occasionally. Set aside to cool.

Light charcoal and allow to heat up, then bank to one side of the grill. Allow coals to cool a little, until you can comfortably hold your hand over them for a few seconds.

Brush the skin side of the chicken generously with hot honey sauce.

Place chicken skin-side down on the grill over coals. It's important not to crowd the chicken, so cook in 2 batches if needed. Grill chicken for 1 1/2 - 2 minutes until skin is nicely browned but not blackened, then flip and grill for another 1 1/2 - 2 minutes.

Move chicken to the side of the grill that's not over the coals and brush with hot honey sauce again. Cover grill and cook until chicken reaches a temp of 165 degrees F (about 10 - 15 minutes).

Remove from grill and brush with hot honey again. Top chicken with additional hot honey, and garnish with green onions, cilantro, and lime wedges. Serve with sides like cucumber salad and vibrant, crunchy slaw.