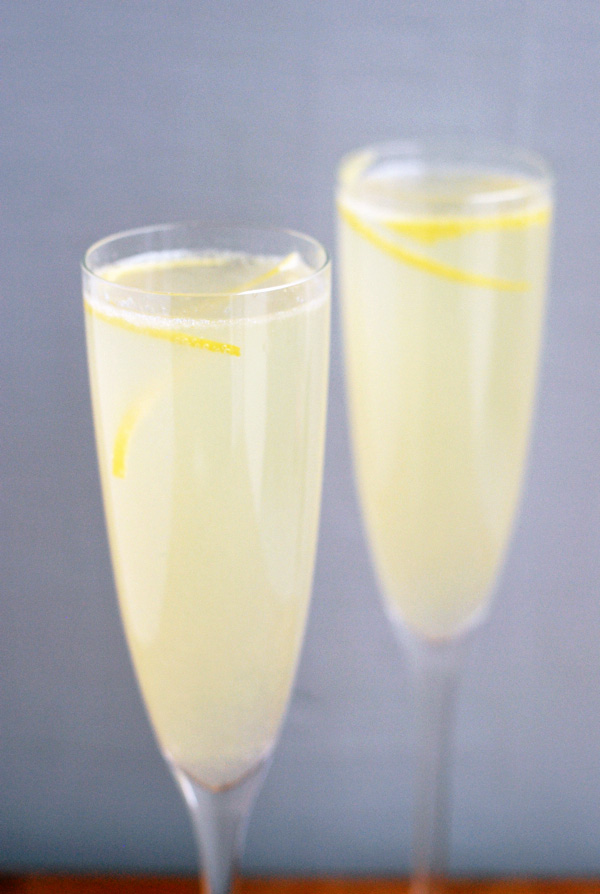 A classic bright and lemony French 75 cocktail with juniper berry- and rosemary-infused simple syrup. Jump to recipe.
For a while now, I've felt like the TV boyfriend checking his phone on a date –– like I'm not really present here. For one thing, moving to Virginia has changed me. I used to be positive that I wanted to live the homesteading life out here in the foothills of the Blue Ridge, but I'm slowly realizing this city girl might not be cut out for all that. There have also been some pretty major changes in routine –– no coffee shop around the corner for a latte before I start working and no chance of running down the block to pick up some thyme for the sauce I have bubbling on the stove. I'm bad at planning ahead.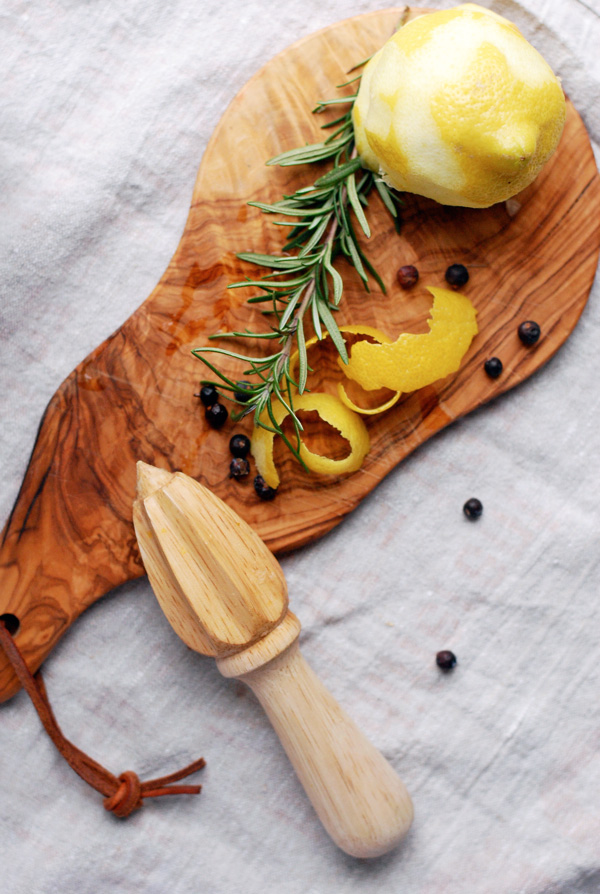 Also, having a two year-old is kind of hard. Our youngest isn't just along for the ride anymore. She has her own wants that compete with our oldest daughter's and things can get rough. And she takes off her socks and shoes just before we need to walk out the door. Those kind of things. Two year-old things.
But I'm not here to complain about the lack of good coffee shops in walking distance or my two year-old's two year-oldness. I'm here to say that as I look at 2014, I'm excited. I know my town better and my day-to-day is easier to organize. My youngest daughter is starting pre-school (!!!). With the prospect of time to reflect on the horizon, facing 2014, I'm feeling incredibly optimistic. I'm crazy excited to have a little time to myself, and I'm looking forward to looking at my kitchen and my blog and everything afresh.
As always, I'm ready for the clear light of January to illuminate all the dusty corners of my life. And I have one resolution –– to be brave and do some good for the community that has welcomed my bedraggled self more than once (This is actually the second time I've moved from New York City to Charlottesville, but that's a story for another day.). Whatever you resolve, be good to yourself.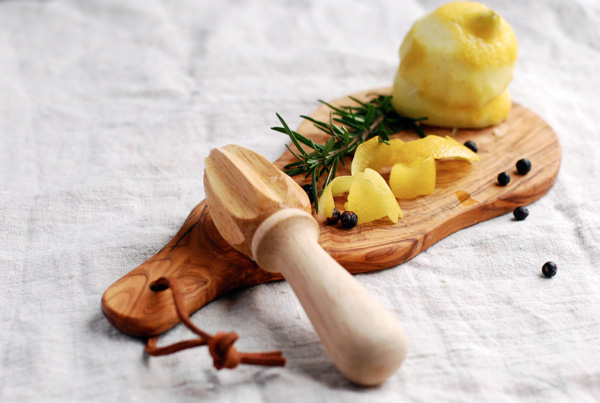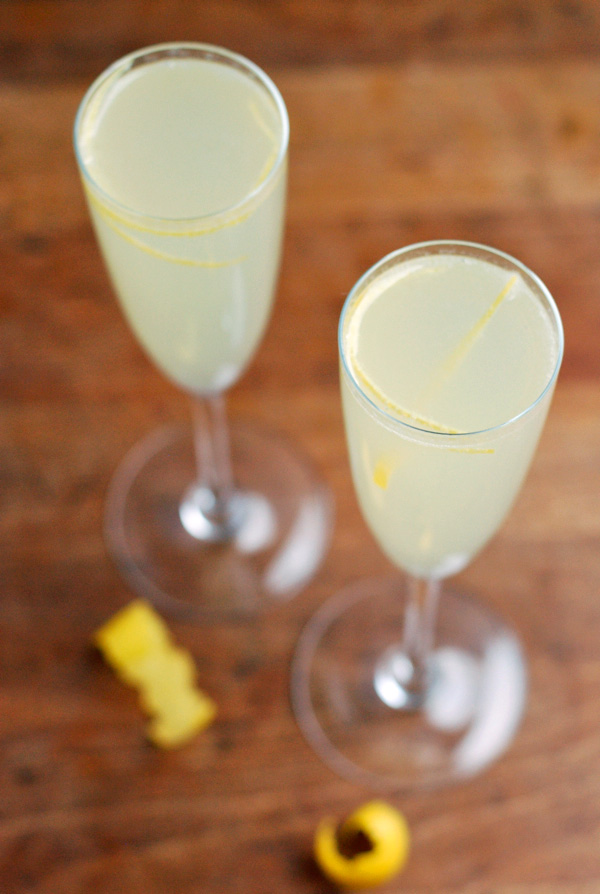 So today, let's send off this crazy, topsy-turvy year in style. The French 75 is named for a gun, but even the most dogged pacifists will like this woodsy spin on the classic, potent sip. Our French 75 has gin, sure, but also a subtle piney fragrance from a juniper- and rosemary-infused simple syrup. Add lots of fresh lemon juice and an affordable glug of Prosecco (I'll absolutely allow Champagne for the purists), and you my friend, have a great cocktail. At once nostalgic and fresh, old and new, this is the drink.
Brian and I wish you and yours a bright and happy New Year's Eve, and a really fantastic year ahead. I say it every year, but I think this is the one.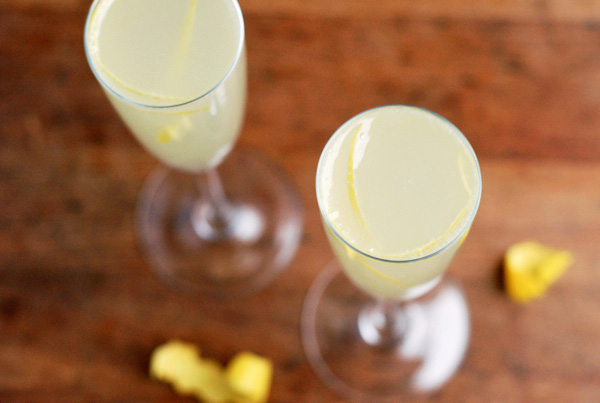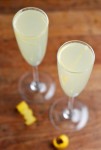 Juiniper-Infused French 75 Cocktails
A classic bright and lemony French 75 cocktail with juniper berry- and rosemary-infused simple syrup. When making the juniper simple syrup, use culinary juniper berries, available at Whole Foods and other specialty markets, and not juniper from the landscape.
Ingredients
Juniper Berry Simple Syrup
1/2

cup

granulated sugar

1/2

cup

water

2

tablespoons

culinary juniper berries

(see note above)

3

inch

rosemary sprig
French 75 Cocktails
2

ounces

gin

2

ounces

fresh squeezed lemon juice

(about one large lemon), zest strips reserved

3

tablespoons

juniper-infused simple syrup

Prosecco or Champagne
Instructions
To make syrup, heat water and sugar in a small saucepan over medium heat. When sugar has dissolved, add juniper berries and rosemary. Stir until things get steamy. Off the heat and allow the mixture to steep for 15 minutes or so.

Strain into a glass jar. Mixture should keep well, covered in the fridge, for a month.

Combine gin, lemon juice, and simple syrup in an ice-filled shaker, and shake for a minute or so. Strain into Champagne flutes. Top off with Prosecco or Champagne, and finish with a thin strip of lemon zest.

Cheers!