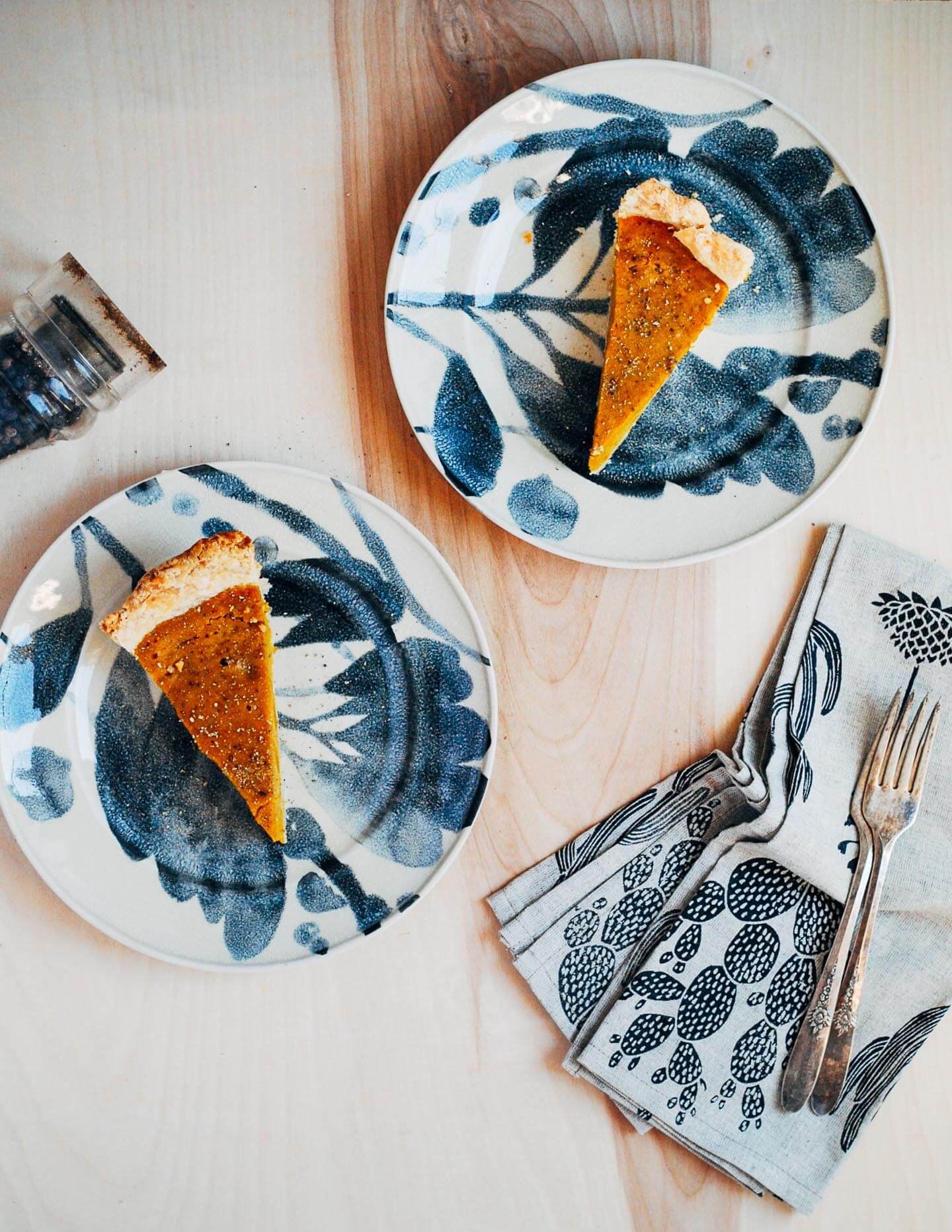 A creative twist on a classic pumpkin pie recipe, this kabocha squash pie is flecked with chipotle chili powder, black pepper, and fresh ginger. Jump to recipe.
In the beginning, neither Brian nor I had grand ideas for parenthood. Honestly, it was a selfish endeavor for me – I wanted to see if I really could, you know, create another human. I also, somewhat mistakenly, saw pregnancy as a great opportunity to eat a lot of ice cream. Our daughter was an easy baby, especially once we'd made it through those first six weeks, and Brian and I settled in to parenthood rather effortlessly.
And things went along this way, with the usual ups and downs, until last year. That was when we realized that the skills required to nurture a big kid and help them become an upstanding person are pretty different from the ones you need to nurture a baby. It's been a tough transition, with lots of instances of helping our oldest navigate her relationships with others, resolve conflicts, and right wrongs. These same things happen with littles, but the social web of interactions is so much more immediate. Also, there's homework.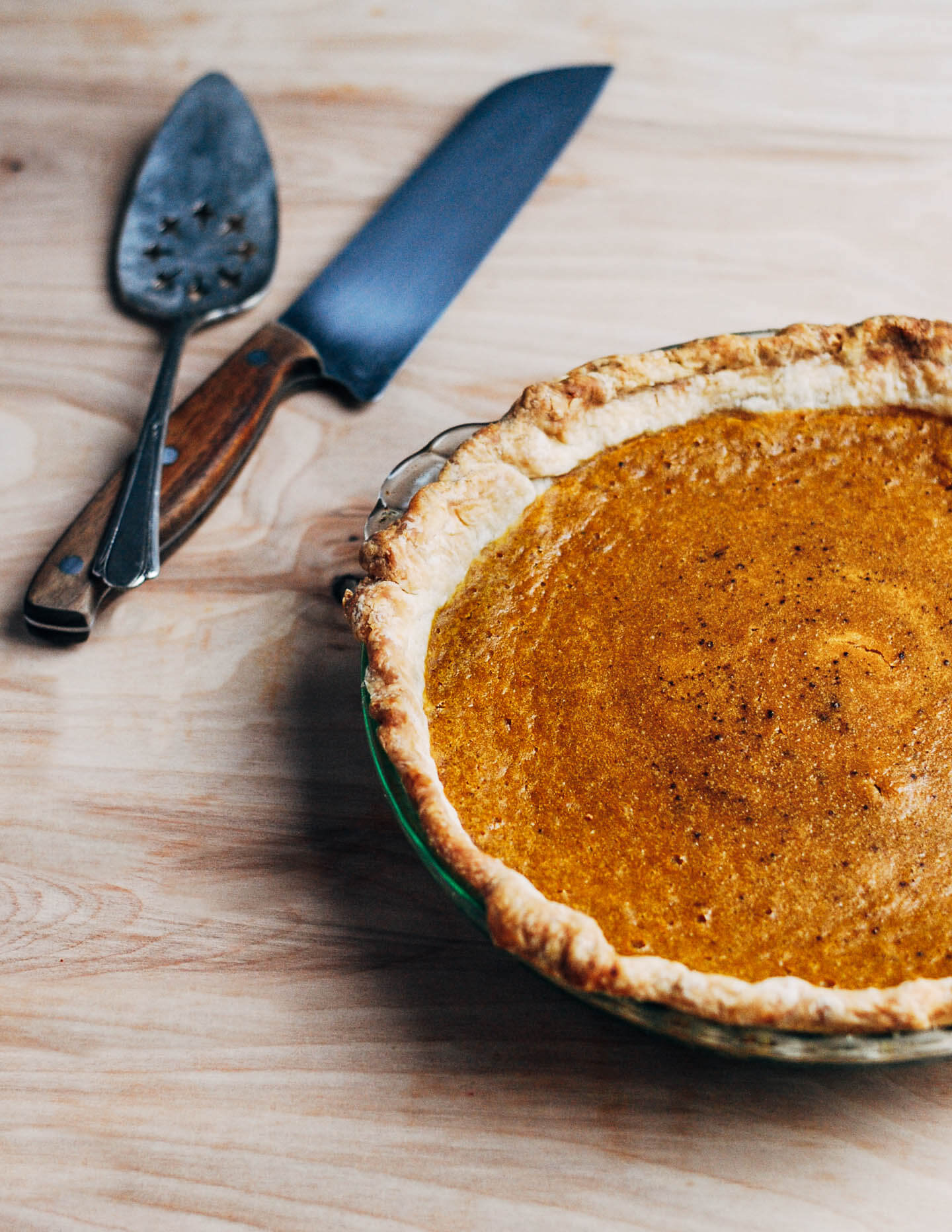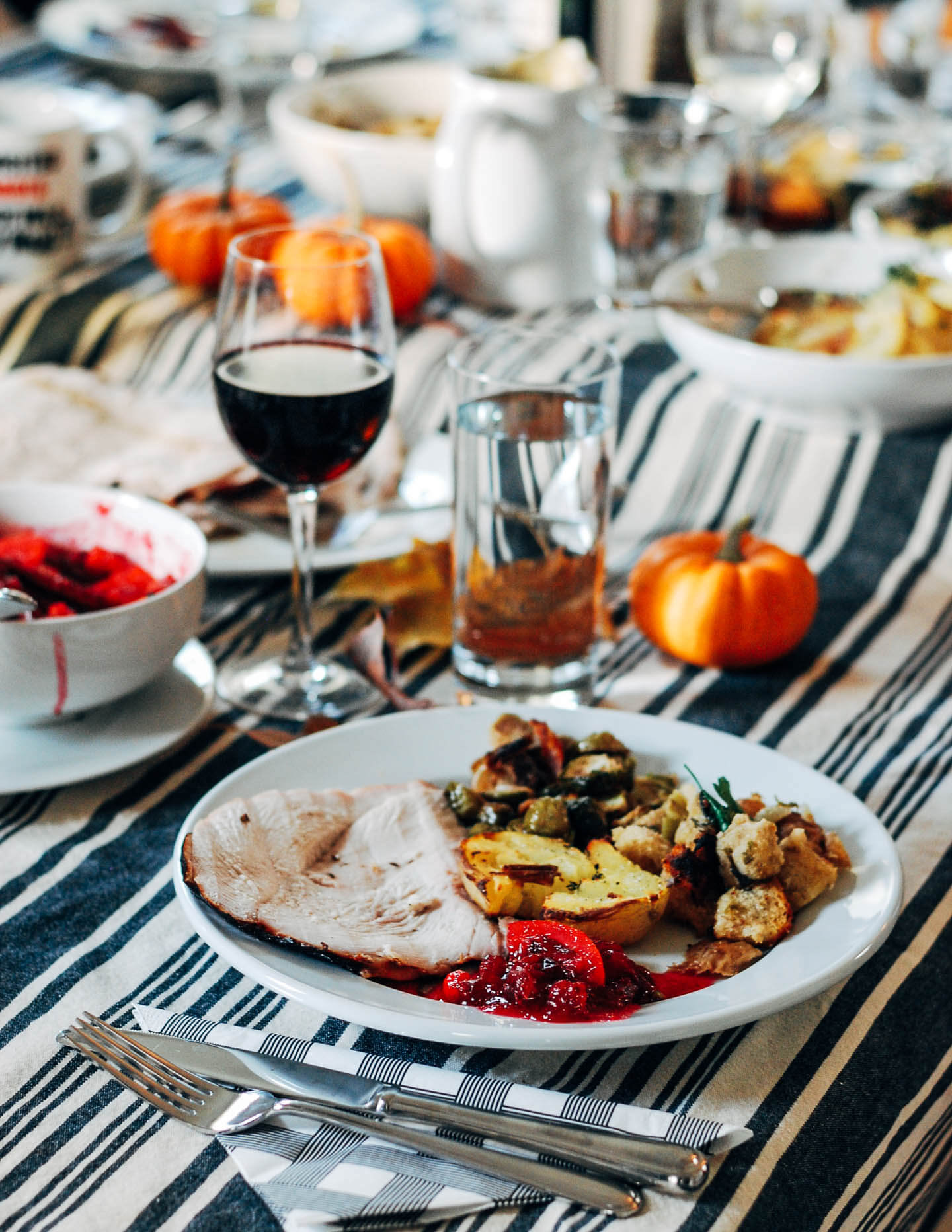 Lately, I've been trying to do my best, but with no idea how it's going to turn out. There are a few tenets that get us through. We eat a family dinner just about every night, even if it's random and cobbled together. We've also worked to create traditions. On Sundays, if we have fried chicken, we always toast to Mama E. We go apple picking in the fall. On Thanksgiving, we get a big turkey and have homemade pumpkin pie.
Actually, the homemade pumpkin pie's kind of a big deal. My mom makes a beautiful pumpkin pie and this is no doubt where my love of the stuff stems from. But (sorry Mom!), hers is very much of her own time with a pre-made crust, condensed milk, and canned pumpkin. I take a lot of cues from her, but my version is always from scratch.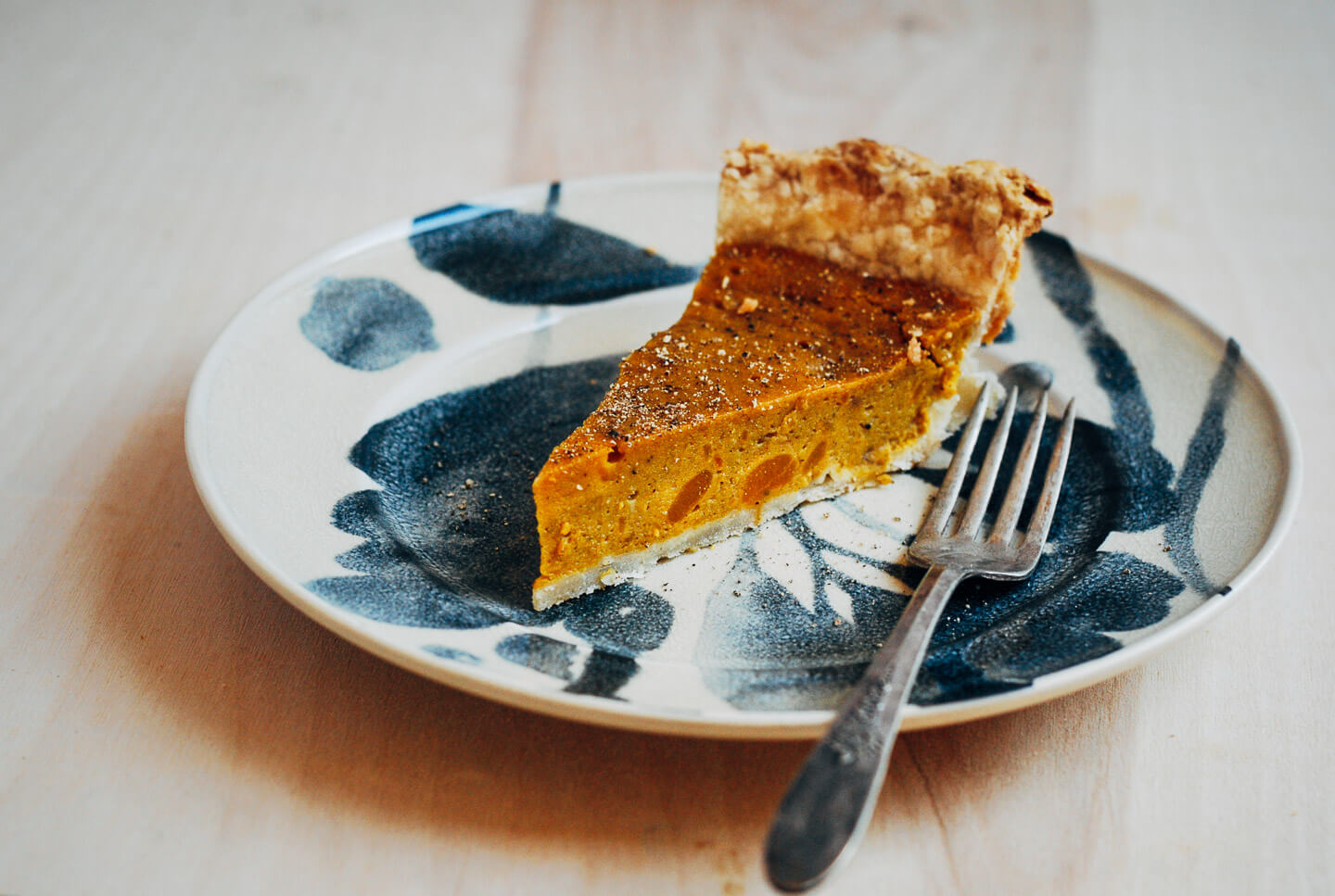 And the thing is, homemade pumpkin squash puree is no harder than roasting a pumpkin or squash. You can do it ahead, too. If you're going with pumpkin, I like the smaller sugar pie variety that are bred for flavor. Most often though, I'll opt for a butternut or kabocha. I usually go with an orange kabocha squash, which is similar in texture to butternut but with a bit more concentrated flavor. This time around, though, I tried a green kabocha. Its flesh is more yellow and dry than the orange kind, but it lent a wonderful subtlety to my favorite dessert of the season.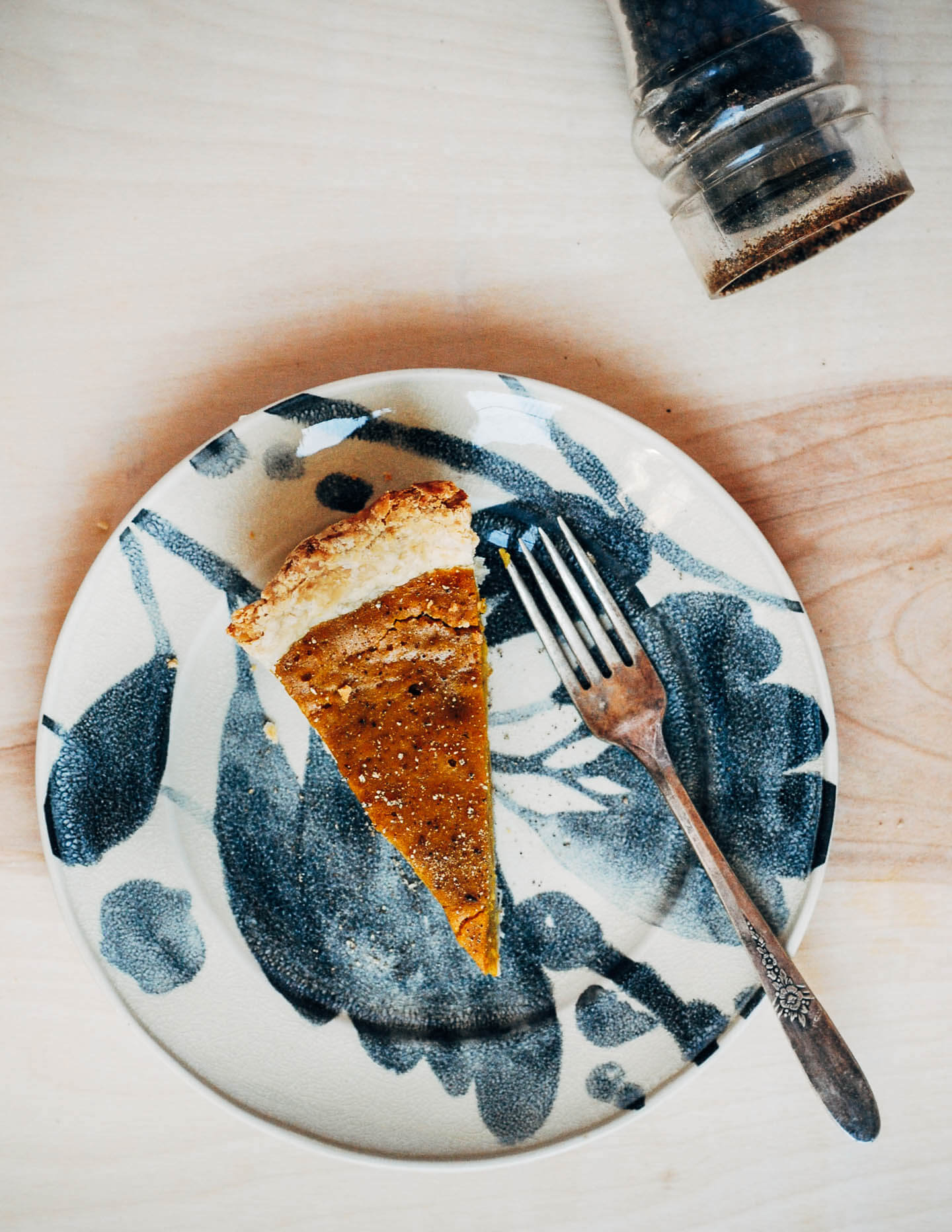 Because the texture of my kabocha squash pie was a bit more robust, I felt like it could stand up to a more unusual flavor profile, with fresh and ground ginger, plus a pinch of chili powder, and lots of black pepper. It's still a quiet dessert, but one that's pretty perfect after a big meal.
Stay tuned in the days to come as we roll out our Thanksgiving recipes. Earlier this week, we shared a grill-smoked turkey breast. In the archives, we've got this classic pumpkin pie made with sugar pie pumpkins and this lovely buttermilk one.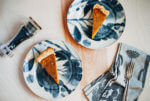 Kabocha Squash Pie
A creative twist on a classic pumpkin pie recipe, this kabocha squash pie is flecked with chipotle chili powder, black pepper, and ginger. Recipe adapted from The Art of Simple Food by Alice Waters.
Ingredients
Kabocha Puree
1

large green or orange kabocha squash

(I used green)

1/2

teaspoon

olive oil

pinch sea salt

water
Dough
1 1/4

cups

all-purpose unbleached flour

1

tablespoon

sugar

1/2

teaspoon

sea salt

8

tablespoons

unsalted butter

, frozen

5 - 6

tablespoons ice water
Filling
1

cup

heavy cream

, divided

2

tablespoons

flour

1 1/2

cups

kabocha squash puree

3

eggs

, room temperature

1/2

cup

brown sugar

1

tablespoon

fresh, finely grated ginger

1

tablespoon

ground ginger

1/2

teaspoon

ground cinnamon

1/2

teaspoon

freshly ground black pepper

, plus more for serving

1/4

teaspoon

chipotle chili powder

1/4

teaspoon

freshly grated nutmeg

1/2

teaspoon

sea salt
Instructions
To make the kabocha squash puree, preheat the oven to 400 degrees F. 

Cut the woody stem from the top and bottom of the kabocha. Halve the squash and scoop out the seeds and stringy stuff from the center. Rub squash all over with a small drizzle olive oil and sprinkle with a tiny pinch of sea salt.

Pour 3 tablespoons water in a rimmed baking sheet. Set the squash cut side down, cover tightly with foil, and slide into the oven. Bake until soft, roughly 50 – 60 minutes.

Set aside to cool, then scoop the soft squash out of the peel and into a bowl. Mash with a potato masher; for a smoother texture, puree with a food processor or stick blender.

To make the dough, In a medium-sized bowl, combine the flour, sugar, and sea salt with a fork. Grate in the frozen stick of butter, rubbing butter into the flour with your fingertips until the flour has a crumbly texture. Drizzle in the ice water, mixing just until the dough mostly holds together. (If you're new to homemade dough, you can always add more water –– just enough so the dough's easy to work with.)

Dump dough out onto a section of plastic wrap, gather into a disc, and wrap tightly. Set in the fridge to chill for at least 30 minutes.

Preheat oven to 375 degrees F. Grease a shallow 9-inch pie pan and set aside.

On a lightly floured surface, roll the chilled dough into a 12-inch disc. Set in the pie pan, trim excess dough from the edge, and crimp the edges. Pierce all over with a fork.

Carefully set a sheet of foil onto the dough, and add either dried beans, rice, or pie weights.

Set on a rimmed baking sheet and slide into the oven. Bake for 15 minutes, lift out the foil with weights, and bake for another 5 – 7 minutes.

Set aside to cool while you prepare the filling (but keep the oven at 375 degrees F).

To make the filling, in a heavy bottomed sauce pan over medium-low heat, whisk together the flour and 1/4 cup of the cream. When mixture starts to bubble and thicken, slowly whisk in the remaining 3/4 cup cream. Continue whisking until mixture begins to bubble and thicken once again, 3 – 4 minutes. Remove from heat.

In a medium bowl, whisk to combine kabocha puree and eggs until light and frothy. Whisk in the sugar, spices, and sea salt. Whisk the cream mixture into the squash mixture.

Carefully pour filling into the pie shell. Sprinkle a pinch of ground black pepper over the top. Set on a rimmed baking sheet and slide into the oven. Bake until all but a 4-inch circle in the center of the pie is set, 45 – 55 minutes. If the crust starts to darken too much, shield the edge with foil.

Allow pie to cool completely, several hours or more, before serving. Serve slices with twist of pepper and a dollop of very lightly sweetened whipped cream.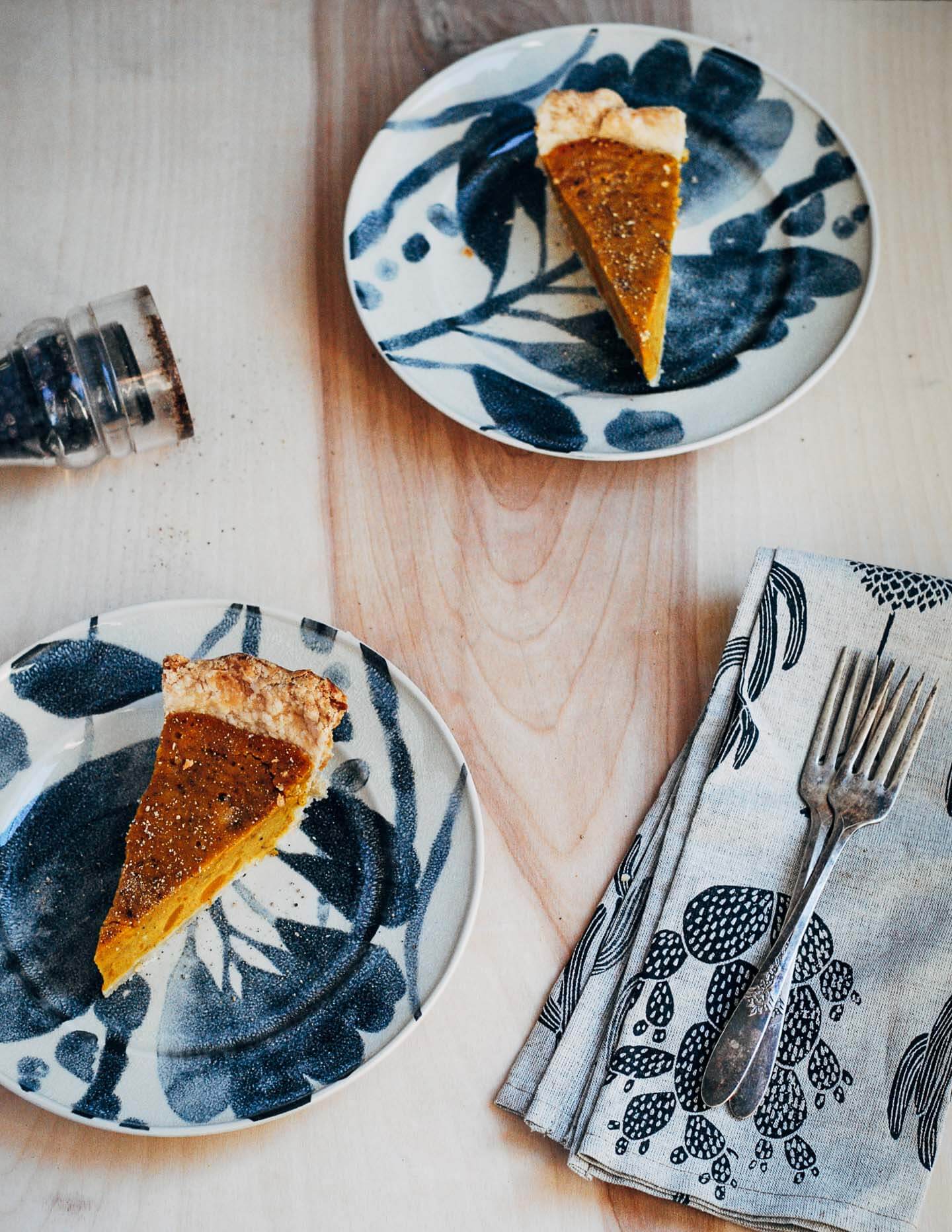 SaveSave
SaveSave
SaveSave
SaveSave
SaveSave
SaveSave
SaveSave