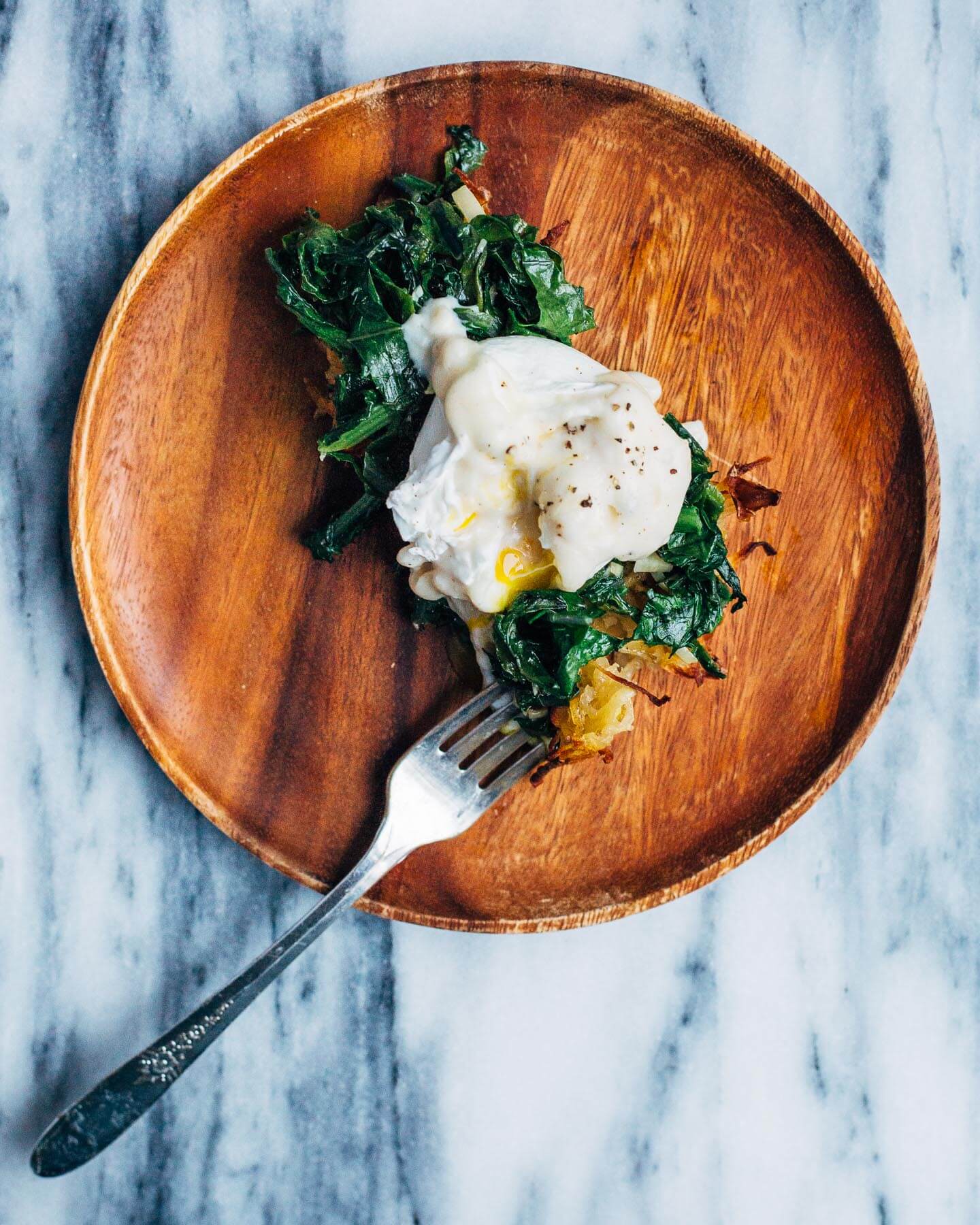 We're celebrating Ashley of Edible Perspective with kale eggs Florentine served over muffin tin hash browns and topped with rich mornay sauce.
When you have a baby, everyone tells you to sleep when the baby sleeps. In the early days, I was totally exhausted and did nap, but later those moments of solitude and quiet seemed too valuable to sleep through. Instead, I'd head into the kitchen. Good food is, after all, as important as sleep. And these kale eggs Florentine with poached eggs and mornay sauce served over crispy muffin tin hash browns are the kind of good food I'd gladly give up a nap for.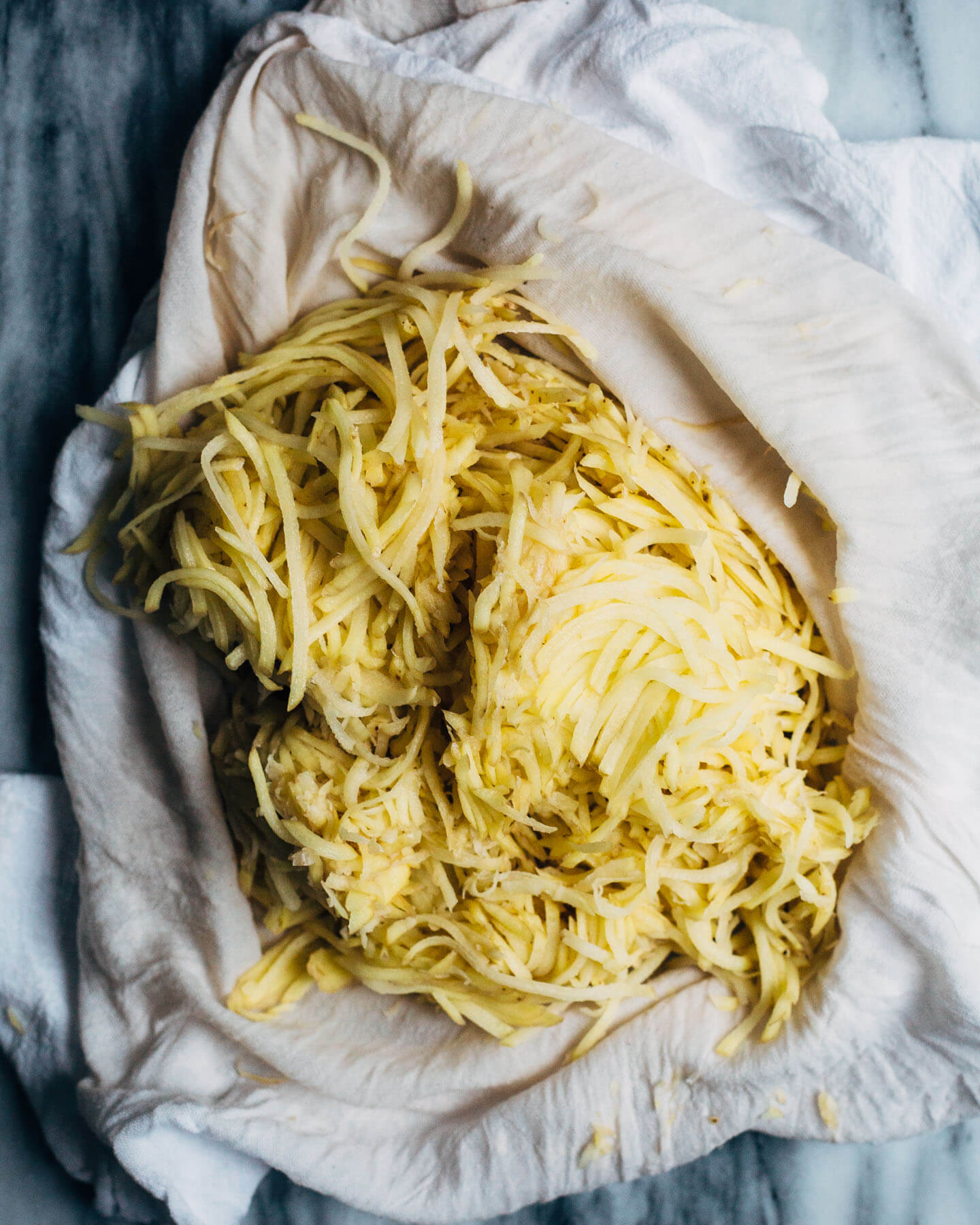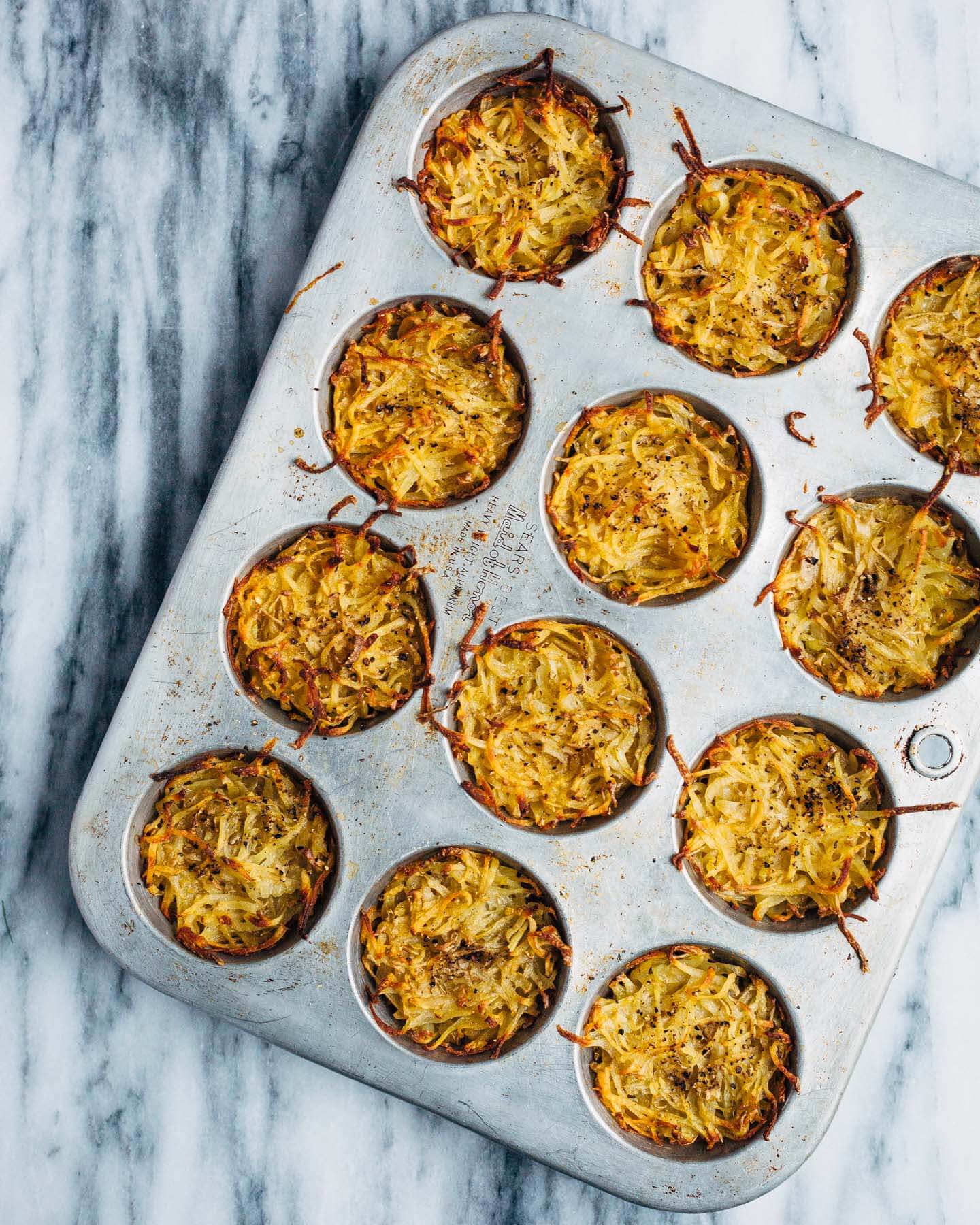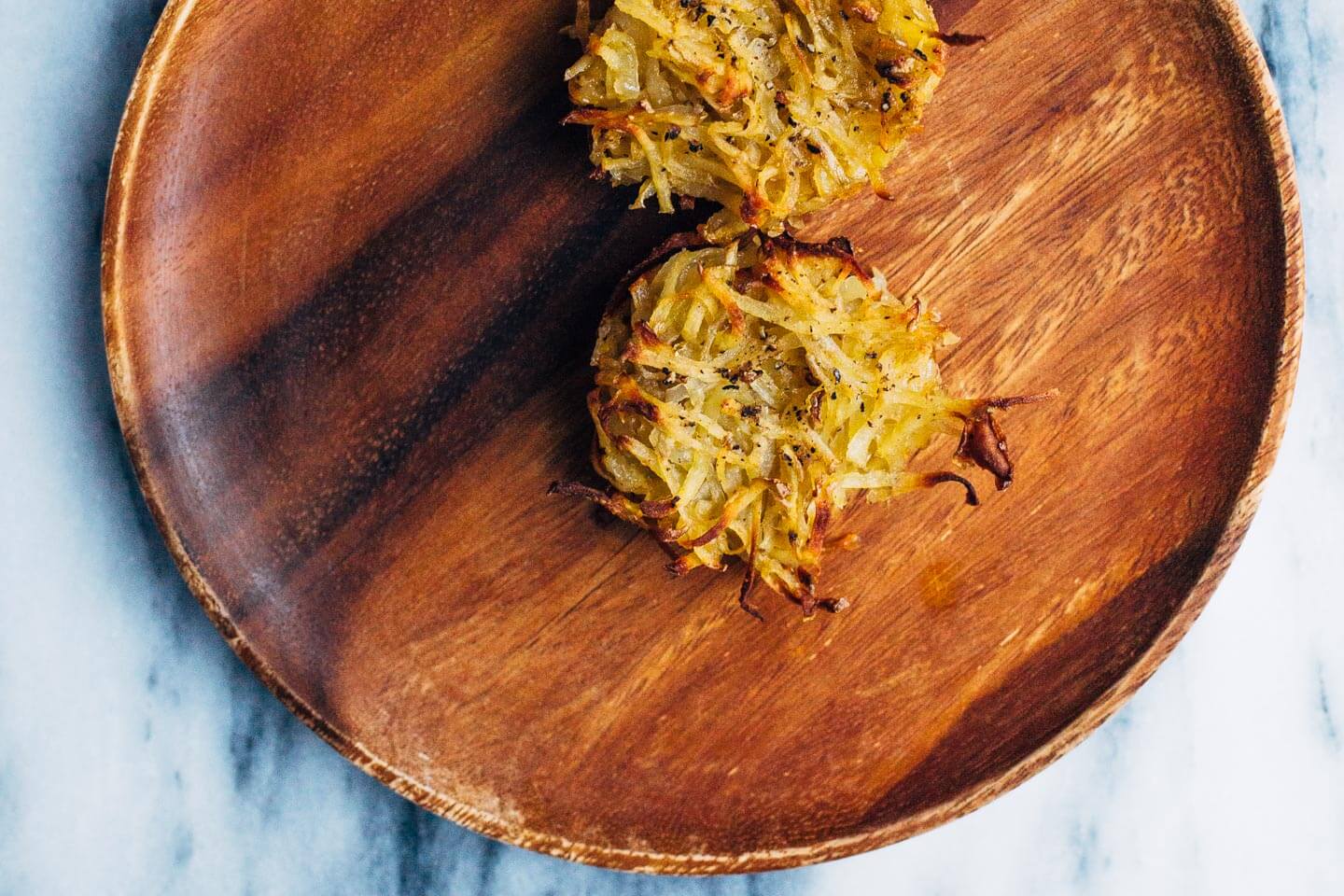 We're talking babies and breakfast to celebrate Ashley of Edible Perspective and the new baby she's expecting in December! Ashley loves breakfast and I wanted to do her and that baby bump right! Ashley, wishing you all the best on your journey into motherhood. It's hard, but indescribably amazing too. You're going to be great.
Check out all this blogger breakfast baby love for Ashley! (And a huge thanks to Sonja and Gena for hosting.)
Cornbread Waffles with Maple Mascarpone Schmear | A Couple Cooks
Homestyle Vegan Grits with Tempeh Sausage & Brussels Sprouts | The Full Helping
Pear and Almond Butter Baked Oatmeal | Eating Made Easy
Fried Chicken & Waffles with Apple Butter & Kale Slaw | Climbing Grier Mountain
Winter Vegetable Breakfast Skillet | Flouishing Foodie
Homemade Nutella Toasts | The Fauxmartha
Fancy Avocado Toast | A Beautiful Plate
Apple Cinnamon Oatmeal Waffles | Making Thyme for Health
Deep Fried Nutella French Toast | I am a Food Blog
Verde Shakshuka | Beard and Bonnet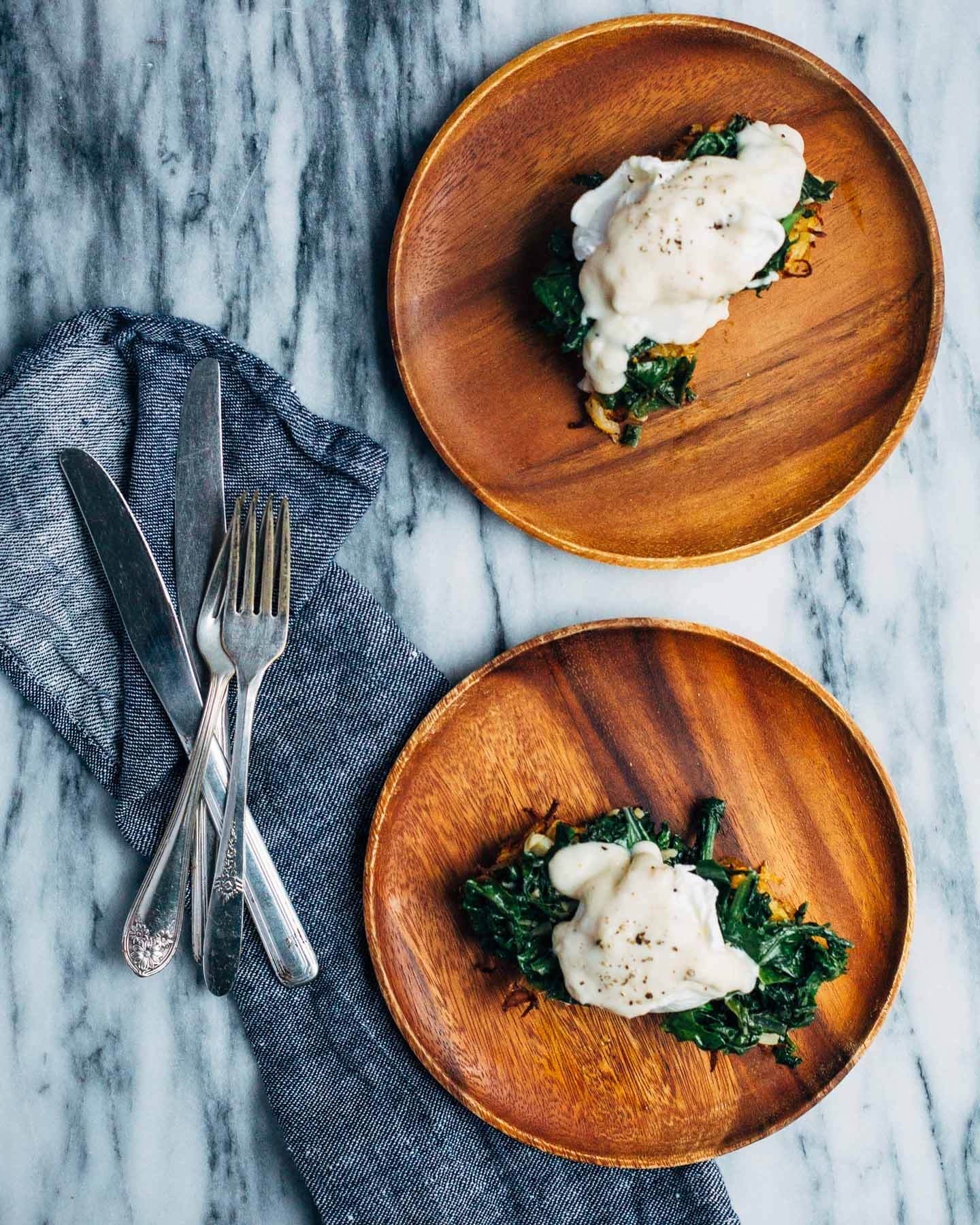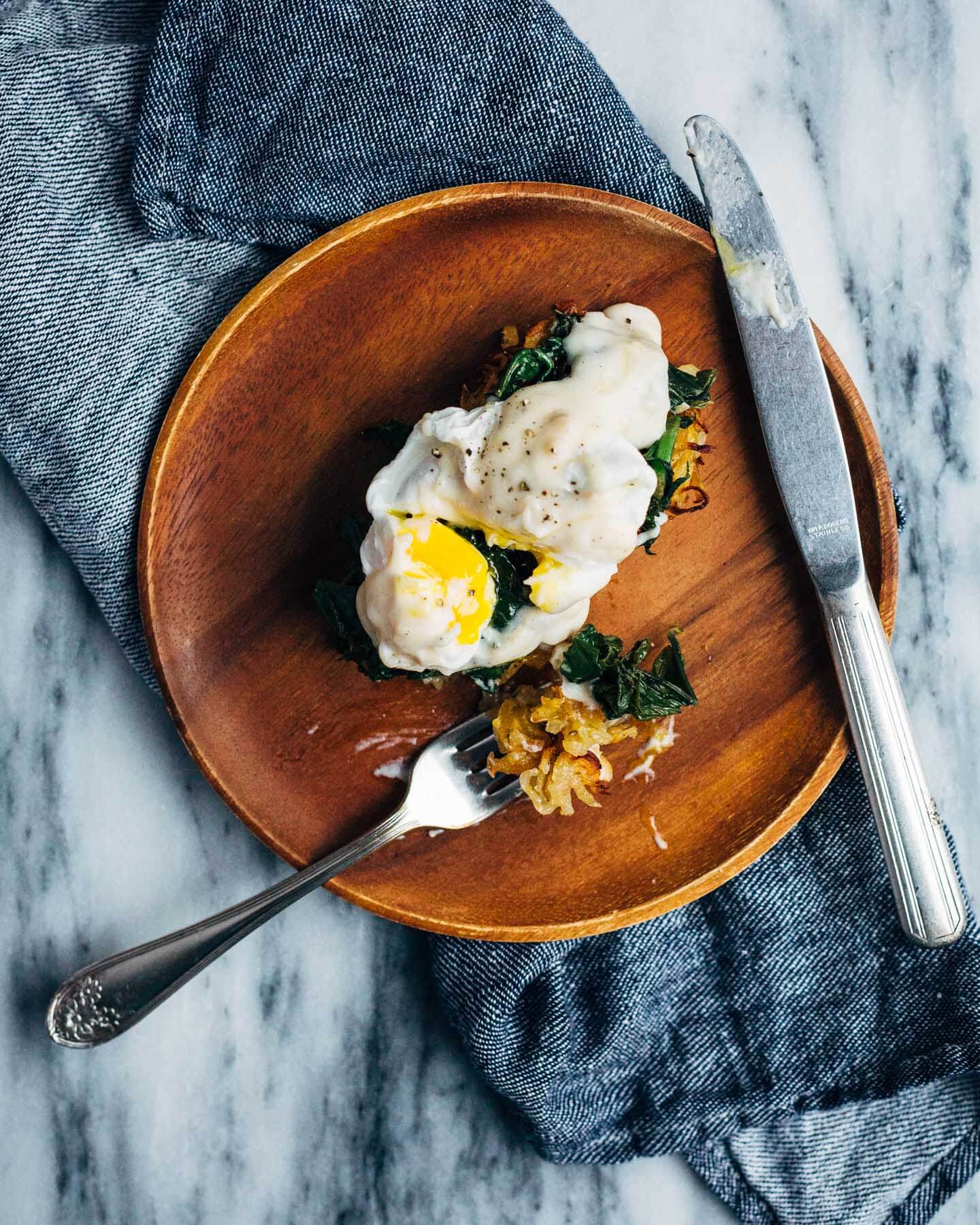 This meal comes together in a few steps, but only a couple of the elements – mornay and poached eggs – require any real attention. It's kind of fancy, but also hearty, real, and good.
First off, you make the potatoes. This involves grating the potatoes and then squeezing all the water you can out of them. If you have an actual sleeping baby, you may want to grate by hand; otherwise, hit up the grating attachment on your food processor. Then salt, squeeze, and squeeze again. Toss the spuds with spices and oil, pack into a muffin tin, and bake until crispy.
To top the poached eggs, I made simple sautéed kale with garlic and a basic mornay sauce. Mornay is essentially a thicker version of the kind of cheese sauce you'd use to make mac and cheese, and is completely delicious but also pretty simple and forgiving.
Finally, the poached eggs themselves: I use the Julia Child method, an approach that has yet to fail me, and add lots of sea salt and vinegar to the water.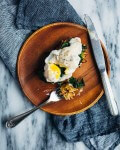 Kale Eggs Florentine with Mornay Sauce over Muffin Tin Hash Browns
Kale eggs Florentine served over muffin tin hash browns with a nutty mornay sauce.
Ingredients
For the Muffin Tin Hash Browns
2

pounds

yukon gold potatoes

scrubbed and grated

1

teaspoon

sea salt

2

tablespoons

olive oil

plus more for muffin tin

1

teaspoon

garlic powder

1/2

teaspoon

paprika
For the Sautéed Kale
2

tablespoons

unsalted butter

3

cloves

garlic

thinly sliced

2

bunches chopped kale

woody stems removed

sea salt to taste
For the Mornay Sauce
2

tablespoons

unsalted butter

3

tablespoon

all-purpose flour

1 1/4

cup

milk

2

ounces

Gruyere

grated

fresh ground black pepper to taste
For the Poached Eggs
4 - 8

large eggs

or however many you'd like

2

tablespoons

apple cider vinegar

1

teaspoon

sea salt
Instructions
Preheat oven to 400 degrees F. Oil a 12-cup muffin tin and set aside.

Toss shredded potatoes with 1 teaspoon sea salt. Let sit 2 minutes. Then, working in batches, place potatoes in a flour cloth (or other lightweight cotton kitchen towel) and wring out the water. Wring out all the water you can.

Toss wrung shredded potatoes with the olive oil and spices. Divide potato mixture between the 12 cups and press down firmly. Bake until tops are golden and crisp, 50 - 60 minutes.

Make toppings 20 minutes before you're ready to serve the meal. First, set a skillet over medium/medium-low heat. Add 2 tablespoons olive oil. When oil's hot and shimmering, add garlic and sauté until quite fragrant, about 4 minutes (edge heat down so garlic doesn't brown). Add kale and a pinch sea salt, and continue cooking until kale's cooked down completely, 7 - 10 minutes. Taste, and add more sea salt as needed.

To make mornay, melt butter in a large saucepan over medium heat. Whisk in flour and a pinch sea salt, and then gradually whisk in milk, allowing mixture to thicken up between additions. Once all the milk has been added, turn heat to medium-low and cook 10 minutes, stirring frequently. Remove from heat, add cheese, and stir until smooth. Add black pepper or sea salt to taste.

To poach eggs, bring a wide, deep-sided pan filled with water to a gentle boil.

When water boils, add sea salt and apple cider vinegar. Gently lower eggs (still in the shell) into the water, cook 10 seconds, and remove with a slotted spoon. Crack eggs one a time into a small, shallow bowl, tip each into gently boiling water and cook 4 minutes – this cook time will yield set egg whites and runny yolks.

To plate, run a knife along the sides of the muffin tin and use a spoon to gently lift the hash browns out. Set 2 - 3 on each plate. Top with sautéed kale, 1 - 2 poached eggs, and mornay. Serve immediately.