A savory vegetarian mushroom and kale pesto lasagna topped with nutty Parmesan, and thoughts on looking out for community in the midst of a crisis.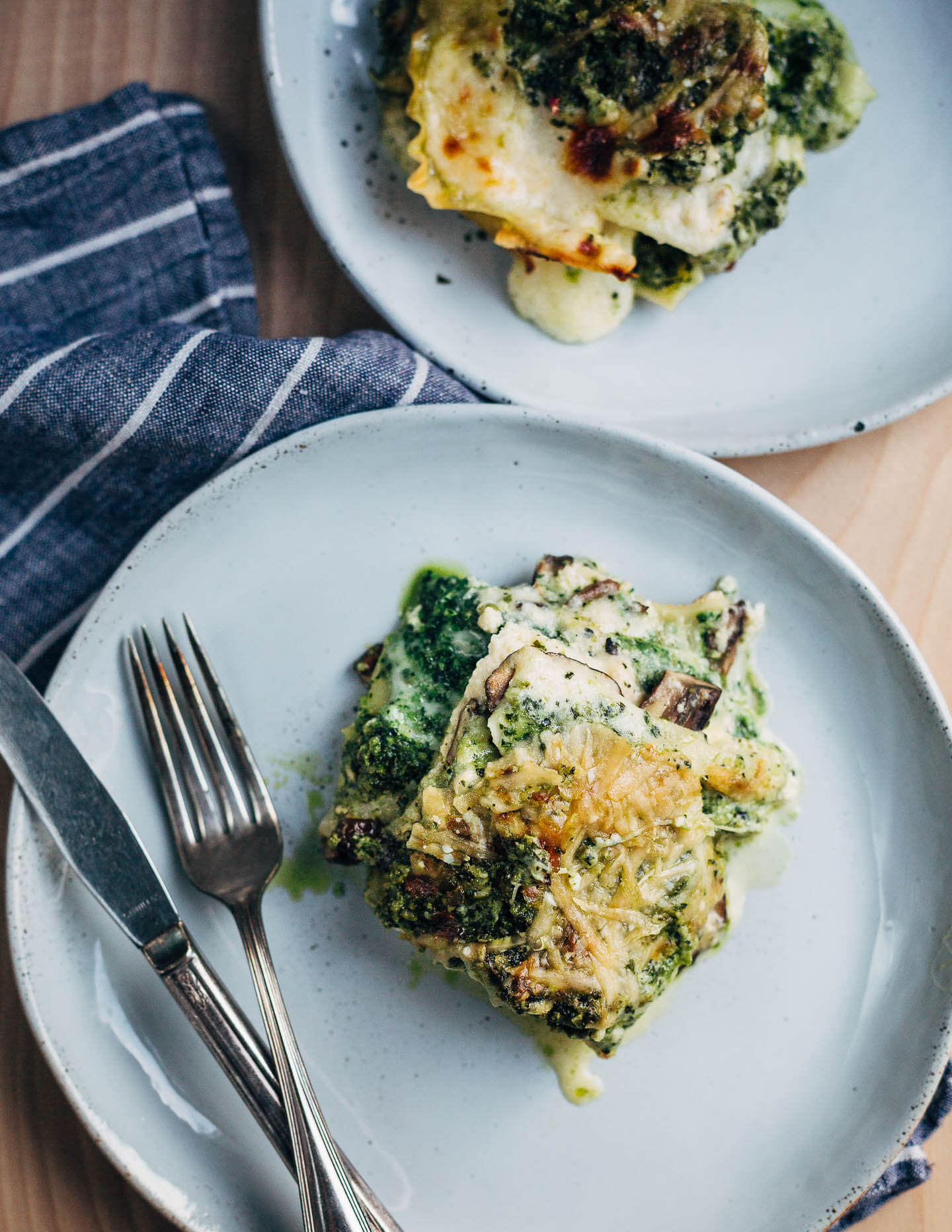 This is a post about lasagna. I'd guess, though, that dinner recipes are pretty low on your list of priorities right now.
We are in the midst of a pandemic and it's a good time to focus on community. Who is vulnerable in your neighborhood? How's your local food bank coping? (Kindly note that monetary support is preferable to actual food, especially right now.) As those of us with the means to stock up on beans and bleach and toilet paper, there are plenty of folks out there who are barely making ends meet, global health crisis or no.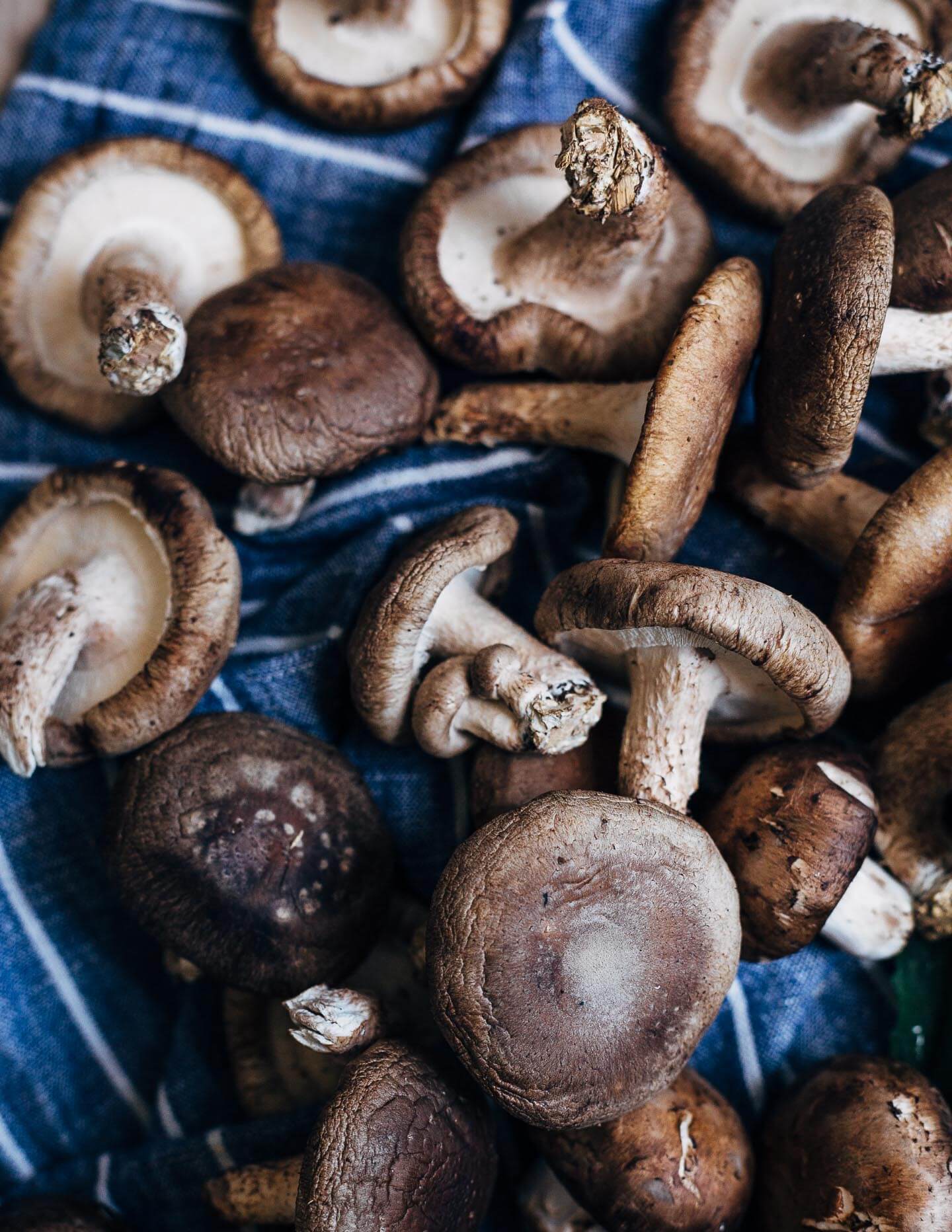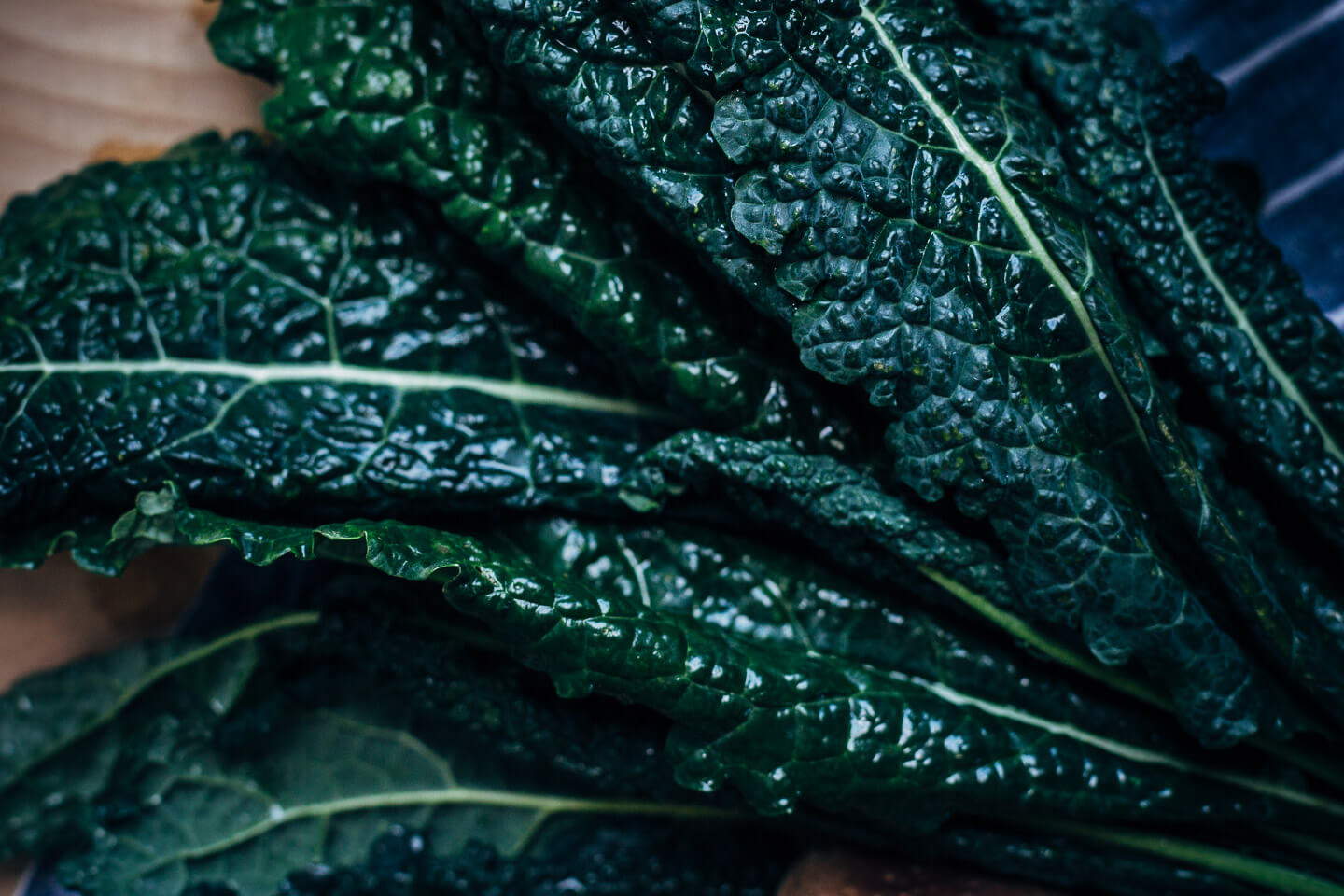 Community Support
Emergencies can make us feel like hunkering down – doing whatever we need to to keep our own circle "safe." And if you're in one of the age groups most affected by this virus or are immunocompromised, please do hunker down. But if you're able, look to your community and those who need help right now. There will be service industry workers who will see a drastic reduction in income or layoffs; there will be front line folks in the medical sector or everyday institutions like libraries who won't be able to practice social distancing. You might have a neighbor that needs support from someone they trust. Check in with your people, and if you're able, help out.
Helping your community is as simple as checking in with elderly, immunocompromised, financially insecure, or just exhausted folks and asking if you can pick a few things up for them at the store. Call a food bank or church pantry and see what their needs are. The unhoused are extremely vulnerable right now – check in with a local shelter and see what they need. Lastly, folks who can't miss work may need help with childcare. If that's something you can offer, you will be a godsend to caretaker in need.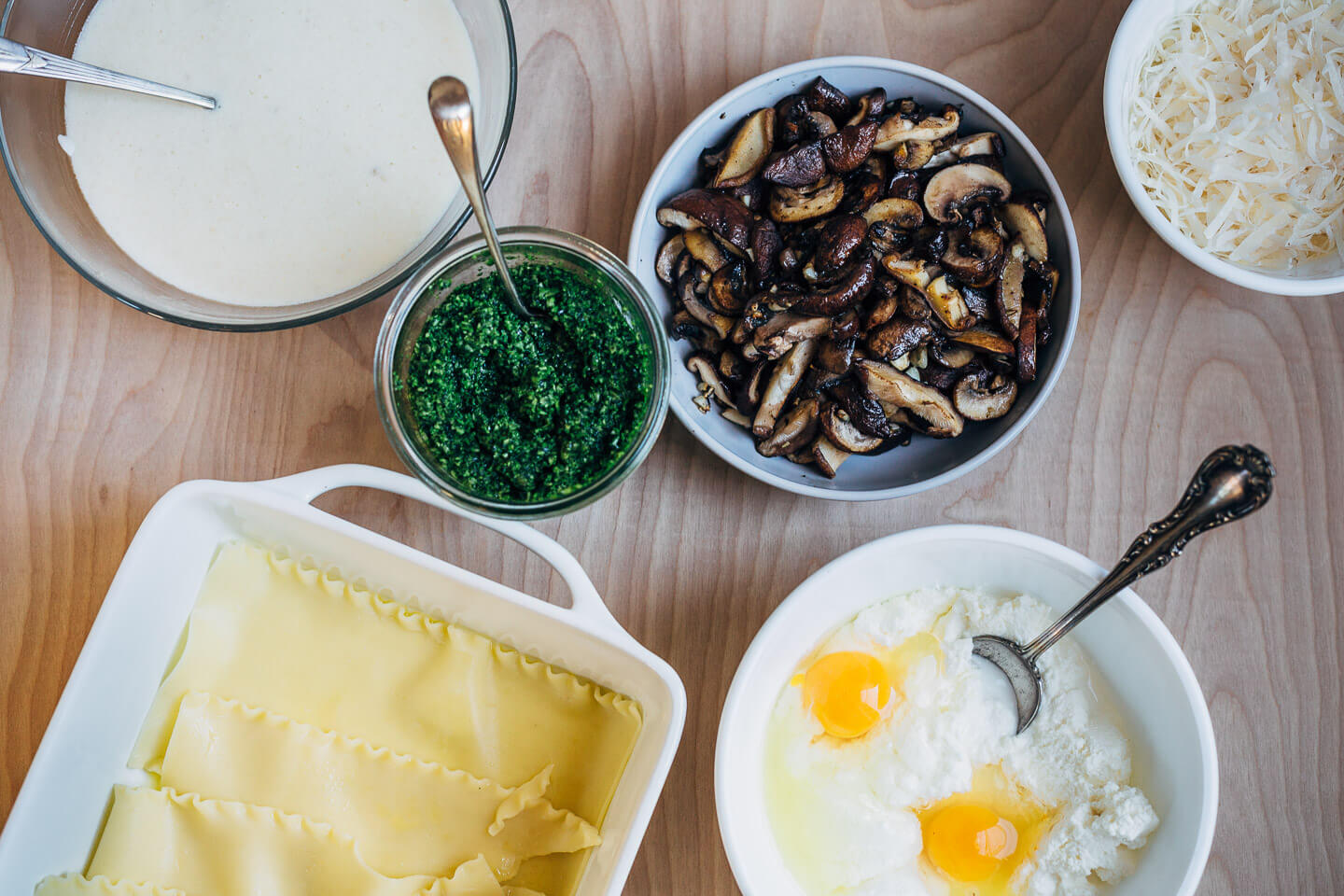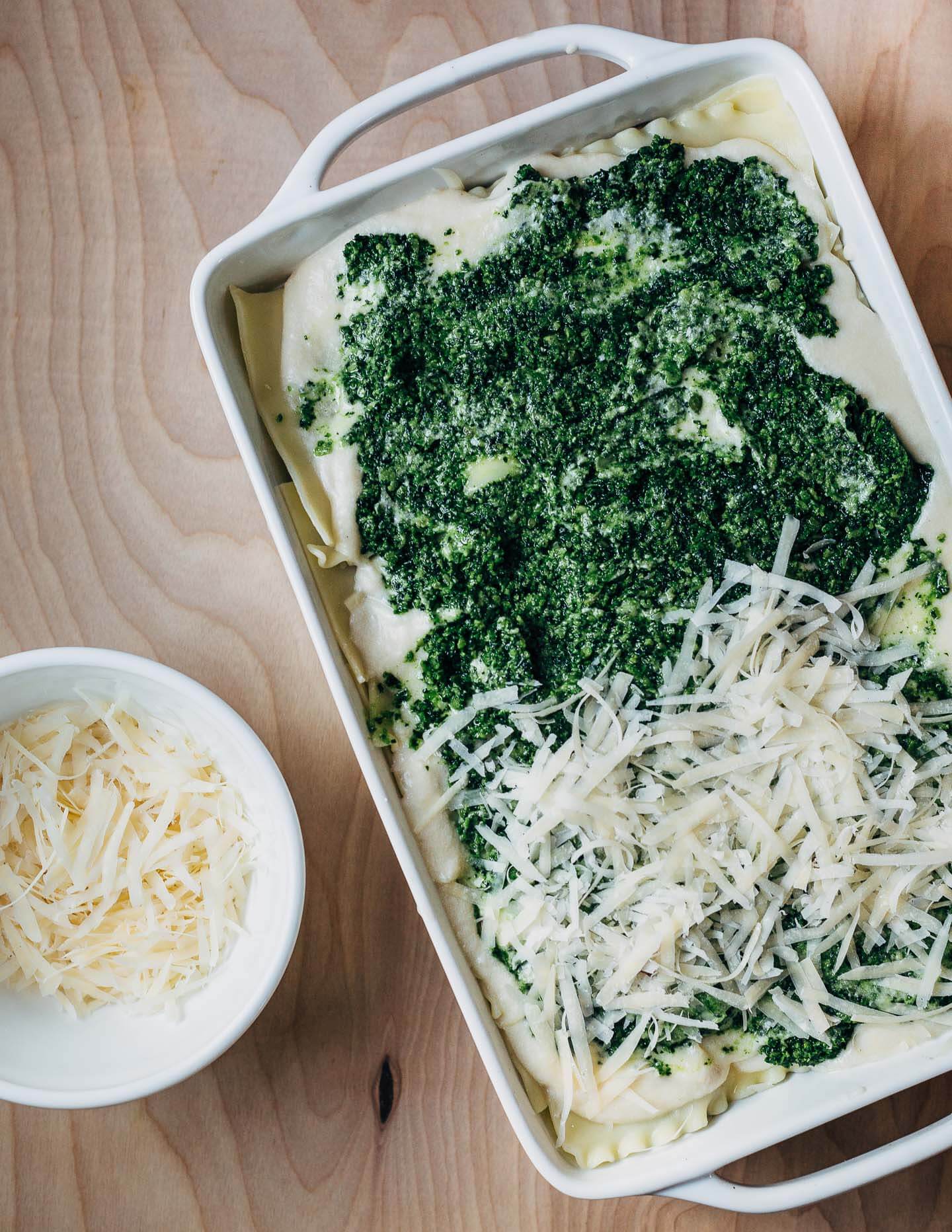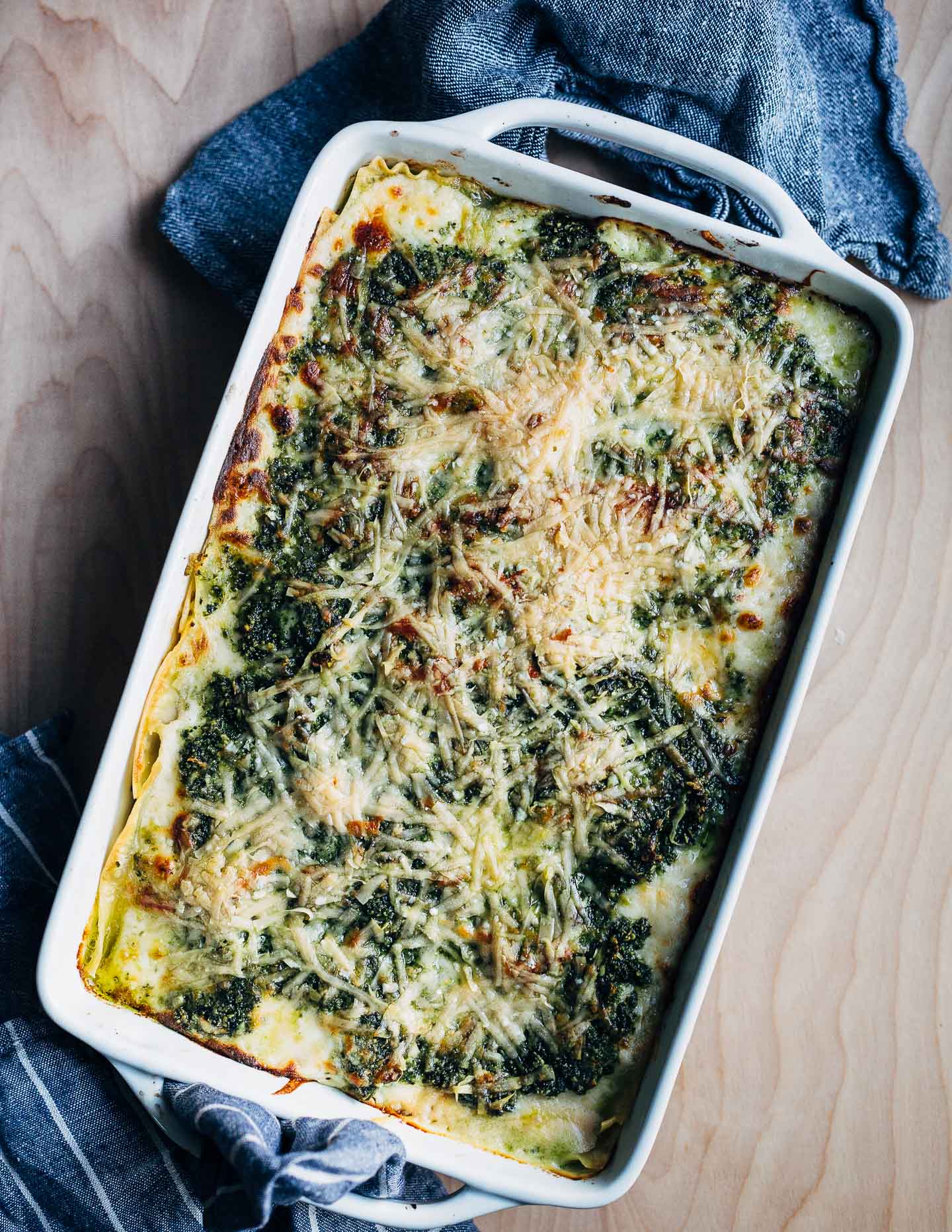 Pesto Lasagna: Made to Share
Between bouts of anxiety and extreme concern, I'm preparing to spend a lot of time at home. That's meant deep cleaning, stocking up on staples, and starting to think about cooking and baking projects that will keep me and the kids busy and the whole family well-fed.
For better and worse, lasagna turns out to be one of these cooking projects. This one has piles of sautéed mushrooms, kale pesto, cheese sauce, ricotta, and Parm. It needs to be made in steps – first the pesto, then the mushrooms and cheese sauce, but then you just need to assemble and bake. It can be made ahead, it can be doubled or halved, or separated into two smaller dishes – one for now and one for later.
Most importantly, it's rich and delicious, and like any good lasagna, it's easily shared with family and neighbors and friends.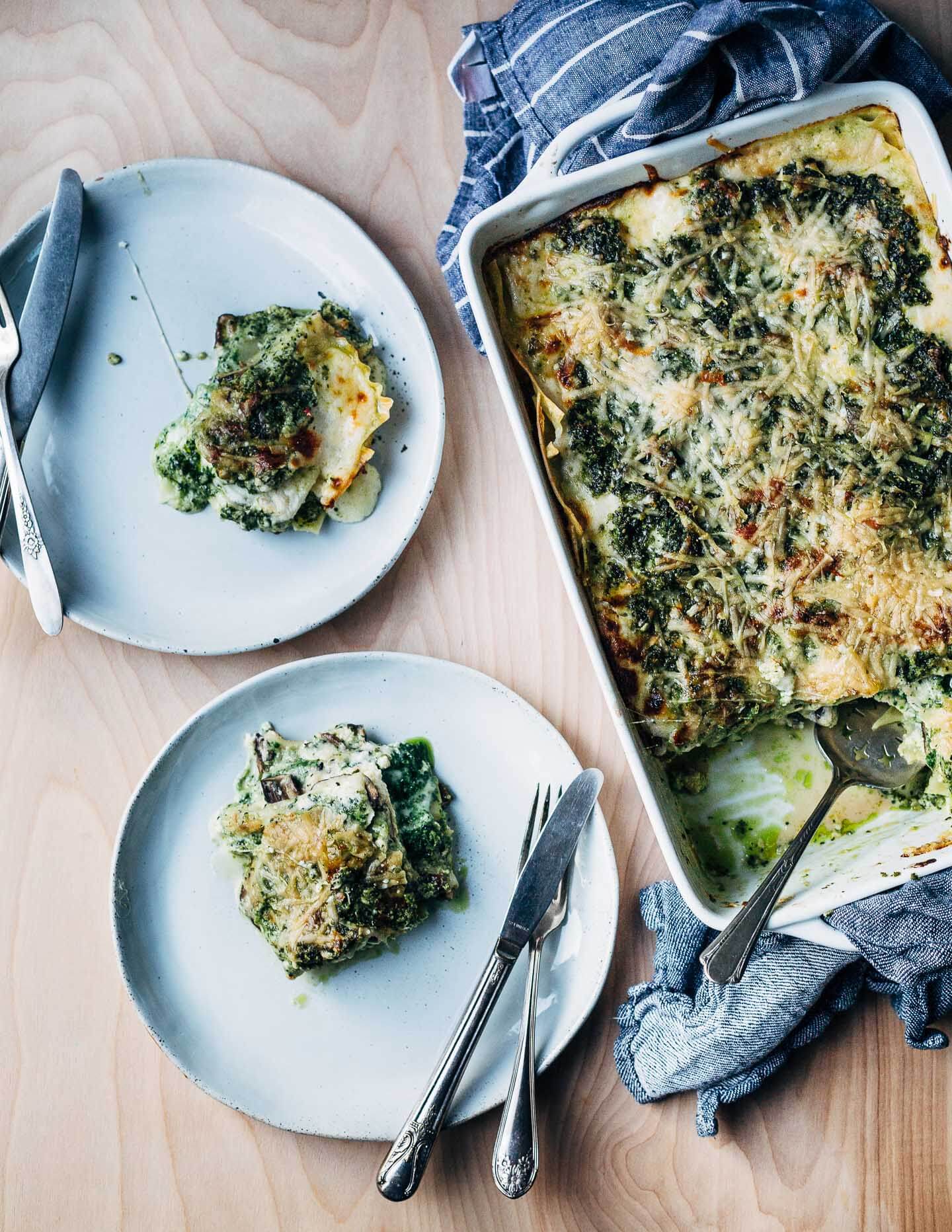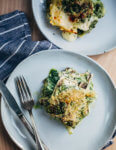 Mushroom and Kale Pesto Lasagna
A savory vegetarian mushroom and kale pesto lasagna.
Makes
:
12
generous servings
Ingredients
Pesto
1

bunch kale (I like Lacinato or dinosaur kale),

woody stems removed (about 7 - 8 ounces with stems)

2

cloves

garlic,

smashed, peeled, and chopped

1/2

cup

raw,

hulled pepitas

1/2

teaspoon

sea salt

1/2

cup

extra virgin olive oil
Cheese Sauce
2

tablespoons

unsalted butter

2

tablespoon

all-purpose flour

2

cups

whole milk

1

cup

grated Parmesan

(3 ounces)
Ricotta
1 15-

ounce

tub whole milk ricotta

2

large eggs
Mushrooms
2

pounds

mushrooms,

rinsed or brushed clean (I used a mix of shiitake and porcini)

2

cloves

garlic,

smashed, peeled, and minced

1/4

cup

extra virgin olive oil,

divided

Sea salt

Black pepper
To Assemble
1

pound

lasagna noodles

Sea salt

Extra virgin olive oil

1

cup

shredded low-moisture mozzarella

(4 ounces)

1

cup

grated Parmesan

(3 ounces)
Instructions
Preheat oven to 425 degrees F.
Pesto
In the bowl of a food processor, pulse to combine kale, garlic, pepitas, and sea salt until reduced and crumbly. With processor running, drizzle olive oil through the feed tube.
Cheese Sauce
Set a medium-sized saucepan over medium heat. Add butter; when melted, whisk in flour. Slowly whisk in the milk over the course of 5 minutes, allowing mixture to thicken up before adding more. Once all the milk is added, cook, stirring frequently, 5 minutes longer. Add Parmesan, stir until smooth, and set aside.
Mushrooms
Brush clean or rinse mushrooms. Remove stems and slice 1/2-inch thick.

Meanwhile, sauté mushrooms. Set a 9-inch skillet over medium/medium-high heat. Add 1 tablespoon olive oil, add 1/4 of the mushrooms and a pinch of red pepper flakes, sprinkle with sea salt and pepper, and cook until golden, about 5 minutes. With one minute of cook time left, add 1/4 of the garlic and sauté. Scrape into a bowl and repeat process until all of the mushrooms and garlic have been sautéed.
Ricotta
In a small mixing bowl, stir to combine ricotta and eggs.
To Assemble
In a large pot of rapidly boiling, generously salted water, cook lasagna noodles about 4 minutes. Drain and toss with 1 tablespoons olive oil.

Set out a 9 x 13-inch baking dish. Drizzle olive oil on the bottom. Place a layer of 4 lasagna noodles on the bottom. Spread with half the ricotta mixture and half the mushrooms. Add another layer of noodles and spoon half the cheese sauce over top. Dollop half the pesto all around, lightly swirl into the cheese sauce, and top with shredded mozzarella. Add another layer of noodles and top with the remaining ricotta and mushrooms. Add the final layer of noodles, top with remaining cheese sauce, remaining pesto, and top with shredded Parmesan.

Bake 30 - 35 minutes, or until filling is bubbling and the top is golden brown. If the top gets too brown, place a loose sheet of foil over top.

Cook 10 minutes, then slice, and serve with a big green salad.
To Reheat or Make Ahead
Lasagna can be prepped up to two days ahead, refrigerated, and then baked. Take care to use the right baking dish – enamelware does best going from fridge to oven. You can also set a ceramic dish out for 30 minutes before baking. 

To reheat cooked lasagna, cover with lasagna with foil and bake at 350 degrees F about 30 minutes, or until heated through.