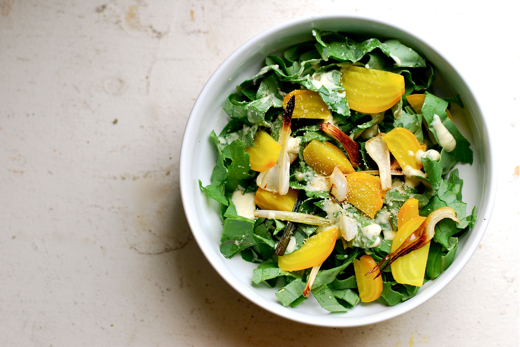 Writing about the food I love has been a pretty incredible journey, and one of the best things about blogging is the community of other bloggers, food writers, and food eaters out there. So I was thrilled to receive an invitation to a fantastic dinner party with some of my very favorite foodies. The lovely Veronica hosted on her roof deck overlooking the city, and the guest list included an intimidating mix of old friends (Kimberley and Barb), new ones (Kasey), and bloggers and foodies I'd long admired but never met (Cathy, Nicole, Sarah, Yossy, Kate, Diana, Sarah, Kristin, and Laura). I wanted to bring a dish, and needed to make something good.
Looking for ingredient inspiration, I headed out to the Union Square Green Market. As always, I was searching for the unexpected, and hoping for new flavors and fresh seasonal finds. What I found was bounty of earthy flavors with ingredients like green garlic (more on that here), scapes, lettuces galore, tender kale, a rainbow of carrots, and beautiful beets. Clearly, I'd be making a salad.
The flavors in this salad came together nicely, with delicate golden beets, roasted green garlic, and a whole lime vinaigrette served over a bed of young kale and beet greens. The creamy yet bracing lime dressing contrasts beautifully with the earthy, smoky notes in the salad. Owing to transportation time, I kept my ingredients simple, but if I were going to make this at home I'd also toss in some Pecorino and toasted pumpkin seeds for texture and crunch.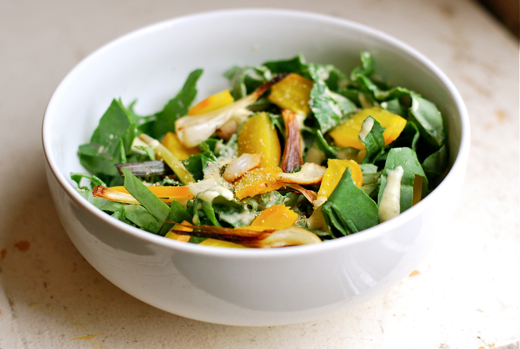 This salad comes together in parts, though it's not very time consuming at all. First, marinate the beets, and then roast the green garlic. And then prepare your greens and make the dressing. Toss it all together about 30 minutes before serving.
Kale Salad with Golden Beets, Green Garlic, and a Lime Vinaigrette
for the marinated beets
1 bunch marinated beets
pinch sea salt
Preheat oven to 450 degrees F.
Wash the beets, and trim all but 1″ of the greens. Place them in a small rimmed baking dish with 1/4″ of water. Cover with foil and roast at 450 degrees F for 25 – 30 minutes. When the beets are fork tender, carefully remove the foil, cool, trim, and pull off the peel with your fingers. Halve the beets, cut into thin slices, and set aside.
for the roasted green garlic
5 stalks green garlic
1 teaspoon olive oil
pinch sea salt
Wash, trim, and halve garlic stalks and chop into 3″ sections. Toss with 2 teaspoons olive oil and a pinch of salt. Roast at 450 degrees for 15 minutes, or until the edges have started to brown. Once cool, pick through the garlic and discard any segments that seem burnt (the green sections can get quite brown–I eat them at home, but discard them for company).
for the whole lime vinaigrette
1 organic lime, quartered and chopped into sections
1 clove garlic, smashed and peeled
1/3 cup olive oil
1/3 cup water
splash of rice wine vinegar
1/2 teaspoon sea salt
1/2 teaspoon sriracha
Place the ingredients in the blender and blend until smooth, 3 minutes or so. Check salt levels and consistency, and add more water or salt if needed. This vinaigrette will keep well for a day or so covered in the fridge, though you may need to re-emulsify if it separates.
to assemble the salad
1 bunch tender kale (I used Russian kale)
1 bench beet greens
pinch sea salt
Wash and dry the greens, and chop them into very thin ribbons. Place in a large salad bowl, sprinkle with salt, toss, and set aside. 30 minutes before serving, use your hands to thoroughly dress the greens. Then sprinkle the beets and garlic on top, and use your hands to massage a bit more of the dressing in.