A lemony kale salad with sautéed apples and shallots, and toasted pepitas. Use purple, tuscan, curly kale, or a mix!
For the squirrels, it started a month ago. The first day of September, before the acorns fell, panic washed over the animal kingdom. Squirrels were more furtive and skittish then ever. Either a deer or a groundhog decided to eat all of our late strawberries, leaves and all. These days, it's the birds who are nuts; the blue jays have returned from wherever they summer and the crows are back to making a ruckus.
In the human world, early October is a more appropriate time to freak out.
It's the time to figure out what to do with the last tomatoes or maybe even a stray peach or watermelon. Winter squash and pumpkins are flooding the markets, as is the fall crop of apples, grapes, and pears.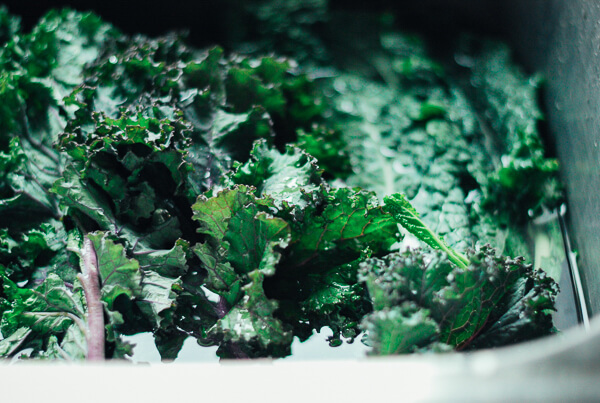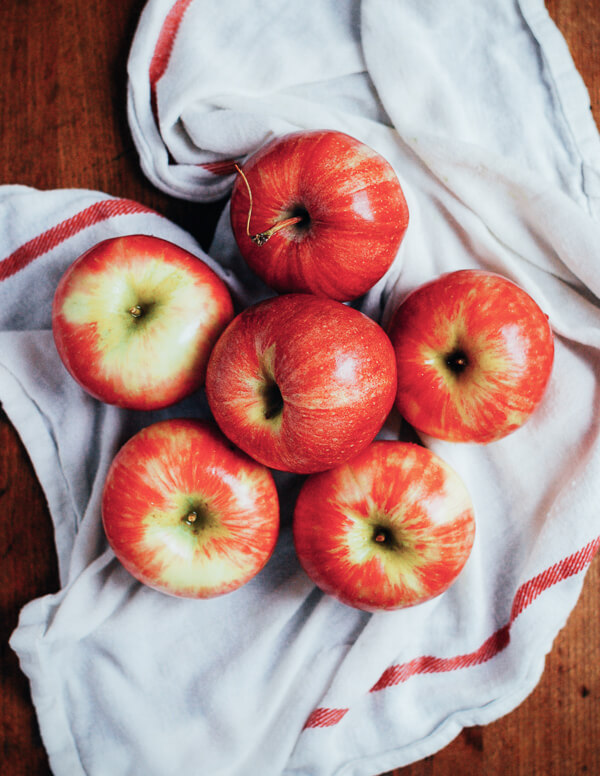 And then there are the greens. I've mentioned it before, but kale has two peaks –– once in the spring and again right about now. Later in the season, harsh weather and age make for chewy, rubbery leaves. But now? The stalks are small and the leaves supple. We'll be stuck with kale through the long months ahead, even so, there really couldn't be a better time to dive into all the leafy greens.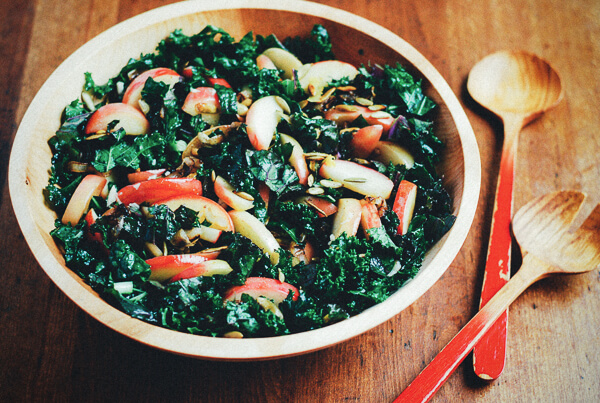 Because I don't do my vegetables in half measures, this salad features a mix of varieties with purple kale, Tuscan kale (my favorite), and plain old curly kale which happens to be plentiful and cheap right now. I massaged the leaves with a lemony vinaigrette. There are also sautéed shallots and honey crisp apples, and toasted pepitas, because everything is better with those.
Speaking of salads, I've been knee deep in them of late. In case you missed it, I've got a bi-weekly column over on Food52 called 'Salad Days.' Every other week, I'll be featuring a fresh, seasonal salad recipe. Last week, I shared a fig and Manchego salad with herbed croutons. And, I had another fig salad over on Free People. This one is a fig and pear salad with a crazy good vanilla bean vinaigrette. Check 'em out!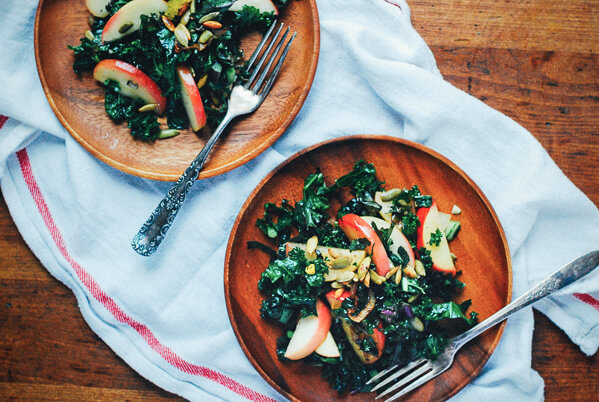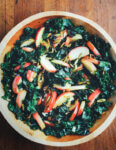 Kale Salad with Sautéed Apples
A lemony kale salad with sautéed apples and shallots, and toasted pepitas. Use purple, tuscan, curly kale, or a mix!
Ingredients
1

large bunch kale

any kind, cut into thin ribbons

Zest of 1 lemon

2

tablespoons

lemon juice

1

clove

garlic

smashed and minced

Sea salt to taste

3

tablespoons

extra virgin olive oil

plus more for cooking

1

shallot

peeled and sliced

4

crisp apples

cored and cut into 1/2 inch slices

1/2

cup

raw

hulled pepitas
Instructions
Prep the kale, set in a large bowl, and toss with lemon zest. To make the vinaigrette, use a fork to whisk the garlic into the lemon juice. Add a generous pinch of sea salt. Drizzle in 3 tablespoons olive oil, whisking until emulsified.

Drizzle half the dressing over the kale leaves and massage with fingers. Rough the kale up a bit –– don't be shy. Set aside while you prep the toppings.

Set a large cast iron skillet over medium/medium-high heat. Add a drizzle of olive oil and the shallots. Sauté, stirring occasionally, until shallots have browned, about 10 minutes. Meanwhile, slice apples, toss in the skillet, and cook just until apples are warm and have lost their bite, 5 - 7 minutes. Remove shallots and apples from heat, add another drizzle of oil, and toast the pepitas, cooking just until they pop, about 1 - 2 minutes. Toss warm pepitas with sea salt.

Fold the warm apples, shallots, and pepitas into the prepared kale leaves. Taste for salt levels and adjust if needed. Serve immediately, or cover and refrigerate for up to a day.