Last night I feel asleep to an almost comic clanking of the radiators. They've been puttering along all winter, but on this particular evening they were hissing at full-throttle. Winter has finally descended on the city. Not the brisk days of December, but the deep freeze of January and February. As if to emphasize the point, snow has been drifting from the sky all day, making our frost-blurred city views just a bit more picturesque.
We've been horribly sick all week, and every dinner has come out of the soup pot. Chicken and rice soup one night, chicken with noodles the next. Skirt steak and kale with ramen gets braised with added vegetables on the second day, stretching the rich beef broth for another healing meal. And all these soups are complemented by piping hot tea or toddies, with local honey to soothe sore throats.
Fresh ginger lemon tea is a healing treat – spicy and bright, warming and calming to soothe the sick or stress or cold. My version features lots of ginger and lemon – enough to cut through a stuffy nose, and aromatic spices to coax your sense of smell back from the brink. Add a slug of whiskey for a nightcap or more honey to soothe a cough.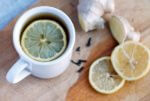 Spiced Ginger Lemon Tea
Keep warm with a mug of hot ginger lemon tea made with fresh ginger and tangy lemon.
Ingredients
3

cups

water

3

inch

segment ginger

peeled and chopped

4

whole cloves

5

cardamom seeds

or a couple of pods

1/2

teaspoon

fennel seed

zest of 1 lemon

juice of 1 lemon

1/4

cup

honey
Instructions
Combine everything but the lemon juice and honey in a small sauce pan. Bring to a boil, and then turn down to a simmer for 20 minutes. Strain into cups, divide the lemon juice and honey between them, stir well, and serve.