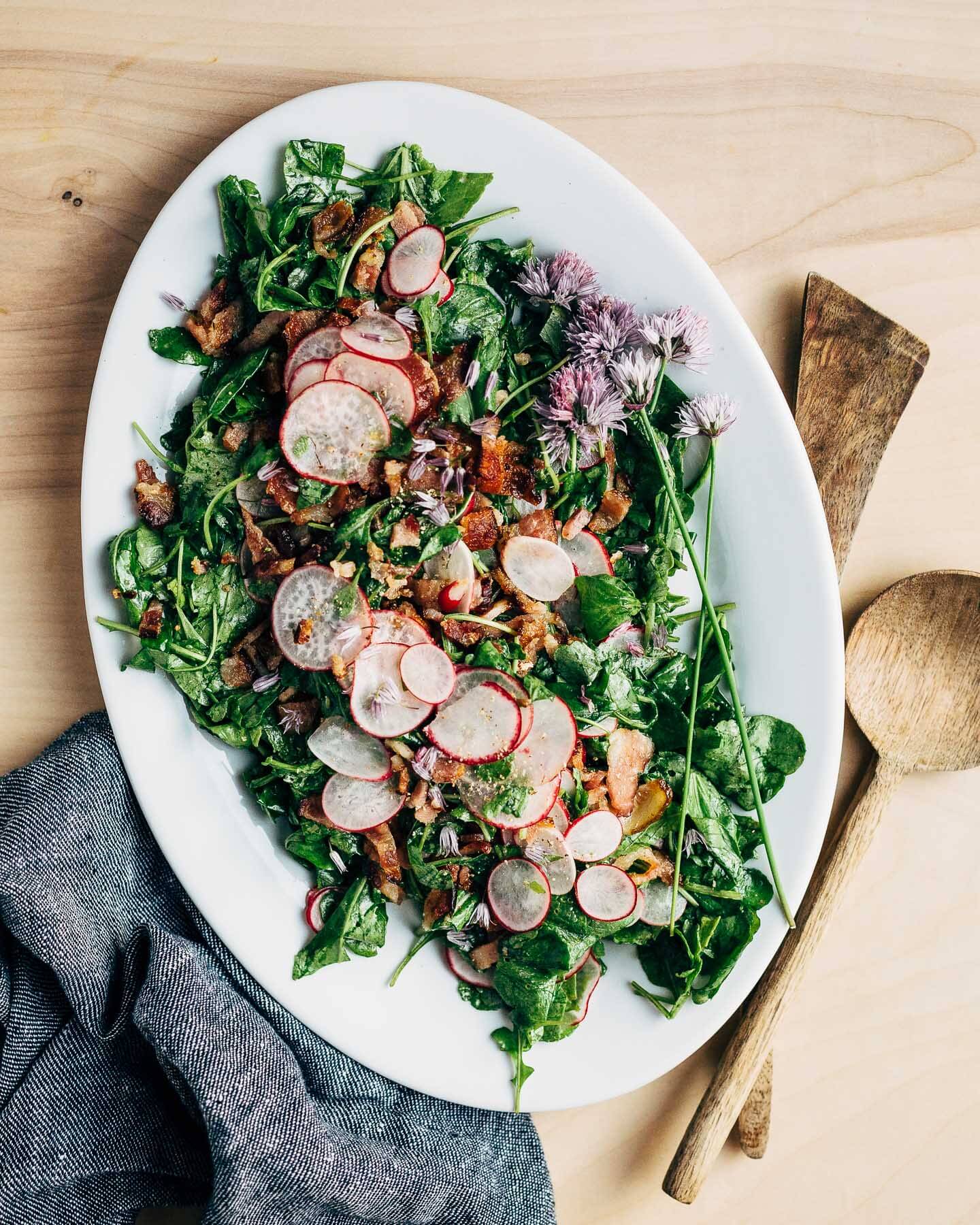 Strengthening local communities through Community Supported Agriculture and a CSA-friendly recipe for a killed lettuce salad with spring chives and radishes. This post is created in partnership with Sub-Zero for its Fresh Food Matters initiative. Jump to recipe. 
Eating close to home has long been something I value. As I've learned more about the seasons, I find these ingredients convey much more than a solitary flavor, they are imbued with a sense of place and even the unfolding of time. When asparagus arrives in sudden abundance or I have that first taste of spring radishes with their punchy spice, I feel a connection to the place I live and gratitude for life's fleeting pleasures.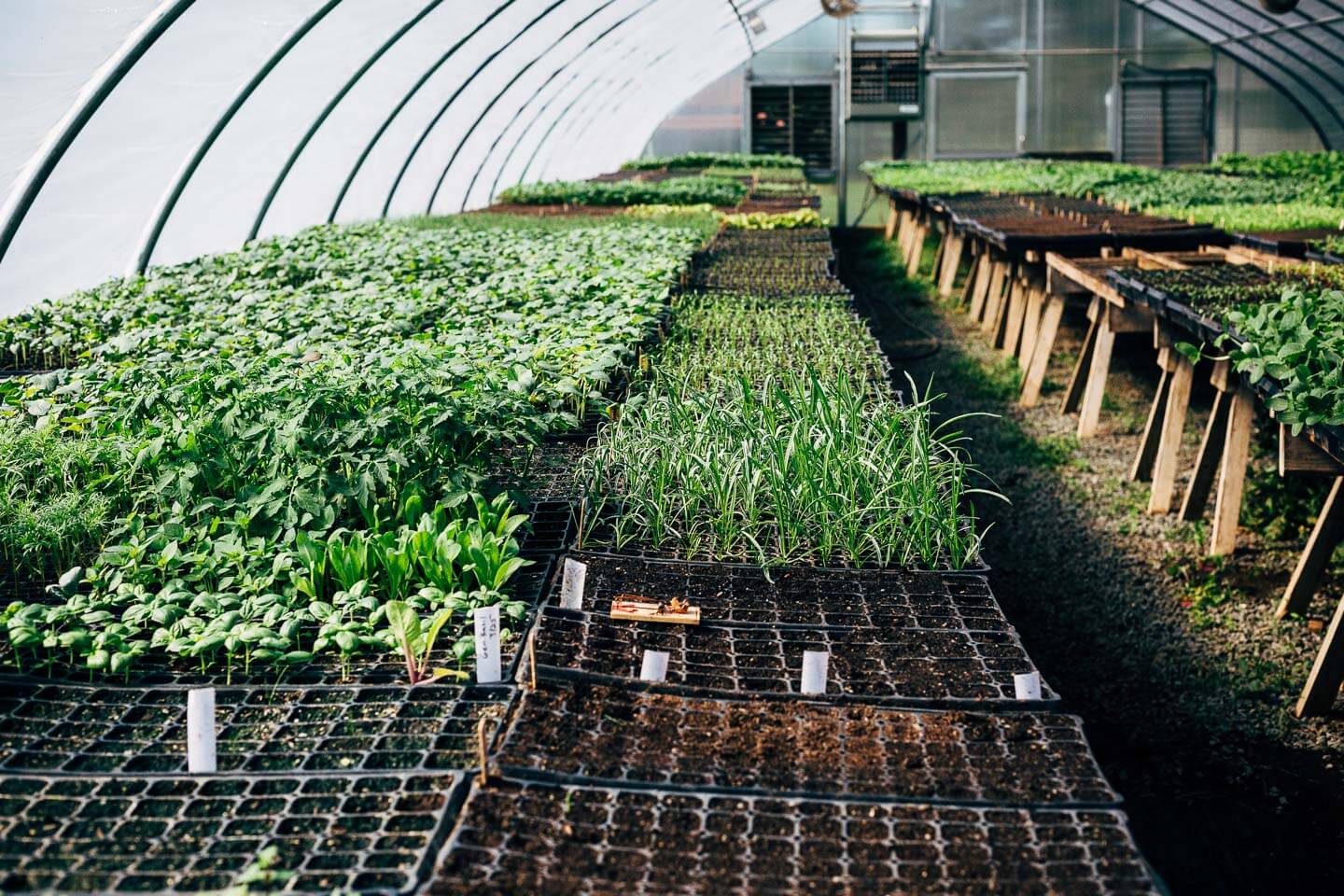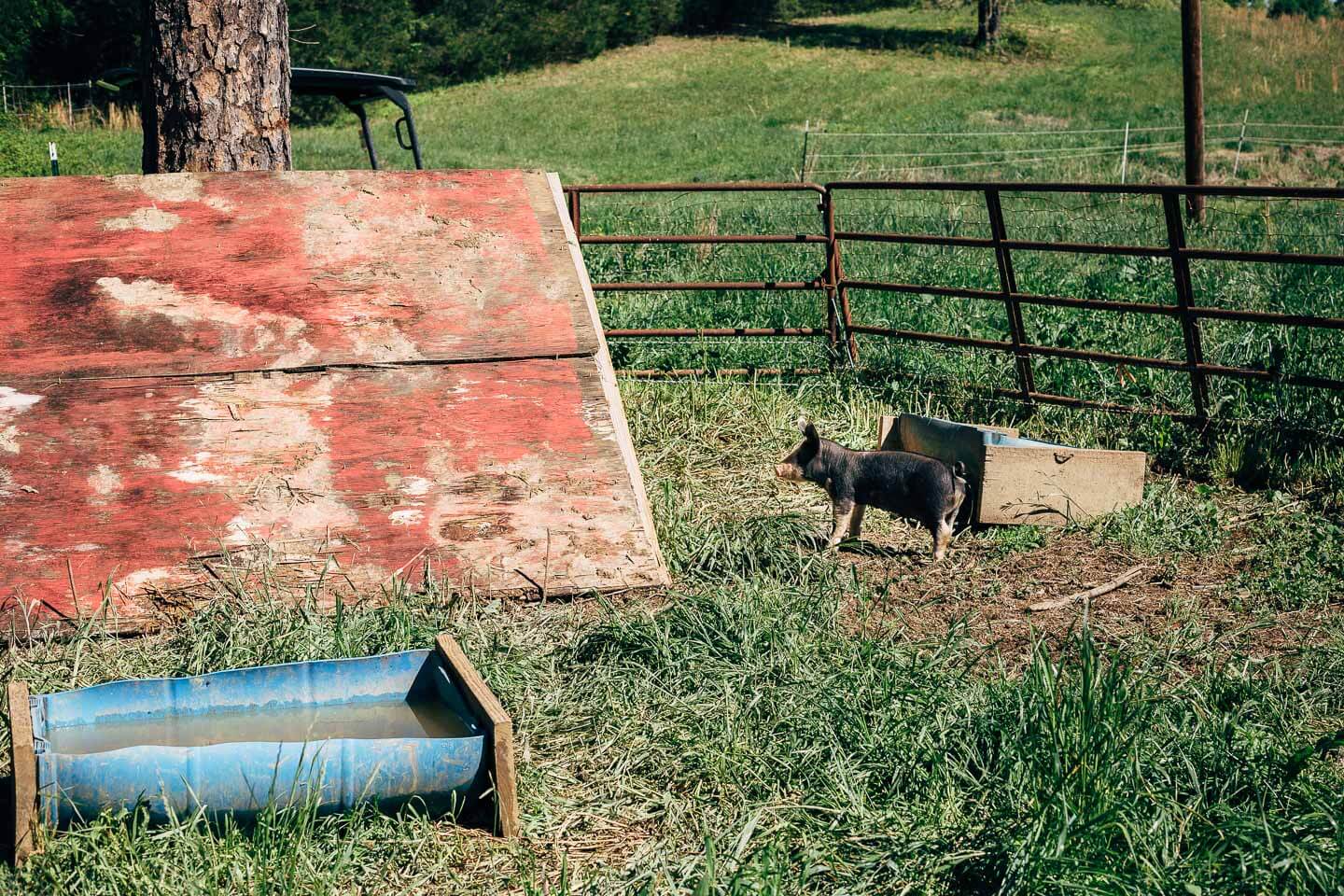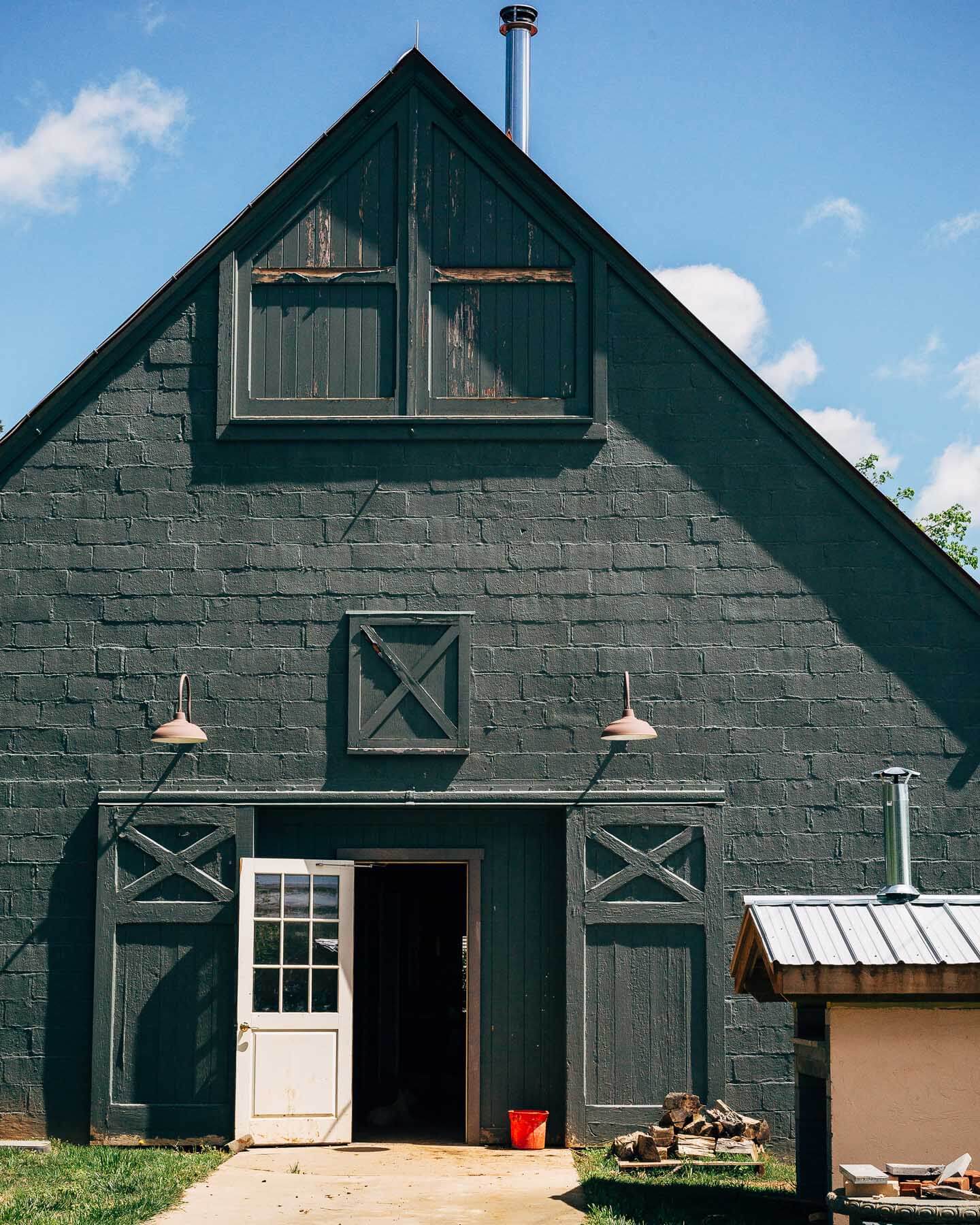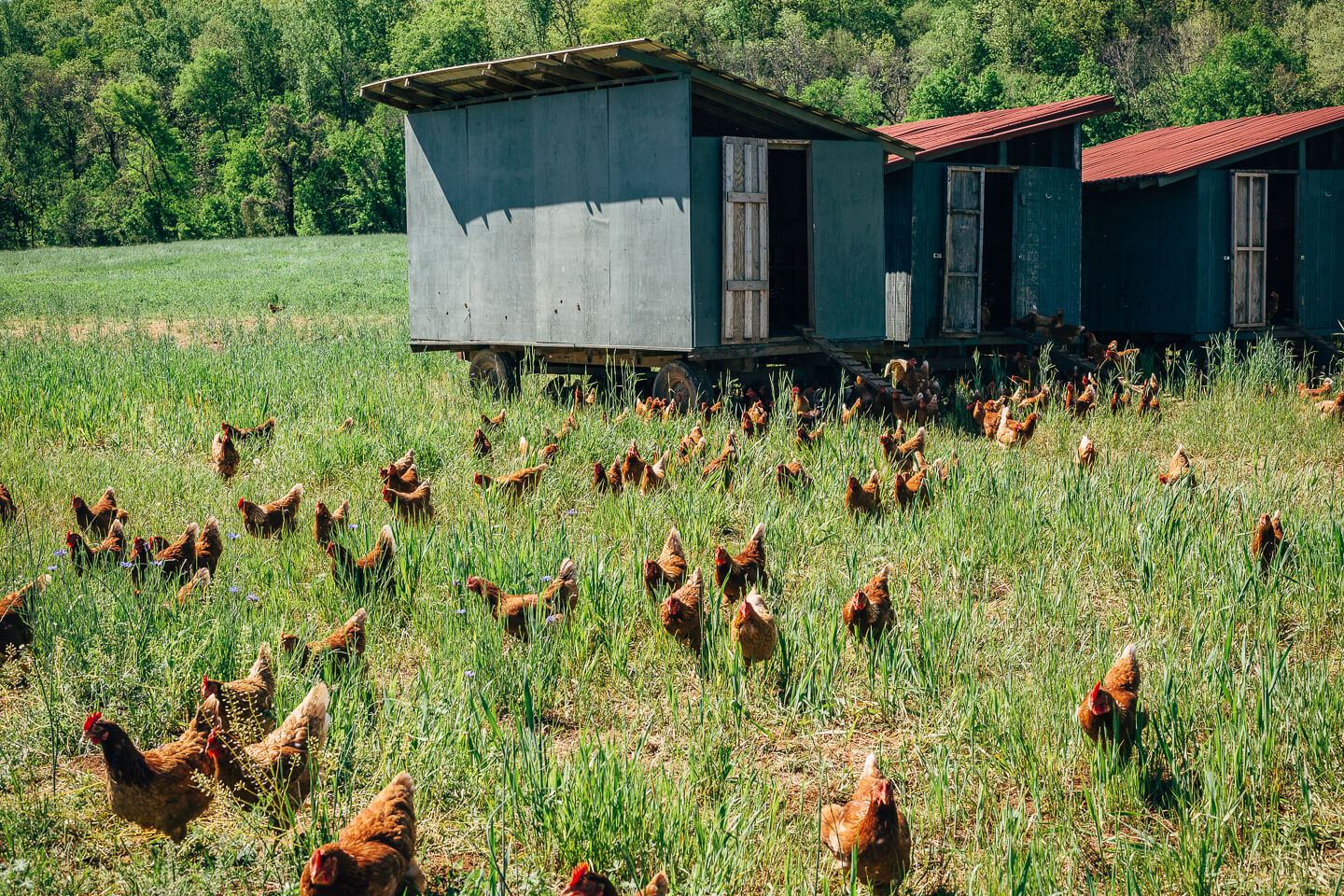 There's no doubt that I've arrived at this appreciation for vegetables both showy and homely because of CSAs like my current one, Bellair Farm. CSAs (Community Supported Agriculture) connect communities directly with farmers and enable members to purchase a weekly share of fresh, locally grown vegetables directly from the source. For the home cook, CSAs provide a weekly chance to look at everything the season has to offer and to learn to cook with new ingredients.
The Fresh Food Matters initiative shares this emphasis on strengthening communities, farms, and food systems. Healthy, fresh, local food not only nourishes our bodies, it fosters personal and economic connections with the people who grow our food. On the Fresh Food Matters site, you'll find inspiring stories of the producers and cooks who are reimagining our food systems as well as our approach to home cooking.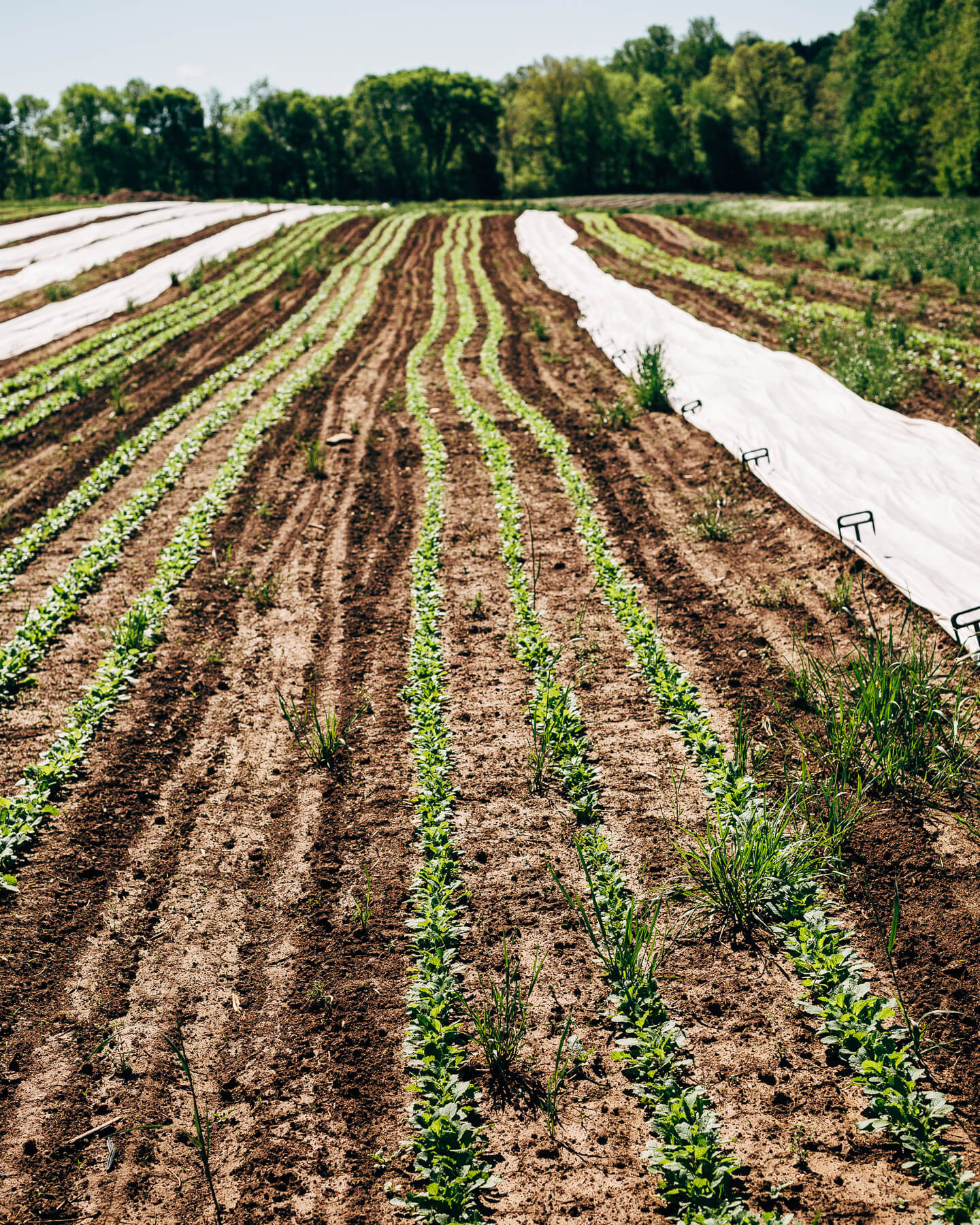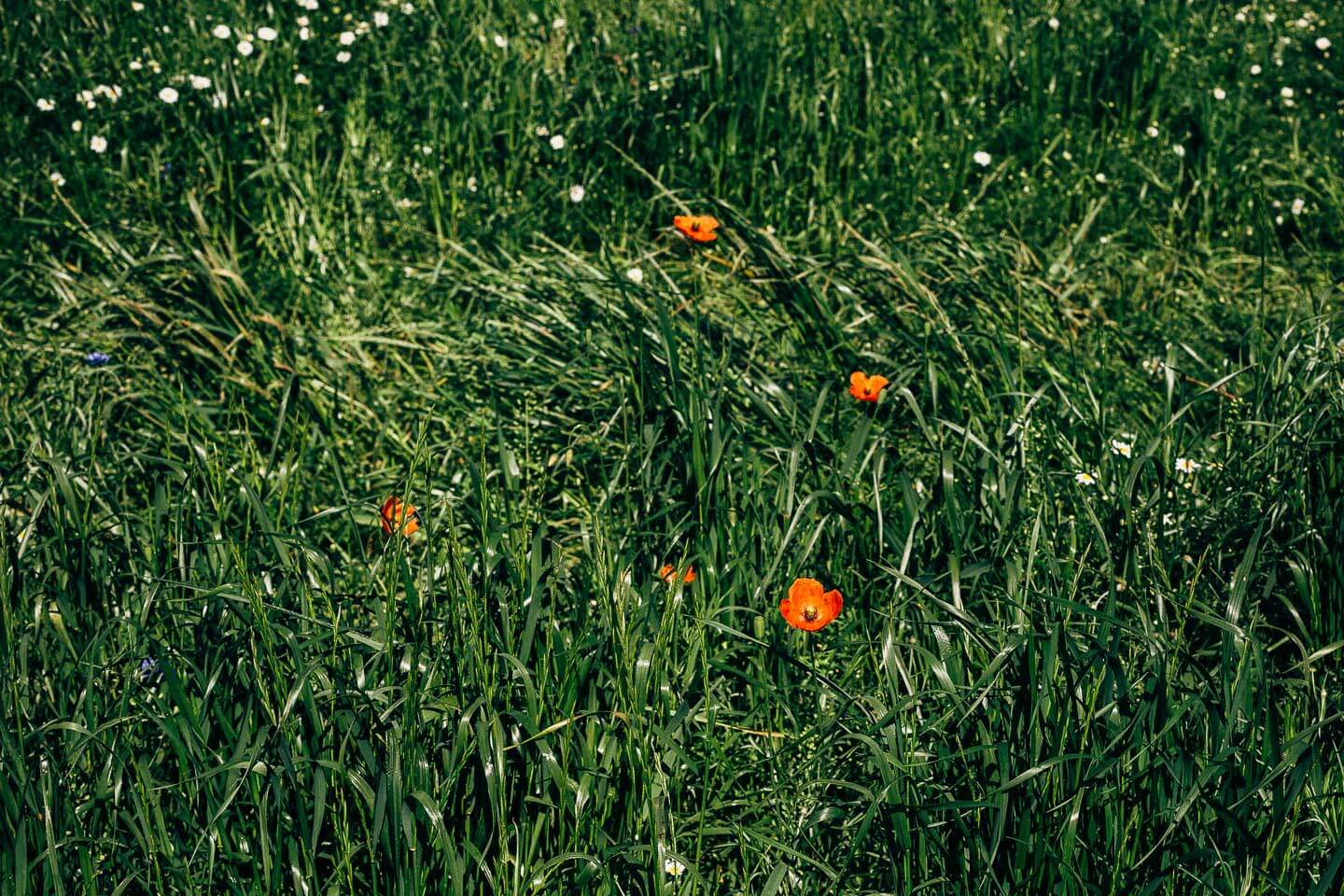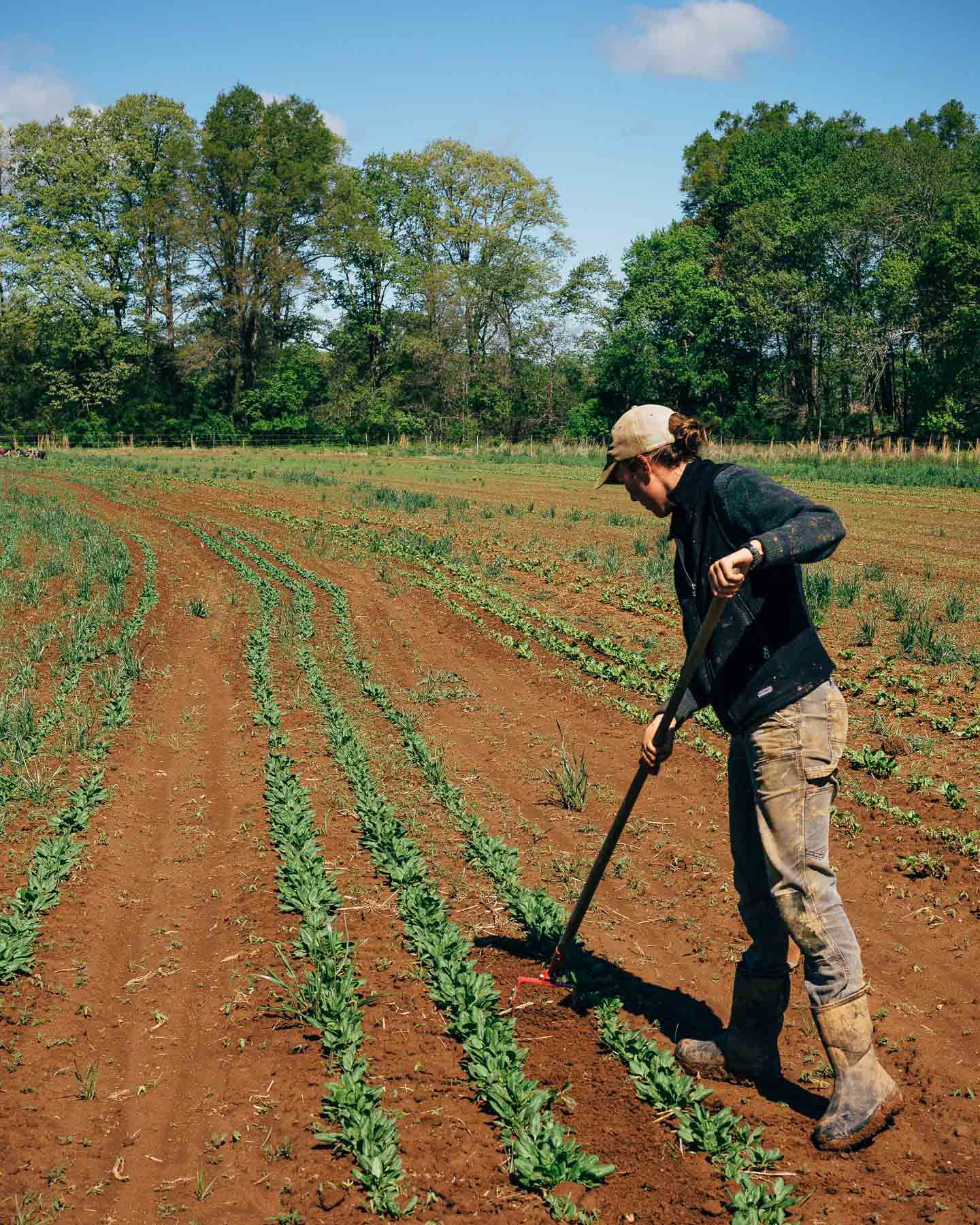 In the spirit of embracing CSAs and the vibrant ingredients they foster, I visited Bellair Farm last week, where farmers Michelle McKenzie and Jamie Barrett generously took the time to drive me along muddy farm roads to see the chickens, piglets (!), seedlings, and newly planted crops. Though I've spent plenty of time in the Bellair barn and pick-your-own fields, I'd never seen the fields where the majority of the vegetables are grown. Situated along the bank of the Hardware River, and just drying out from a much-needed deluge, the farm was beautiful with vivid green rows of plants interspersed with teeming wildflower meadows. In many ways, Bellair embodies the very best of what a CSA can be – not only is it a place for a community of hundreds to come together and enjoy fresh, certified organic ingredients, the farm itself is a sustainable refuge that makes wonderful use of the historic property and natural resources there.
As the CSA season gets underway, many farms still have shares available. Check out Local Harvest to find a CSA in your area. In New York City, Just Food is another great resource.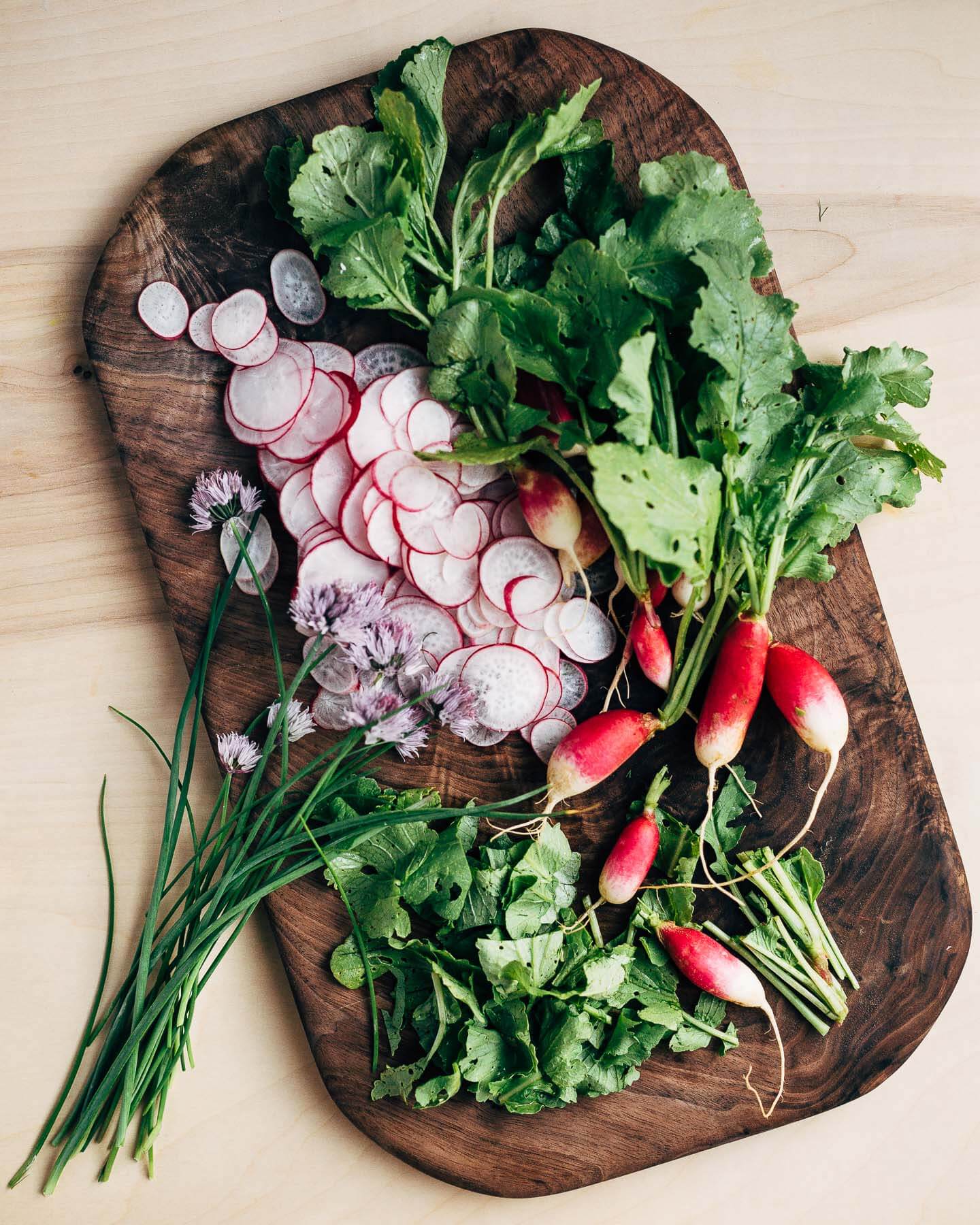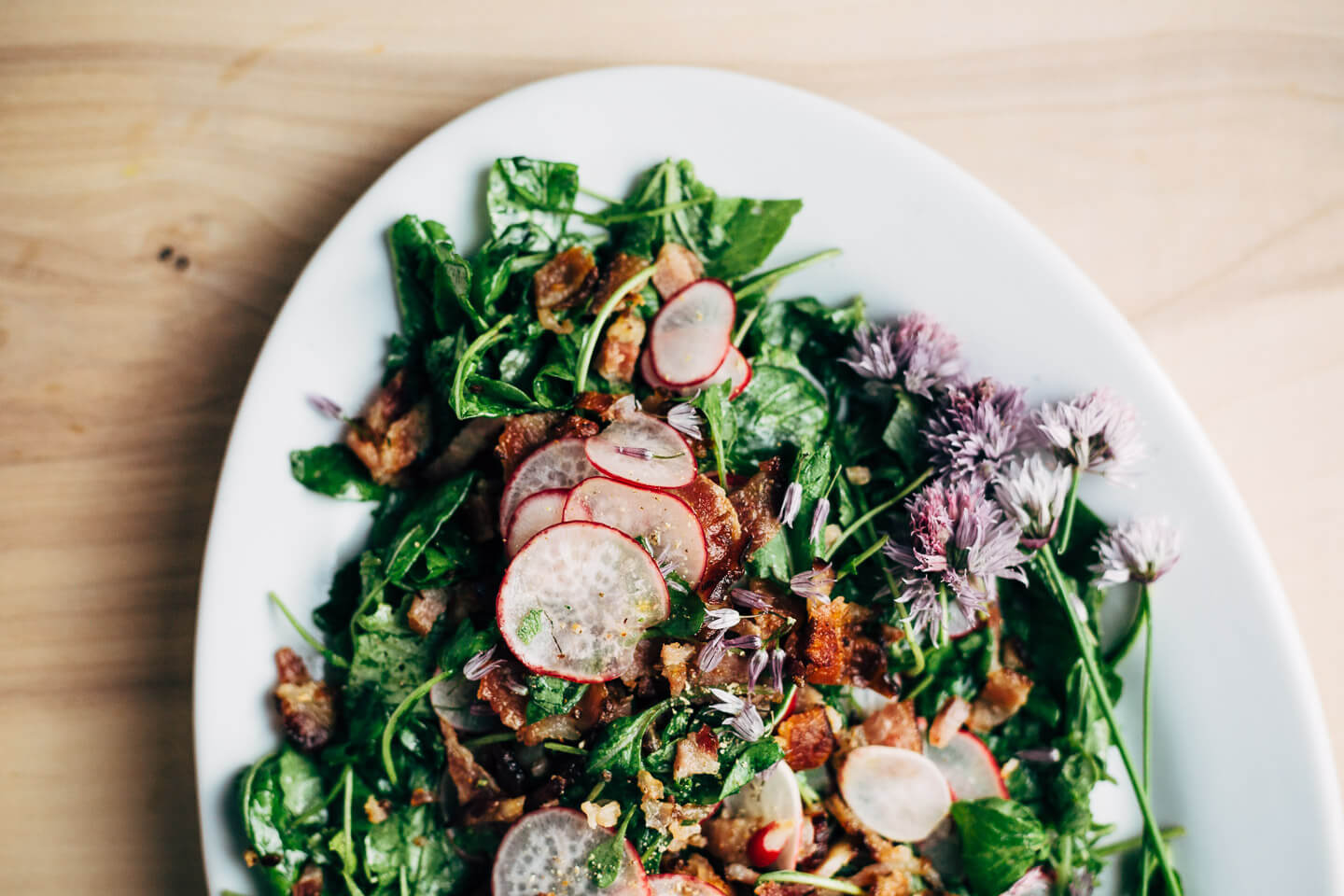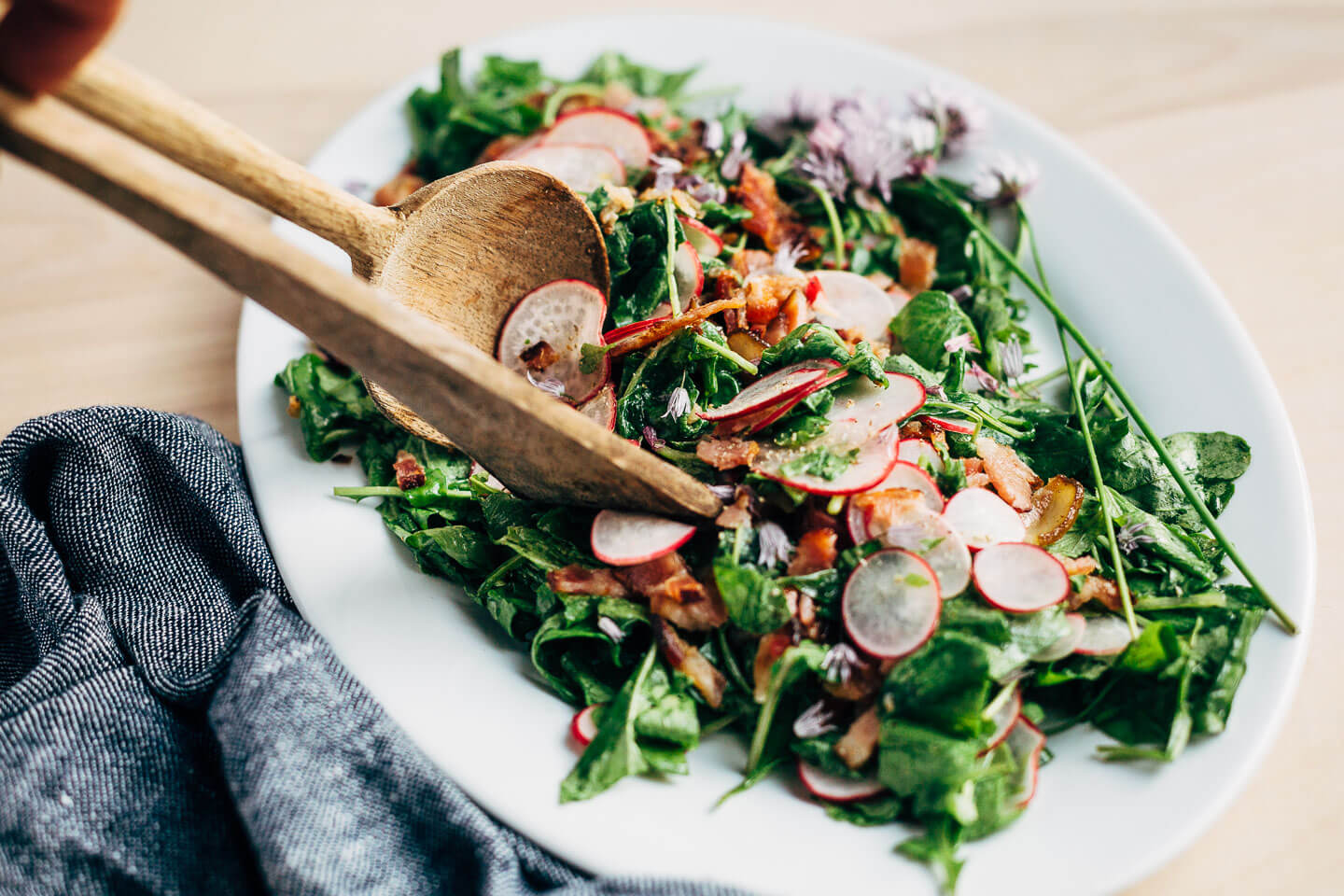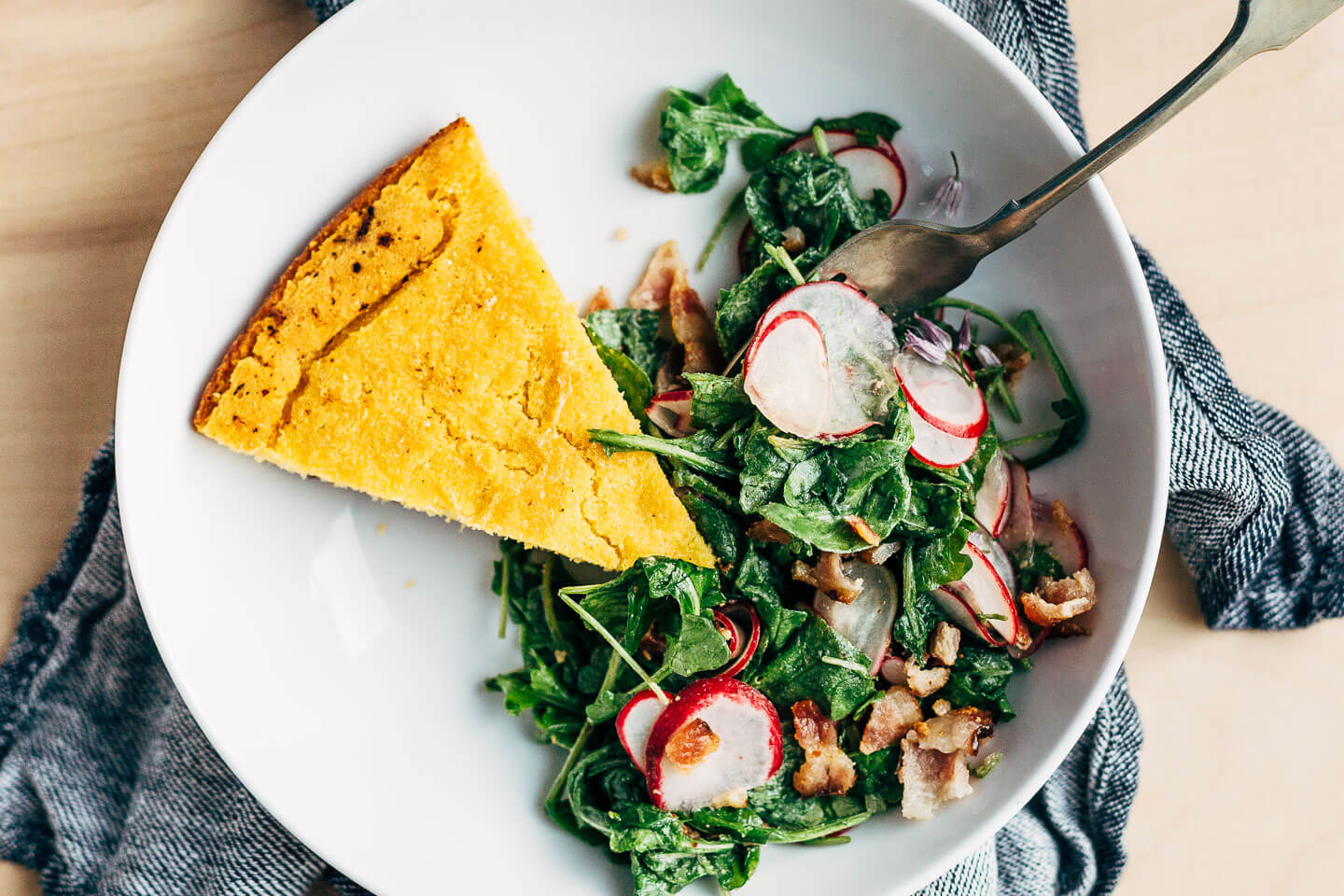 Once you've signed yourself up, you'll want to brush up on your cooking skills. Hardy greens are a mainstay of CSA shares, and I'm excited to share a recipe that can be made with any number of greens. Killed lettuce salads are a traditional Appalachian recipe that's made by dousing greens with hot bacon grease, thereby wilting or "killing" them. Killed lettuce can be made with leftover bacon grease if that's all you have on hand, though cooking a few strips and topping the salad with crispy bacon crumbles makes it special. To the traditional ingredients, I've added a mess of thinly sliced radishes and their greens, plus chives and blossoms from my own garden.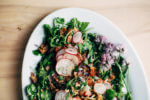 Killed Lettuce with Radishes and Chives
This is my take on the traditional Appalachian killed lettuce recipe (also known as kilt lettuce) from Ronni Lundy's Victuals. I've used tender arugula and radish greens here, but nearly any robust lettuce or tender leafy green will work. Likewise, spring alliums such as ramps, green garlic, garlic scapes, or green onions can be used in place of the chives. Killed lettuce can be served as a side, but with a hunk of unsweetened cornbread it's a meal in itself.
Ingredients
4

cups

arugula leaves

2

cups

radish greens

, chopped

6

radishes

, thinly sliced (preferably with a mandoline)

2

tablespoons

minced chives and 4 blossoms for garnish

5

strips bacon

(and the 1/4 cup bacon grease it yields)

2

tablespoons

apple cider vinegar

sea salt

fresh ground pepper
Instructions
Wash and prep the greens. Toss with radishes and chives, and set aside.

If using bacon, fry until crispy then remove to a plate and chop or crumble into bits. While bacon cooks, toss greens with apple cider vinegar.

Working quickly, toss salad with hot bacon grease, add sea salt and pepper to taste, and top with bacon crumbles and chive blossom petals. Serve immediately with warm cornbread.
Help share and inspire fresh thinking about food by using #FreshFoodMatters on Facebook and Twitter.