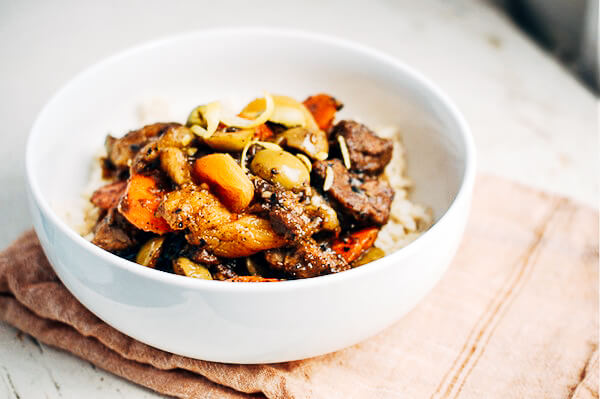 Tagines (and I mean the cooking vessel here, not the dish made therein) are the kind of cookware you come across in the store or on a friend's wedding registry and you picture yourself hosting a dinner party and setting a steaming stew in the tagine base in the center of your table and one of your friends asks "What's that?"
"Oh, that?" you say, "That is my tagine.
It's an earthenware pot for making stew from Morocco. We could use a Dutch oven of course, but we find the tagine just imparts a little of the flavor of the Sahara." And everyone nods in approval. In that way, buying a tagine is like registering for all the different kinds of wine glasses you imagine you'll need. Sure, it's nice imagining having a port glass, but the fact is, as you break them, you won't replace them and in the end, you and your guests will be drinking red wine out of an IKEA white wine glass like cavemen and you won't really mind because you never really needed all those wine glasses except in the dinner parties of your mind.
What I'm trying to say is: it's fine to make your tagine in a Dutch oven. Because unless your kitchen has enough storage that it's practical to store a really big, breakable dish that you can only use for making stew, you really shouldn't buy (or make your friends buy) a tagine. We made this lamb tagine in our Dutch oven for a friend's party and it turned out splendidly. What we lacked in Moroccan cookware, we made up for in Moroccan flavors like lamb, olives, apricots, preserved lemons, garlic, and spices, and it was fantastically received by all.
We love lamb tagine as a party dish because its rich flavors and delightful aroma go over so well with a crowd and the fact that the bulk of the work can be done the day before frees us up on the day of the event. Accordingly, this recipe serves 8-10. But it's also a great dish for four or two, just cut it down accordingly. We served over cous cous, but rice works equally well.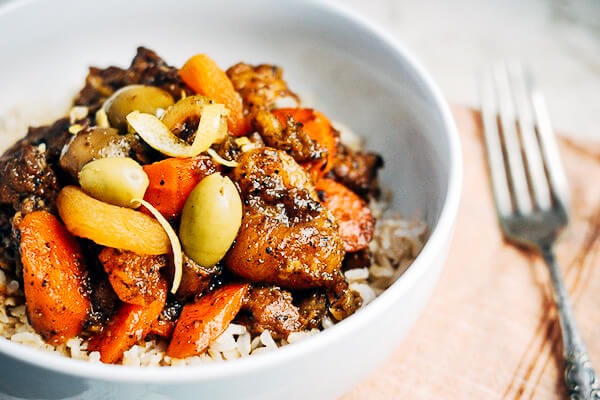 Lamb Tagine with Apricots and Olives (adapted from Cook's Illustrated)
serves 10
for the spice mixture
2 teaspoon cumin seed
2 teaspoon coriander seed
3/4 teaspoon cinnamon
3/4 teaspoon paprika
3/4 teaspoon ground ginger
pinch of red pepper flakes
Use a mortar and pestle or a grinder to grind the whole seeds, and then combine the all of the spices and set aside.


for the stew
1 tablespoon neutral oil
3 1/2 pounds of lamb shoulder, fat trimmed and cut into 2 inch chunks
1 preserved lemon, minced (or minced zest strips from half a lemon)
5 cloves garlic, smashed and minced
1 yellow onion, diced
2 cups chicken stock
1 tablespoon honey
4 carrots, peeled and cut on the bias into 1/2 inch coins
1 cup dried apricots, halved
1 cup pitted green olives, halved
sea salt and pepper to taste
cilantro or lemon zest strips for garnish (optional)
Combine half of the preserved lemon with half of the garlic cloves, and smash into a paste. Set aside.
Sprinkle the lamb generously on both sides with sea salt and pepper. Heat the oil in a large Dutch oven or other heavy-bottomed pot over medium-high heat. Add the lamb, and sear the pieces on each side, cooking for a total of 8 – 10 minutes. Remove lamb to a small bowl and set aside.
Add the onion and the remaining lemon to the Dutch oven, and cook until the onions have browned, about 5 minutes. Add remaining garlic and cook for 1 minute more. Add the spice mixture, and, stirring constantly, cook for 1 minute more. Add broth and honey, stirring and scraping up any brown bits. Add the lamb back to the pot, bring liquid to a boil, and them turn heat to low, cover pot, and simmer for 3 hours, or until the lamb is tender and falling apart. As with all braises, the longer this stews, the better. If liquid levels dip while cooking, add a little more broth or water.
Once you lamb has attained optimal tenderness, add the carrots, apricots, and olives, recover pot, and cook for another 15 minutes. Fold in the prepared preserved lemon and garlic paste. Check salt and spice levels, and adjust as needed.
Serve the hot stew over cous cous or rice with a garnish of minced cilantro or lemon zest strips.
SaveSave