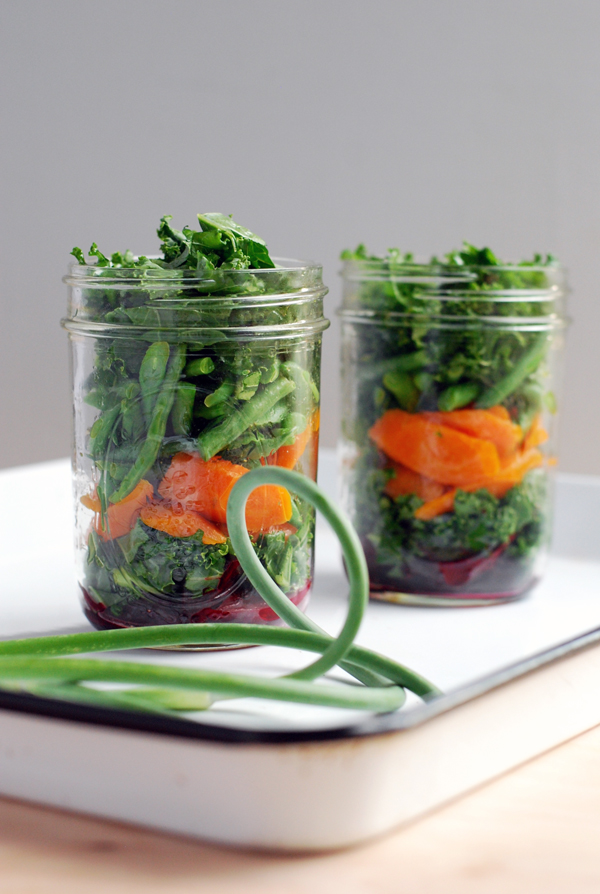 This post is sponsored by SmartyPants Vitamins. Thank you for supporting Brooklyn Supper's sponsors!
After years of growing summer foods in containers, I've been a little taken aback at the amount of time it takes to properly care for a real garden in Virginia in mid-July. This weekend, my diligence slipped a bit and we got the first woody green beans and one way-too-giant zucchini. The difference between a tender vegetable and an overgrown one feels like 5 minutes. And what began as a nice handful of this or that a few weeks ago, is now filling a pint (or even a quart) basket daily. It's overwhelming and wonderful all at the same time.
No matter what kind of stress or to-dos are swirling, it's a good time to remember that a basket of vegetables picked right from the yard is among life's greatest pleasures. Of course, said vegetables can't be ignored once inside the house. Prepping, chopping, blanching, and storing all this good stuff is part of the deal. Right now, we're swimming in the abundance and have been cooking up dinners with mismatched salads and small veg-centered sides. We feel our way through meal prep, combining things we've picked up at the market, CSA goodies, and a bit of the stuff we grew ourselves.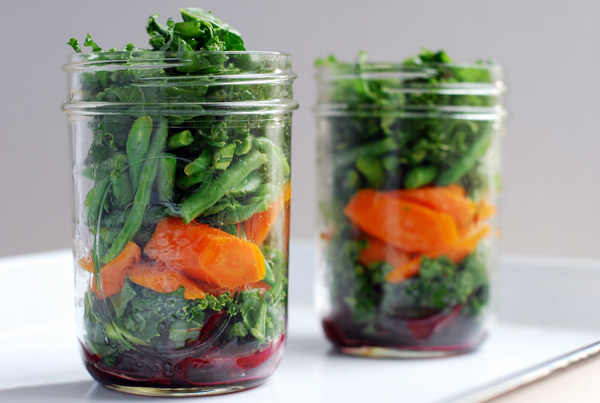 For this post, we're glad to be working with SmartyPants Vitamins who put as much care into creating their vitamins as we put into preparing our food. Capturing nutrients from the very best sources, including third-party certified sustainable fish and carefully sourced vitamins and minerals, in many ways mirrors the way we eat – fresh, good food at its peak.
Inspired by the fresh ingredients in SmartyPants Vitamins, we made these colorful salads packed into jars. They're totally portable and therefore perfect for taking to work, on picnics, or just having at the ready for a quick (healthy) bite. The layers keep each ingredient just right (no soggy vegetables here!) and these Mason jar salads are a great way to sock away bunches of fresh produce for easy eating down the line.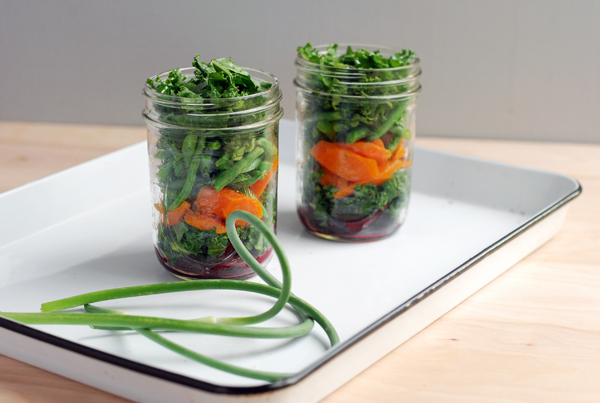 Kale, Beet, Green Bean, and Carrot Salad in a Jar with Garlic Scape Maple Soy Vinaigrette

makes two pint jars of salad
Aside from the garlic scapes, these ingredients are widely available for much of the year. Once scape season has passed, try subbing in hardneck garlic, ramps, leeks, or onions for a nice punch of flavor. You'll want to adjust the sauté time for more delicate alliums like ramps.
for the dressing
1/4 cup extra virgin olive oil
4 garlic scapes, cut into 1/2-inch segments
2 tablespoons fresh squeezed lemon juice
1 teaspoon maple syrup
1 teaspoon tamari or soy sauce
1/2 teaspoon white wine vinegar
1/4 teaspoon sea salt
Heat a small skillet over medium heat. Add the olive oil. When hot, toss in the garlic scapes and sea salt. Cook for 1 – 2 minutes, or until the edges of the scapes tinge brown, and then edge heat down to low. Cook for another 8 minutes. Remove from heat and set aside to cool.
Scrape the scapes and olive oil into a small bowl. Whisk in the remaining ingredients.
for the salad
1 cup green beans, ends trimmed
3 – 4 small carrots, peeled, trimmed, and cut diagonally into 1/2-inch slices
1 bunch small beets, peeled, trimmed, and quartered
2 cups chopped kale
sea salt
Fill a saucepan with water and bring to a boil. Add a generous amount of sea salt (about 1 teaspoon). Blanche the green beans for one minute. Use a slotted spoon to remove from boiling water, and then dip briefly in ice-cold water. Dry beans and set aside. In the same boiling water, blanche the carrots for two minutes, remove from boiling water, and immerse in ice water. Blot carrots dry and set aside. Finally, blanche the beets for 2 – 3 minutes, or just until tender, dip in cold water, blot dry, and set aside.
In a medium bowl, pour half the dressing along with a pinch of sea salt over the kale. Use your fingers to rub dressing into the leaves.
Set each cooked vegetable in a small bowl. Drizzle each with a bit of dressing and a pinch of sea salt.
Set out two clean wide-mouthed pint jars. Dived the beets, and place at the bottom of each jar. Next, add a thin layer of kale (just enough to isolate the beets), followed by a layer of carrots, and a layer of green beans. Top each jar off with the remaining kale, pressing down a bit to fit more in.
Seal jars, and set in fridge. Salads should keep well for up to three days. To serve, simply tip salad out into a bowl.