A classic raw kale salad with lemon and Parmesan.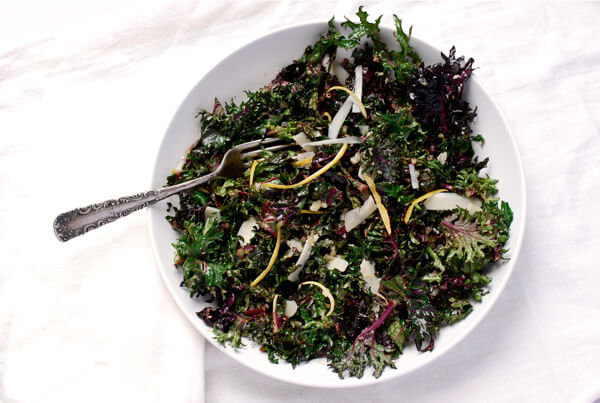 This weekend I had a lesson about the things food cannot do. Sometimes, no matter how many pancakes, or sweet apples, or pieces of homemade fried chicken and coconut pie there are, things are going to go off the rails. Tired and cranky can trump even the crispiest breading, even the flakiest dough. Sometimes, kids are gonna be kids and there's nothing you can do about it.
By Monday, I was a little shell-shocked and needed some kitchen solace and a healthy meal. In my fridge was a bag of kale. Not just any kale, mind you. It was local kale. From a farm. Grown outside even. In other words, however modest, the very first spring produce is here. Eyeing the tiny purple leaves, I realized I've never shared one of my favorite salads here, even though I make it all the time. So here it is, a classic, lemony raw kale salad to highlight the tender first leaves of the season, flecked with zest and nutty Parmesan shavings.
You can use any kind of kale in this salad, but it's important to know your leaves. For larger, tougher leaves, remove the stems and cut the kale into thinner ribbons and allow the dressing the marinate with leaves longer. For tender leaves, go easy on the dressing and salt, adding more only as needed.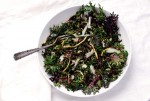 Lemon Parmesan Raw Kale Salad
A classic raw kale salad with lemon and Parmesan. 
Makes
:
2
generous servings
Ingredients
5

cups

kale leaves or 1 bunch

(I used the Red Russian variety, but any kind will do)

3

tablespoons

olive oil

Grated zest of 1 lemon with a 2-inch section reserved, plus 2 tablespoons juice

1/4 - 1/2

teaspoon

sea salt

2

tablespoons

prepared horseradish

1/3

cup

shaved Parmesan
Instructions
Wash and thoroughly dry the kale. For small, tender leaves, just rough chop it a bit, while for tougher leaves remove the woody stems and cut into thin ribbons.

In a small bowl, whisk lemon juice into olive oil. Add 1/4 teaspoon of sea salt, the prepared horseradish, and all but the reserved strip of lemon zest. Whisk until the dressing is nicely emulsified.

Pour about half the dressing onto the kale leaves, and massage into the leaves with your finger tips. Wait a minute or two, taste, and add dressing or salt as needed.

Before serving, slice reserved zest into thin slivers. Add zest and Parmesan shavings (I use a vegetable peeler for mine) to the salad and toss.

This salad keep surprisingly well in the fridge for a few days and makes an excellent addition to your brown bag lunch.