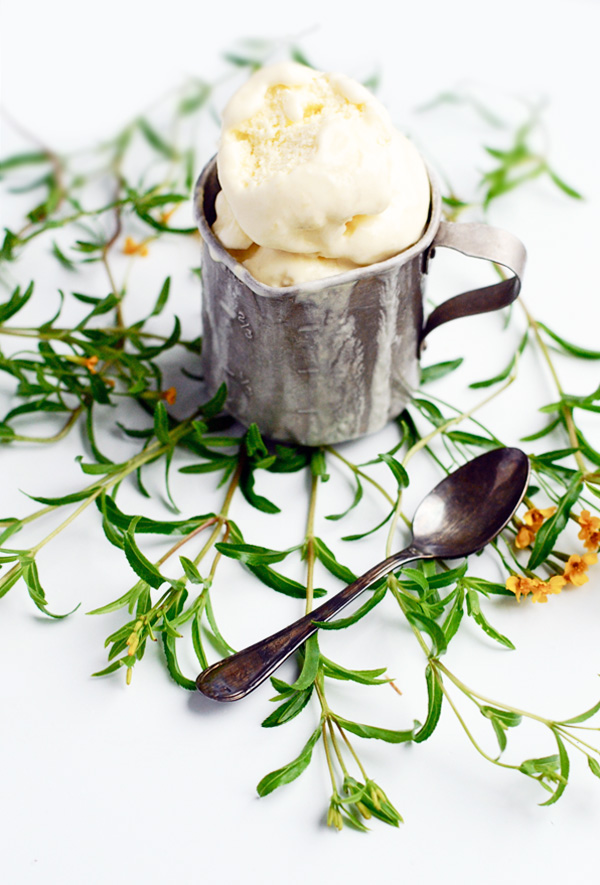 Even though it's likely to survive, this dented tin cup is one of the things I would grab in a fire. It belonged to my mom when she was a girl, and that, coupled with it's supreme utility, makes it one of my favorite household objects. Whenever I use it, I like to think of all the hands and mouths in my family that have used it too. The cool gray patina, the dinged up bottom, and its one cup capacity, all make it special. An unlikely heirloom, but treasured nonetheless.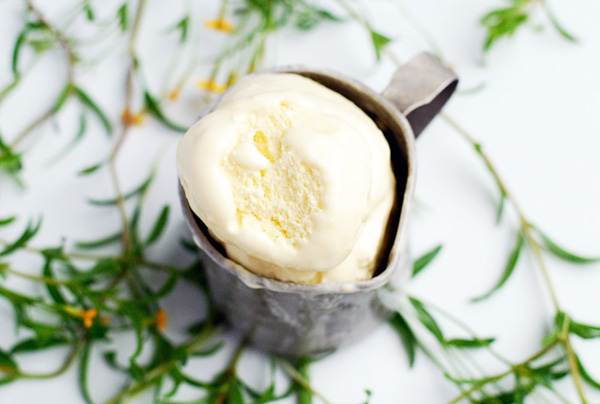 Like the cup, this ice cream feels like a bridge to the past with an old-fashioned ingredient like buttermilk and a straight-from-the-garden flavor like lemon verbena. Those two tangy tastes might seem like a little much when combined, but for me, there's really no such thing as "too tangy." Besides, this flavor profile was based closely on this buttermilk bay ice cream, and since that was one of my favorite flavors ever, I knew I was on to something.
This particular batch was made to accompany my birthday peach pie and was part of our backyard dinner party, along with this peach shrub, this lowcountry crab boil, and the pièce de résistance, this peach slab pie. Lemon verbena brought just the right sweet tang to the buttermilk, and gave it a nice buttery hue. The ice cream was creamy and bright, but understated. My six year old daughter was not a fan, though the toddler liked it just fine, thankyouverymuch. If you need a quietly special, not-too-sweet ice cream, particularly one for a supporting dessert role, this is it.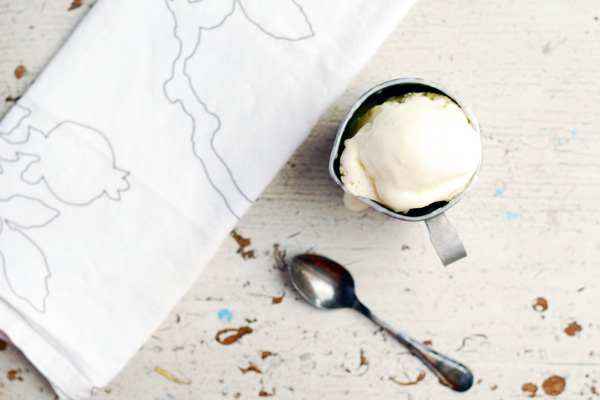 Lemon Verbena Buttermilk Ice Cream
makes one and a half quarts
2 cups heavy cream
3/4 cup turbinado sugar
6 egg yolks
1/4 teaspoon sea salt
8 sprigs fresh lemon verbena
2 cups fresh buttermilk
In a large saucepan, combine the cream, salt, and a 1/2 cup of the sugar. Cook over medium-low heat, stirring gently, until the cream just starts to steam. Off the heat, stir in the lemon verbena sprigs, and steep for 10 or more minutes.
In the meantime, separate out your egg yolks (reserve the whites for omelets or meringue) and, in a medium-sized bowl, whisk with the remaining 1/4 cup of sugar. Set aside.
Remove the lemon verbena sprigs from the cream mixture, and reheat over medium-low heat until everything is starting to steam and small bubbles form along the edge. Whisk a quarter cup of cream into the yolks, and then add several more scoops of warm cream to temper the yolks before you add then to the cream. When the yolks are warm, slowly whisk them into the hot cream mixture. Continue cooking the cream mixture over low heat for five minutes, or until it thickens enough to coat the back of a wooden spoon. If your egg tempering resulted in any chunks, or if you're an ice cream purist, you can strain the mixture through a mesh sieve. (I am a lazy sort, and wouldn't think of dirtying my strainer unless I absolutely had to.)
Remove from heat, stir in the buttermilk, and chill in the fridge for three hours. If you're in a hurry, set the bowl of custard over an ice bath and it will chill in an hour.
Process ice cream according to your ice cream maker's instructions, spoon into storage containers (I use covered glass loaf dishes) and then cure in the back of the freezer for at least three hours. Serve with an herb garnish, or maybe a slice of fruit pie.