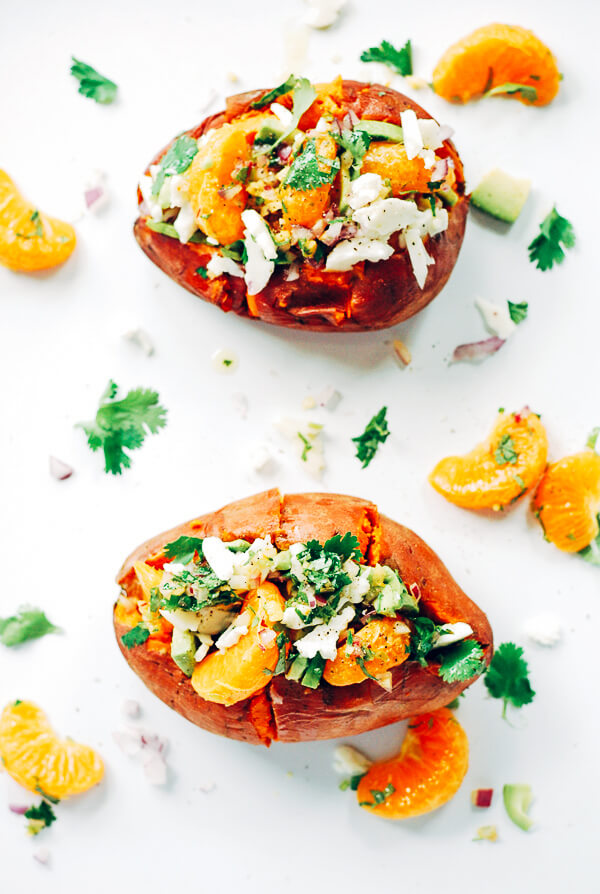 Decadent yet healthy loaded sweet potatoes topped with tangelos, avocado, and haloumi, and drizzled with a tangy ginger-citrus vinaigrette. This post is sponsored by Knowledge Universe. Jump to recipe. 
Every week there's a night where my deadlines combined with Brian's work and an avalanche of homework or playdates or projects converge, and we don't make it to the kitchen. Pizza is the easiest food to procure in a pinch, but we change things up by adding sushi or Mexican food to the mix. Recently, in a moment of rare lucidity, Brian and I discussed how much better it would be if we just planned to eat out once a week, instead of making the same desperate decision each Wednesday night at 6pm. We know there's going to be a night when things are just too hectic, so why not plan for it and take away some of the stress and guilt involved?
A pizza confession may be an unusual way to begin a post about healthier families, but I think it raises an essential point: no parent is perfect. Though we do our best to sit down to a healthy family dinner every night, sometimes, it's just not possible. And whether we face a night of missteps or a week of them (hey, it happens), we just have to do our best to jump back in wherever we left off, and keep giving things our all.
It's also important to note that the rules for what make your family healthy are entirely individual, based on everything from allergies to activity levels. For us, daily trips to the playground, brown bag lunches, and family dinners are the rules we try to stick to. On the weekends, we try to fit in an long outing or just a family walk. Recently, Brian and I have decided to really limit sweets, so we've reserved Friday nights as dessert night and skip it the rest of the week. But for each of our goals there are exceptions that pop up regularly, so maintaing flexibility, or just an understanding that doing our best is sometimes all we've got, is important to our parenting philosophy.
You were all so wonderful in this post about food waste and I'd really love to hear your tips, tricks, and struggles in keeping your own family healthy. If you're looking to build on your momentum or get kids more involved in some of the decisions that go into healthy living, try this handy health Goals Tracker from Grow Happy. It's brimming with simple, do-able ideas for making each day a little healthier for everyone in your family one step at a time.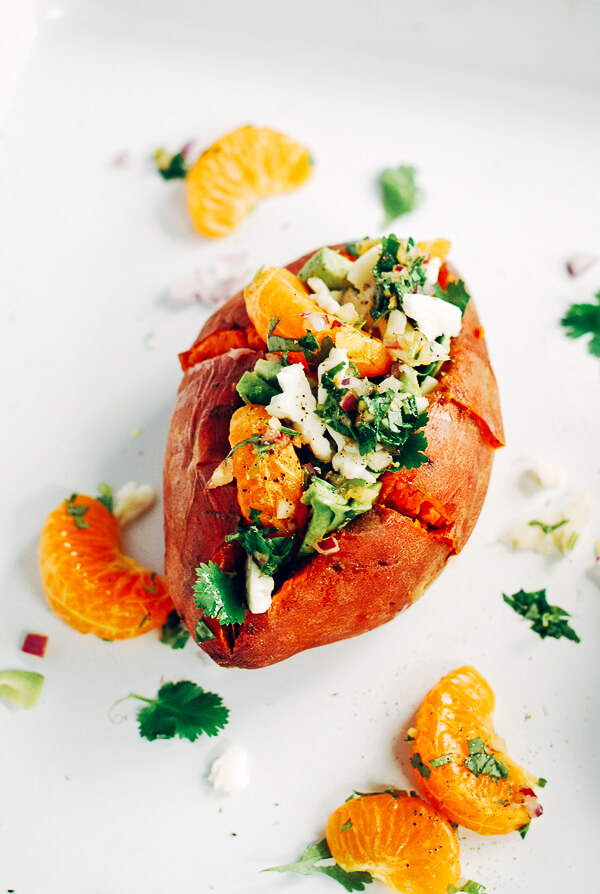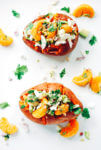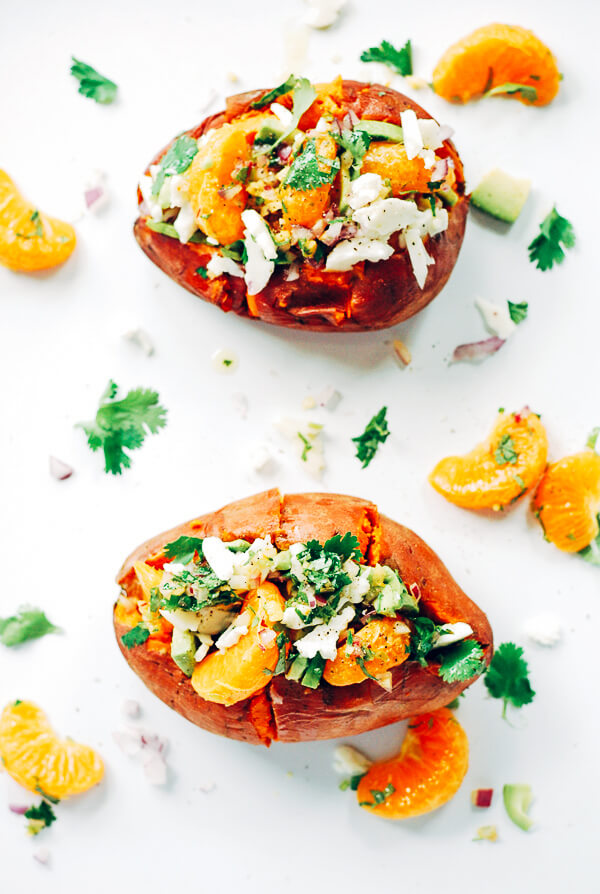 Loaded Sweet Potatoes with Ginger Citrus Vinaigrette, Tangelos, and Haloumi
Decadent yet healthy loaded sweet potatoes topped with tangelos, avocado, and haloumi, and drizzled with ginger-citrus vinaigrette.
Ingredients
Sweet Potatoes
4

garnet sweet potatoes, 6-inches long

(also called garnet yams)
Ginger Citrus Vinaigrette
2

tablespoons

apple cider vinegar

2

tablespoons

minced red onion

1

tablespoon

lime juice

1

tablespoon

citrus zest

(lime, tangelo, or whatever you have on hand)

1

tablespoon

minced cilantro

1

teaspoon

minced fresh ginger

1/4

teaspoon

sea salt

1/4

teaspoon

ground cayenne

(optional)

3

tablespoons

extra virgin olive oil
Toppings
sea salt and pepper

, to taste

2

tangelos

, peeled and broken into segments

2

avocados

, peeled, pitted, and chopped

1/2

red onion

, minced

1/4

cup

fresh cilantro leaves

1/2

cup

haloumi

, crumbled (optional)

lime wedges
Instructions
Preheat oven to 400 degrees F.

Wash sweet potatoes well, dry, and then poke all over with a fork. Wrap tightly with aluminum foil and set on a rimmed baking sheet. Bake 50 - 60 minutes or until sweet potatoes are fork tender.

To make dressing, whisking constantly, add each ingredient one at a time.

Set each roasted sweet potato on a plateWith a sharp knife, cut a slit down the center. Sprinkle with sea salt and pepper. Drizzle with vinaigrette. Pile on your preferred toppings and finish with 1 - 2 teaspoons more vinaigrette and a squeeze of lime. Serve immediately.
This post is sponsored by Knowledge Universe. Thanks for supporting Brooklyn Supper's sponsors!
SaveSave
SaveSave
SaveSave