A Lowcountry boil recipe that feeds a crowd! With andouille sausage, blue crab, shrimp and a mess of vegetables, this dish has something for everyone.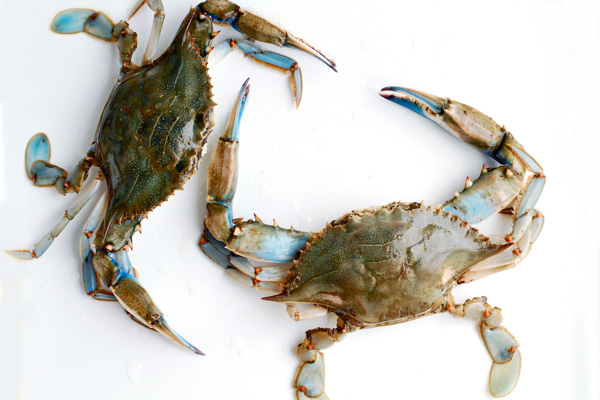 Blue crabs are serious business in Virginia. I spent my high school years in Spotsylvania County, which is not on the Chesapeake, but is close enough to boast a few crab shacks and quite a few roadside vendors who do a brisk business. So, while I've eaten plenty of crabs, mostly steamed, it's mainly been as a guest rather than a host. When we decided to make crabs for Elizabeth's birthday party, I was simultaneously excited about taking on something new and a little gun-shy, haunted by the memory of a Lobster that Would Not Die a few summers ago. But, since all household tasks involving killing creatures larger than flies fall within my purview, I took a drink and got to work.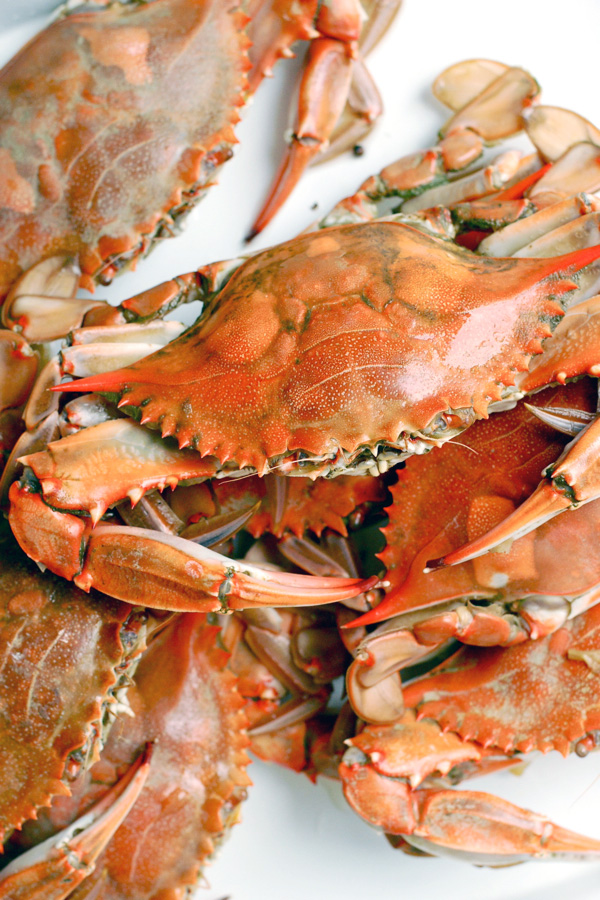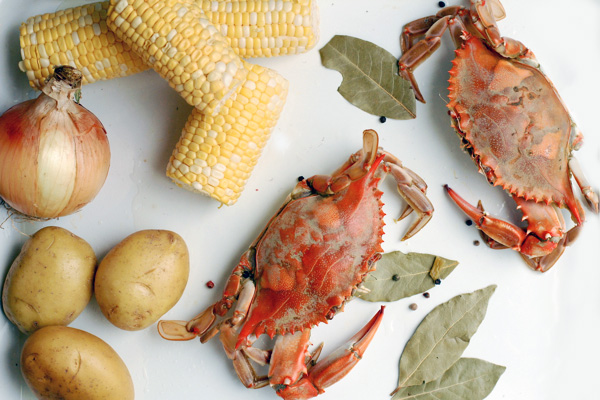 Although steaming is the way crabs are normally dealt with in Virginia, we decided to go with a Lowcountry boil (also known as a crab boil or Frogmore stew), a dish from South Carolina that includes (at least as we made it) crabs, shrimp, sausage, potatoes, and corn all in one pot and is served dumped out on craft paper or newspaper. One large pot and an unfussy presentation appealed to us since we were cooking for sixteen. As we sat under the stars picking crabs and shrimp, drinking and laughing without any thought at all of the mugginess or mosquito bites, I knew we'd made the right choice.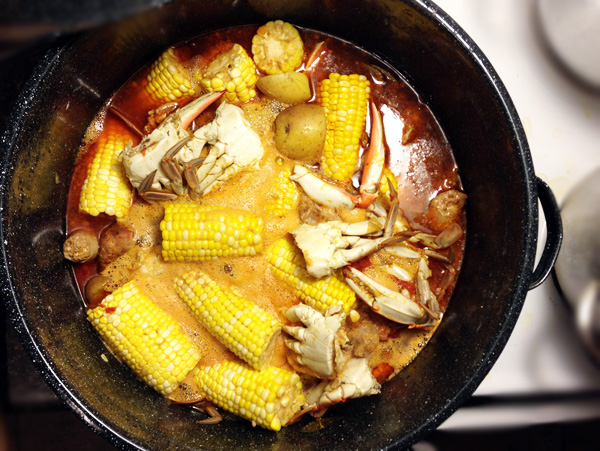 For other comestibles from Elizabeth's birthday dinner party, check out this peach shrub and this peach slab pie.
For ease, I recommend you make this recipe in two parts, preparing the sausage and broth the night before, and add the seafood and vegetables day-of. For your own peace of mind, it's a good idea to source your shellfish from great sellers, and make sure all of your crabs are alive and kicking before you cook them.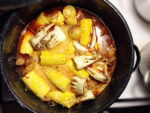 Lowcountry Boil
A Lowcountry boil recipe that feeds a crowd! With andouille sausage, blue crab, shrimp and a mess of vegetables, this dish has something for everyone.
Ingredients
1

tablespoon

olive oil

3

pounds

andouille sausage,

cut diagonally into 2-inch slices

4

serrano chilies,

halved with stem and seeds removed

6

stalks celery,

chopped

4

large yellow onions,

chopped

4

quarts

seafood stock,

chicken stock will do

2

tablespoons

sea salt,

plus more to taste

8

bay leaves

1

teaspoon

Old Bay seasoning

1

teaspoon

ground cayenne pepper

1

teaspoon

fresh ground black pepper

½

teaspoon

celery seed

12

live blue crabs

3

pounds

medium-sized Yukon Gold potatoes,

scrubbed and quartered

6

ears corn,

shucked, trimmed, and halved

2

quarts

canned whole peeled tomatoes

4

pounds

shell-on

headless, deveined shrimp

½

cup

apple cider vinegar

2

lemons,

cut into slices
Instructions
For this stew, you'll need a 16 quart stock pot at the ready.

Heat the 16 quart pot over medium-high heat. Add olive oil, and when it's hot, add sausage. Sear sausage on each side for about 3 minutes. Remove cooked sausage to a bowl, cover, and set in fridge.

With heat still on, add chilies and cook for about 1 minute. Next, add onions and celery; cook until onion is soft and translucent, about 6 minutes.

Add 2 cups of broth to pot and use a large wooden spoon to stir and loosen the brown bits from bottom of the pot. Next, add sea salt, spices, and all remaining stock. Bring stew to a boil, and then turn heat to low and simmer 20 minutes. If making stew the night before, off the heat, cool for a few minutes, and carefully set pot (on top of lots of hot pads) in the fridge.

The next day, set out your pot and bring stew to a boil. While it comes up to temperature, rinse crabs under running water (they're pretty muddy). If any have died in transport, discard.

Once water is boiling, add crabs 2 at a time to the pot, submerging them immediately, and cook until they are red, about 2 - 3 minutes. Then remove each pair and cook the next two until you've cooked all twelve. Set cooked crabs on a large rimmed baking sheet. Once the crabs have cooked, edge heat down to medium high.

When crabs are cool enough to handle, flip them so they are bottom side up and find the part of their undershell that looks like a tab. Pull this back and pry top shell off.

Clean away feathery gills and discard. Using cleaver or kitchen knife, cut off the eyes and mouth of the crab, then cut them in half down the middle. Throw both halves into the stew, adding each crab as it's ready.

With heat still on medium-high, add potatoes, and cook 10 minutes. Check salt levels and add more if needed.

Next, add all of the canned whole tomatoes, crushing each with your hand as you go, corn, and reserved sausage (be sure to include any juices or fat from the bowl). Once mixture is bubbling, edge heat down to low and simmer, uncovered, 15 - 20 minutes, or until potatoes are just tender.

Just before you are ready to sit down, stir shrimp into stew, and cook until they're pink, about 3 minutes, and then off the heat. Stir in apple cider vinegar and lemon slices.

Keep in mind that, owing to the crabs, the very bottom of this cauldron is likely to be sandy, so you'll want to avoid tipping sand out onto the food. For ease, we ladled the stew into big bowls and platters, and scattered them around the large table family style. Our stew was served with brown rice, though no one really touched it.
SaveSave
SaveSave