A spin on the classic sweet southern relish, chowchow. This chowchow recipe features the usual suspects like green cabbage, green tomatoes, and peppers, plus some less expected ones like a mess a fragrant spices and a dried chili for heat. Endlessly adaptable, consider this a jumping off point and make a chowchow that's wholly your own.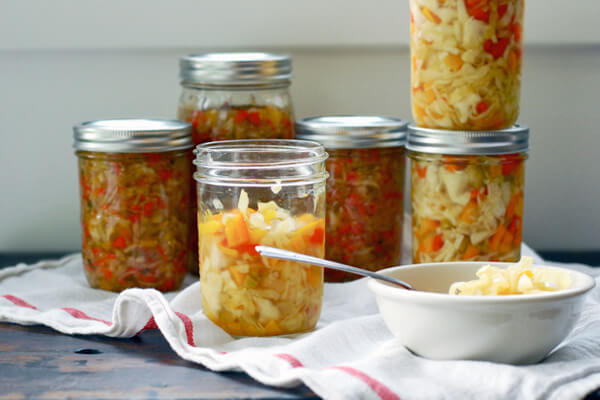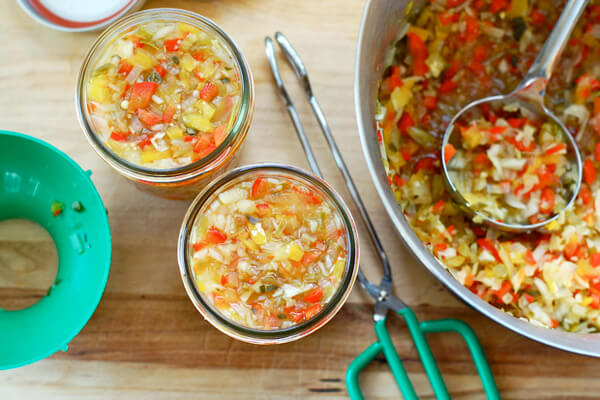 Earlier in the week, we shared this story and recipe with readers over on Food 52, and are now happy to share it here. Chowchow is a great recipe with which to bridge the seasons, and it makes delicious use of green tomatoes (which I happen to have in spades).
Let me start by saying that my Nana was an incredible baker, responsible in some part for every pie I've ever made, and I will forever regret not cooking more with her when she was alive. Alas, I was a difficult tween. I include this preface because, for a post on an heirloom recipe from my family, I've made something from my husband's. Like most who lived through the depression, Brian's grandmother, Mama E, was thrifty and smart and capable. She died a few summers ago, and I'll always remember that even though she was terribly ill, she had a well-tended little garden on her back porch. Just because you're sick doesn't mean you can't do a little canning.
But there was more to it with me and Mama E. Despite our sixty-year age gap, we had a lot in common. Our conversations frequently turned to subjects like lard pie crusts, canning, gardening tips, and good tomatoes. When she died, her canning jars went to me. And we still have a jar of her hot pepper jelly; a kind of lasting tribute to Mama E right there in our pantry.
When my husband and I began researching for this piece, my mother-in-law sent over a few of Mama E's recipes. Since moving back to the south, I've been taken with all the southern foods I overlooked last time I lived in these parts. High among my newfound southern food loves is chowchow. Perhaps the perfect condiment, I have yet to find a snack on which it is not delicious. So, I happily chose Mama E's chowchow recipe, which happens to also be her mother, Mamaw's recipe.
Did I pick this recipe so you could hear all these great southern grandma names? Yes. Yes I did.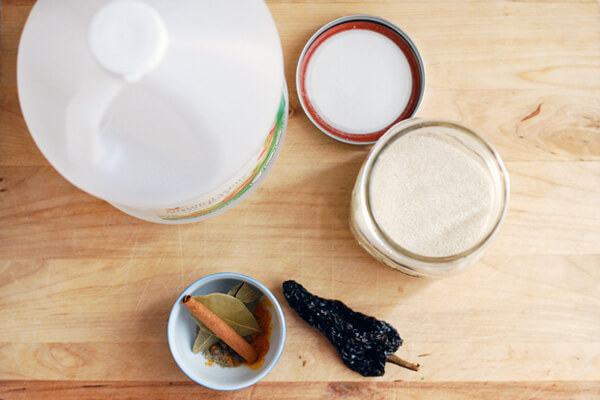 What is Chowchow?
A friend recently asked about chowchow; specifically:"what is it?" For the unindoctrinated, it's a relish or mix of pickled vegetables at once sweet, spicy, and sour. It harkens back to a time before pickles or relishes were standardized, and is traditionally made with a thrifty mix of cabbage, red and/or green peppers, and green tomatoes or tomatillos.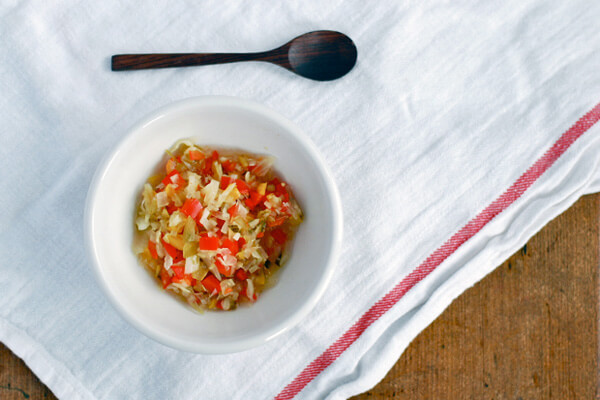 Like most southern foods, chowchow has a lot of variations and everyone thinks their way is the best. Being only an adopted southerner, I decided to try the recipe a few ways, both as a true relish and a chunkier array of pickled vegetables. Really, both were quite good, so do whatever you, or your grandmother, would like best. Chowchow is often enjoyed as a small side served alongside baked beans or macaroni salads at picnics, and in this role, I like the chunkier version. It's also excellent atop a hot dog or a buttery cracker, and in this capacity, the relish is best.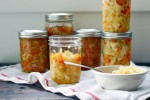 Chow-chow
This recipe is adapted from the one used by Mama E and Mamaw, and the original recipe was exactly as vague as you'd expect from something more memorized than written. Their recipe called for proper canning, but I wanted to make something I was quite sure about and have adapted it to be stored in the refrigerator. In sterilized, sealed jars, this chowchow will keep well for a month in the back of your fridge.
Cut vegetables depending on the type of chowchow you'd like. Use a rough chop for thicker slaw-like texture, and a dice or mince for relish. There's a lot of flexibility in the spicing of chowchow, so feel free to play around with flavor profiles.
Though based on Mama E and Mamaw's recipe, I turned to a couple of my southern food bibles, The Lee Bros. Southern Cookbook by Matt and Ted Lee and Mama Dips Kitchen by Mildred Council, for reference.
Ingredients
4

tablespoons

sea salt

1

quart

water

3

cups

cabbage

(roughly half a small cabbage), cored and cut into short, thin ribbons

1

cup

yellow onion

(1 large), diced or minced

2

cups

tomatillos,

green tomatoes, or a mix (about 6 medium tomatillos), chopped or diced

4

cups

red,

yellow, or orange peppers, cored, seeded, and diced or minced

2

cups

white vinegar

1/2

cup

sugar

Flavorful dried chili,

such as ancho

4

allspice berries

2

bay leaves

1/2

teaspoon

celery seed

1/2

teaspoon

coriander

1/2

teaspoon

fresh ground black pepper

1/2

teaspoon

red pepper flakes

1

stick cinnamon

1/2

teaspoon

turmeric

Pinch

cumin seed
Instructions
In a large bowl or stainless steel pot, combine sea salt and water, and swirl until dissolved. Add cabbage, onions, tomatillos or green tomatoes, and peppers, and stir. Cover and set in the fridge for at least 4 hours, or preferably overnight.

Drain vegetables, discard salt water brine, and set vegetables in a bowl.

In a large non-reactive stock pot, heat the vinegar over medium heat. Add the sugar, dried pepper, and all of the spices, stirring until the sugar has dissolved. Heat mixture over medium-low for 10 minutes. To strain out the spices, pour pickling liquid through a mesh sieve, and then back into the large pot.

Add brined vegetables to the pickling liquid and heat until it is bubbling gently. Cook 10 minutes.

Meanwhile, sterilize lids and jars in a large pot of boiling water.

Use a funnel to fill each jar with the vegetables and then top off with the pickling liquid, leaving 1/4-inch of head space. Wipe the rim with a hot cloth and seal. Chow-chow will keep well in the fridge for 4 weeks.