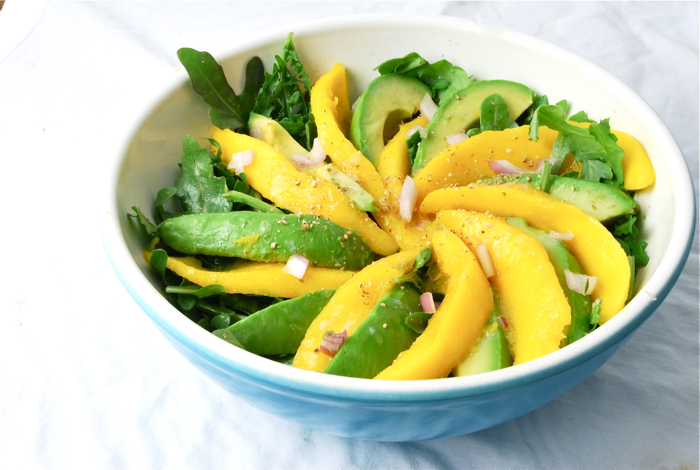 To start this post, I'd like to pay tribute to the apple. This humble fruit was made to last–how an apple picked in November could still taste juicy and delicious in May, May!, is one of nature's great mysteries. But this is the time of year for saying goodbye to apples. They've been good to us, but now there are blueberries, strawberries, and cherries on the horizon. And the occasional tropical fruit from the grocery store. These sweet and fleeting fruits lack the apple's constancy, but it is their very impermanence that makes them so wonderful. Really, summer fruit is the main reason I put up with hot weather at all.
This vivid avocado and mango salad was created against a backdrop of impending over-ripeness–tropical fruits being among the most fleeting. You get some mangoes and avocados and they're hard as rocks for three days, ripe for ten minutes, and then they're soon on their way to the trash. Lucky for us, this salad used the needed fruit, and was really, really good.
I'm sure we're not the first people to think of putting mangoes and avocados together, but I'm still quite happy to take the credit. Mango and avocado go together fabulously since both are impossibly creamy. They also both do well with a little salt, a kick of heat, and a squeeze of lime. The shallots are there for contrast—all that sweet creaminess needs something a little bracing, to wake things up.
Mango and Avocado Salad
1 ripe mango, peeled, pitted and cut into 3/4″ spears
1 ripe avocado, peeled, pitted, and also cut into 3/4″ spears
3 or 4 big handfuls of greens (we used baby arugula)
1 shallot, minced
1 tablespoon lime zest
2 tablespoons lime juice
4 tablespoon olive oil
2 tablespoons yogurt
1/2 teaspoon salt
1/2  teaspoon ground cayenne
1 or 2 turns of white pepper
Place the greens in a serving bowl. Whisk together the shallot, lime juice and zest, and olive oil. Once the dressing is emulsified, whisk in the yogurt, cayenne, and salt. Pour half the dressing over the greens and mix with your hands. Arrange the mango and avocado in an alternating circle on top, and drizzle with the remaining dressing. Finish with a turn or two of white pepper and serve.