We've partnered with Whole Foods Market to bring you a recipe for maple-bourbon glazed turkey that makes a wonderfully flavorful, eye-catching centerpiece for your Thanksgiving feast.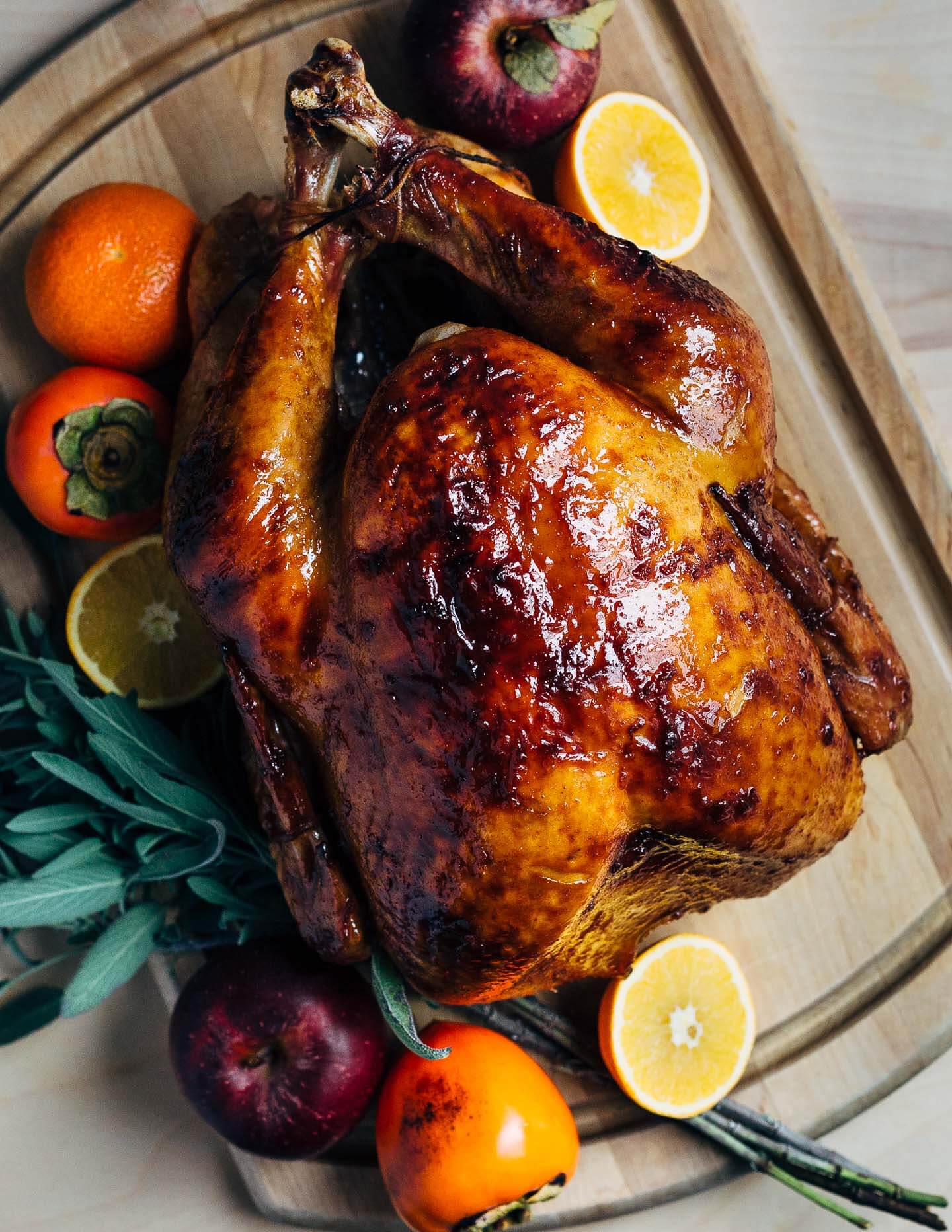 When it comes to Thanksgiving recipes, I'm pretty dedicated to the classics. My table will always feature stuffing, gravy, cranberry sauce, and pumpkin pie. I also love having a beautifully bronzed roast turkey as the centerpiece. Generally, the turkey flavors we go for range from "buttery" to "goes well with gravy." But this year, I wanted a little more from my bird. I wanted big flavors, but ones that would complement rather than overwhelm the side dishes. Once I'd stumbled on the right flavor profile, it was so perfect, I couldn't believe I hadn't thought of it before.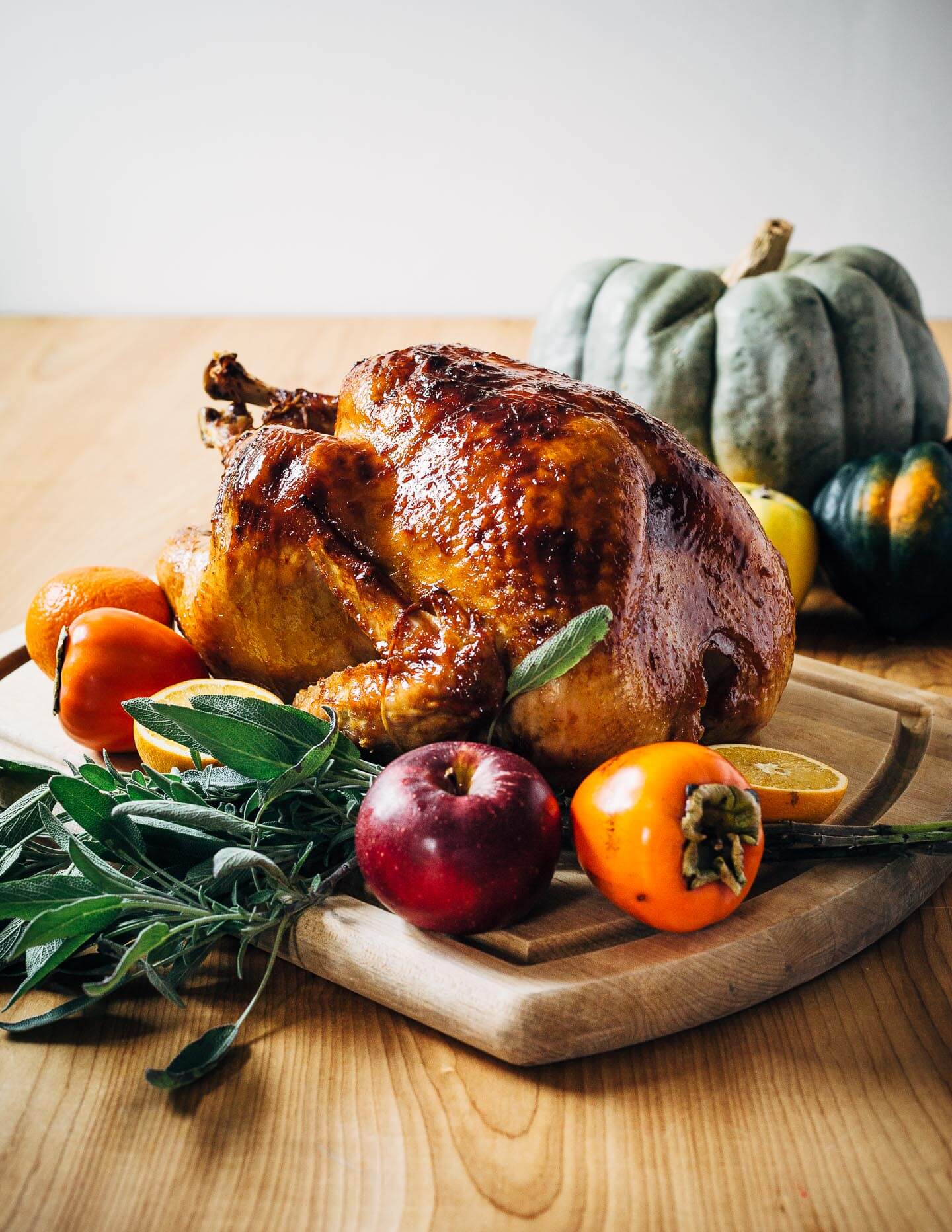 Maple-Bourbon Glaze: Smoke, Umami, and Sweetness
This recipe for maple-bourbon glazed turkey has a wonderful depth. The bourbon absorbs into the skin and meat, suffusing each bite with its smoky complexity. At the same time, maple syrup gives the skin a gorgeous deep brown hue and just a little bit of sticky sweetness. The other elements in the glaze – fresh squeezed orange juice, soy sauce, and paprika – round out the flavors with balancing hints of brightness and umami.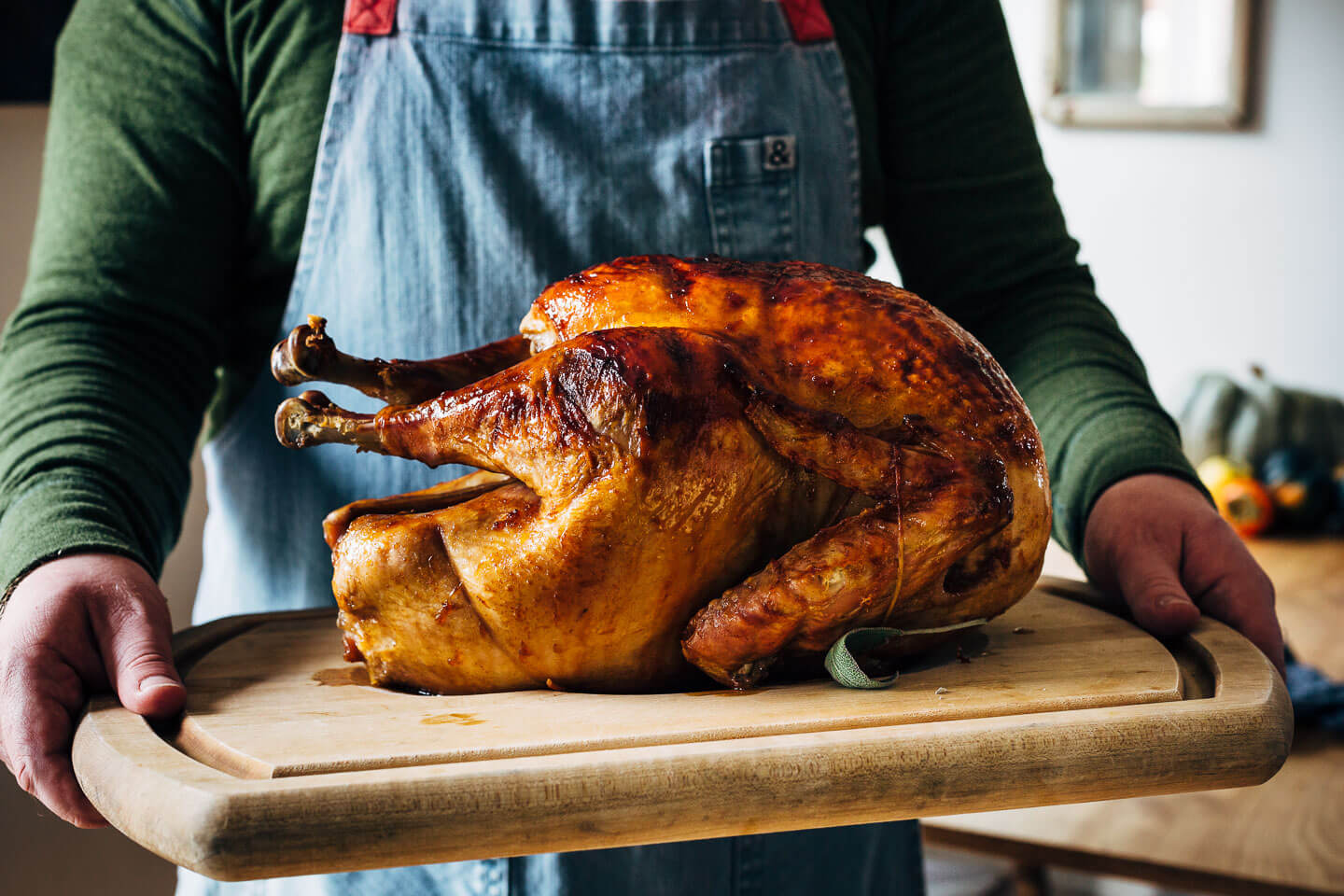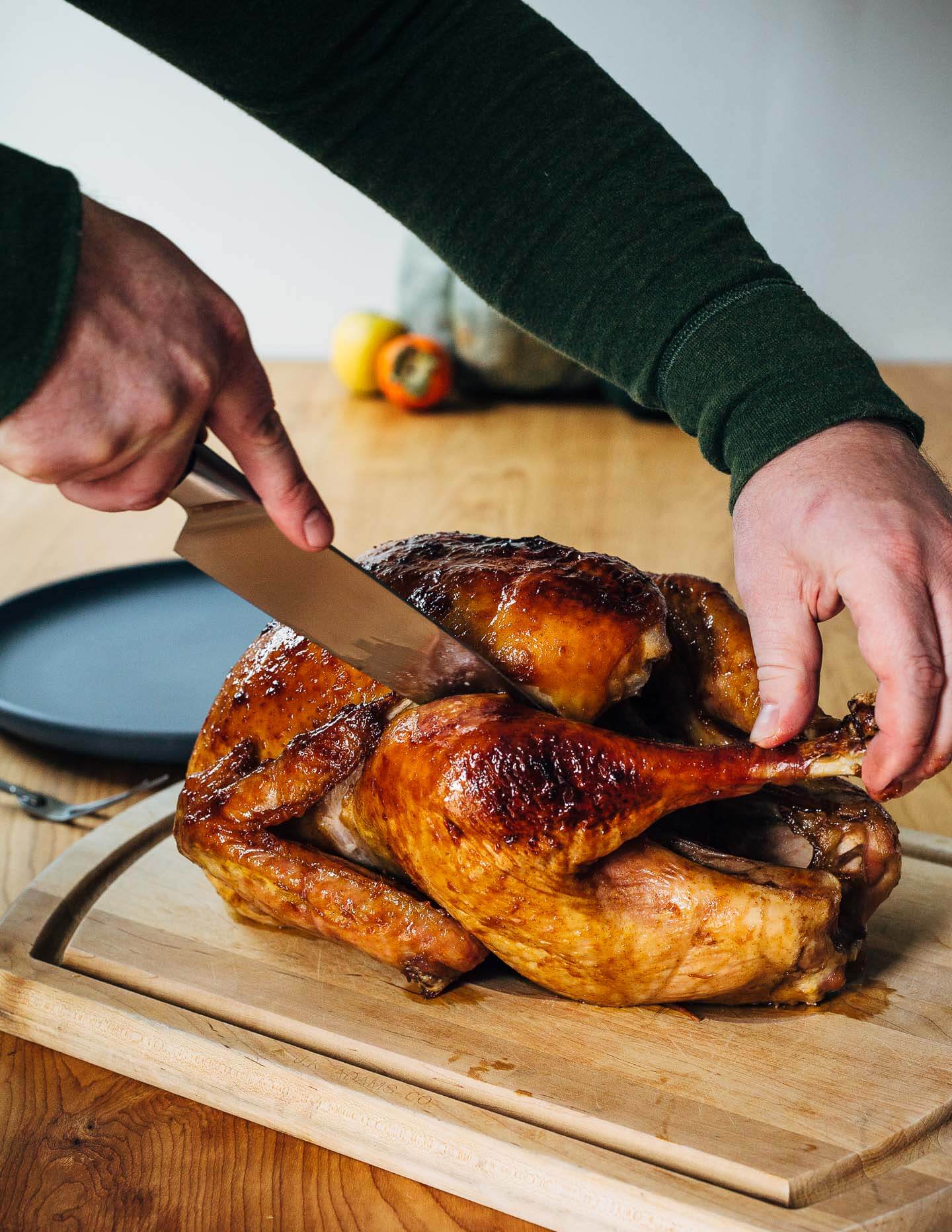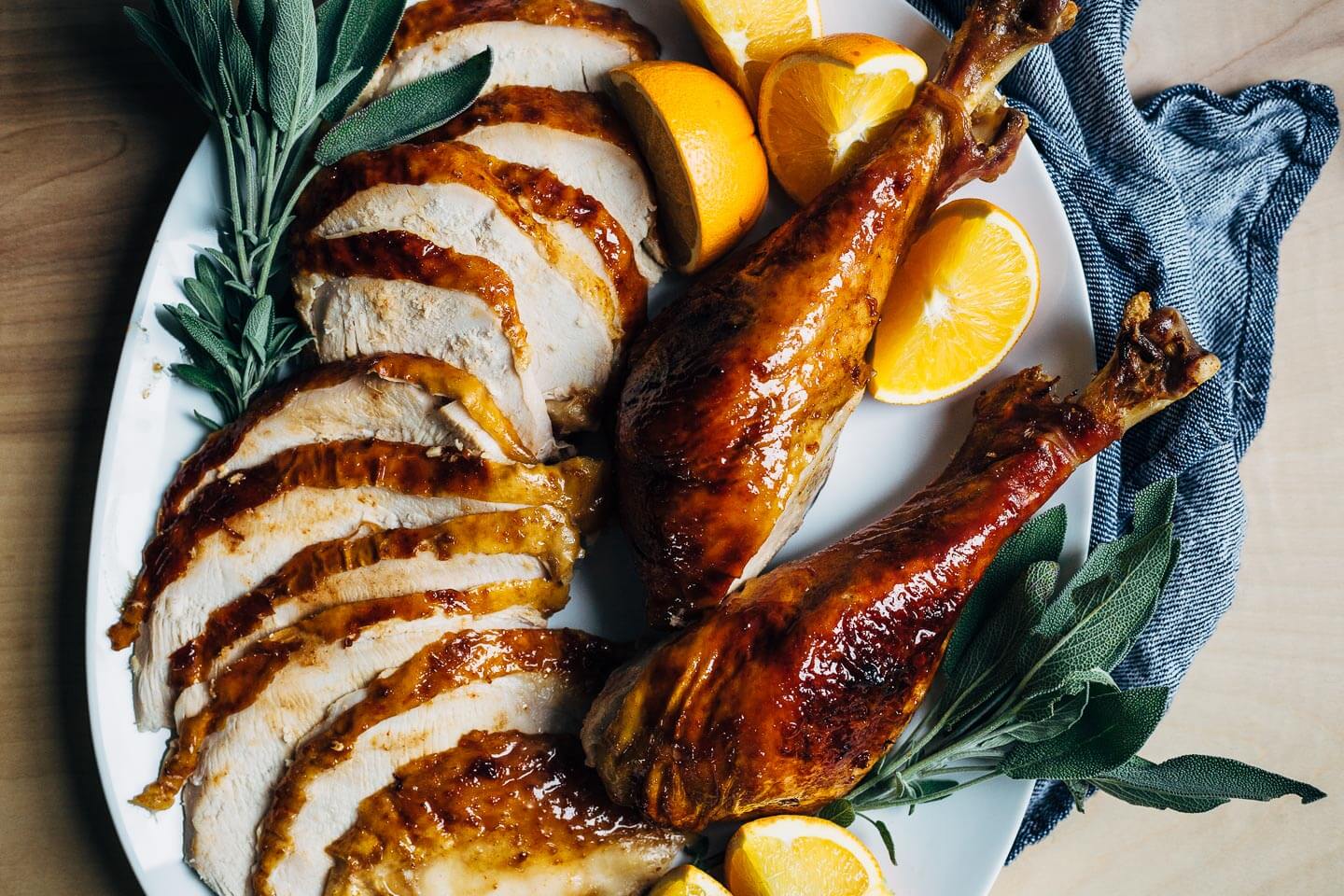 Of course, before you can make a deliciously flavored turkey, you'll want to start with a quality bird. I selected my turkey at Whole Foods Market, where they stock both antibiotic-free and organic options for the Thanksgiving holiday.
Besides turkey, Whole Foods Market has everything you need to make a fantastic Thanksgiving meal. I stocked up on essentials like organic cranberries, pre-toasted sourdough breadcrumbs, and all the seasonal fruits and vegetables I need to prepare Thanksgiving dinner (and make my bird look extra pretty). Whole Foods Market also offers customers the ability to shop online and pick up at your local store. If cooking everything from scratch isn't your thing, Whole Foods Market has a wide range of delicious pre-made holiday favorites that can also be ordered online and picked up in person. (There's no shame in short cuts!)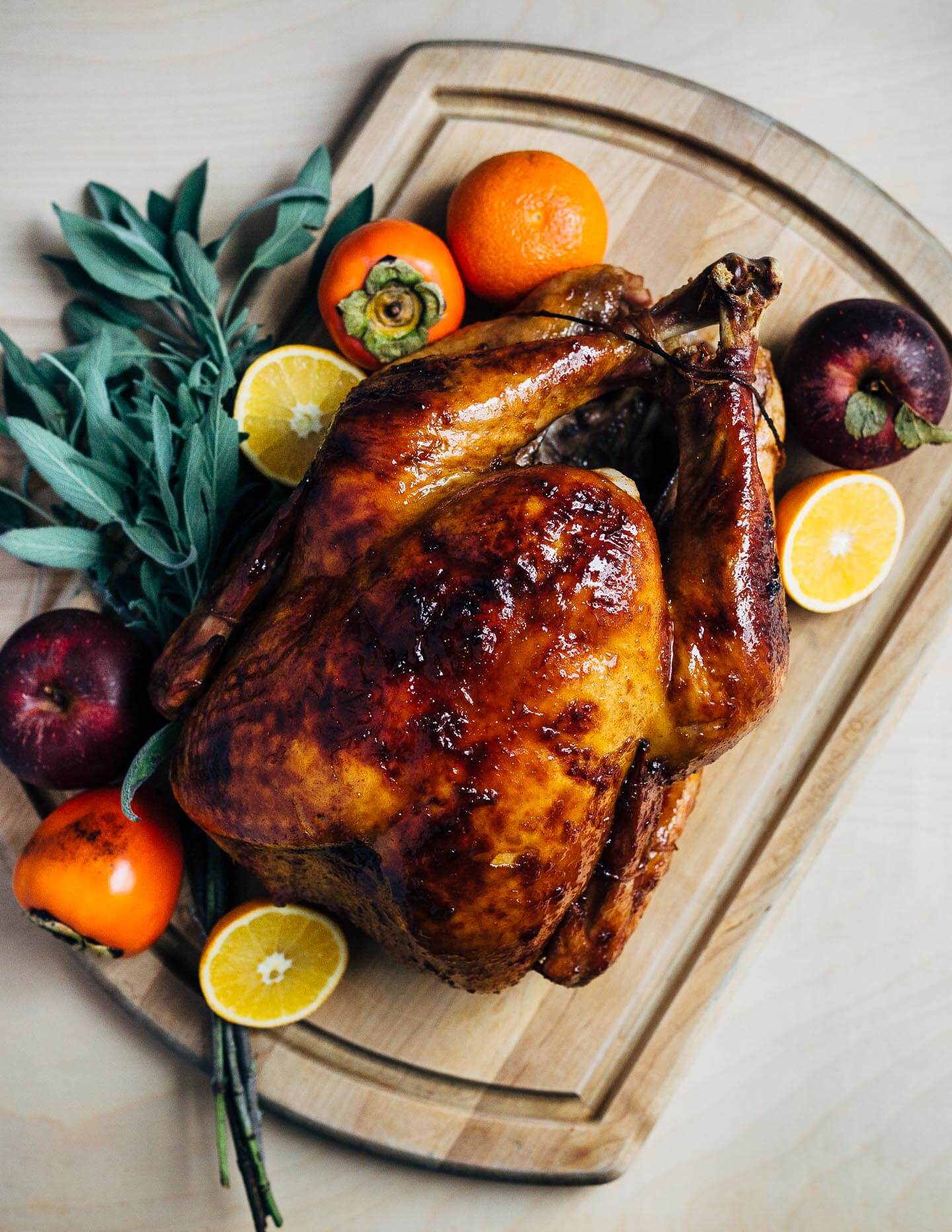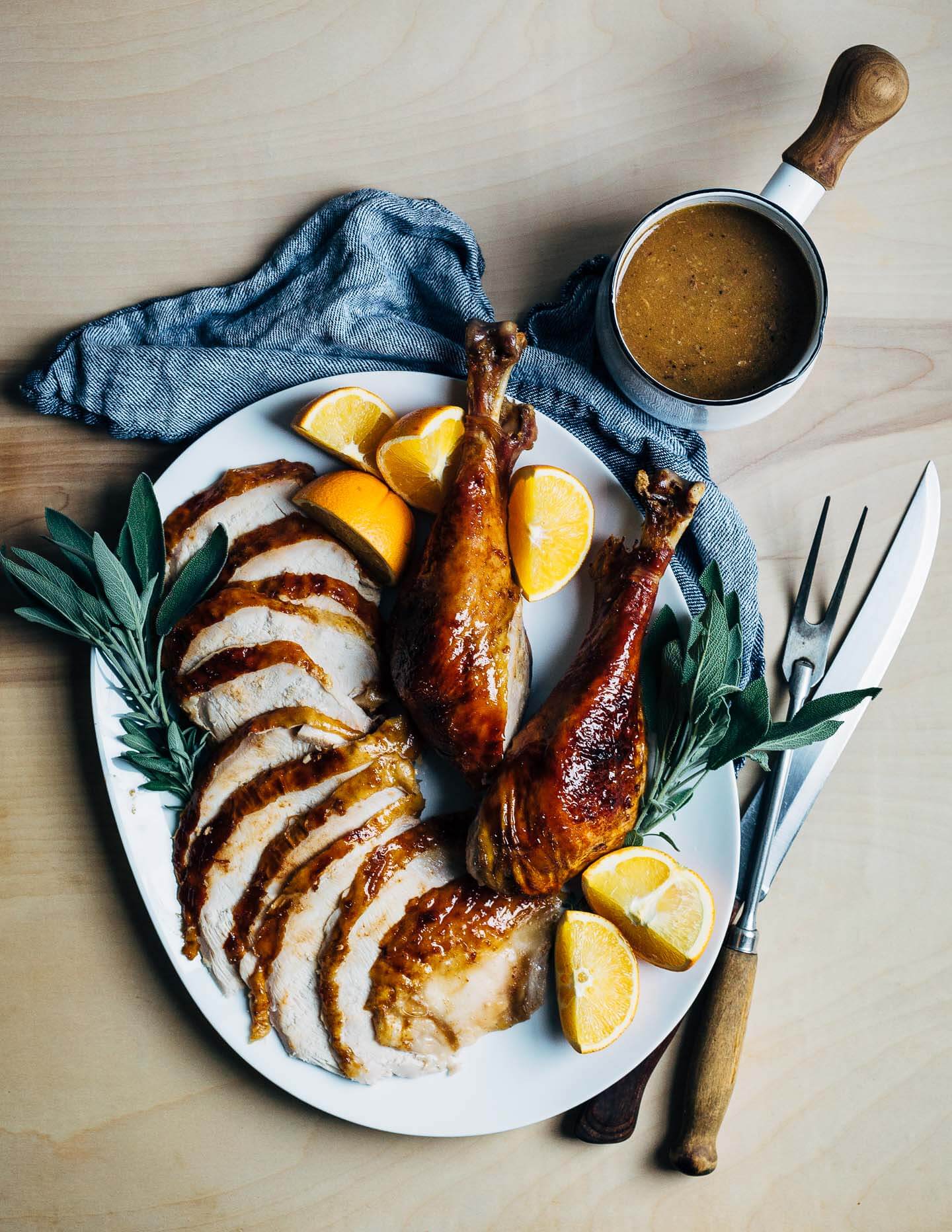 Cooking a Turkey
Some notes on cooking a turkey: The key to a great turkey is to treat it just like a (very large) chicken. That is, roast the turkey breast side-down in a hot oven to let the skin crisp, and then (very, very carefully) flip the bird, lower the heat, and roast until a thermometer inserted between the breast and thigh reads 165 degrees F. While the turkey cooks, brush with the glaze every 30 minutes, and tent with foil if the skin gets too dark.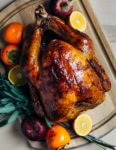 Maple-Bourbon Glazed Turkey and Giblet Gravy
Roasting a whole turkey with a maple-bourbon glaze makes for a bird with more depth than a traditional turkey. In addition to its gorgeous golden brown skin, this maple-bourbon glazed turkey has notes of smoky bourbon and caramel in every bite. Made with pan drippings, the giblet gravy is rich and delicious, with hints of bourbon and maple.  
For best results, the brine should be started two days ahead of time so the bird has time to brine and then air dry for 24 hours in the fridge. 
Ingredients
Turkey
2

cups

kosher salt

2

gallons

water,

divided

1

completely thawed 15 - 20 pound turkey
Glaze
1

cup

maple syrup

1

cup

bourbon

1

cup

fresh squeezed orange juice

1/4

cup

soy sauce

4

tablespoons

unsalted butter

2

teaspoons

paprika
Gravy
2

tablespoons

unsalted butter

1

shallot,

minced

turkey heart and liver,

minced

4

tablespoons

all-purpose flour

4

cups

turkey or chicken stock

pan drippings

white wine

to taste
Instructions
Remove giblets and neck from the turkey cavity, and set aside.

12 - 48 hours ahead of time, brine the turkey. In a large saucepan, bring 2 quarts water to a boil. Add salt and stir until dissolved. Set the thawed turkey in a vessel large enough to accommodate it, such as a large stockpot or a spotless plastic bucket, and pour in the remaining 1 1/2 gallons of cold water and the saltwater solution. Set in the fridge and brine 12 - 24 hours. When finished, carefully remove turkey from brine, drain cavity, and pat dry all over, including inside the cavity. Set turkey in roasting pan and set back in the fridge to dry at least 1 hour, or as long as 24 hours. The longer it dries, the crispier the skin.

When ready to roast the turkey, preheat oven to 375 degrees F.

Truss turkey by tying feet together and tying wings down with butcher's twine. (More on trussing here.) https://firstwefeast.com/eat/2013/11/how-to-truss-turkey-thanksgiving

Place turkey breast side down in roasting pan and slide into oven. Cook 1 hour (1 1/2 hours for a larger bird).

While bird roasts, combine glaze ingredients in a medium saucepan. Bring to a simmer over medium-high heat, stirring often, until mixture reduces by two-thirds. Once reduced, keep glaze warm over very low heat.

After 1 hour, brush maple-bourbon glaze all over the turkey's back and then flip turkey. To flip, set out two dishtowels and wear two oven mitts. Grab turkey on both sides using dishtowels and carefully flip end over end, rotating it so that the juices inside pour out the bottom of the cavity and not the neck. Keep hands, arms, and other body parts clear, because the liquid is scalding hot. After you've flipped the turkey, brush the breast, wings, and legs generously with the glaze. Slide into oven and roast 1 hour, brushing on additional glaze after 30 minutes.

At the 2 hour mark, lower heat to 325 degrees F. Brush glaze over turkey every 30 minutes. Place a loose foil tent over any parts that are darkening too quickly.

After 3 hours total cook time, check the temperature by inserting an instant-read thermometer deeply into the space between the leg and the bottom of the breast. Cook until the internal temperature reaches 165 degrees F, 3 1/2 - 5 hours total (the larger the bird, the longer the cook time).

Once up to temperature, pull turkey from oven and rest 30 minutes. Carefully remove to a cutting board, grasping turkey from below so as not to disturb the glaze on the breast and legs.

Meanwhile, make gravy. While turkey roasts, melt 2 tablespoons butter in a large saucepan over medium heat. Sauté shallots in butter until tender, about 5 minutes. Add liver and heart, and cook 5 minutes more. Stir in flour. Turn heat to low and add broth, a splash at a time, allowing gravy to re-thicken between additions. When the turkey moves to the roasting pan, carefully tip pan and carefully funnel pan juices into a tall jar. After a few minutes, the fat will settle on the top. Pour that off (as best you can), and gradually add 1 cup pan drippings to the gravy. Taste, and add salt, pepper, or a splash of white wine as needed. Gravy will thicken as it cools.

To carve turkey, first remove trussing twine. Remove drumsticks and thighs by slicing through the skin that joins the thigh to the breast and cutting downward until you reach the joint. Push down on thigh to expose joint and then cut through it. Separate drumstick from thigh cutting at joint. Cut thigh meat away from bone and slice into serving portions.

Next, remove wings by slicing through the joint, and then set them aside. To carve breast, cut slices from the sides roughly parallel to the center of the breast. Place meat on a platter and serve immediately.