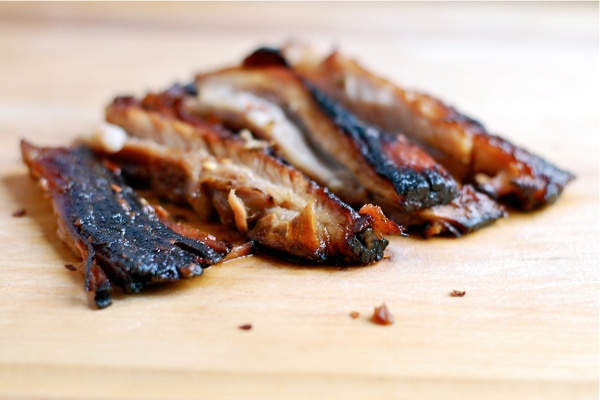 Last week, things in my kitchen got real. Like, 13 pounds of pork belly–skin, hair, and all. I unwrapped the butcher paper, and there it was–an actual pig's belly spread out on my kitchen table. Usually Brian deals with meat, but this time around, it was all me. So, I rubbed the belly down with sugar, salt, and paprika, and made it happen. Eight hours of braising later, the meat was supremely tender and my mission was accomplished.
The pork belly was for Brunch for Barack, an event that we co-hosted with Veronica Chan at the Chan Deck, Long Island City's up-and-coming test kitchen for new and adventurous ideas in food. Brian and I were a little nervous about doing a brunch for so many people, but the short of it is that lots of cool, nice people came, ate our food, got political, and seemed happy. Predictably, we were running late and took longer than we wanted to get the food out, but thanks in part to a very tasty sparkling wine and pear nectar cocktail spearheaded by the awesome Andrew of Zokos, no one seemed to mind.
Here's the menu:
Sparkling Wine and Pear Nectar Cocktails
Pimento Cheese Dip
Pickled Carrots
Maple-Braised Pork Belly (recipe below)
Squash and Sweet Potato Hash
Slow-Scrambled Eggs
Buttermilk Biscuits
Chicken Gravy
Apple, Pear, and Fig Salad with a Chili Lime Vinaigrette
Warm Mizuna Salad with Roast Red Peppers and Red Onion
Tomato Jam and Butter
Apple Slab Pie
Fennel and Marzipan Ice Cream
Beer and Cheddar Cheese Ice Cream
I've mentioned how wonderful the team of people who put the event together were, our co-host Veronica, and friends Jeff and Andrew, but there were also some great event sponsors. The rich, blessedly strong, and flavorful coffee was provided by Craft Coffee, there was bubbly, spicy ginger ale from Fresh Ginger Ginger Ale, and the aforementioned ice cream by Cowlicks Creamery. We were also joined by Greg and Elizabeth from O Live Brooklyn, and were treated to an impromptu olive oil tasting.
Both of the Instagram photos above are by Veronica Chan. For the complete #BrunchforBarack feed, click here.
And now, at last, here's the recipe for our pork belly. Pork belly can seem daunting since it's so fatty, but keep in mind that that's the point. At five hours the braise is highly edible, and after six hours it's off-the-hook. This recipe is for a modest pound of pork belly. Scaling up to 13 pounds changed things a bit, and required an additional few hours to cook.
Maple-Braised Pork Belly
serves 2 or 3
1 pound pork belly, skin-on
1/4 cup dark brown sugar
2 teaspoons sea salt
1 teaspoon spicy paprika
3/4 cup water, plus about 3 cups more
1/2 cup maple syrup
1 teaspoon fresh ground black pepper
1 tablespoon spicy mustard
1/4 teaspoon ground cayenne pepper
Set the belly on a large platter or baking sheet. Combine the brown sugar, sea salt, and paprika, and rub it into the meat side of the belly. Cover and refrigerate for an hour or two.
Remove the meat form the fridge. Heat a dutch oven, or other large, deep vessel, over medium-high heat. Add just a drizzle of olive oil, and add the belly. Sear each side for 5 minutes. Next add 3/4 cup water and all of the remaining ingredients (the meat should be about half immersed in the liquid). Bring liquid to a boil, partially cover, and turn heat to low/medium-low so that the liquid is bubbling gently.
Turn the meat every hour or so, and add additional water if needed.
Eventually the skin will start to peel away from the fat. Use tongs to gently peel it off (don't force it), and discard.
Check a slice of the belly (with meat and fat) after 4 hours, and adjust the seasonings if needed. Continue to braise for anther two or so hours, slice, and serve.