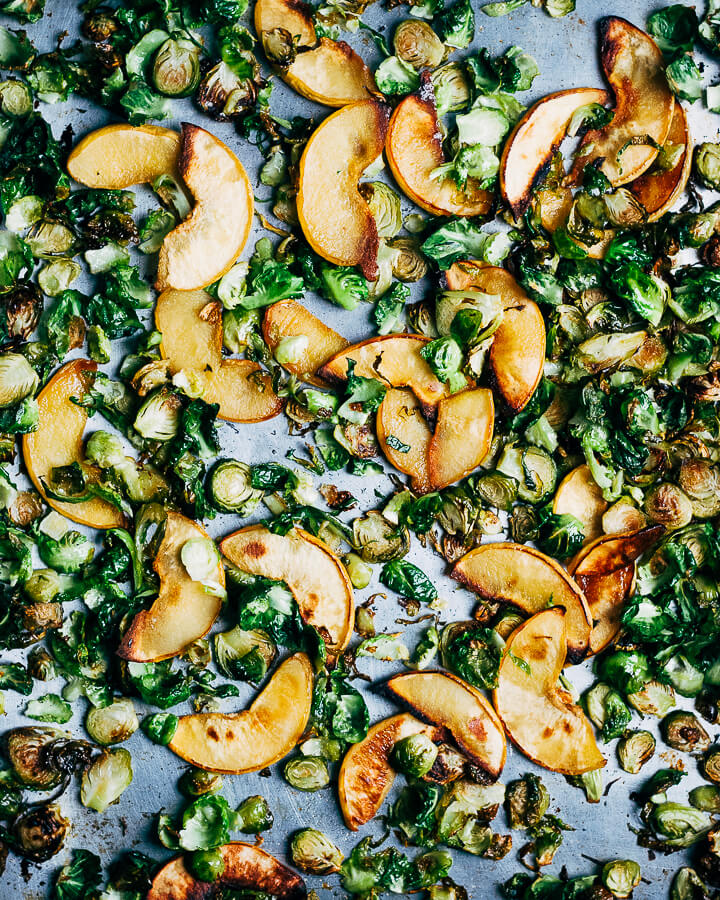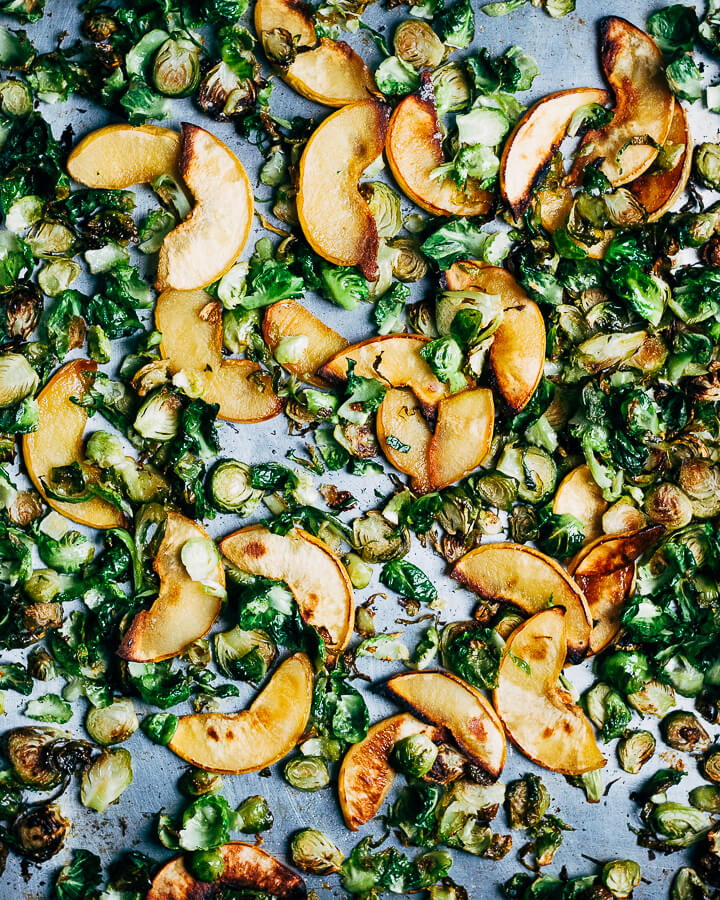 This maple roasted quince and Brussels sprout salad recipe with lemony dressing and crumbled goat cheese makes for a wonderfully autumnal side dish. Jump to recipe. 
I've spent the past couple weeks wrestling recipes. My kitchen has been the scene of dry pie crusts, rubbery custards, and ho-hum chicken. However disappointing, these are the reasons we test recipes. They develop and evolve, and each iteration is an improvement. It took some work, but in each case I eventually finished with something I really love and can't wait to share.
The unexpected twists and turns of recipe development combined with photography-unfriendly storm clouds threw my weekly posting schedule off. I needed something good, pretty much immediately. Something that didn't need to be worked and reworked. As it often does, inspiration came from ingredients – the season's first batch of Brussels sprouts and an unexpected basket of quince at the grocery store.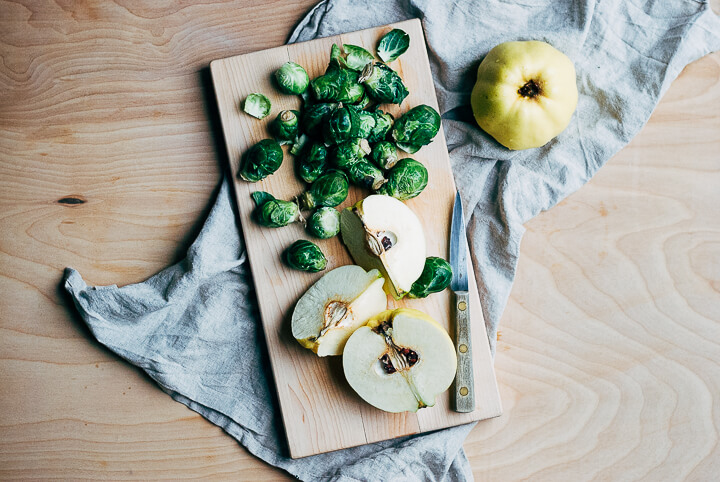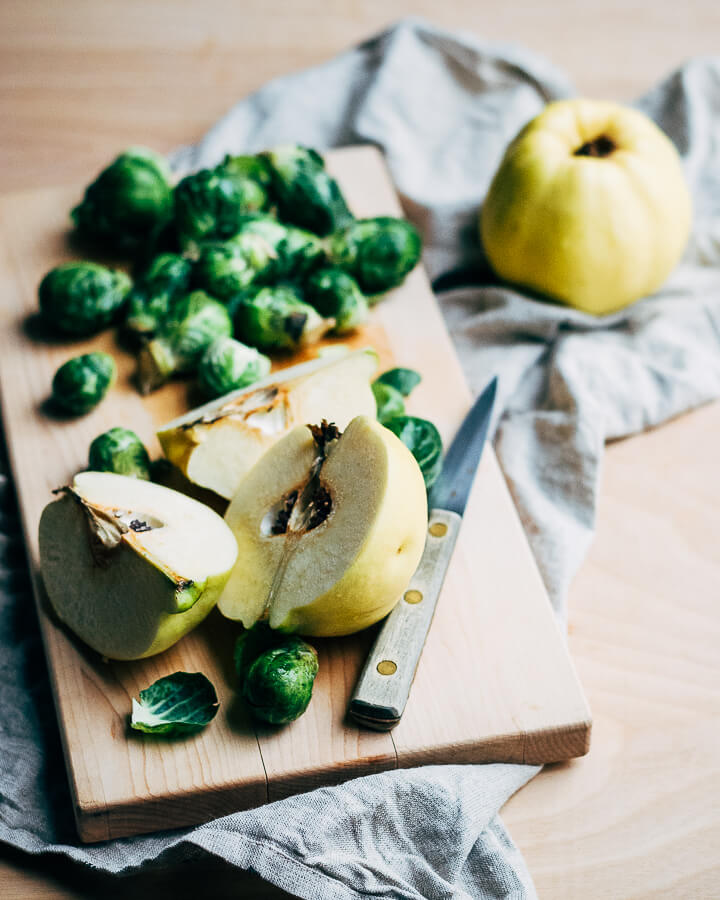 Crisp edged, smoky roasted Brussels sprouts are one of my favorite seasonal flavors, but variations in size and the presence of loose leaves on the roasting pan often lead to sprouts both soggy and burned. It can feel like one needs just the right alchemy to get these little brassicas right. This roasted Brussels sprouts recipe solves both problems beautifully and with surprising ease. Sprout leaves are separated out, while the dense, pale interior is sliced thin. Sliced sprouts are roasted first, while the leaves are roasted briefly right at the end. A little added prep time and complexity makes for perfectly cooked sprouts – the slices are tender with golden edges, while the leaves crisp up into perfect little Brussels sprout chips, lending a satisfying crunch to the salad.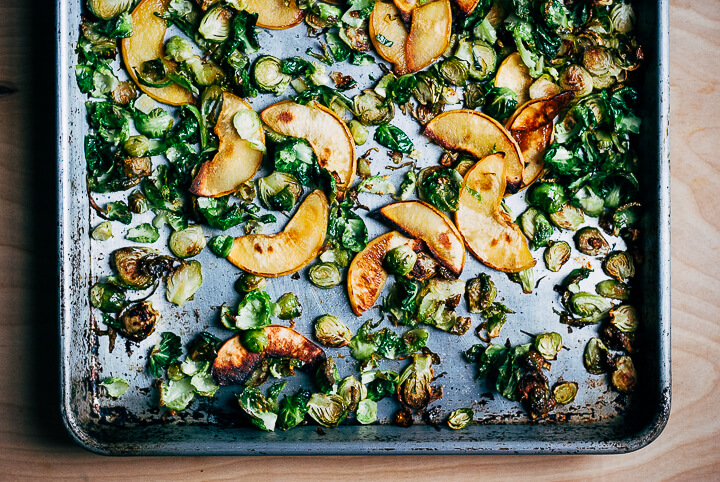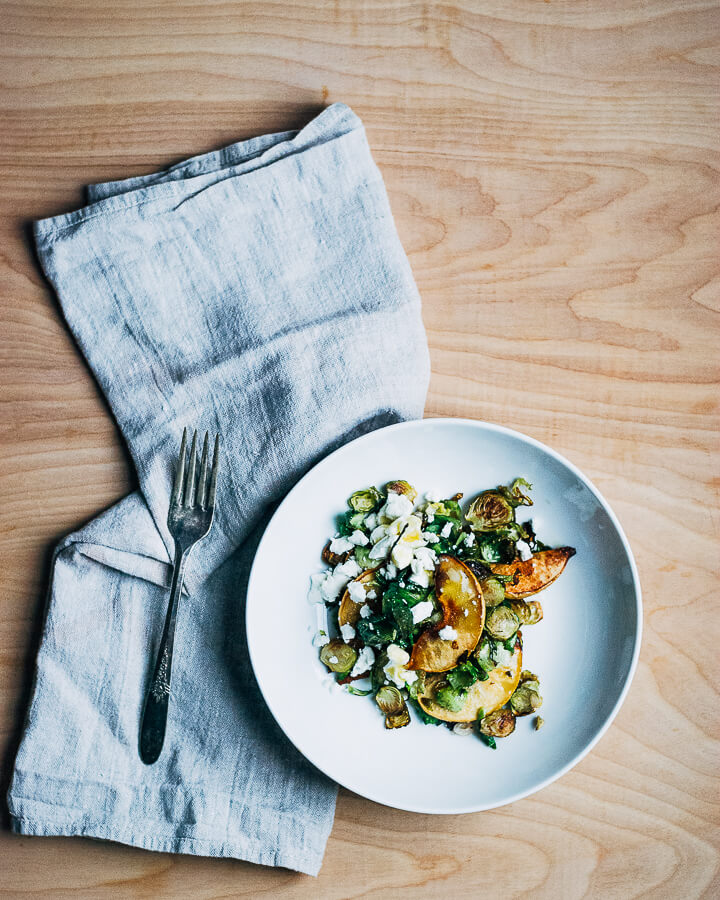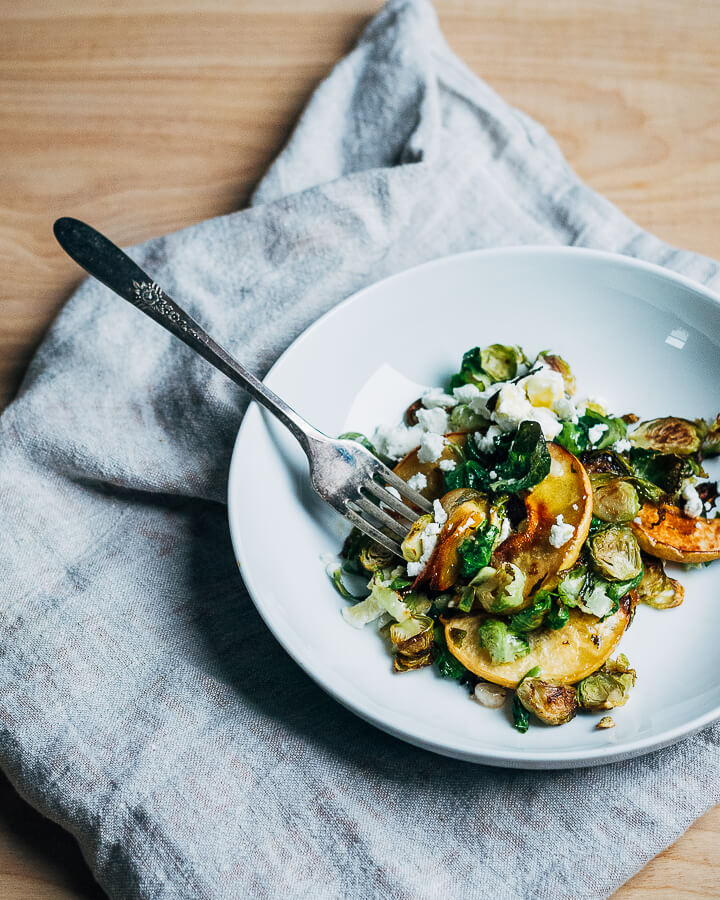 Supporting the sprouts are maple roasted quince slices – buttery and tart – plus a lemony dressing and crumbled Capricho de Cabra goat cheese. This is a special salad and a fitting reward for such carefully prepared ingredients.
If you have a large, reliable oven, you can probably roast the quince and sprouts at the same time. My oven is more temperamental and I've written the recipe with that in mind.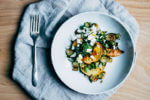 Maple Roasted Brussels Sprout and Quince Salad
This maple roasted Brussels sprout and quince salad recipe with lemony dressing and crumbled goat cheese makes for a wonderfully autumnal side dish.
Ingredients
For the Salad
1

ripe quince

, cored, seeded, and cut into 1/4-inch slices

1

pound

Brussels sprouts

2

tablespoons

extra virgin olive oil

, divided

1

tablespoon

plus 1 teaspoon maple syrup

, divided

1/3

cup

crumbled Capricho de Cabra

(or another flavorful fresh goat cheese)
For the Dressing
1 1/2

tablespoons

lemon juice

1

teaspoon

maple syrup

1

tablespoon

shallot

1/2

teaspoon

mustard powder

pinch sea salt

2

tablespoons

extra virgin olive oil
Instructions
Preheat oven to 425 degrees F.

In a small bowl, toss quince slices with 1 tablespoon each olive oil and maple syrup. Arrange slices on a rimmed baking sheet and slide into the oven. Roast for 15 - 20 minutes, turning halfway through. Pull quince once the edges are lightly browned and the fruit is tender, but not limp. Set aside to cool.

Meanwhile, prep Brussels sprouts. Set out two small mixing bowls (including the one used to toss quince). Using a sharp paring knife, trim stem and very carefully carve out the core. Break off any leaves and set them in one the bowls; set sprout upright and cut into very thin slices, about 1/8-inch thick. Place sliced sprouts in the second bowl. Toss sliced sprouts with your hands and fish out any single leaves and add those to the leaf bowl. Toss sliced sprouts with 1/2 tablespoon (1 1/2 teaspoons) olive oil, 1 teaspoon maple syrup, and a pinch of sea salt. Toss leaves with remaining olive oil and a pinch of sea salt. Roast slices for 15 minutes, flip, scatter reserved leaves, and roast for another 5 - 7 minutes, until leaves are crisp and slices are tender.

To make dressing, combine lemon juice, maple syrup, shallot, mustard powder, and sea salt in a small bowl. Whisk in the olive oil until emulsified. 

Toss quince with warm sprouts and plate. Finish with a few crumbles of goat cheese and a pinch of sea salt. Serve salads warm, drizzling with dressing just before the first bites since dressing will eventually wilt the crispy leaves.