Just in time for back-to-school, we've partnered with Shenandoah Valley Organic on a meal prep chicken recipe inspired by Thai flavors featuring juicy pan-seared chicken breast served alongside a vibrant red cabbage and mango slaw and sticky jasmine rice.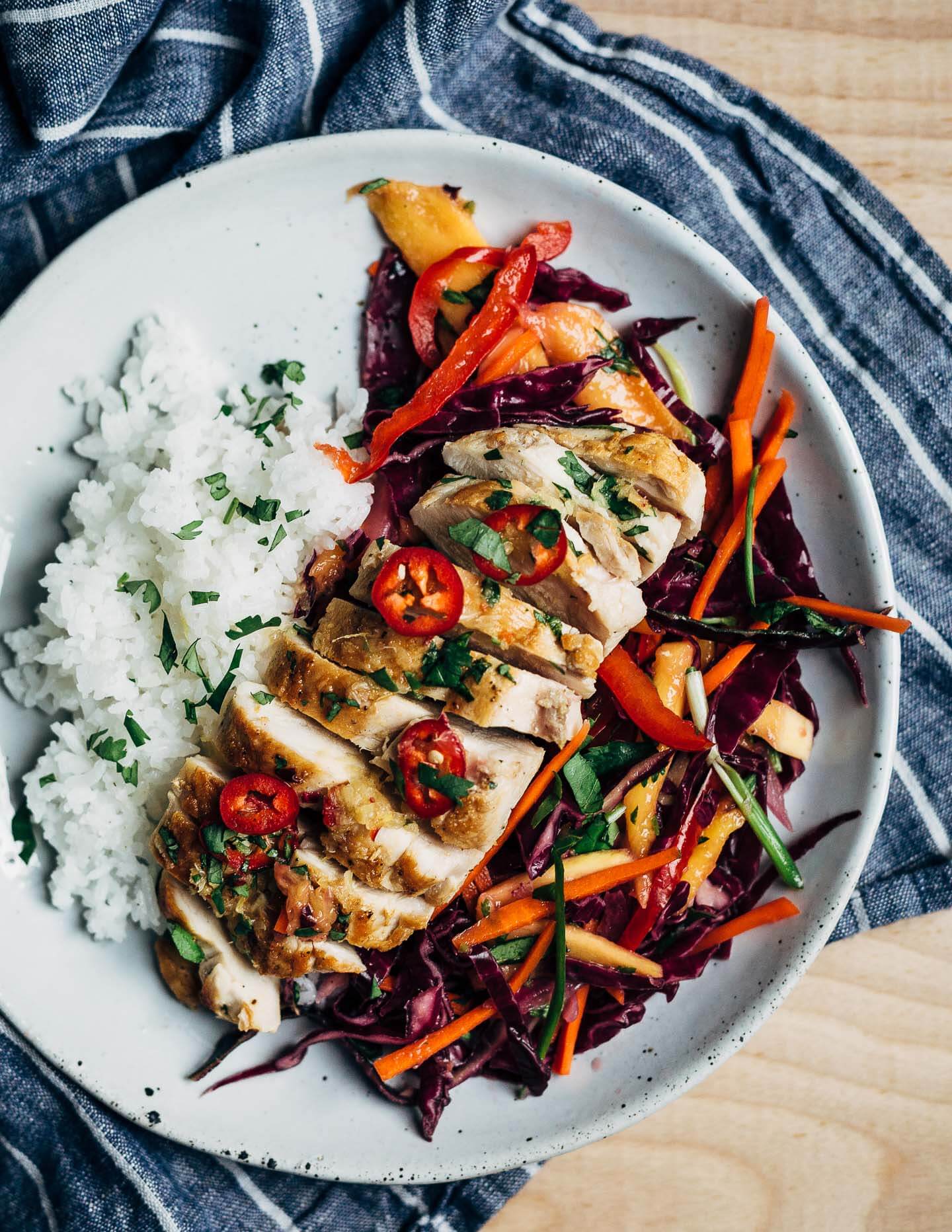 I'll begin with an admission: Brian packs the girls' lunches every morning (while I sleep in). Because I work from home and like to cook, people often assume I'm on lunchbox duty, but Brian takes the girls' morning routine, while I have afternoons. Even though I don't pack the girls' lunches, I've been giving a lot of thought to packing mine.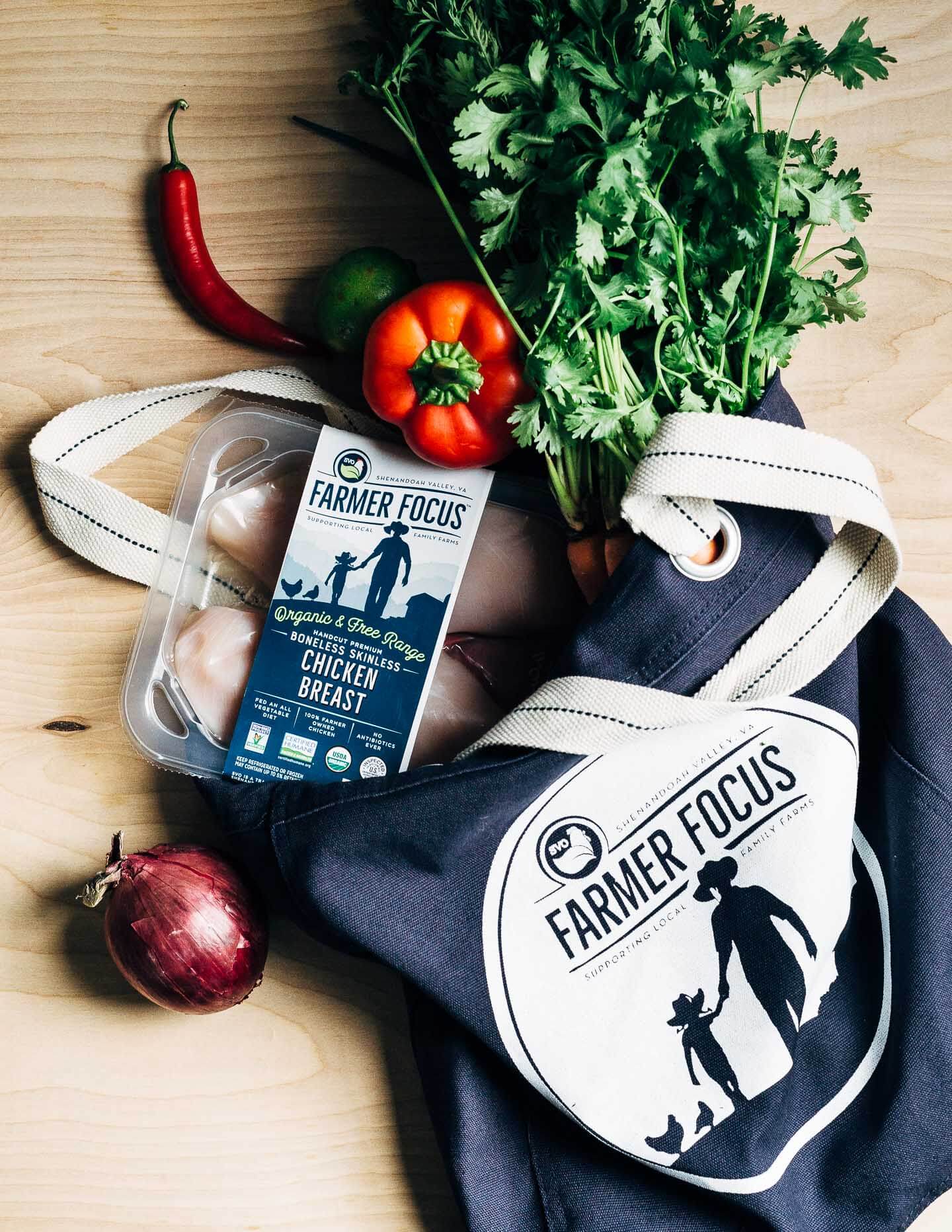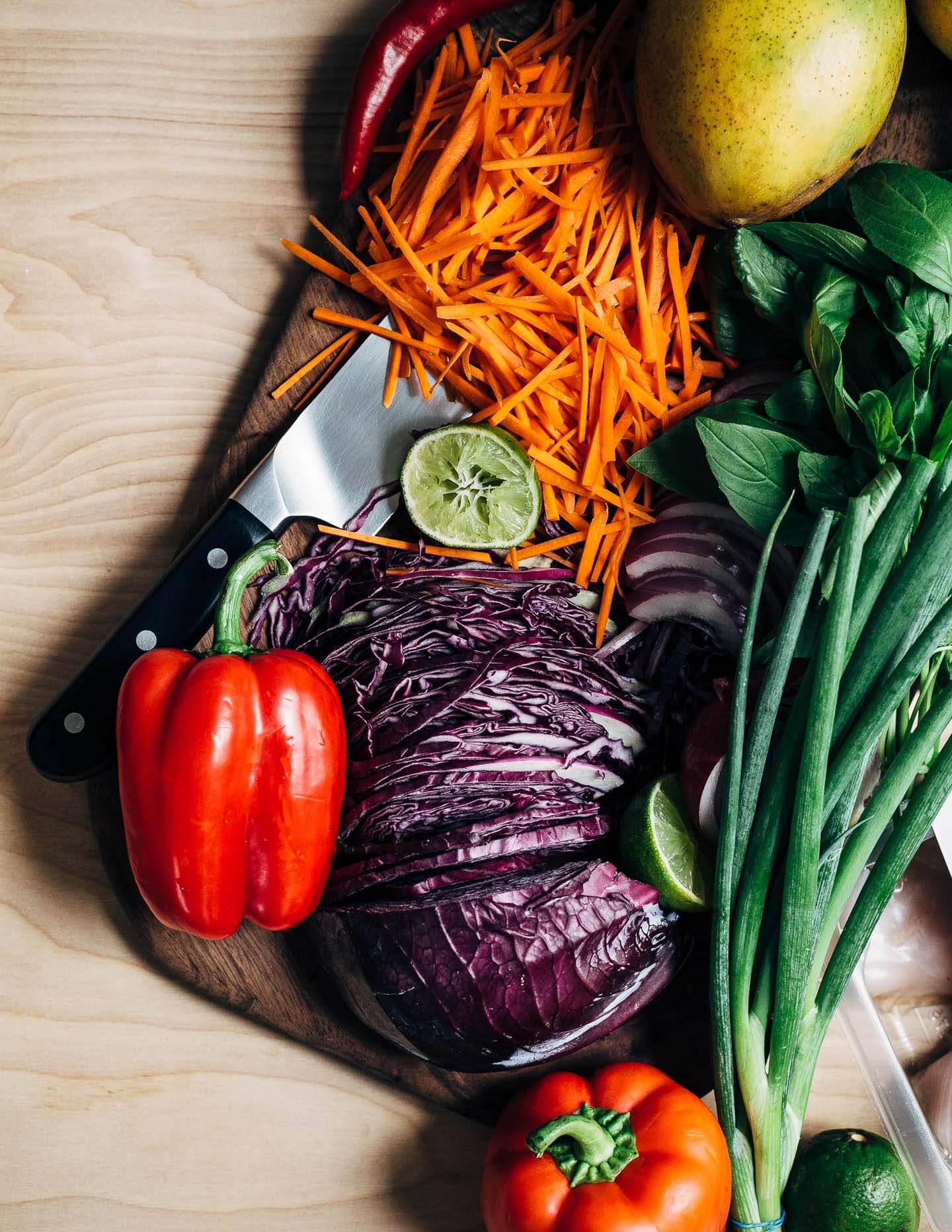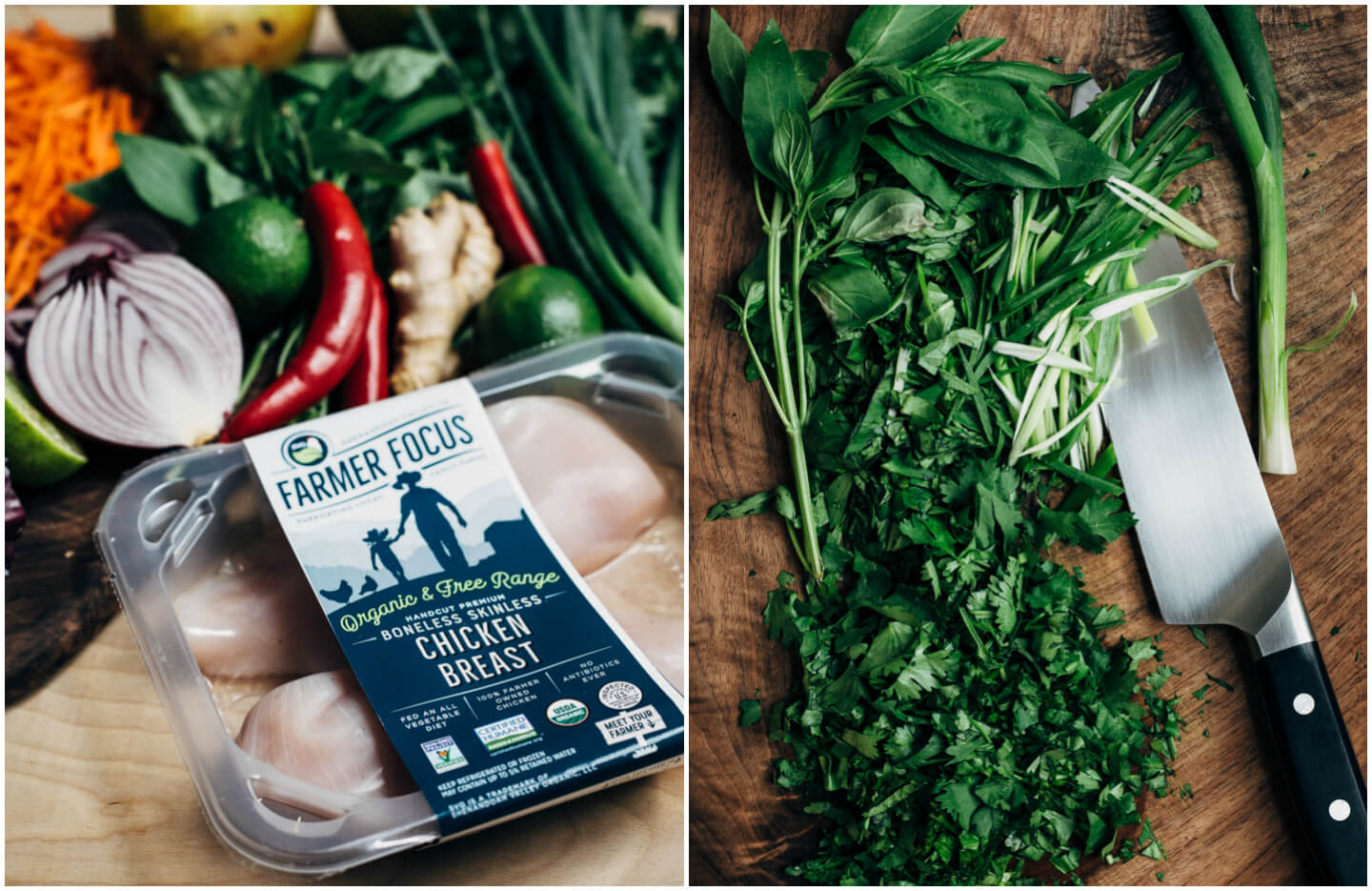 Meal prep is wonderful for busy people who want to bring healthful food for lunch, but it's also just a smart way to prepare meals efficiently. My typical work day is broken up by morning tea, a simple breakfast, and a homemade lunch. But the truth is, each meal break takes a lot of my time – time I'd rather put to other uses. So this year, I'm hopping on the meal prep train and making my work-at-home lunches ahead of time.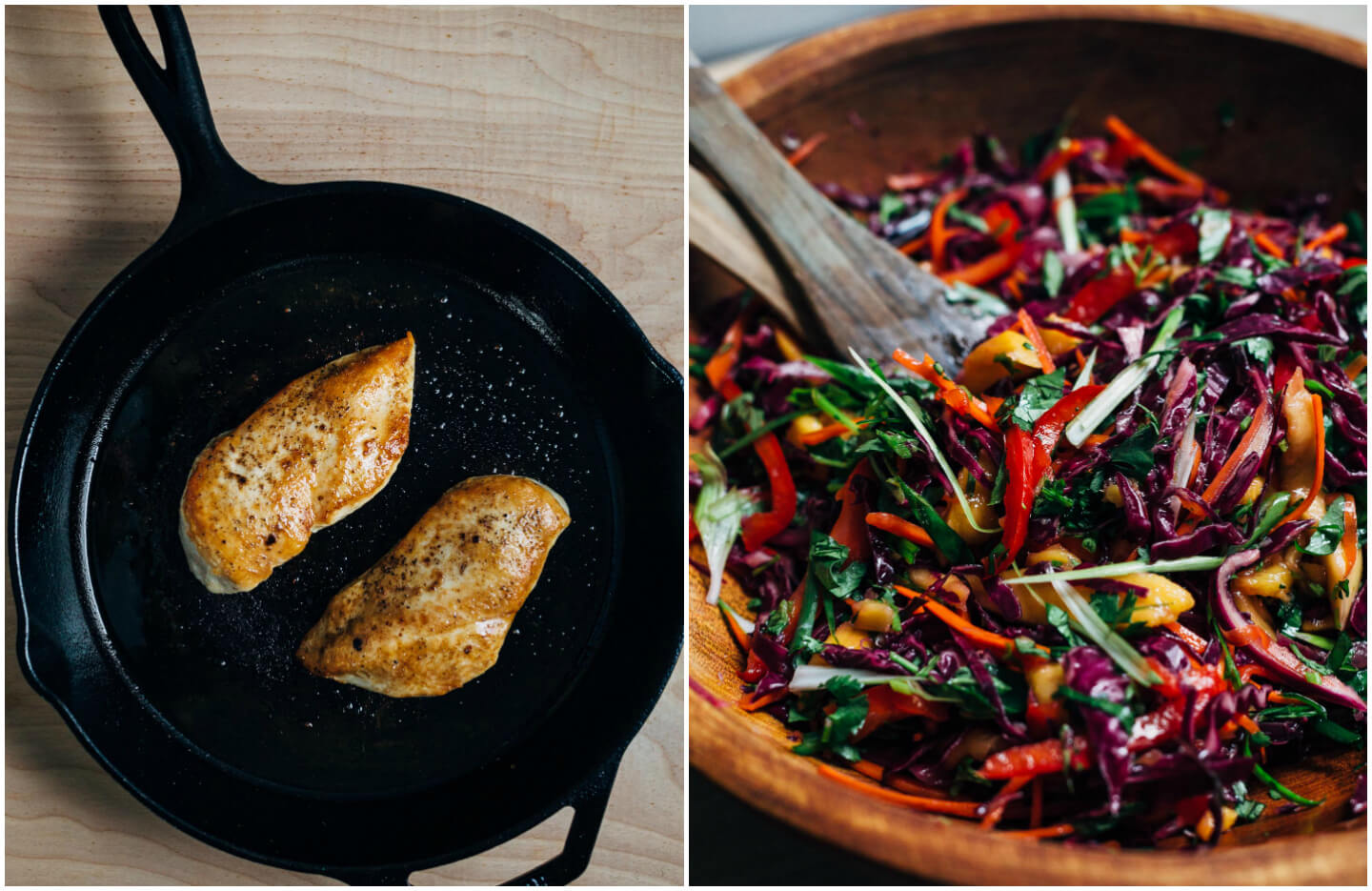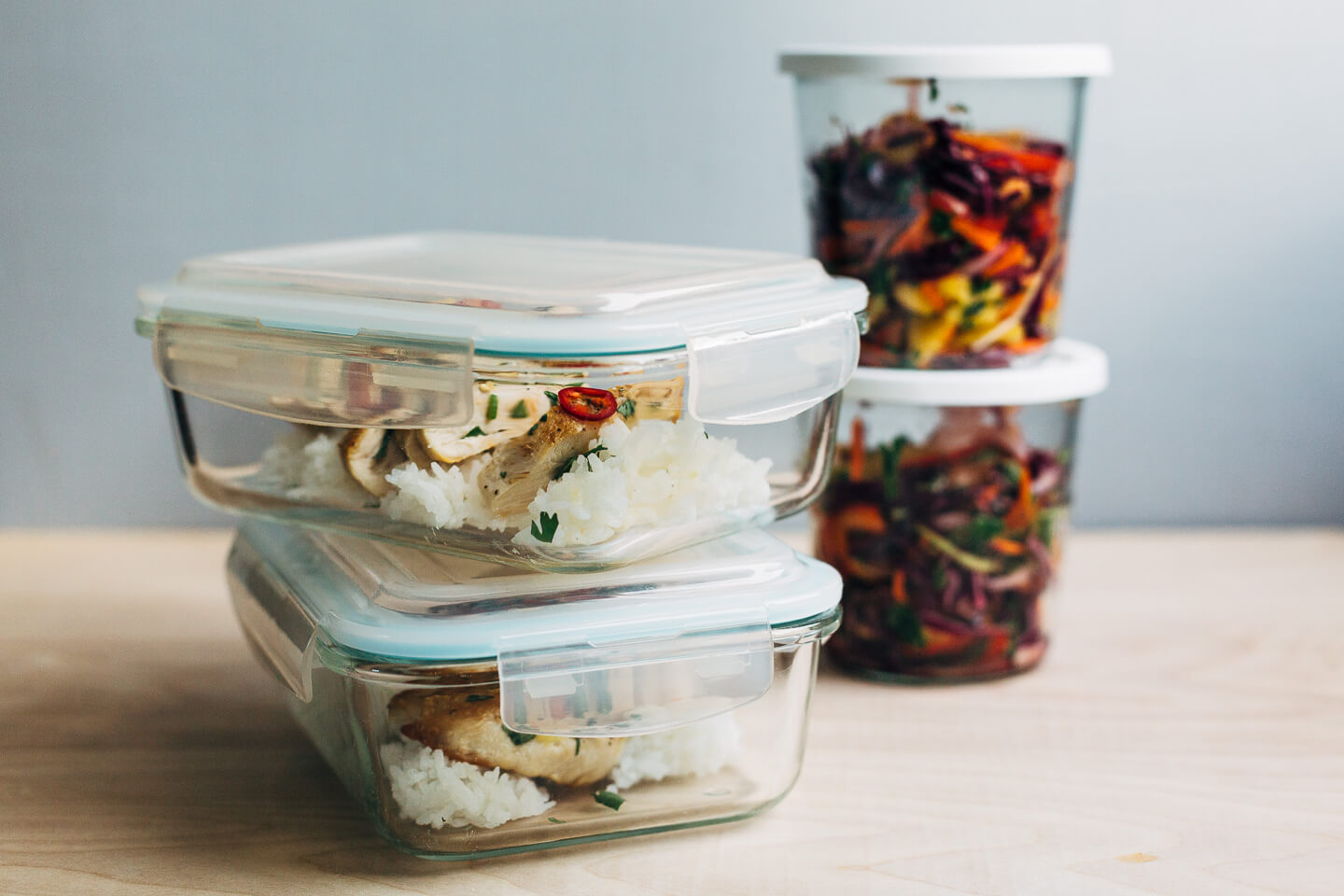 For me, the best lunches are brimming with vegetables and center on a simple and delicious protein, and this meal prep chicken breast hits all the right notes. The base of the dish is a vibrant red cabbage and mango slaw inspired by Thai flavors that's layered with carrots, red onions, red peppers, and fresh herbs. A super simple but very delicious dressing brings the dish together; it's made with fresh lime juice, fish sauce, garlic, and ginger, and is bold enough to ensure that your desk lunch stays lively.
The focus of the dish is a juicy pan-seared chicken breast. A simple technique ensures that the chicken breast stays moist while developing a flavorful sear, and this flavor translates beautifully to lunch the next day.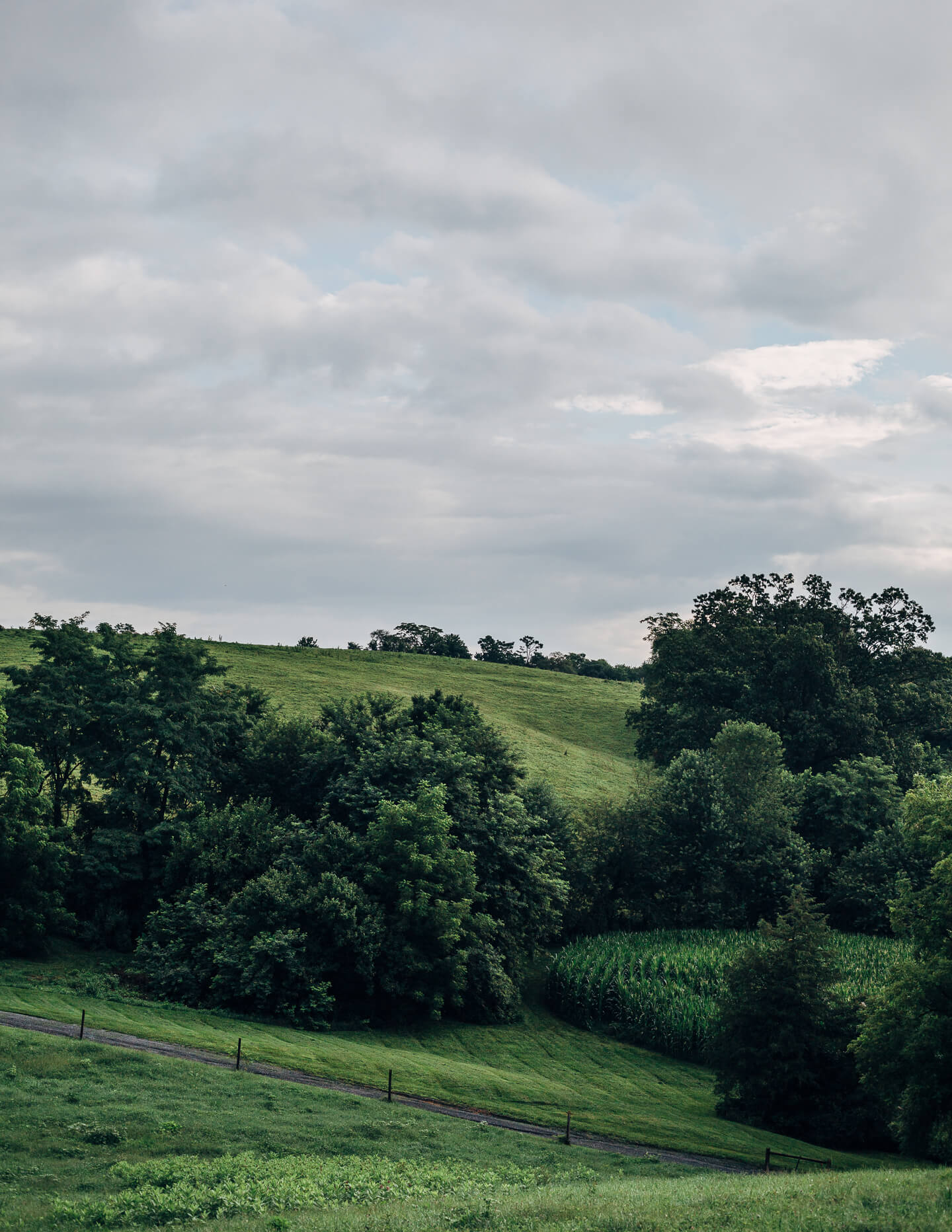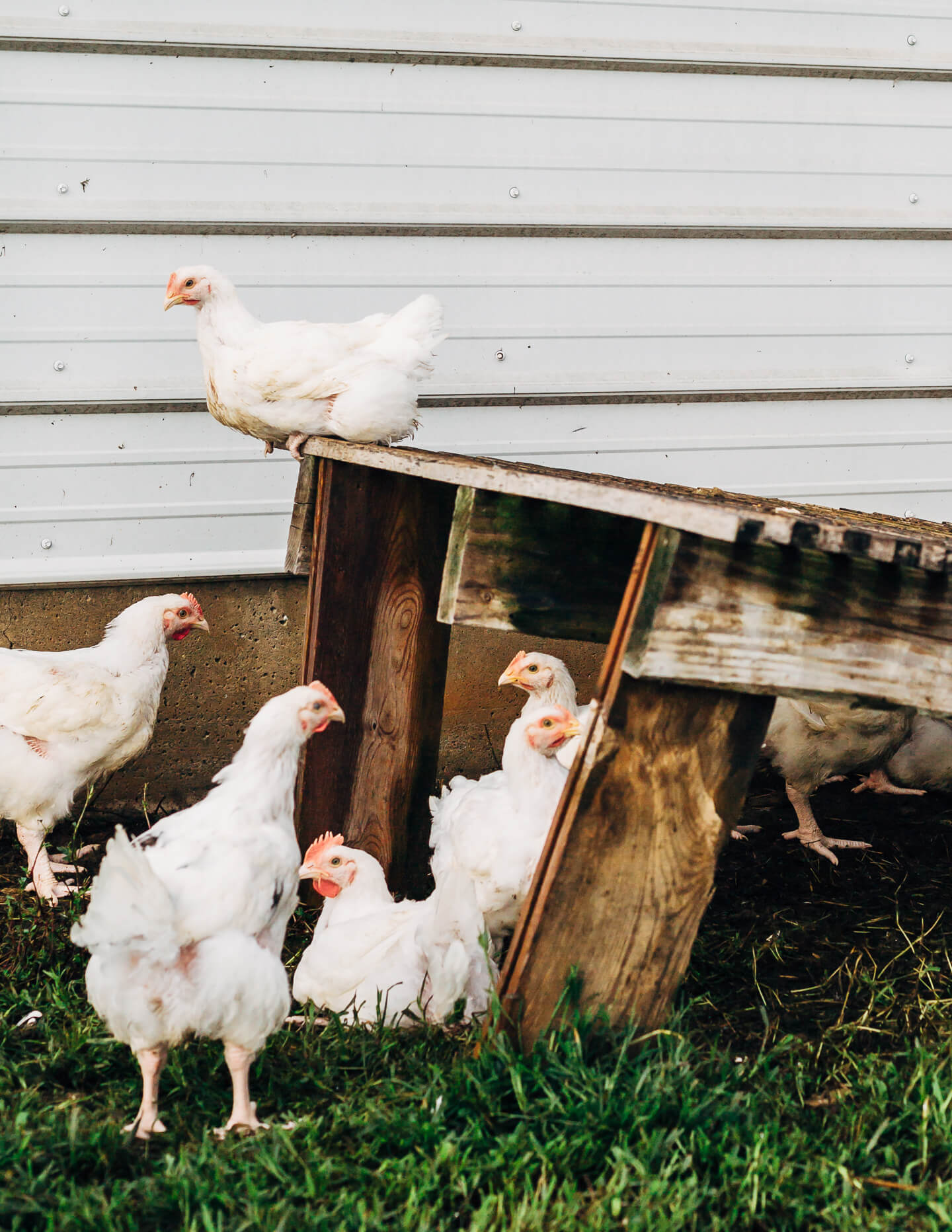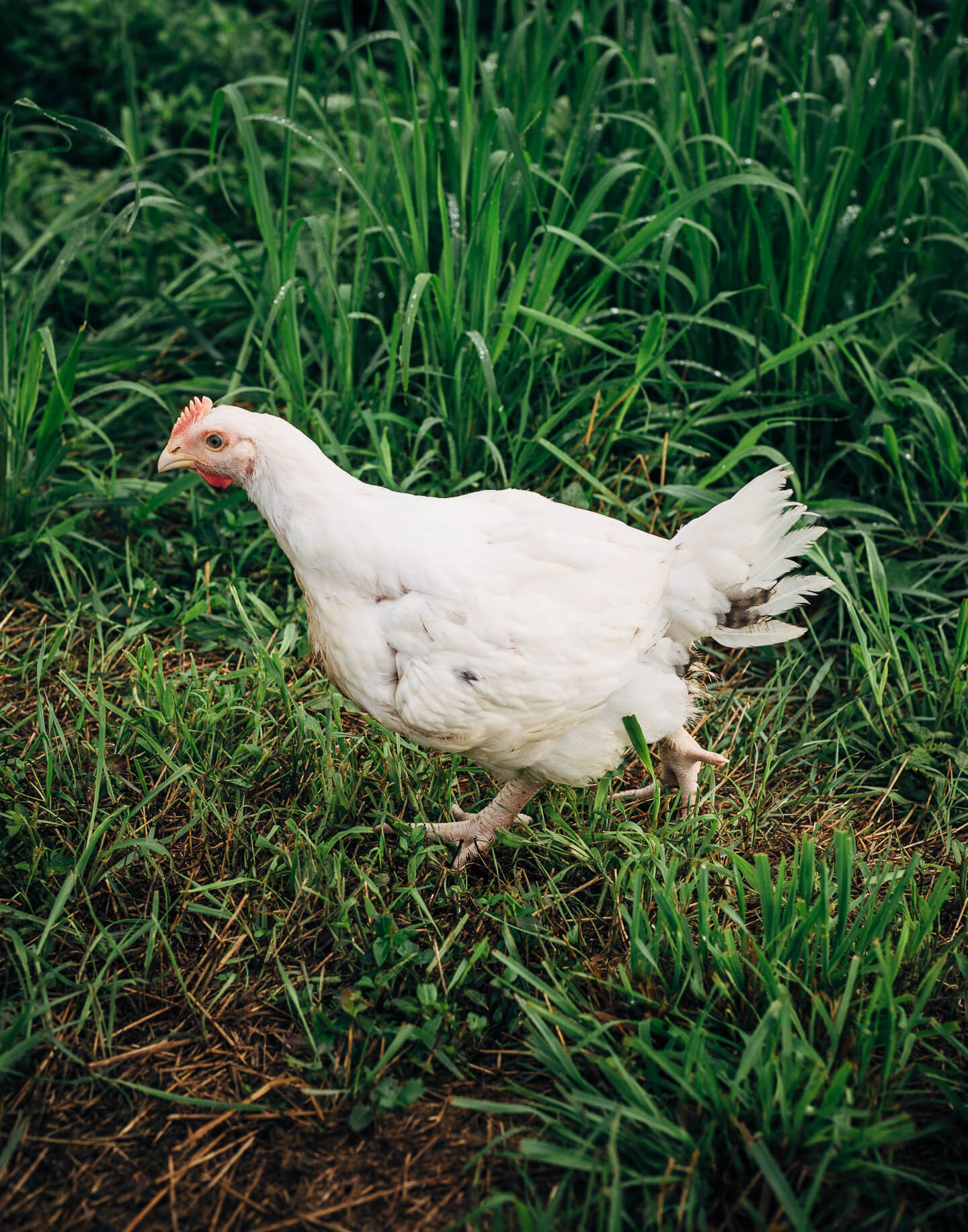 Meal prep or no, I've found that the best chicken recipes start with the very best chicken, and my chicken of choice is Shenandoah Valley Organic. In early August, I visited an SVO farm in Bridgewater, Virginia, and got to see the chickens frolicking in the field outside their coop on a dewy morning.
SVO partner farmers own their chickens and have the freedom to care for them as they see fit. SVO works with farmers to ensure quality and the humane treatment of chickens, all while paying them a fair rate. SVO Farmer Focus chicken is USDA Certified Organic, Certified Humane, Non-GMO Project Verified, and has a Global Animal Partnership (GAP) Step 3 rating. Which is all to say, this is a product I believe in.
SVO chicken is widely available in the Mid-Atlantic and Northeast at retailers like Hannaford, Martin's, Stop and Shop, Gourmet Garage, Best Market, and Earth Fare, as well as food co-ops and specialty markets. You can look here for a store near you, or you can even purchase it online at Costco.com or FreshDirect.com.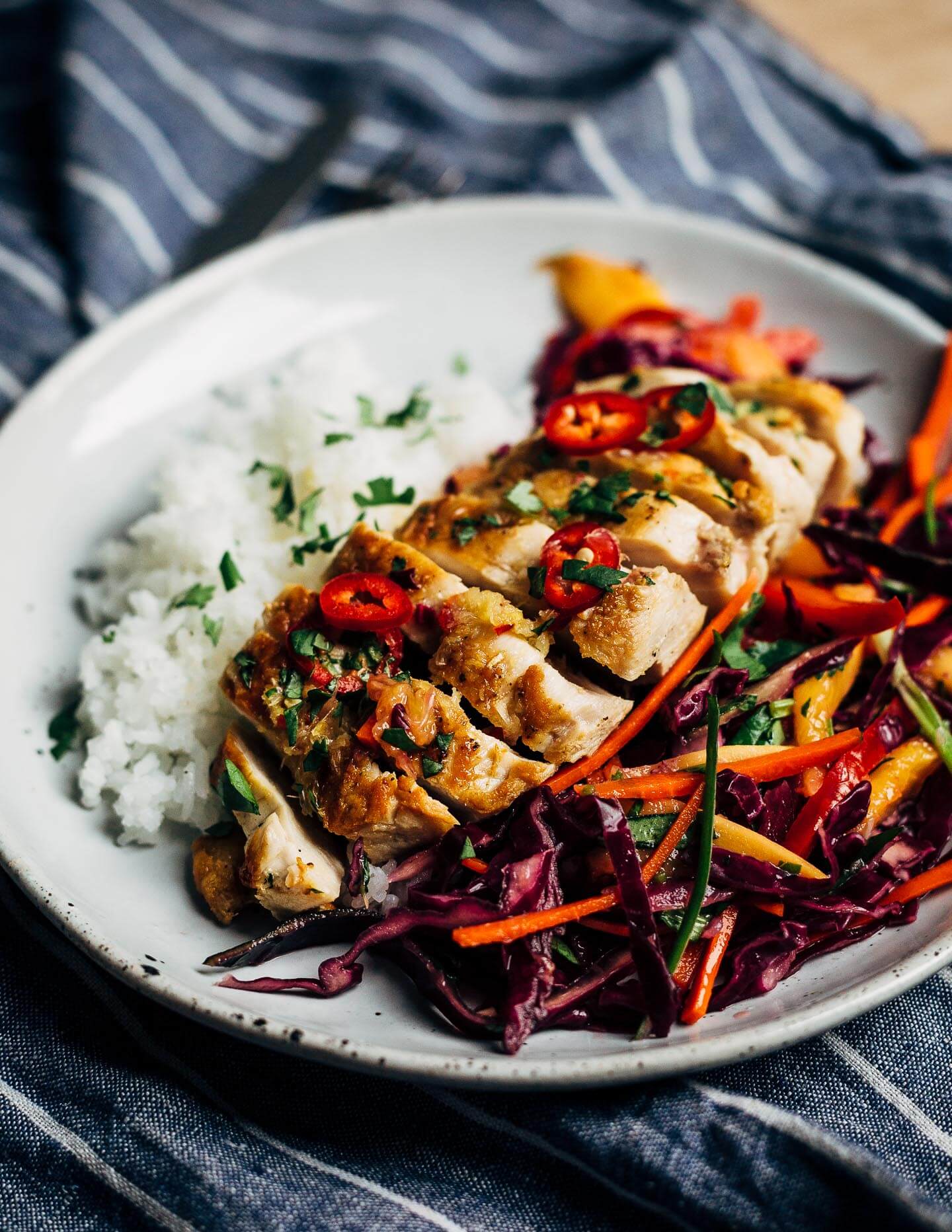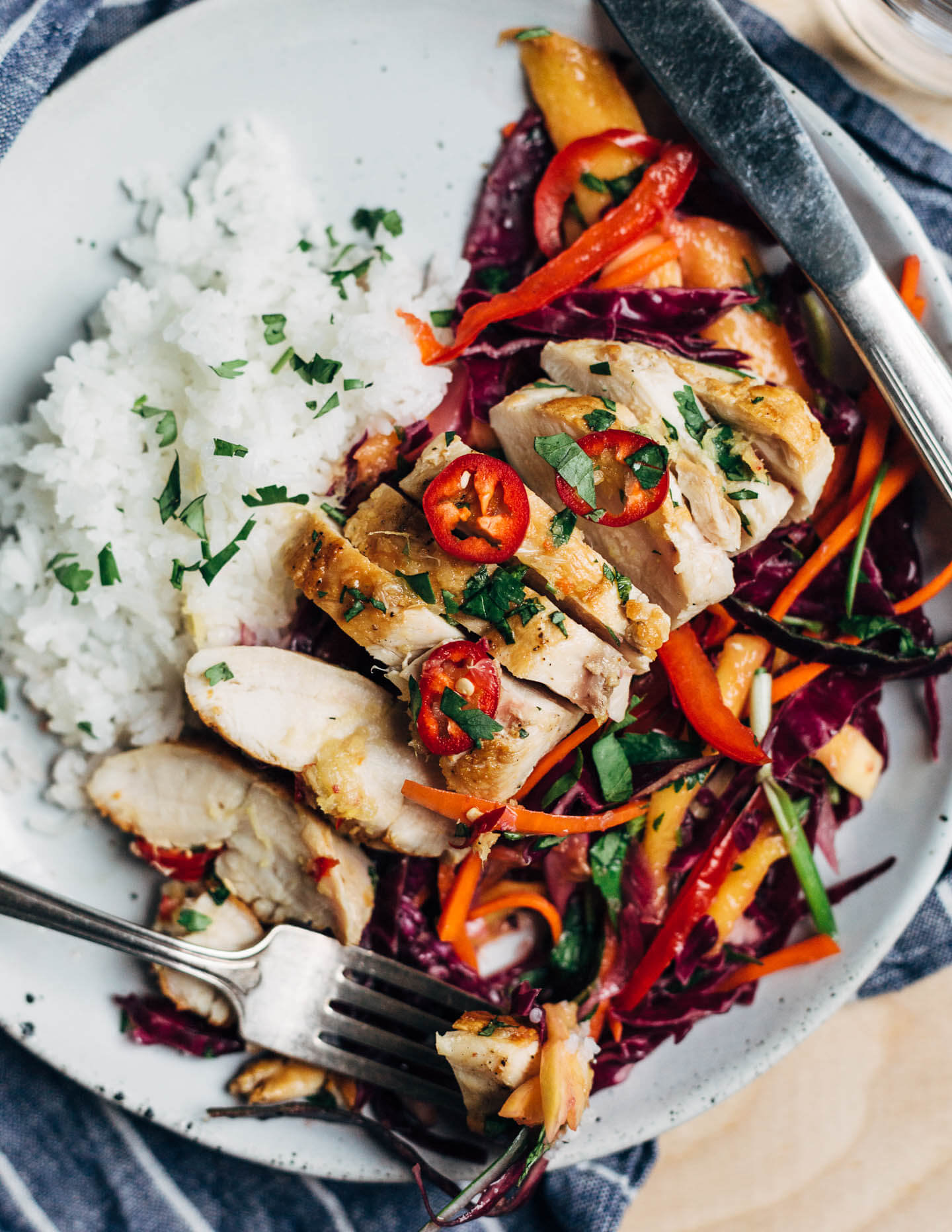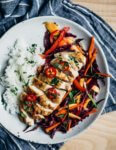 Meal Prep Chicken Breast with Thai-Style Mango Slaw
Inspired by Thai flavors, this meal prep chicken features juicy pan-seared chicken breast and is served alongside a vibrant red cabbage and mango slaw and sticky jasmine rice. Sub cauliflower rice for a grain-free alternative.
Makes
:
4
generous servings
Ingredients
Slaw
1/2

head red cabbage,

cut into thin ribbons

2

large carrots,

julienned or grated

1/2

red onion,

sliced paper thin

2

tablespoons

fresh squeezed lime juice

(from about 1 lime)

1/2

teaspoon

sea salt,

plus more to taste

1

large mango,

peeled and cut into slivers

1

red pepper,

seeded and julienned

1/2

cup

chopped cilantro

1/2

cup

chopped basil

4

green onions,

cut into strips
Dressing
2-

inch

section fresh ginger,

peeled and finely grated

2

large

(or 4 small) cloves garlic, peeled and finely grated

2

teaspoons

minced Thai Bird's Eye chili or red chili of choice,

or to taste

1/4

cup

fresh squeezed lime juice

(from 3 - 4 limes)

6

tablespoons

fish sauce

1/4

cup

honey
Chicken
4

Shenandoah Valley Organic Skinless Boneless chicken breasts

(about 2 pounds)

sea salt

pepper

3

tablespoons

canola oil for frying,

divided

sticky Jasmine rice or cauliflower rice,

cooked

Thai Bird's Eye chili or red chili of choice,

sliced thin

chopped cilantro and basil for garnish
Instructions
In a large bowl, toss the red cabbage, carrots, and red onion with lime juice and 1/2 teaspoon sea salt. Set aside for 15 minutes.

Set chicken breast out to come to room temperature. Sprinkle chicken breasts generously with sea salt and pepper on both sides, rubbing it gently into the surface.

Meanwhile, make the dressing. In a small bowl, whisk with a fork to combine ginger, garlic, red chili, and lime juice. Let sit 5 minutes, then whisk in fish sauce and honey. Set aside.

Add the mango and red pepper to the slaw. Drizzle on 4 tablespoons dressing and toss. Fold in herbs and green onion. Set aside.

Set a cast iron or other heavy bottomed skillet on the stove and turn the heat just a bit past medium (about 5 o'clock). Add 2 tablespoons canola oil, and when hot, add 2 breasts. Cook, completely undisturbed (not even a nudge!), for 5 minutes. Flip and cook 4 - 5 minutes longer or until the internal temperature reaches 165 degrees F. By leaving the chicken undisturbed, a golden sear forms on both sides; toward the end of cook time, take a few peaks under the chicken and check the temp when you think it might be ready. You want the chicken to be up to temperature, but it will dry out if it overcooks. Use your best judgment, keeping in mind that thicker breast may take longer. Repeat for the remaining 2 breasts, adding the remaining tablespoon of oil if needed.

Rest chicken breasts 3 minutes, then slice.

Set chicken on top of rice, drizzle with 2 tablespoons dressing, garnish with sliced chilies and fresh herbs. Add slaw on the side.

If using for meal prep, seal chicken and rice in one container and then spoon slaw into a separate container (otherwise it will turn things purple and soggy). Set in the fridge until needed. Chicken can be gently reheated or eaten cold.