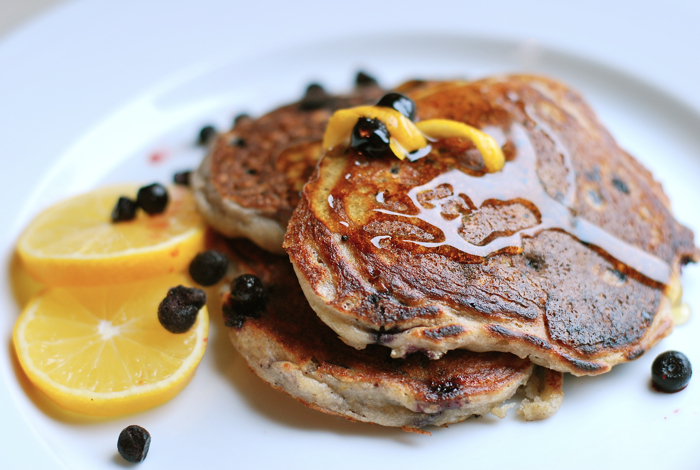 Meyer lemons are a definite bright spot in winter eating. To place their flavor somewhere between a lemon and an orange doesn't do them justice–Meyer lemons are at once subtle, buttery, and bright, with an incredible depth of flavor. Go get some, OK?
Then you can make these Meyer lemon and blueberry pancakes. Though I finished a stack moments ago, my mouth is still buzzing with tangy awesomeness.
We've just completed a heap of projects, so look for us to be back in action next week.
Meyer Lemon Pancakes with Blueberries (adapted from Joy the Baker)
serves 2 – 3
2 tablespoons butter, melted and cooled
1 cup whole wheat pastry flour
1 teaspoon baking powder
1 teaspoon baking soda
1/2 teaspoon powdered ginger
1/2 teaspoon salt
1 tablespoon sugar
zest of 1 Meyer lemon
2 tablespoons Meyer lemon juice
1 egg
1 cup yogurt
1 cup blueberries (frozen or fresh)
oil or butter for cooking
Melt the butter and set it aside to cool. Preheat a large skillet over medium-high heat.
In a large bowl, combine the flour, baking powder, baking soda, powdered ginger and salt.
In a small bowl, combine the zest and sugar. Rub them together until well combined and fragrant. Whisk in the lemon juice, egg, and yogurt. Pour the wet ingredients into the dry, and stir just until combined. Fold in the melted butter and blueberries.
Add 1 teaspoon oil or butter to the hot skillet. Scoop in several dollops of batter, and cook for roughly 3 – 4 minutes per side. Keep cooked pancakes warm in the oven.
Serve with maple syrup and Meyer lemon slices.