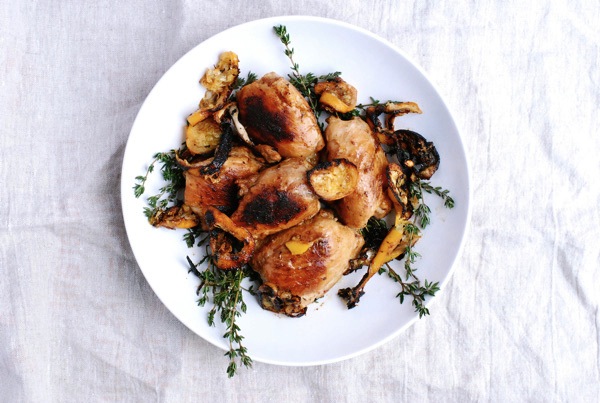 Writing honestly about home cooking involves striking a difficult balance between presenting the reality of our home life and presenting dishes that people will actually want to read about and, we hope, make for themselves. We don't want you to think that every meal we eat has been planned, prepped, fussed over, and arranged just so before it's photographed and eaten. With a toddler and a kindergartener, it's just not possible for us to put that much time into our everyday meals. However, we think about our readers too, and we assume you don't want to read about spaghetti night four times a month, however real that would be.
So when we make a quick stand-by dish that's both easy enough for a weeknight and seriously tasty, we're excited to post about it. Which is to say, we're glad to be able to share this skillet chicken with you. Skillet chicken is one of Elizabeth's go-to recipes when she's cooking and chicken is what's in the fridge (because, as I'm sure you're aware, I'm a chicken specialist, and roasting or frying is kind of my thing). It only takes about a half-hour to make, can be served with nearly any side, and is nearly endlessly adaptable. In this case, we had some Meyer lemons kicking around, and they added their signature mild tang to the tender, herbaceous chicken.
Meyer Lemon Skillet Chicken (adapted from Melissa Clark's recipe on Gilt Taste)
2 tablespoons olive oil
2 shallots, sliced
1 lb. boneless chicken thighs
1 1/2 teaspoons sea salt
1/2 teaspoon fresh ground black pepper
2 Meyer lemons, sliced with seeds removed
1/3 cup white wine
4 fresh thyme sprigs
Set the chicken pieces in a bowl. Sprinkle liberally with sea salt on both sides, cover, and set aside for about 20 minutes. Note that you can salt the chicken well ahead of time and leave it covered in the fridge to cut down on prep time. If you're going this route, cut the salt down by a third since it will have more time to sink in.
Heat the olive oil in a large deep-sided skillet over medium heat. Add the shallot and saute for 5 minutes. Place the cooked shallots in a bowl and set aside.
Add the chicken pieces to the skillet, skin side down. Cook over medium heat for 10 minutes. During the first 3 minutes, give the chicken several little nudges, just to make sure the skin isn't sticking to the pan.
Flip the chicken, add the Meyer lemons and thyme sprigs, and cover. Cook for another 15 – 20 minutes, or until the internal temperature reaches 165 degrees.
Remove the chicken, and cover loosely with foil.
Turn heat up to medium-high. Return the shallots to the pan, and add the wine and thyme sprigs. Scrape up the brown bits and stir until the sauce comes together. Give the sauce a small taste and add a bit of salt, pepper, or more wine if needed.
Serve the chicken over a bed of grain (we went with farro), drizzle with the pan sauce, and garnish with the crisp Meyer lemons and a couple of thyme sprigs.