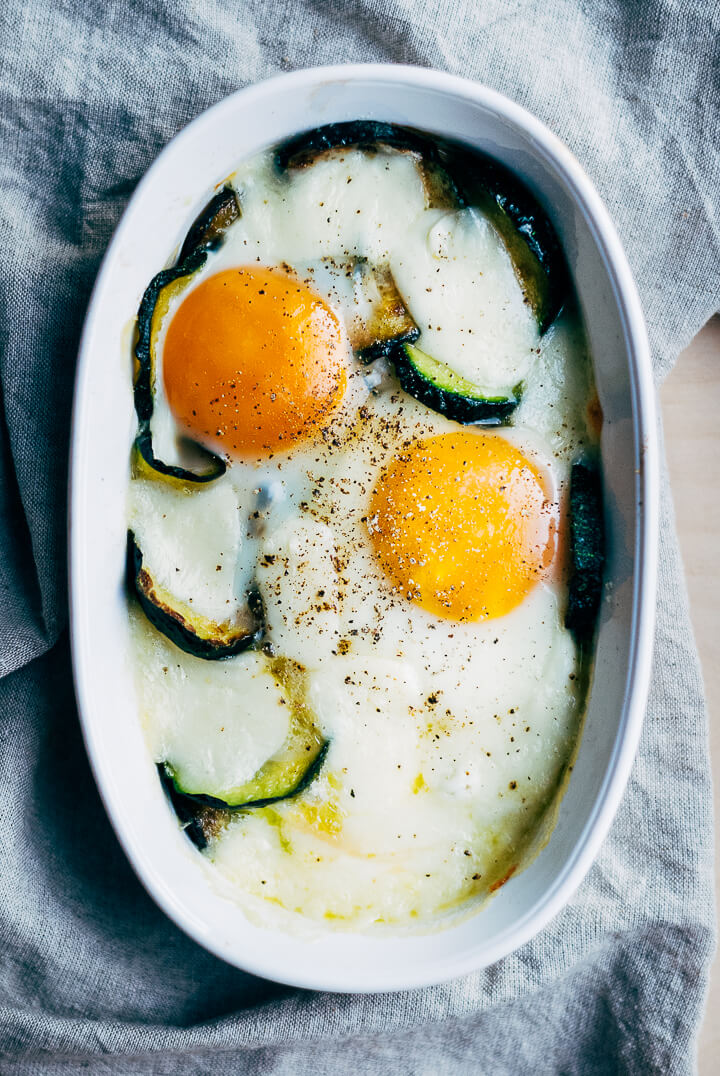 Mozzarella baked eggs with tender zucchini makes for a simple summer brunch or supper that's ready in minutes.. This post is sponsored by Tabasco. Jump to recipe.
Over the summer, I took to working mostly in the evenings. I'd wait for the sun to tip below our neighbor's house, throwing a lovely golden light over the spot where I take pictures. I'd rush to get everything set up and then snap photos for an hour or so. Sometimes, I'd be thwarted by an evening storm, family, chaos, or poor timing, but I mostly got my shots.
Now, the light is changing – the sun's tilting southward and each day I'm encountering shifting shadows and weird light. It's also increasingly unacceptable for my photography schedule to push dinner back past 8 (the kids have school and all). The summer rhythm is dissipating, and though I'm glad for fall, I'm having a hard time letting go of the long days and beautiful light. Evidence of the shifting season is everywhere – leaves tipped with yellow and russet, the escalating thrum of crickets, crates piled high with butternut squash. Even the eggs reflect the shift, the pale yellow yolks of summer edging orange as grasses and greens become more abundant in the cooler weather.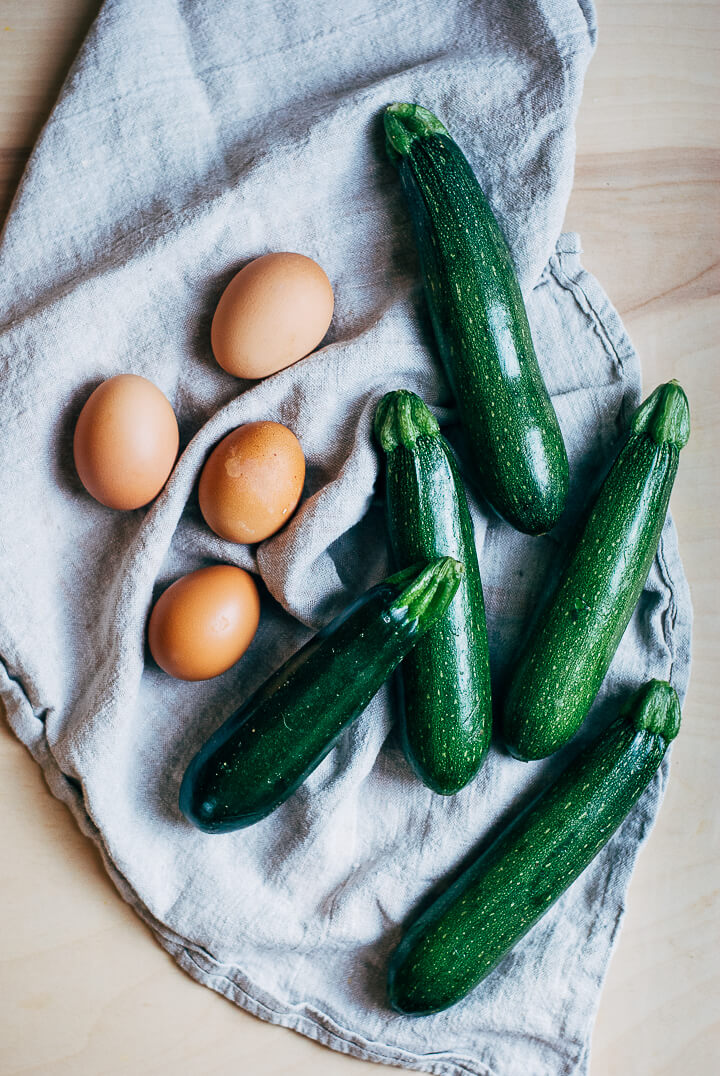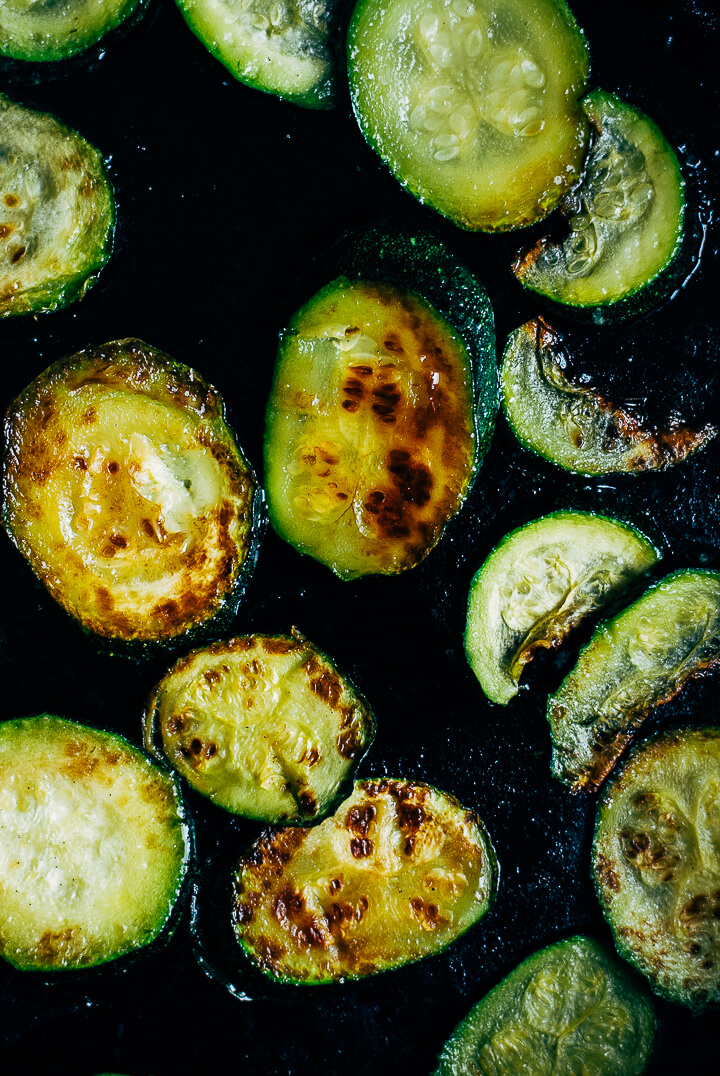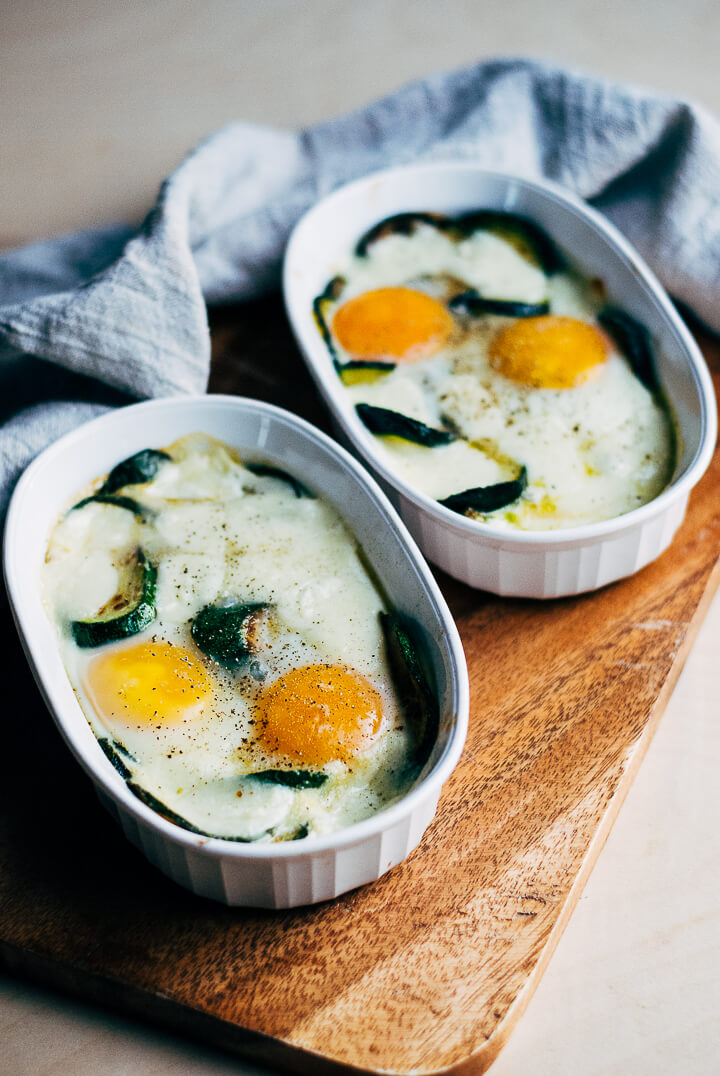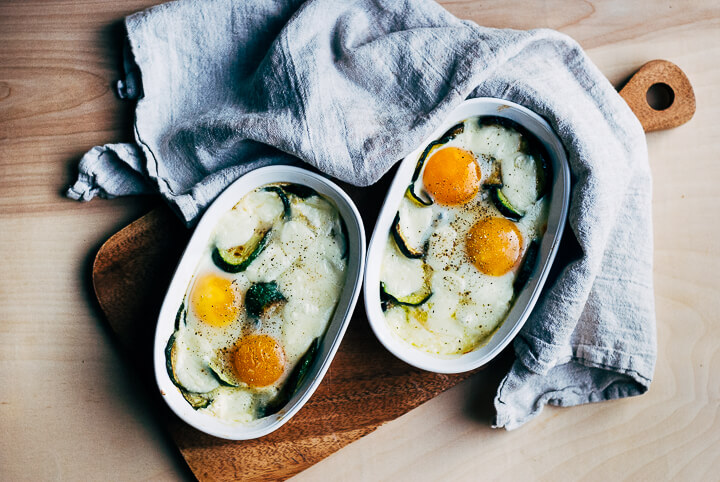 Yesterday, with another busy evening, and a pile each of farm fresh eggs and zucchini, it seemed like a great time to break out one of my favorite fast dinners – baked eggs. I sautéed sliced zucchini with plenty of olive oil and sea salt; each coin browned along the edges while the centers got buttery and tender. I then tucked and folded the cooked zucchini into a couple of ramekins, tossed them with Tabasco Green Sauce, and broke two eggs on top. The ramekins went into the oven, and then were dotted with mozzarella cubes. Everything cooked up for another few minutes, and then we all sat down to a cheesy, mildly spiced, dinner that was perfect for an almost fall kind of evening.
Have you noticed we've been posting a lot? We're thrilled to bring you a new post every day this week as part of the Tabasco 10 Ingredient Challenge. Each recipe is made from a selection of just 10 ingredients: Tabasco Original Red, Green Jalapeño, or Chipotle Sauce; chicken; eggs; mozzarella; fennel; zucchini; rice; rigatoni; ciabatta; and honey. (Salt, pepper, and oil are free ingredients.) Catch the latest from us and all the participating bloggers by following #TABASCO10 on Twitter and Instagram.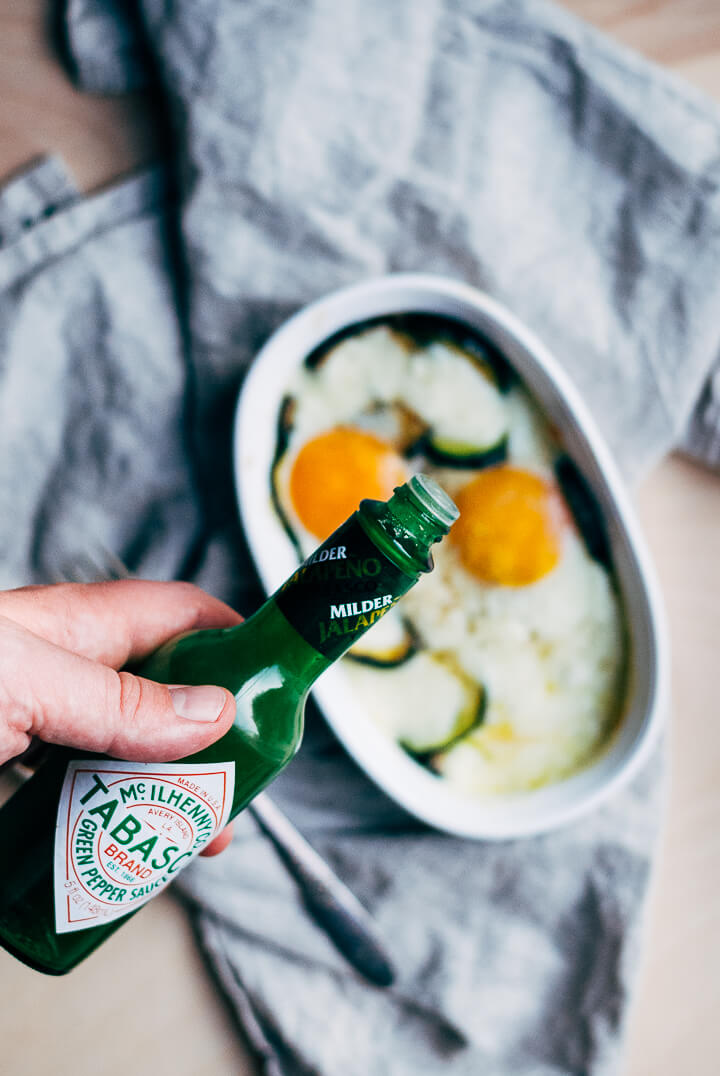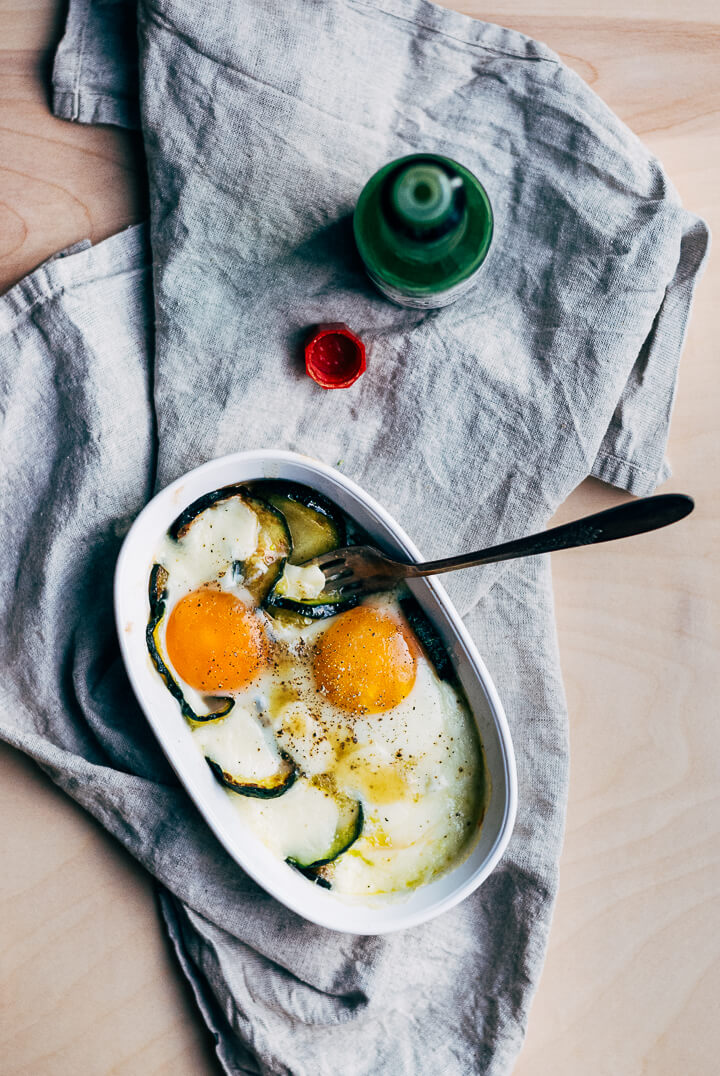 A few notes on baked eggs: Yolks that have contact with ramekin edges cook much more quickly than those in the center; protect yolks by adding zucchini coins all along the edges. Also note that baked eggs can look translucent even when fully cooked – judge doneness by giving the dishes a gentle shake.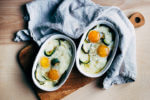 Mozzarella Baked Eggs with Sautéed Zucchini
Mozzarella baked eggs with tender zucchini makes for a simple summer brunch or supper that's ready in minutes.
Ingredients
2

small zucchini

, trimmed and cut into 1/4-inch thick coins

2

tablespoons

extra virgin olive oil

sea salt

2

teaspoons

Tabasco Green Sauce

4

eggs

2/3

cup

cubed fresh mozzarella

freshly ground black pepper to taste
Instructions
Preheat oven to 400 degrees F. Set out a rimmed baking sheet and two 8-ounce oven-proof oval ramekins.

Set a medium-sized skillet over medium heat. Add 1 tablespoon olive oil and when hot, about half the zucchini (zucchini won't cook well if overcrowded, so it's best to sauté in batches); sprinkle with a pinch of sea salt. Cook until each side is a rich golden brown, about 3 minutes per side. Repeat for remaining zucchini.

Divide zucchini in half, and tuck and fold cooked zucchini all along the edges and bottom of the ramekins. Drizzle a tablespoon of Tabasco Green Sauce over each ramekin, and add 2 eggs to each. Sprinkle eggs with sea salt. Set ramekins on a rimmed baking sheet and carefully slide into oven.

Bake 9 minutes, remove from oven, and divide mozzarella cubes between each dish, tucking cubes all around the eggs. Slide back into oven and cook just until egg whites are set, 3 - 6 minutes more.

Remove from oven, top with black pepper to taste, and serve right away. (Ramekins will be very hot – set on a heat resistant surface and use caution.)
Thanks to Tabasco for sponsoring this post!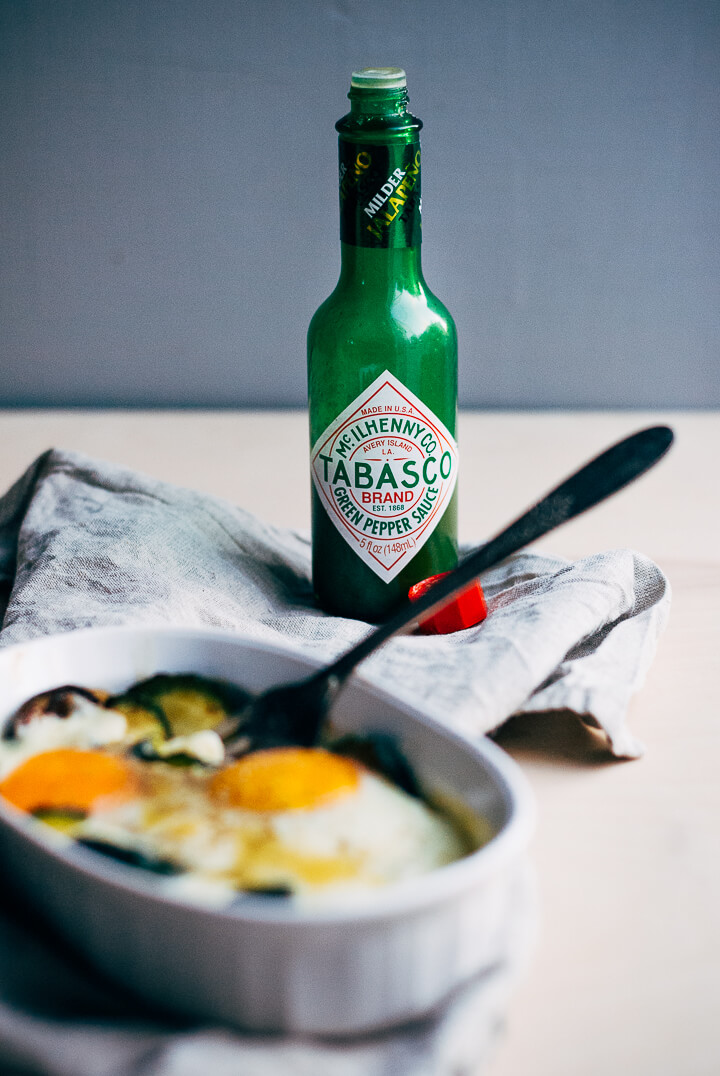 SaveSave
SaveSaveSaveSave