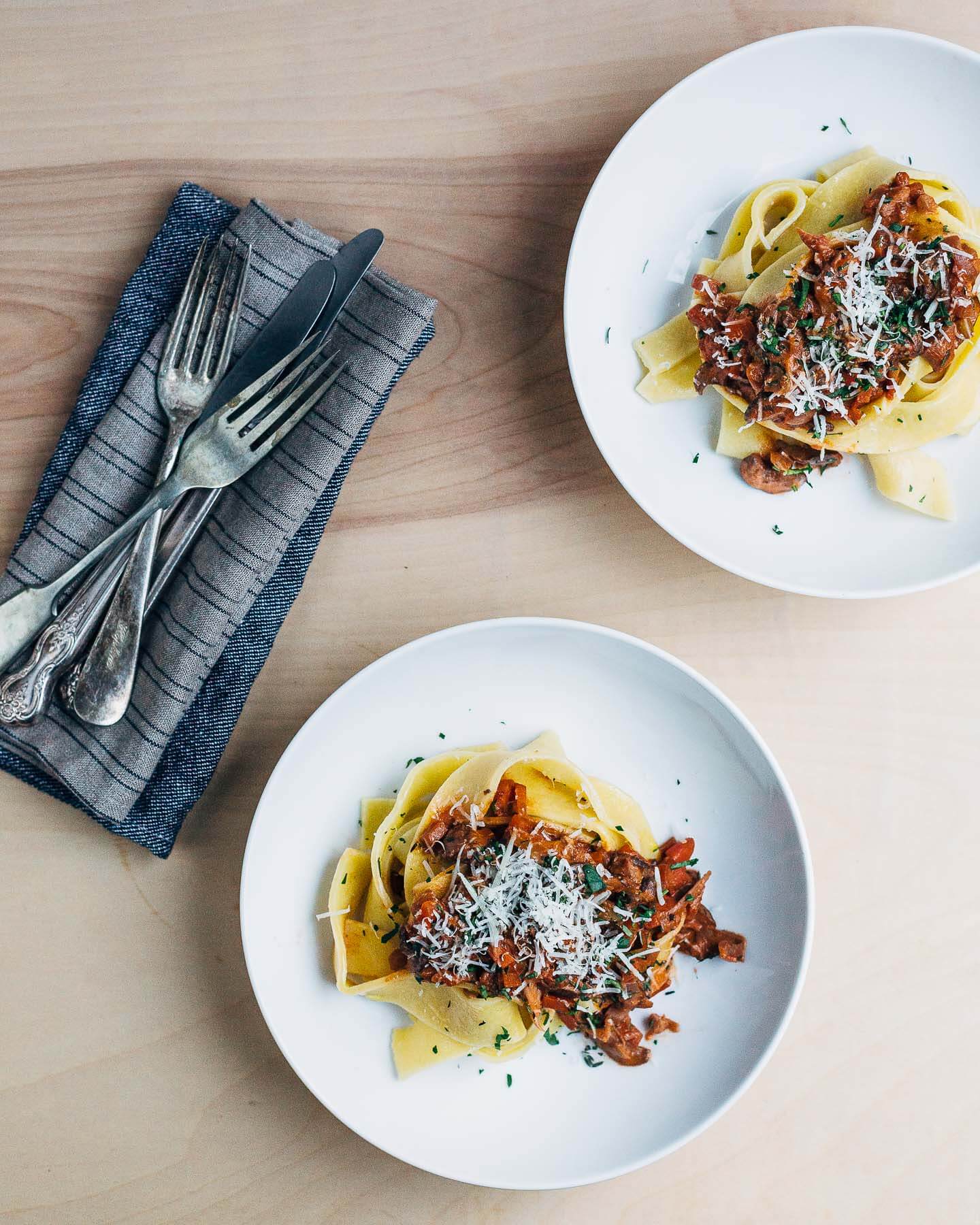 A hearty vegetarian mushroom bolognese served over fresh pappardelle with herbs and grated Parmesan. Jump to recipe.
You already know this, but it bears repeating: do not go out to eat on Valentine's day. Just don't. If you, like me, mark special moments with a nice meal out, go another day. A day when you'll be seated on time for your reservation and aren't limited to three choices on a pricy prix fixe menu. Valentine's proper is best spent at home with a nice bottle of wine, a satisfying yet low-maintenance dinner, and something rich for dessert.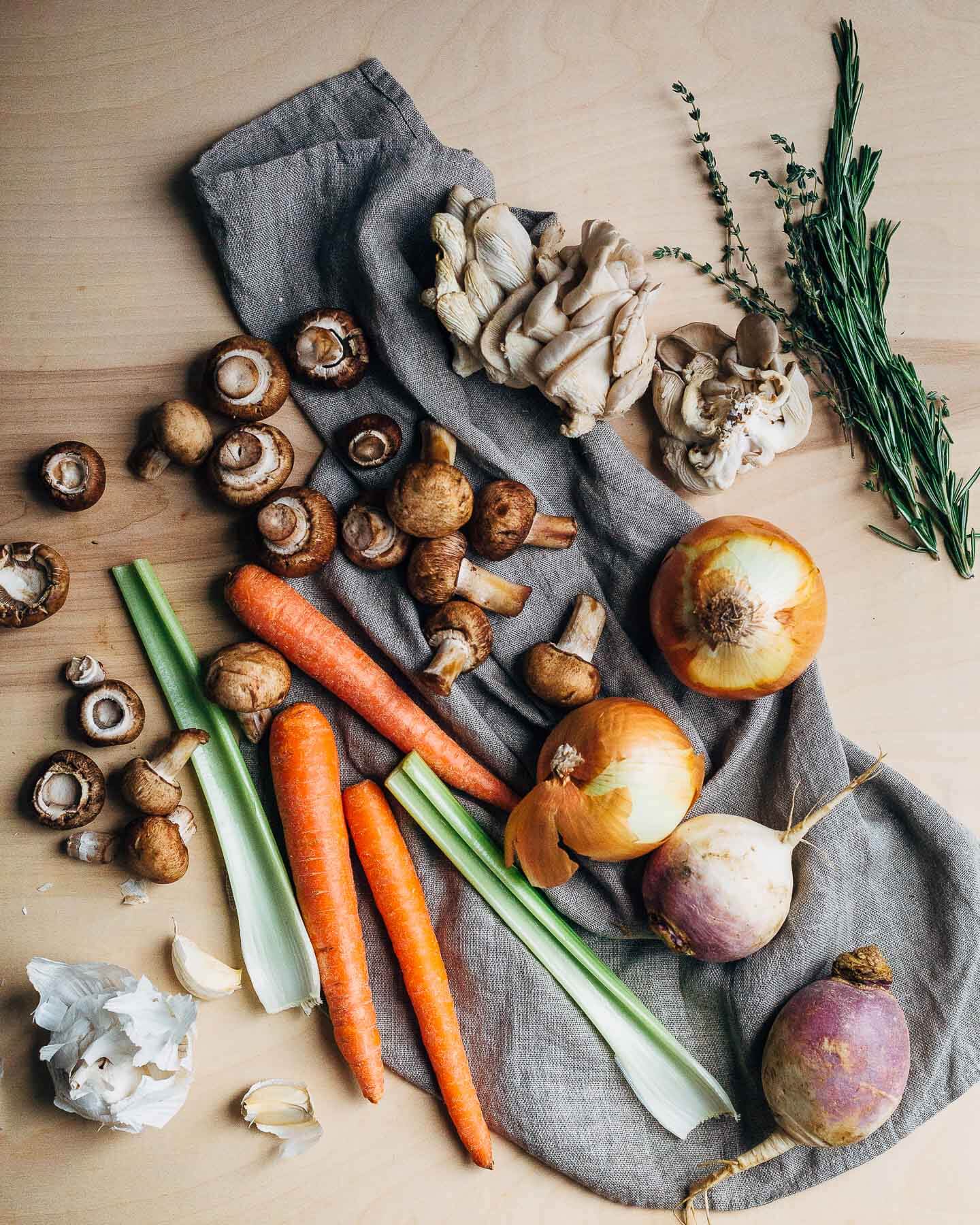 At our house, we're planning something simple and delicious. It restores my longtime easy dinner default – pasta – to its rightful place as an ingredient to be savored. For special occasions, I used to make my own. You can do this too, but I've found my results are much better all around when I leave the fresh pasta to the professionals. Instead I'm focusing on the adornment to my local Italian market's beautiful pasta, a rich vegetarian mushroom bolognese. Listen – I know the good people of Bologna will frown on my meatless spin – but in the middle of a cold winter, it feels like a coup to put so many vegetables at the center of a sauce rather than the typical meats. The sauce itself is heavy on the mushrooms, along with carrots, celery, and turnips, plus wine and cream and Parmesan. The thing that sends it over the top, though, is a hint of fresh rosemary and thyme. It's rich and satisfying and sets off the bite of fresh pappardelle perfectly.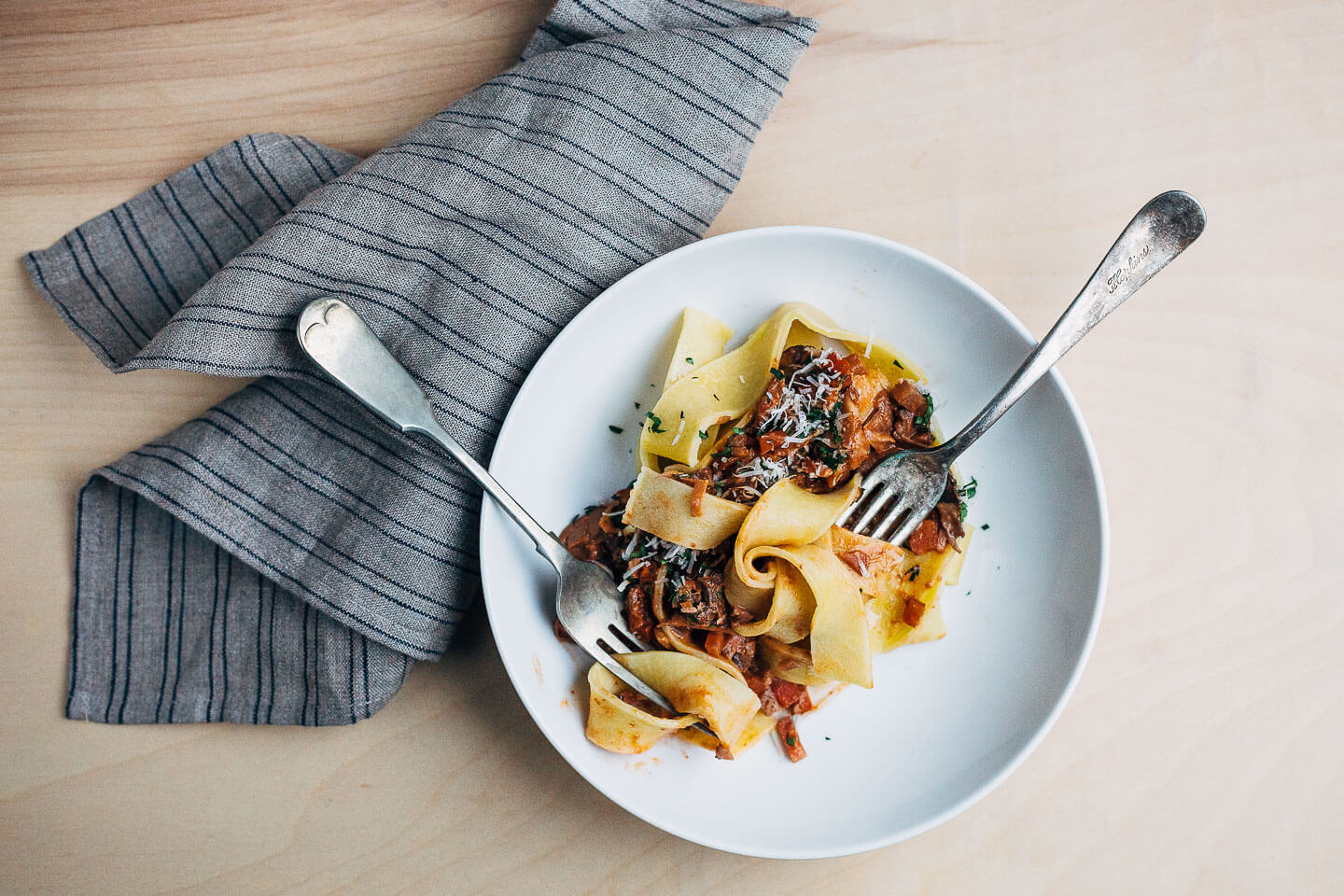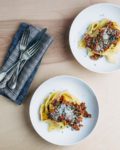 Mushroom Bolognese
A hearty vegetarian mushroom bolognese served over fresh pappardelle. This recipe was inspired by and adapted from recipes on Sprouted Kitchen and Food & Wine.
Ingredients
3

tablespoons

olive oil

1

yellow onion,

finely diced

2

carrots,

scrubbed and finely diced

1

celery rib,

finely diced

1

small turnip,

peeled, trimmed, and finely diced

1/4

teaspoon

red pepper flakes

sea salt

1

cup

red wine

6

tablespoons

tomato paste

(about 3 ounces)

1/2

pound

tree oyster mushrooms,

stems trimmed and sliced

1/2

pound

cremini mushrooms,

stems discarded and sliced

2

cloves

garlic,

smashed and minced

1/2

cup

water

1/2

cup

shredded Parmesan,

plus more for garnish

1/4

cup

heavy cream

1

tablespoon

finely minced rosemary,

plus more for garnish

1

tablespoon

finely mined thyme leaves,

plus more for garnish

1

pound

wide ribbon noodles

such as pappardelle, tagliatelle, or fettuccine
Instructions
Set a large dutch oven over medium-high heat. Add olive oil; when it starts to shimmer, add onion, carrots, celery, turnip, red pepper flakes, and several pinches sea salt. (Flavors will concentrate as dish cooks and t's best salted a little at a time.) Cook, stirring often, until vegetables are soft, about 10 minutes.

Pour in wine and tomato paste, and stir. Fold in mushrooms, garlic, a pinch of sea salt, and water. Heat mixture until it bubbles gently, then turn down to medium-low and cook, stirring often, for 20 minutes.

Meanwhile, bring a large pot of salted water to a boil and cook paste to al dente. Reserve several cups pasta water for plating.

Just before serving, stir in Parmesan, cream, and herbs, and cook 5 minutes. Taste, and adjust salt levels as needed.

Twist pasta onto plates, using a splash of pasta water as needed to loosen it, and top with several spoonfuls bolognese. Top with grated Parmesan and a pinch of minced fresh herbs. Serve immediately.