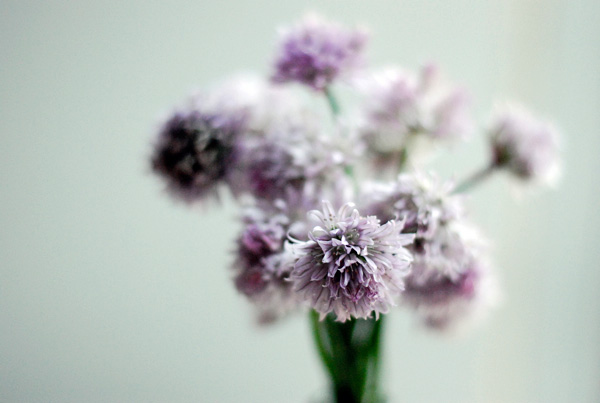 Brian and I are absolutely heartbroken over the events in Oklahoma yesterday and our hearts and thoughts are with all those who have been touched by this awful tragedy. We are especially saddened by the losses at the Plaza Towers Elementary School, though amazed at the bravery shown by teachers, staff, and young students there. If you'd like to help those affected, here are some ways to give.
Chive blossoms have always been harbinger of the season, their purple blossoms heralding the advent of warmer weather. This year, though, the chive blossoms are even more significant. These chives sprouted on our rooftop garden in Brooklyn, and by the time we moved the chive-filled window boxes into the truck, they had a spray of tiny purple buds. Now we're in Virginia, the chives are blossoming and it feels right. They've made the journey and so have we.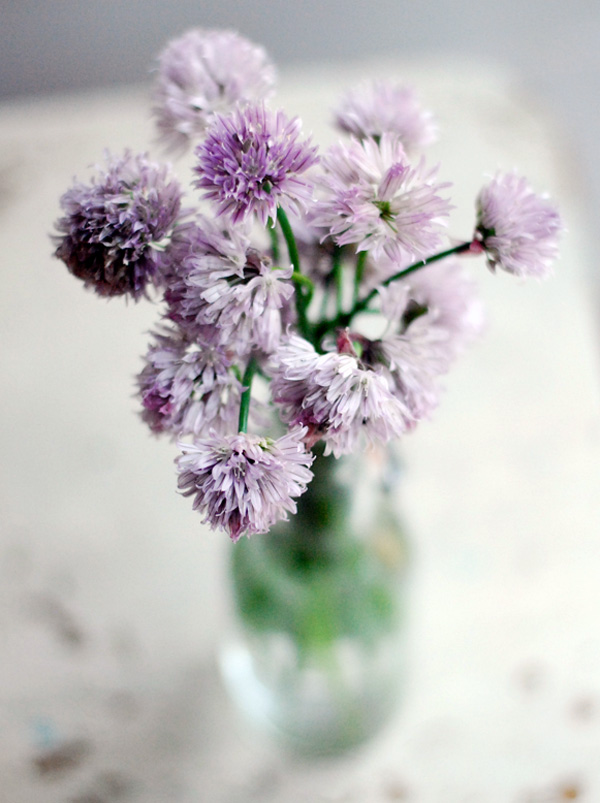 To honor the chive blossom, and it's odd personal significance this time around, I wanted to impress you with some kind of amazing chive recipe. Really, I wanted to come up with THE chive blossom recipe. But in my kitchen experiments over the past week or so, I've learned something about chive blossoms. They don't lend themselves to fancy recipes because something so of-the-moment is best eaten in the moment. Chive blossoms appear and disappear at a rapid clip; they should be gathered, eaten, and enjoyed. Heralding the beginning of summer, it's only fitting that they should be eaten simply, just like all the other best summer foods. So toss these mild-tasting flowers in with any number of meals; they are especially great in salads, grain dishes, and with eggs.
A few notes on chives: they are very easy to grow and incredibly resilient, so even if you just have just a tiny patch, I suggest you plant a few. Once the stalks have blossoms, cut them off stem and all since blossom stems tend to get woody as the season wears on. And because bugs seem to enjoy the chive blossom as much as I do, I recommend cutting your chive blossoms before they reach full flower. If you want to eat your buggy flowers, simply immerse them in a bowl of water for several minutes––most of the bugs will float away and you can pick or spray off any that remain. Finally, chives will grow and retain their flavor even after blooming, at least until the very hottest days of summer.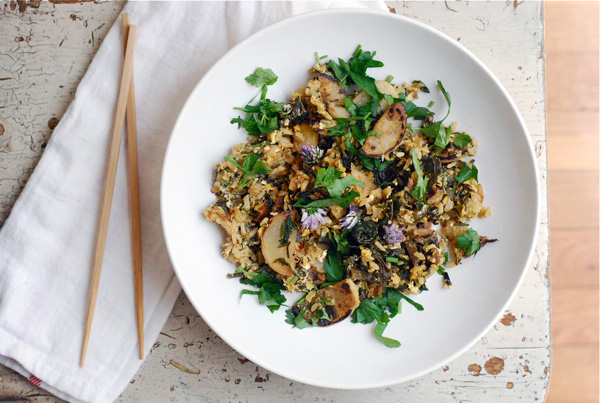 As for the recipe, I'm featuring one of my lunchtime favorites––fried rice. This simple preparation is not just a great way to use up leftover rice, it's also a fantastic use for CSA odds and ends like turnips, carrots, radishes, or random greens and herbs, so raid your crisper and have at it.
Fried Rice with Turnips and Chive Blossoms
serves 2 – 3
3 tablespoons olive oil
4 small turnips, washed, peeled and sliced into thin half moons
1 teaspoon fresh ginger
2 cloves garlic, smashed, peeled, and minced
1/2 teaspoon ground coriander
1 teaspoon sea salt
fresh ground pepper to taste
1/2 bunch kale, washed and sliced into thin ribbons
2 cups cooked brown rice
2 tablespoons soy sauce
splash rice wine vinegar
3 eggs
1/3 cup parsley, washed and minced
1/2 cup chive stalks and blossoms, washed and rough chopped
In a heavy-bottomed or cast iron skillet, heat the olive oil over medium-high heat. Add the turnip slices and saute for 7 -10 minutes, flipping occasionally. When turnips are browned and tender, add the ginger, garlic, coriander, sea salt, and pepper. Saute for 2 minutes. Next, add the kale, rice, soy sauce, and vinegar. Saute for 4 minutes, until kale has wilted.
Turn heat to medium-low and add the eggs and parsley. Cook for about 4 minutes, gently folding eggs into the rice mixture. As soon as eggs have set up, remove skillet from heat and toss in the chives. Check salt levels, adjust, and serve.