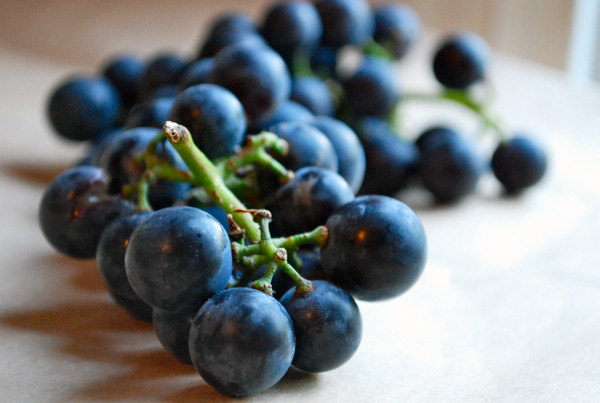 I'm writing this post from 30,000 feet above the earth and am feeling caught between the epic clouds, the adventure ahead (Mighty Summit, for the win!), layers upon layers of procrastination, and really missing my family back in Brooklyn. Right now grapes seem as distant as the earth below. But that's no reason to give up. I'll be back on firm ground soon enough, and there I'll find grapes aplenty.
As far as grapes go, concord grapes are a fairly recent variety. Invented in 1849 by Ephraim Wales Bull of Massachusetts, concords are based on a wild variety native to New England.
I love these grapes, seeds and all, for their powerful fragrance and equally intense flavor. They herald the coming fall and the season of purple, deep green, and rich orange hues. In New York, they also mean that summer fruit is in its final throws. Next up, apples and pears…forever. But we're not there yet, so let's not dwell on the leaner times to come. Instead, pick up a bunch of concord grapes, take the time to seed them, and put them in ice cream or salsa, or on a tart. And then enjoy every second of their big, bright, almost hilarious grape-i-ness.
In other news, this week on Babble.com's Family Kitchen Brian wrote a piece on the new Stanford study of organics and nutrition. Head over for our take on the debate.