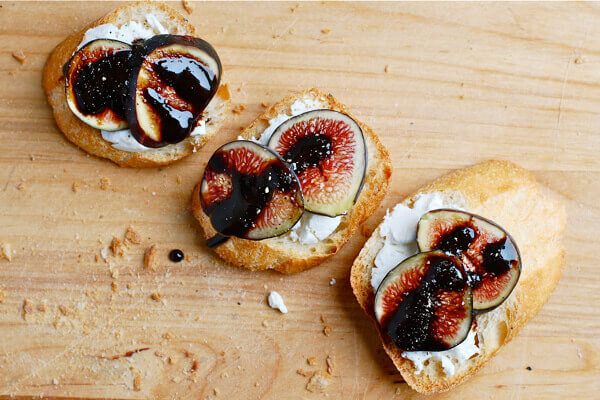 Figs, prized for their fruit which is central to the most popular Newton and for their leaves which apparently are useful in covering your naughty parts (although it's not clear to me how you're supposed to get them to stay on), are in the midst of their second season right now (they're available in late spring and then again in late summer) in most of the country.
Because they do better in a milder climate, we don't see figs at the farmer's market here very often, though they do show up from time to time. However, figs are one fruit that we don't make too much of an effort to source locally. In fact, we never go near the most local figs available, the ones growing in our own backyard. That's right, there's a fig-bearing tree in our yard and we've never tasted a single fig from it. North Brooklyn, where we live has been host to every industry from dye and chemical manufacturing to leather and fur processing, meaning that the soil has some things that you might not want in the fruit you eat. Things that will change you. Possibly into a superhero, but more likely into a hideous monster. And that's a risk we can't take.
Once you have your perfect specimens, in our case Mission figs, find a creamy, tangy chèvre (we used the Mettowee from Consider Bardwell Farm) and a good loaf of crusty bread. Make a balsamic reduction (or an apple cider one, recipe possibly forthcoming), lightly toast the bread, layer everything up, and tuck in to one of the best meals of the summer.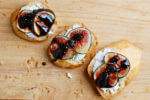 Simple Balsamic Reduction
A simple balsamic reduction recipe that's perfect for fig and chèvre toasts.
Instructions
In a medium saucepan, heat vinegar over medium-high heat. Allow the mixture to bubble away for 7 - 10 minutes, stirring with increasing frequency. When the mixture has some body – enough to coat the back of the spoon – off the heat, cool for a few minutes, check the viscosity, and serve. If it's too thick, c'est la vie, though it will be loose-est warm; not thick enough, just let it cook down a bit more.

Some people add sugar or honey – you can if you'd like, but I find the sweetness of the reduction is perfect as is.

Save any leftovers in the fridge and reheat before serving.